Editor's Note: The TEMPUR-Embrace pillow has been discontinued and is no longer available for purchase through TEMPUR-Pedic. Take a look at our TEMPUR-Cloud pillow review for another option.
At first glance, the Tempur-Embrace doesn't look like a typical pillow – its unique shape and super-soft filling are all designed to help people sleep (and breathe) comfortably in any position. Does it meet expectations? Read on for my full review.
Key Features
Dimensions: Standard/Queen: 23.6″ x 19.7″ x 4.7″ (Comes in one size)
Cover: 99% Polyester, 1% Elastane
Filling: 69% Shredded Polyurethane Foam, 31% Polyurethane Foam Pad
Medium-Soft overall feel
Designed to be compatible with all sleep positions
Removable/washable cover
Unique design (an X-shape with rounded corners), features indentations in the sides to facilitate comfortable breathing and a better sleep climate
5-year limited warranty
Return Policy: No returns allowed
Care instructions: Machine wash in warm water and line dry (or dry clean)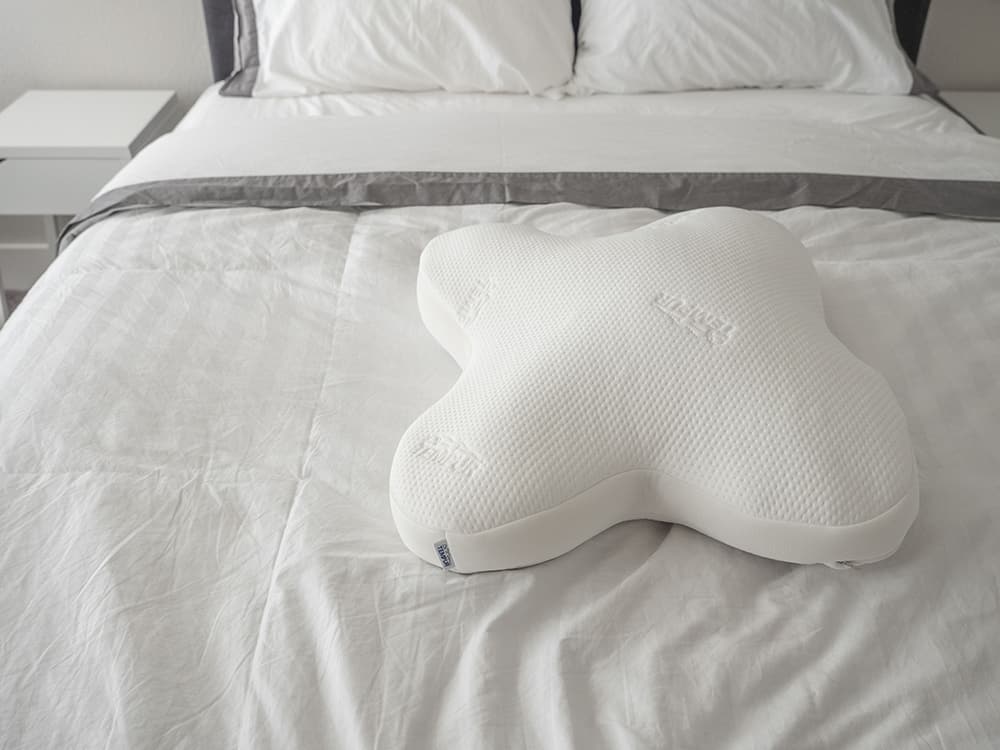 Who Makes It?
The Tempur-Cloud pillow is made by Tempur-Pedic, a popular mattress, and bedding company that merged with Sealy in 2012 to become Tempur-Sealy International.
Tempur-Pedic – the brand – is well known for being the first to take memory foam mattresses mainstream. For more information about Tempur-Pedic and their mattresses, check out our review, here.
Pillow Construction
The Tempur-Embrace pillow is not a traditionally shaped pillow. Instead, it looks similar to an X-shaped pancake. Maybe that's a terrible description, but it has four extensions that come from the center of the pillow, giving it a flattened X-like shape (that's slightly less than symmetrical).
The cover is textured and 99% Polyester and 1% Elastane (a synthetic fiber that's known for its elasticity), which makes it soft with a tiny bit of stretch.
The cover is removable and machine washable and can be line dried (care instructions can be found on the inner tag).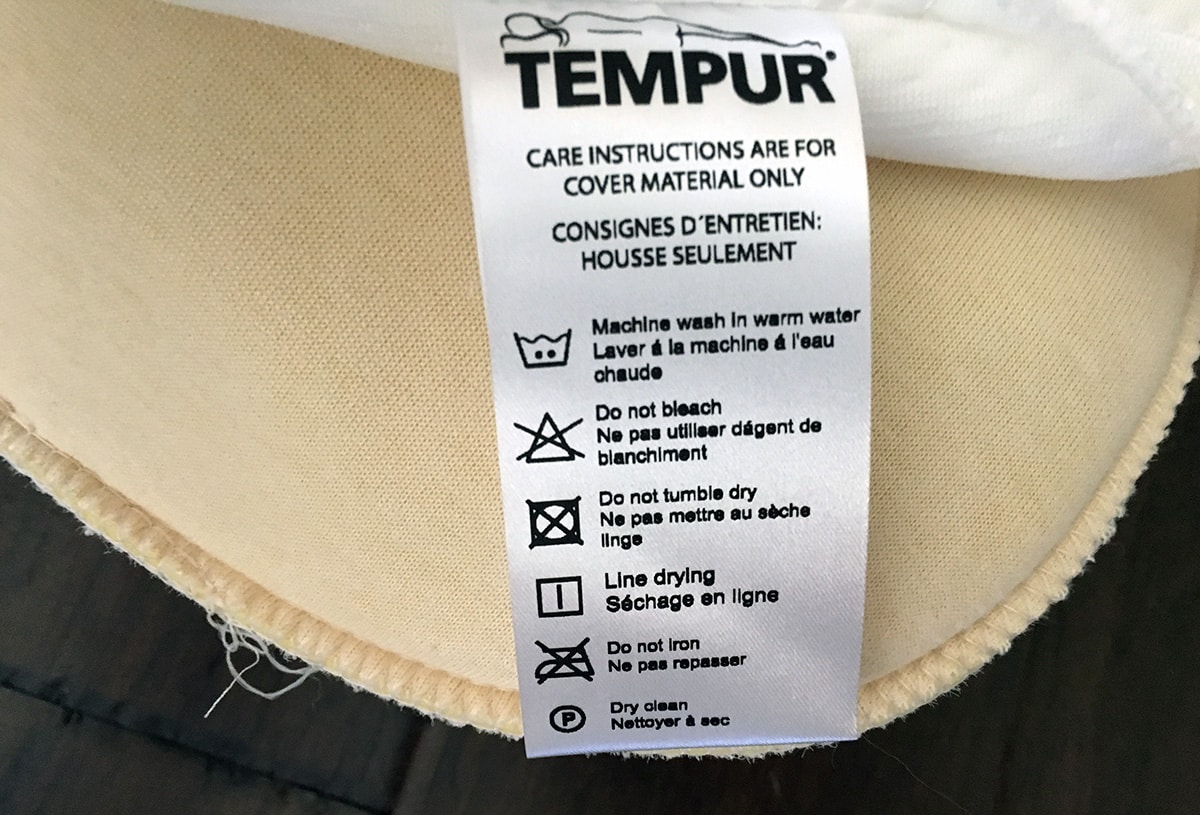 The pillow is filled with a truly unique blend of shredded memory foam and a memory foam pad (69%/31%). The pillow has an overall profile of 4.7" which does make it well suited for stomach sleepers.
The inner filling is not machine washable or dryer friendly.
Pros
Removable/Washable cover
Good for stomach and most side and back sleepers
A soft cover and overall feel without going flat or losing shape
Unique shape helps give support to head and neck
Cons
Pricey
Won't fit most traditional pillowcases well
Only comes in one size
No returns allowed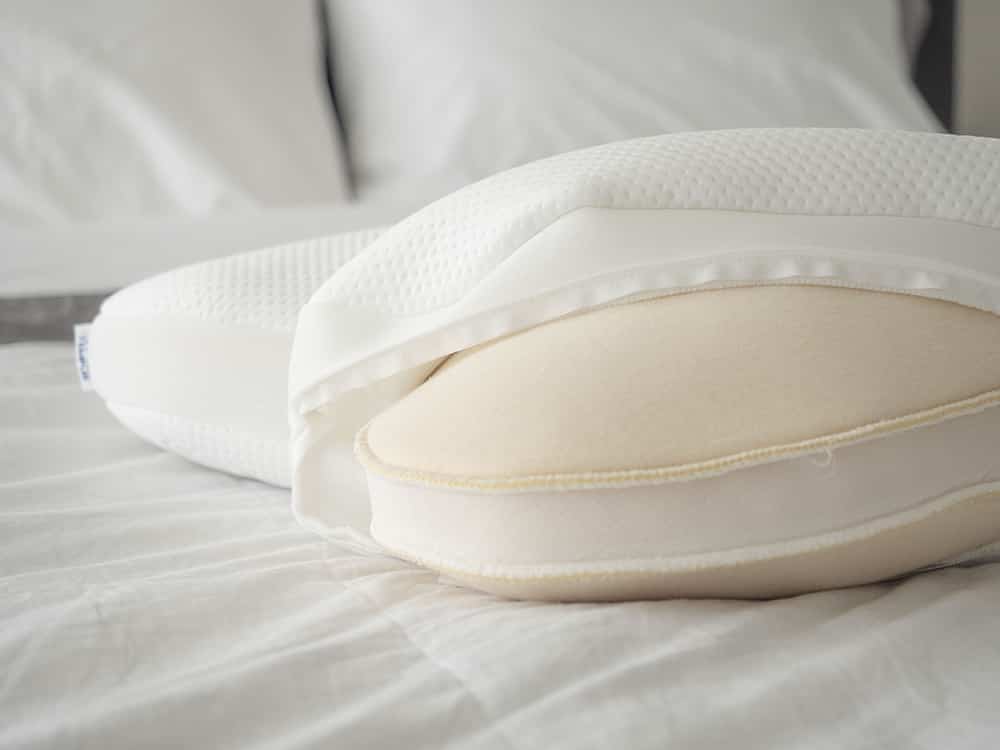 RELATED: Best Memory Foam Pillows
My Experience
The Tempur-Embrace pillow is about keeping sleepers cool and comfortable when sleeping in any position, including the stomach.
Based on my experience, I think it achieves its goals and is able to do so because of its unique shape and it's shredded foam/pad combination filling.
The pillow is not tall, it has a 4.7" profile. This height tends to be better suited for stomach and back sleepers, whose head needs to be raised only slightly to keep it in neutral alignment with the spine.
The feel of the pillow is soft (probably a 4 out of 10 on the firmness scale) and has a true memory foam feel. Sleepers sink slightly into the pillow and the foam cradles the head and neck and it is slow to respond overall.
I was not able to feel any pieces of shredded foam, I didn't know there was shredded foam in there until I read the tag. It feels more like a giant piece of foam than a combination of a foam pad and pieces.
I sleep in multiple positions – usually starting on my back and ending up on my side or stomach. While side sleepers tend to need firmer pillows, I found that my neck and head were fully supported and very comfortable with this pillow, even when I slept on my side.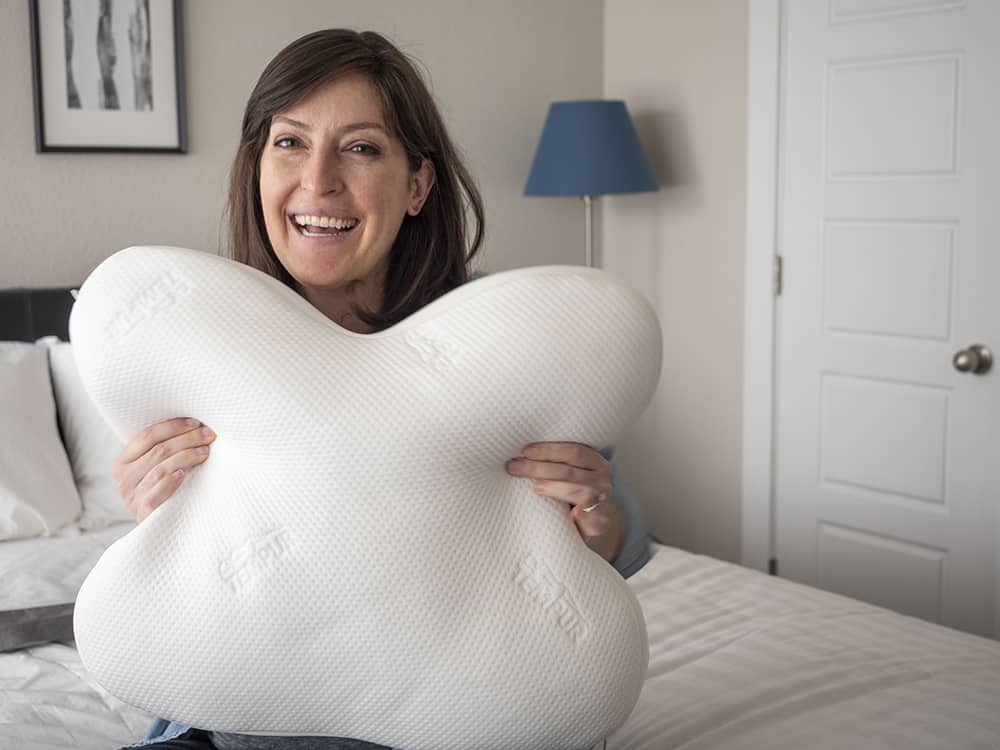 Larger or broader-shouldered individuals may find themselves needing a taller/firmer pillow to support their head and neck on the side.
One of the reasons this pillow could work for all positions (in my opinion) is that its shape allows a person to essentially wrap the pillow around the neck and provide support to the side of the face and neck in a way that makes it comfortable and easy to breathe.
Overall
I had a positive experience with the Tempur-Embrace pillow. I think the pillow's height, unique memory foam filling, and special shape all work together to make it a versatile pillow that can really work for any position.
Here is who I think this pillow is best suited for:
Stomach sleepers or those who sleep in multiple positions
People who like the feel of memory foam
People who are looking for a Standard/Queen pillow
Those who don't want a lot of firmness of extra support
Those who don't mind that a regular pillowcase will not fit over it perfectly
There is no return policy for the pillow and it does cost a bit more than the average pillow, but for those struggling to find a pillow that supports their head and neck when they move around during the night, this pillow just might do the trick.
Interested in more TEMPUR-Pedic pillows? Check out our ultimate list that looks at the six most popular TEMPUR-Pedic pillows.