Both the GhostPillow and TEMPUR-Cloud Breeze Dual Cooling pillow are products of popular mattress retailers, GhostBed and TEMPUR-Pedic. In addition, both are filled with a memory foam (or something very similar) and are designed to sleep cool. However, there are plenty of details and construction components that set them apart.
At the end, which one is going to be the perfect match? Check out my in-depth video review of each or keep scrolling to read the full written GhostPillow vs TEMPUR-Cloud Breeze Dual Cooling Pillow comparison below.
GhostPillow vs. TEMPUR-Cloud Breeze Dual Cooling Pillow: Top Similarities
Traditional-shape; will work with most pillowcases
Fillings are solid pieces of foam (won't change shape or go flat)
Covers are removable and washable/dryer-friendly (GhostPillow is line-dry only)
Both will work for side sleepers
5-year warranties available
Cooling features built into the design
Both products of mattress retailers; GhostBed is made by Nature's Sleep and TEMPUR-Cloud is made by TEMPUR-Pedic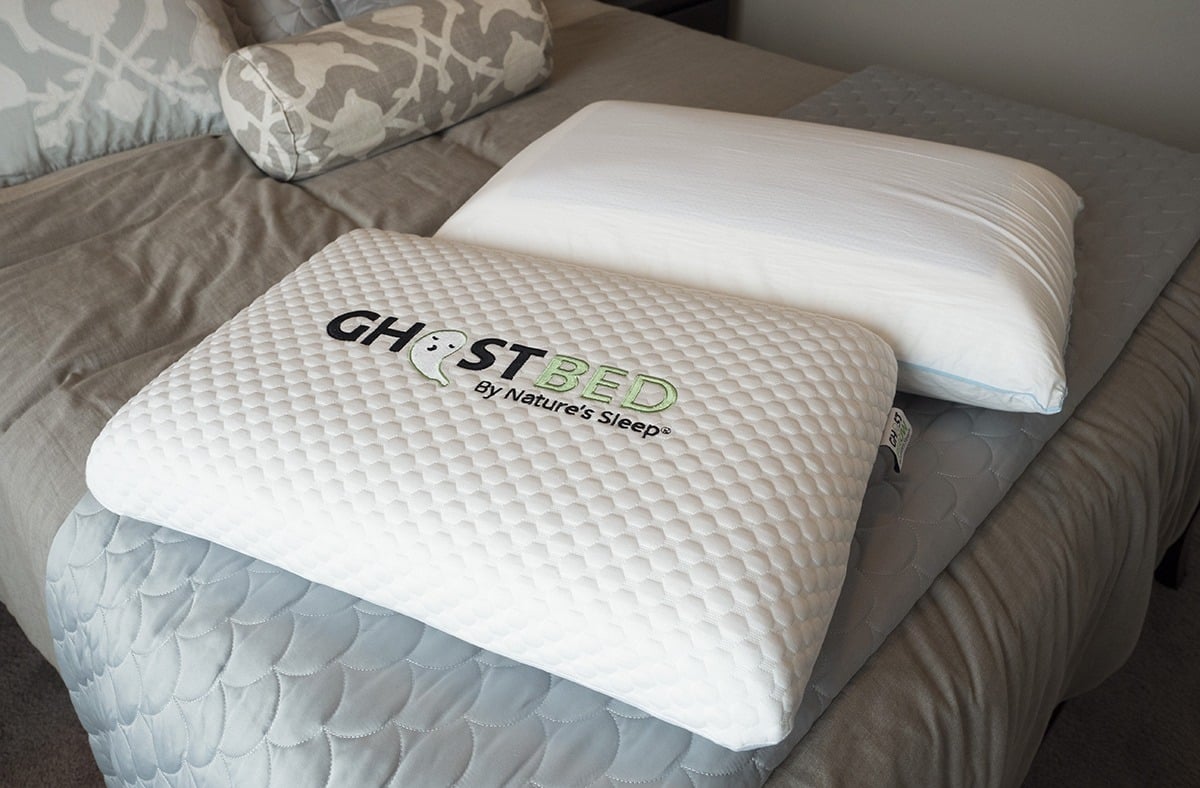 GhostPillow vs. TEMPUR-Cloud Breeze Dual Cooling Pillow: Key Differences
GhostPillow
Queen size: 16" x 24" x 5.5"
Weight: 2.86 lbs
Filling: solid ventilated piece of gel memory foam
Performance Cooling Side: Proprietary layer of Phase Change Material (PCM) that regulates body temperature
Exterior Cover Performance Side: High-performance moisture wicking
Exterior Cover Reverse Side: 97% premium polyester, 3% spandex
Inner Cover: 100% soft cotton scrim
The brief scent of lavender that should dissipate over time
101 night-trial and 5-year warranty
Made in China
Price: $85 (Queen)
Read the full GhostPillow review, here.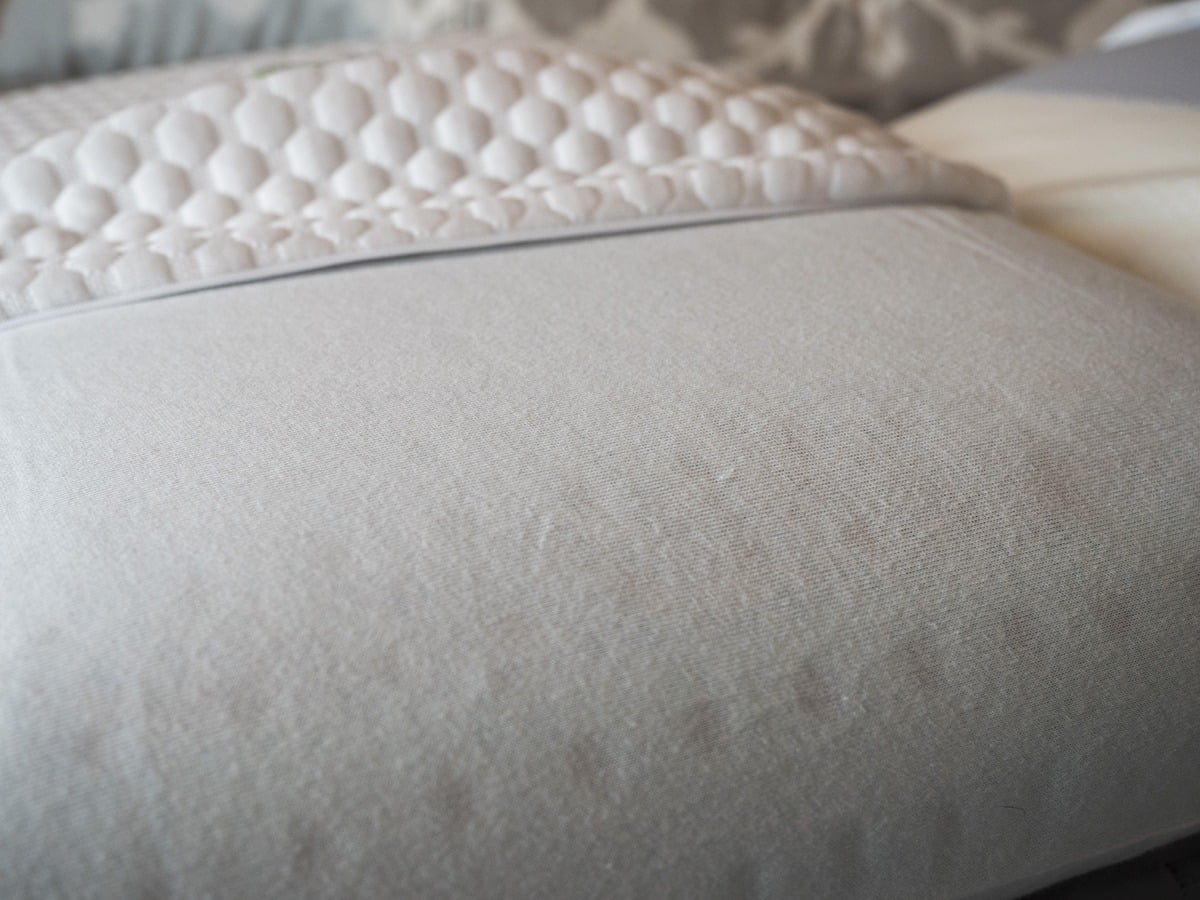 TEMPUR-Cloud Breeze Dual Cooling
Filling: 96% Molded Visco Elastic Polyurethane Foam Pad (molded memory foam) 4% Gel Pad
TEMPUR-Breeze gel layer on both sides of the pillow
Weight: 7 lbs (Queen)
Cover: 100% Cotton
Netting: 100% Polyester
Removable/washable cover
Dimensions:

Queen: 27″ x 19″ x 6.4″
King: 35″ x 19″ x 6.4″

Designed for back, stomach and side sleepers
5-year limited warranty
Made in the USA
No returns allowed; price: $149 for a Queen
Read the full TEMPUR-Cloud pillow review, here.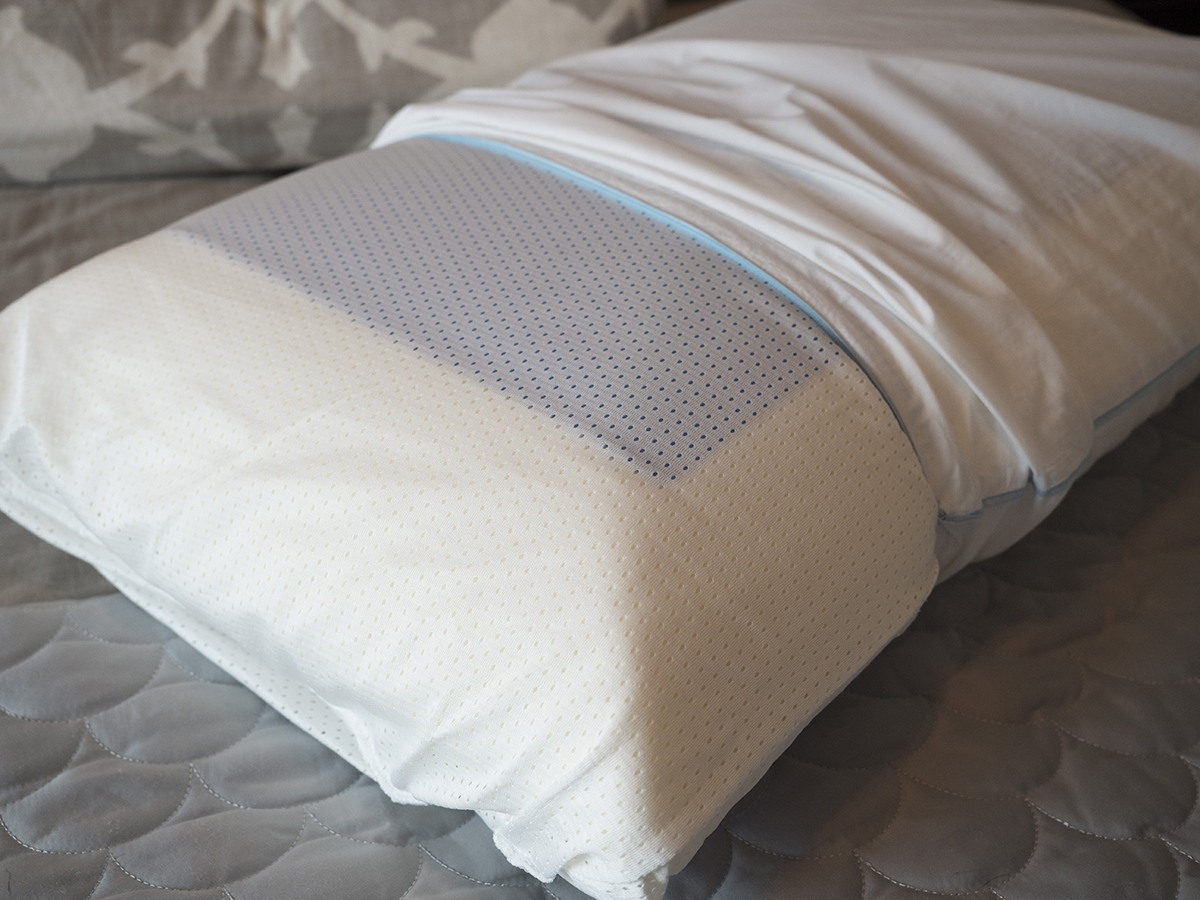 Who Might Choose GhostPillow…
Back sleepers. The core of the GhostPillow is a solid piece of ventilated gel memory foam that equates to medium firmness overall. Based on these characteristics, back and side sleepers will prefer it more than stomach sleepers, who need something with less height.
Those who find the scent of lavender soothing. The GhostPillow offers the scent of lavender that is noticeable as soon as the pillow packaging is opened. The company says it should dissipate over time, but depending on one's sensitivity level to smells like lavender, this could be a lovely or not so lovely addition.
Who Might Choose TEMPUR-Cloud Breeze Dual Cooling…
Heavier sleepers. This pillow not only stands at an intimidating 6.4" tall but the core is solid and particularly dense – the Queen pillow is 7 lbs- therefore, a sleeper's head won't sink that deeply into it. As a result, petite individuals, even side sleepers, may find it challenging to reach a comfortable angle. I'd recommend it for larger body frames or those who really just love a firm and sizable pillow.
Customers who want size options. The GhostPillow comes in just a Queen size but the TEMPUR-Cloud pillow offers a Queen option and a King option respectively.
Who Might Choose Either Pillow…
Hot sleepers. Both pillows are designed specifically to keep hot sleepers content and cool overnight. The GhostPillow features an aerated foam core and the cover is produced with a newer technology called Phase Change Material that draws heat away from the body in an effort to regulate one's body temperature. The TEMPUR-Cloud has a large dual gel pad situated on both sides to combat trapped heat and keep the pillow feeling cool to the touch. The cotton cover is also breathable.
Those who like the feel of memory foam. The GhostPillow and TEMPUR-Cloud Breeze Dual Cooling are made from memory foam. While their firmness levels vary, sleepers will get the same slow response and general feel from each.
Side sleepers. Based on my experience, the height profiles of each pillow and their solid foam cores, I think side sleepers can enjoy either pillow. Taller or larger individuals may prefer the overall size and loft of the TEMPUR-Cloud. People who switch from their side to their back may prefer the GhostPillow.
Those who've got the budget. Neither of these pillows really come cheap. At full price, the GhostPillow is $85 (Queen – one size only) and $149 for the TEMPUR-Cloud in a Queen size.
RELATED: Best Memory Foam Pillows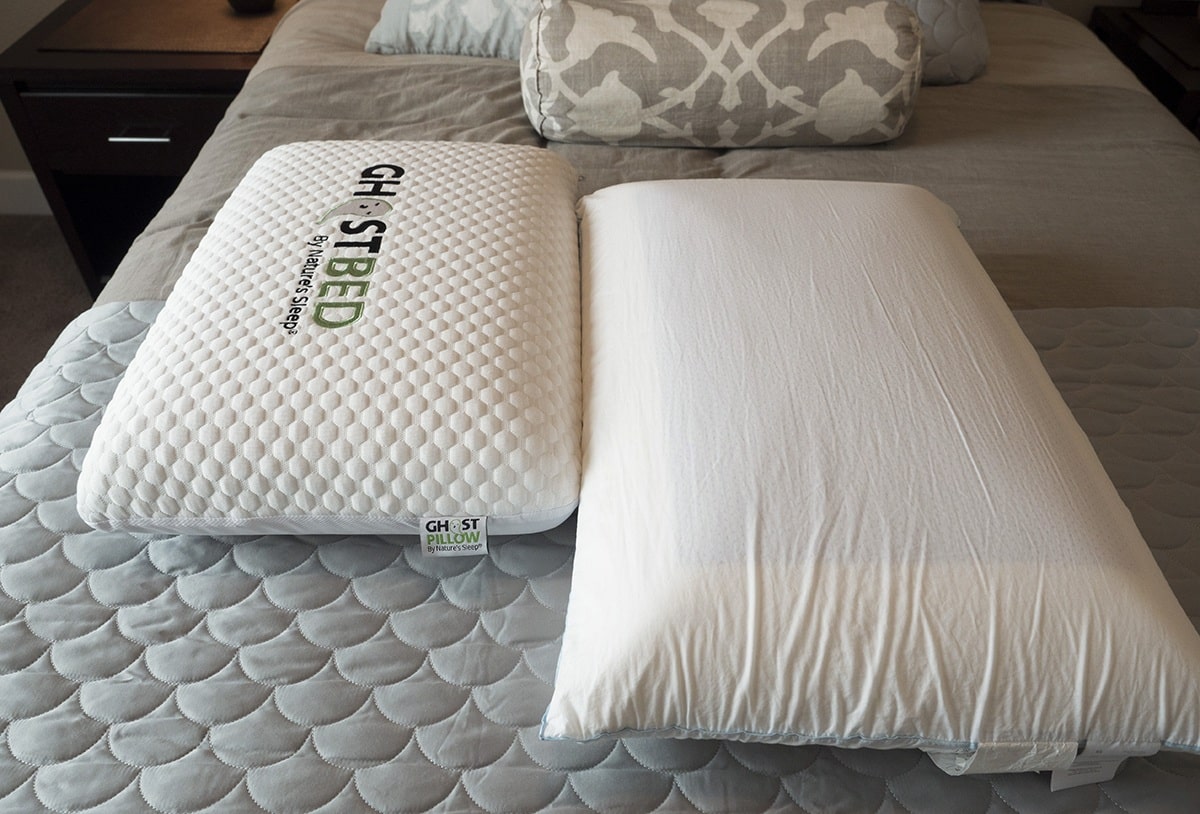 RELATED: Best Pillows for Side Sleepers
Overall
On paper, both of these pillows are excellent options for side sleepers who desire a solid memory foam pillow that won't sleep hot. Each pillow is a reflection of its own set of strengths and special features that set it apart from the rest of the pack.
Potential customers that want a lighter foam pillow with a medium comfort level – and don't mind lavender – are advised to go with the GhostPillow. Likewise, larger people that prefer a substantial pillow that won't move overnight or change much in shape at all, give the TEMPUR-Cloud a try.
Neither pillow can be labeled as budget-friendly, but be on the lookout for exclusive sales and deals during the holidays to score the best price.