Migraine headaches can completely disrupt your day. When the intense pain sets in, oftentimes the only solution is to hide under the covers in a dark room.
To help you get the pressure relief and comfort you need during these painful moments, we rounded up a list of the best pillows for migraines. A new pillow won't completely cure you, but they can alleviate neck tension and help you feel better faster.
The Best Pillows for Migraines
How We Chose Our Products
The Mattress Clarity team, which I am a part of, has tested hundreds of pillows and mattresses. For this specific roundup, we focused on pillows that offer excellent neck support and help keep the spine in a neutral alignment.
As someone who gets migraines frequently, I know how important it is to alleviate neck tension when a migraine strikes. I combined my first-hand experience with our subjective tests to find the best pillows for migraines.
Best Pillow for Neck Pain and Migraines – TEMPUR-Neck Pillow
This contoured ergonomic pillow is great for people who suffer from neck pain and migraines. Its curved shape cradles the neck and helps back sleepers maintain the proper spinal alignment. Because it's made out of firm TEMPUR material, it gently cushions the back of the neck and offers the support migraine sufferers need.
The TEMPUR-Neck pillow has a soft cover made out of polyester knit material, and it's available in three sizes. It's as versatile as it is durable!
What Makes the TEMPUR-Neck Pillow Stand Out?
It has a curved, ergonomic design that can help people with migraines and neck pain.
The TEMPUR-Neck pillow feels very supportive, so it's a great choice for back sleepers.
It's available in three different sizes, and it should last a long time.
Read our full TEMPUR-Neck pillow review.
If you suffer from migraines, the last thing you want is a pillow that traps heat and makes you feel even more uncomfortable. Luckily, the Sleep Number True Temp pillow has many impressive cooling features and offers the comfort migraine sufferer's need.
This firm and supportive memory foam pillow has a high loft, so it's ideal for side sleepers. It has a thin and breathable cover that promotes airflow, and the foam insert is aerated for even more breathability. It's even made out of hypoallergenic materials, so you don't need to worry about allergy flare ups.
What Makes the Sleep Number True Temp Pillow Stand Out?
It has temperature regulating technology, so you shouldn't overheat at night.
This pillow has a high loft and supportive feel, so it's great for side sleepers.
The Sleep Number True Temp pillow is made out of hypoallergenic materials.
Read our full Sleep Number True Temp pillow review.
Best Pillow for Migraines for Combination Sleepers – Purple Harmony
The uniquely constructed Purple Harmony pillow is very versatile – it comes in three different loft options. The Harmony is constructed with a thin layer of Purple's proprietary grid hex, and underneath that is a thick layer of Talalay latex foam. The construction and customization options on this pillow makes it a great fit for combination sleepers who move around throughout the night.
The Purple Harmony is squishy, thanks to the hyper-elastic polymer Hex grid, and beneath that there is a firmer feel, thanks to the thick layer of latex. It's also a great note to add that since latex is aerated, this pillow won't trap heat like some of its competitors.
What Makes the Purple Harmony Stand Out?
It's customizable, so it works for many different types of sleepers.
Hot sleepers won't overheat on this pillow.
The company has a 100-night sleep trial and a 1-year warranty.
Read our full review of the Purple Harmony pillow
Best Adjustable Pillow – Layla Kapok
Adjustable pillows are great for people who get migraines because they're versatile and can meet different needs day-to-day. Our favorite adjustable pillow is the Layla Kapok. Filled with open-celled memory foam and Kapok seed fibers, this pillow has a lofty and luxurious feel.
The pillow arrives with tons of filling inside, making it great for side sleepers. But if you prefer to rest on your back or stomach, you can easily unzip the cover and remove the filling. No matter how you choose to customize your pillow, you can rest easy knowing that the copper fibers in the cover will keep you cool at night.
What Makes the Layla Kapok Pillow Stand Out?
It is customizable, so it works well for back, side, and stomach sleepers.
It's made with fluffy Kapok fibers and shredded memory foam.
The pillow has a cooling cover made with copper fibers.
Read our full Layla pillow review.
Best Eco-Friendly Pillow for Migraines – Cozy Earth
We all know that sleeping in silk sheets can feel luxurious, especially when none other than Oprah calls a brand's sheets the softest she's ever felt, so it's no surprise that Cozy Earth also makes extremely comfortable pillows too.
The Cozy Earth pillow is constructed with 100% viscose made from organic bamboo on the cover, and 100%, long-strand mulberry silk fibers in the core. It's a super soft pillow, and it's made with temperature-regulating materials so it won't overheat while you sleep on it.
What Makes the Cozy Earth Pillow Stand Out?
It's made with organic materials, and it's hypoallergenic.
It's great for back and side sleepers.
It feels cool to the touch, so it's great for hot sleepers.
Read our full review of the Cozy Earth pillow
Best Eye Pillow for Migraines – IMAK
My migraine headaches often cause piercing pain around my eyes. If you have similar symptoms, you may want to check out the IMAK eye pillow. Filled with dense ErgoBeads, this eye mask gently massages the face and helps alleviate headache pain.
The IMAK offers deep pressure touch stimulation, which has been shown to lower cortisol levels and make people feel more relaxed. It's the same therapeutic effect created by weighted blankets! Due to its weight, the IMAK is best suited for back sleeping; it may fall off your face if you use it while resting on your side.
What Makes the IMAK Stand Out?
It is filled with ErgoBeads, which gently massage the face and help alleviate migraine pain.
The IMAK helps lower stress levels.
It works well for back sleepers.
Read our full list of the best sleep masks.
Best Cervical Pillow for Migraines – Sutera
Cervical pillows are particularly helpful for people who suffer from migraines, because they cradle the head and help alleviate neck pain. If you're looking for a budget-friendly pick, check out the Sutera!
This pillow has an ergonomic shape, which helps sleepers maintain the proper spinal alignment throughout the night. It feels firm and supportive, so you don't need to worry about it sagging as time goes on. Another benefit: It's made out of chemical-free materials!
What Makes the Sutera Stand Out?
It's a supportive pillow with an ergonomic design, which helps with pain relief.
This firm pillow won't sag as the night goes on.
The Sutera is sold at a budget-friendly price, and it's conveniently sold on Amazon.
Best Memory Foam Pillow – Lagoon Otter
Memory foam offers excellent pressure relief and support, which is why it's a popular material for migraine-friendly pillows. Lagoon Sleep has made it even easier for people to find the memory foam pillow of their dreams. Simply visit their website and take their sleep quiz; it will match you to the ideal firmness level and loft.
Here at Mattress Clarity, we really love the Lagoon Otter pillow. It has a medium-firm feel, and it's filled with breathable shredded memory foam. The loft works well for most side sleepers, because it helps promote the ideal sleep posture.
What Makes the Lagoon Pillow Stand Out?
Lagoon has a handy sleep quiz that matches you to your perfect pillow.
The Otter pillow has a medium-firm feel and high loft, making it great for side sleepers with migraines.
The shredded memory foam filling promotes airflow and helps alleviate pain.
Read our Lagoon pillow review.
What Kind of Pillow is Best for Migraines?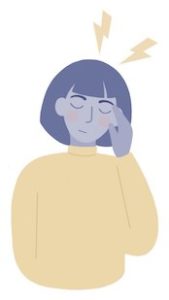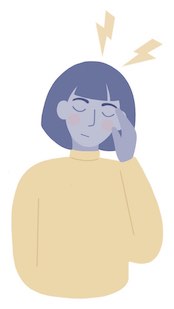 Pillows won't completely cure migraine symptoms, but they can promote the proper spinal alignment and soothe neck pain. When your head is properly aligned, it can make migraine symptoms more bearable.
Due to their pressure-relieving benefits and supportive feel, memory foam pillows work well for people with migraines. If you're particularly worried about neck tension, you may want to choose an ergonomic pillow like the TEMPUR-Neck or Sutera.
Adjustable pillows are also great options because they allow sleepers to control the loft, which plays a large role on how comfy a pillow will feel in each sleeping position.
Can Your Pillow Cause Migraines?
While your pillow may not be the sole cause of your pain, it could contribute to it. Migraine triggers vary from person to person, and sometimes, they're brought on by sleep deprivation and irritated nerves. If your pillow isn't supportive, you may put pressure on the nerves in your upper neck and develop migraines. Uncomfortable pillows can also hinder sleep quality, which can exacerbate migraine headaches.
Related: Can Pillows Cause Headaches?
How to Sleep with a Migraine
It can be difficult to fall asleep with migraine symptoms that feel like someone is drilling a hole through your head. Fortunately, there are several ways to make falling asleep easier when you're living with stabbing pain.
Sleep in a dark room, and turn off electronics. The blue light emitted from screens can make it more difficult to fall asleep.
Eliminate noise. When a migraine strikes, many people become sensitive to noise. It may be helpful to sleep with earplugs in order to drown out the sound.
Avoid caffeine. Many over-the-counter migraine medications have caffeine in them, so check the ingredients before taking a pain pill before bed.
Apply hot and cold packs to the neck and forehead. This can help alleviate pain and make it easier to fall asleep.
Practice meditation. Migraines can be stressful. Many tools, like the Headspace and Calm apps, have guided meditations that can help you relax before bed.
Best Sleep Positions for Migraines
Migraines and neck tension go hand-in-hand, so if you're suffering from a miserable headache, you'll want to make sure you're not adding neck pain into the mix. For that reason, it's best to sleep on either your back or side when you have a migraine. Stomach sleeping puts extra strain on neck muscles, which could make the pain feel worse.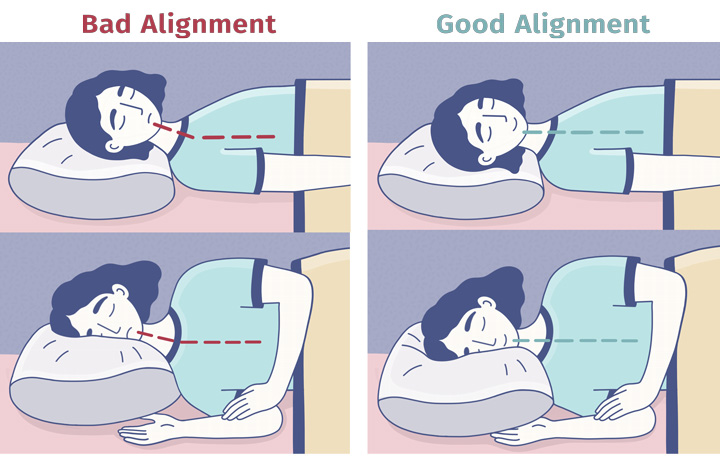 But it's not as simple as just changing your sleeping position. It's equally important to find a pillow that promotes a neutral alignment. For back sleepers, this means a medium loft pillow that helps the chin line up with the sternum. Side sleepers should sleep on a higher loft pillow that offers more neck support. For a good rule of thumb, make sure your shoulder lines up with your ear when you're side sleeping.
Summary
Once again, here are our top picks for the best pillows for migraines.
FAQs
We aren't done just yet! Check out our FAQ section for more information.
Can lack of sleep cause migraines?
For some people, sleep deprivation can cause a migraine attack. Triggers vary from person to person, however, so this may not apply to every person.
Does sleep help migraines?
Many studies have found that sleep can end migraines, so if you're suffering from an attack, you may want to go to bed early and rest up.