Meditation has many benefits – it helps people alleviate stress, calm nerves, and get restful sleep. But even so, people often find it difficult to make meditation part of their everyday routine. That's why folks flock to the Calm and Headspace apps.
These popular apps, available for iOS and Android users, help people build mindfulness practices and get a great night's sleep. But which one is best for you? Our Calm vs Headspace review will help you figure that out.
Calm vs Headspace: Who Should Get What?
Calm and Headspace are two of the most popular mindfulness apps on the market. Both aim to help people fall asleep, soothe anxiety, and feel more present. But even though they share many similarities, these apps are better suited for different users. Here's a quick overview of who should get each app:
Who Should Subscribe to Calm?
People who want many different sleep stories
Folks who love to listen to white noise while sleeping
People who want to buy a lifetime subscription
Who Should Subscribe to Headspace?
People who primarily want to focus on meditation
Fans of visual meditation
People who want a more budget-friendly option
Calm and Headspace Overview
Before we compare these two popular meditation apps, let's see what makes each one stand out.
Calm Overview
The Calm app has many features, including guided meditations, breathwork activities and daily movement exercises. However, this app is mostly geared towards sleep and relaxation.
Calm's sleep stories are narrated by some of today's most notable voices, including Laura Dern, Harry Styles, and Tabitha Brown. You'll find relaxing sleep music and white noise. If you really need to wind down, try one of Calm's body scan meditations. These guided sessions help users focus on specific parts of their bodies in order to release muscle tension and calm their minds.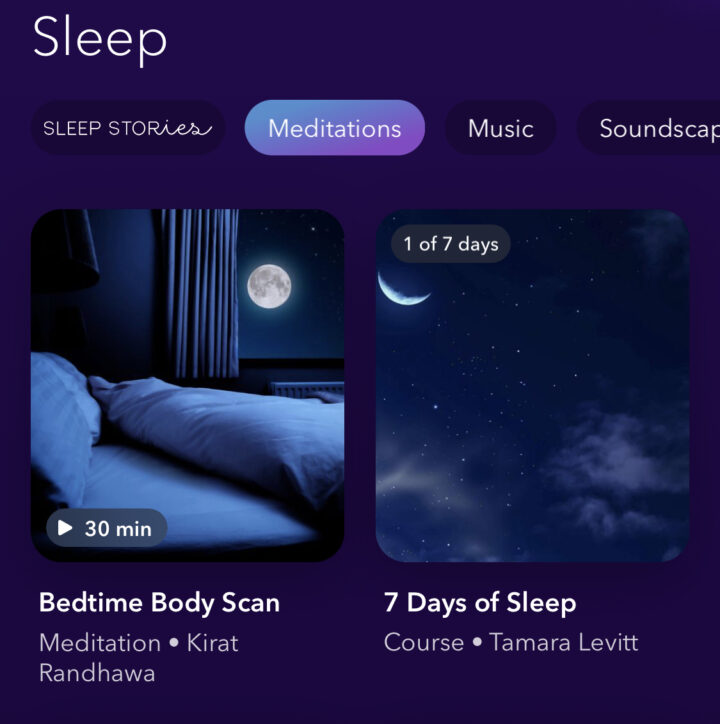 If you aren't sure what kind of content you need, use Calm's "scroll" setting. Here, you'll see a wide variety of Calm's relaxing stories, soundscapes, and breathwork exercises.
Have some kiddos that need to relax? Direct them to the "Calm Kids" section. Here, you'll find sleep stories about My Little Pony, Transformers, and Minions.
The Calm app comes with a free seven-day trial. After that, users are automatically enrolled in the $69.99 yearly subscription. If you see yourself using the Calm app for years to come, you can opt for the $399.99 lifetime membership.
Headspace Overview
Headspace offers many great tools for rest and relaxation, but its primary focus is meditation. Users can follow specific courses or opt for singular meditation sessions. Headspace also allows users to choose how long they want to meditate. This is a great option for beginners who want to ease themselves into the practice.
Headspace's sleep content features relaxing soundscapes, soothing music, and guided wind down meditations. They even have "Nighttime SOS" sessions, which are designed to help people fall back to sleep after a restless night.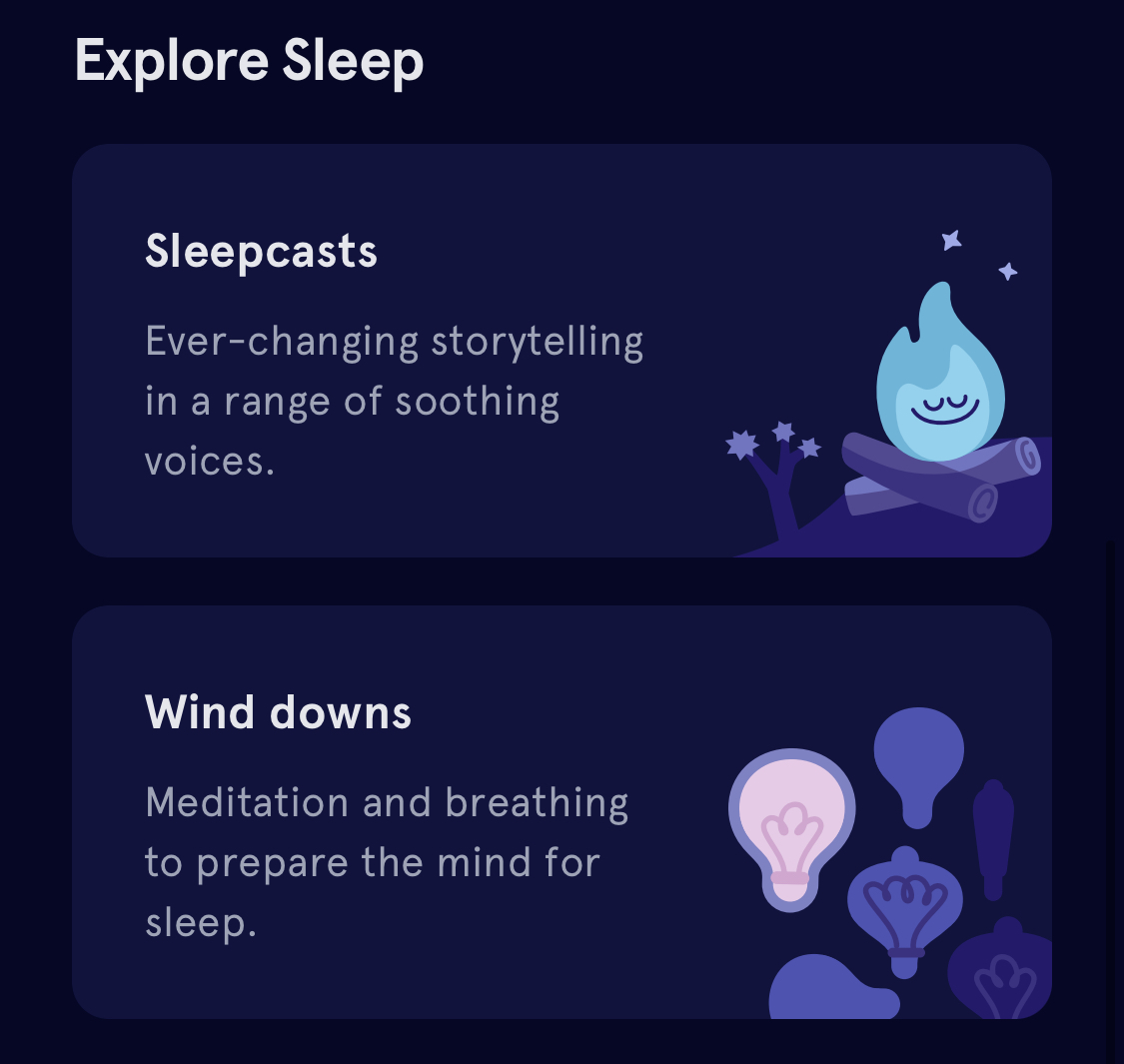 Instead of traditional sleep stories Headspace has "Sleepcasts," 45-minute audio recordings detailing tranquil settings. If you need something longer, put on Headspace's "Sleep Radio." These eight-hour recordings feature soothing sounds, music, and white noise.
Unlike Calm, Headspace offers monthly subscriptions. After your seven-day trial period, you'll be billed $12.99 per month. Headspace occasionally offers longer trial periods if users choose to opt for the $69.99 yearly subscription instead.
Calm vs. Headspace Comparison
| | | |
| --- | --- | --- |
| | Calm | Headspace |
| Features | Sleep stories, soundscapes, sleep music, meditations. | Guided meditations, sleep stories, movement based meditations, white noise |
| Who's It Best For? | People looking to relax before bed. | People who are looking to get into the practice of meditation. |
| Free Trial | 7 day trial (annual plan only) | 7 day trial (monthly), 14 day trial (annual) |
| Pricing | $69.99/yr – $399.99 (lifetime subscription) | $12.99/month – $69.99/yr |
Calm and Headspace Similarities
Both apps work towards the same goal. So let's cover some of the similarities between them.
Both have sleep stories to help you relax your way into slumber.
Both have options for guided meditations.
Both have white noise or sleep music options..
Calm and Headspace Differences
Of course, despite the similarities, the apps do have their differences.
Calm's popularity has garnered celebrity attention. Many actors and other media personalities, such as Laura Dern, Harry Styles, Matthew McConaughey, among many others have provided their voices for sleep stories.
While both offer movement or exercise oriented guides to help you feel more energized throughout the day, Calm just features yoga. Headspace's movement guides can range from yoga, to dance breaks, to cardio.
While both offer meditation, Headspace is geared towards teaching you about meditation and helping you make a habit of the practice.
Personal Experience with The Calm App
How did we like the Calm app? We will go over our experiences. See what we have to say!
Elisa's Take
When I first opened the Calm app, I started breathing deeper. The loading screen sounds like a tranquil waterfall, and the layout is beautiful and easy to navigate. I gravitated towards Calm's sleep stories because of the famous voices narrating them. I especially loved listening to Tabitha Brown's honey-soaked voice describing food and family. Her sleep story lulled me to sleep within minutes.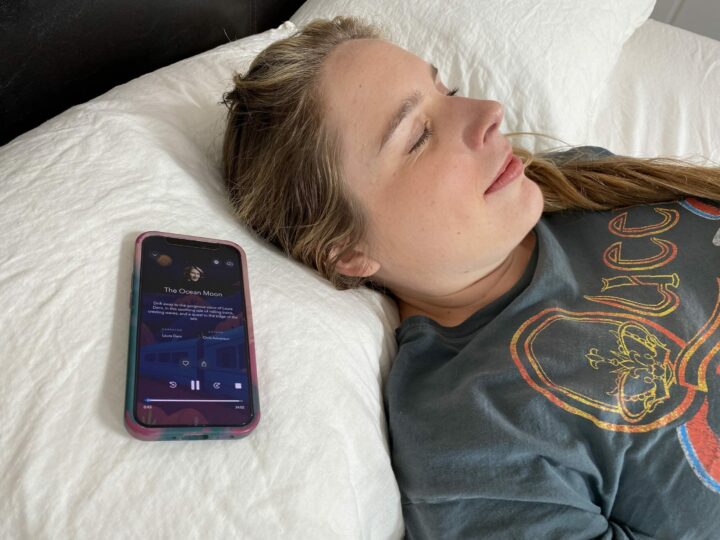 One evening, when I had trouble turning off my brain, I turned to Calm's "Night Desert" soundscape. The dreamy audio sounds like hot wind blowing through cacti. I imagined twinkling stars and roaring campfires. Soon, I was in a deep sleep.
Even though I'm new to mindfulness work, Calm's guided meditations felt easy and accessible. The app has so many different types to choose from, including meditations for self care, migraine relief, and building self confidence. I found the grief series especially helpful after losing my sweet bulldog, and it allowed me the time to process all of the heavy emotions.
Tony's Take
I preferred the Calm app because I found it more visually engaging and I liked the content it offered more. More often than not, I'm the type of person who tends to overthink their day when I climb into bed. In other words, I don't fall asleep as quickly as others.
So, what I really used Calm for was its sleep stories. It gave my overactive imagination something to focus on instead of worrying about hypotheticals. Most of the sleep stories ranged from 20 to 40 minutes long, which was the perfect amount of time for me. I was able to imagine the story being told to me, and by the end of the story, I was either already asleep, or something very close to it. To the point where I don't remember how a few stories ended!
My favorite sleep story on the app was one by actor Jonathan Bailey. For reference, some of you may know him as Anthony Bridgerton from Netflix's hit series, Bridgerton (2020-present). His story, Love Letter from an Englishman, detailed a captain writing to his loved one about a vibrant island he and his crew explored. How romantic is that?
Personal Experience with Headspace
But what of Headspace? Keep reading to see what we thought!
Elisa's Take
Headspace's layout feels more straightforward and focused. If you want to improve your meditation practice, this can be super helpful. Personally, I want to focus more on relaxing sleep stories and dreamy soundscapes, so I found the app a bit more difficult to navigate.
Headspace offers many tools to help people fall asleep, but they aren't as developed as the ones found on the Calm app. You won't hear celebrities telling stories or find as many unique soundscapes, but Headspace really shines when it comes to meditation.
Users have the ability to choose how long they want to meditate, so even if you're pressed for time, you can squeeze a little zen into your day.
Headspace also offers more in-depth movement sessions. While the Calm app focuses primarily on stretching and yoga, Headspace offers more intense workouts like Lincoln Center Dance Breaks and Kim Glass's cardio courses.
Tony's Take
When I downloaded Headspace, I noticed that the main push for new users was to practice meditation. The app starts you on a basics course that walks you through how to start practicing meditation. And that's exactly what meditation is: a practice.
I mainly used the meditation features from Headspace, and would use it, mostly, right when I woke up. I played around with doing it right before bed, but I found that right after I woke up worked best for me. What I really appreciated about Headspace was its basics course. Admittedly, meditation wasn't something I practiced much, so I really liked that there's something designed specifically for either newbies or people who haven't meditated in a long time.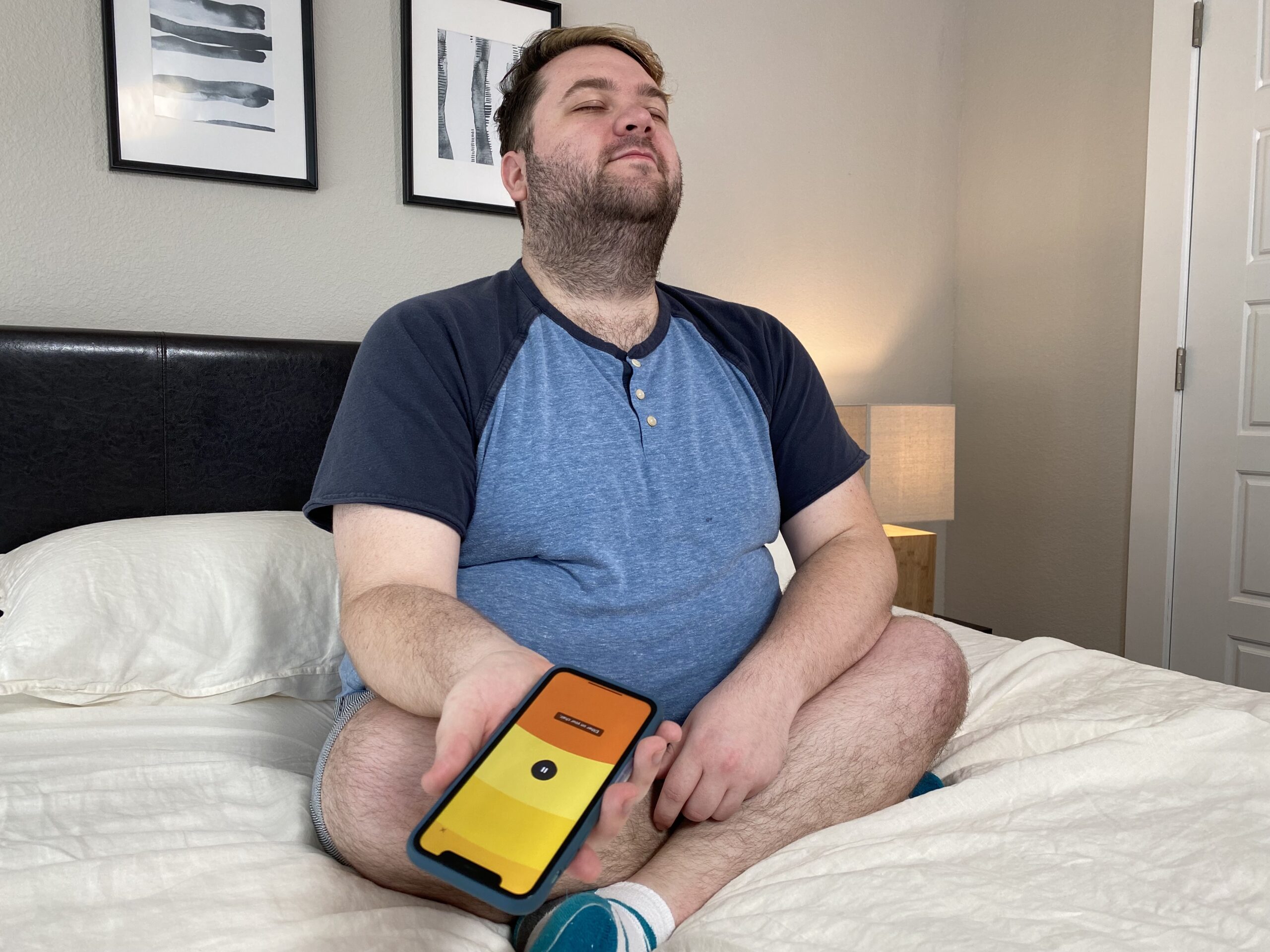 The other great thing about either the basics course or other guided meditations was that you have the option to choose how long you meditate for. The options ranged from three to 20 minutes. Personally, the sweet spot for me was about 10. That was enough time to clear my head, and was a much better start to my day than immediately checking the chatter of social media.
FAQs
Still have questions? Check out our FAQ section below!
Is Calm or Headspace better?
This ultimately depends on what you're looking for. Both apps feature tools that help people meditate, relax, and sleep. The Calm app is geared more towards relaxation and sleep, and it features several sleep stories narrated by famous figures. Headspace is a better choice for people who want to learn how to meditate.
Is Calm free?
The Calm app comes with a seven-day free trial. After that, users are billed $69.99 per year. Calm also sells lifetime memberships for $400.00. It's important to note that Calm will only bill you once if you opt for this.
Is Headspace free?
The Headspace app comes with a seven-day free trial. After that, users are automatically enrolled in a monthly plan for $12.99. But keep your eye out for additional deals! Headspace occasionally offers longer free trial periods.