Weighted blankets have recently become a seriously hot ticket item; as a reviewer of weighted blankets, I find it difficult to keep up with the ever-growing market. Bed-in-a-box mattress companies are a big part of this growth, and I have personally tried weighted blankets from Purple, Brooklyn Bedding, and Layla.
Now, here comes Casper with their weighted blanket option – it is a throw-sized weighted blanket that comes in three weights. Having tried numerous weighted blankets, I was interested to see how the Casper would compare. I am a fan of their mattresses, pillows, and other products, so I was excited to dive in!
To find out how it performed during my tests, read on for my full Casper weighted blanket review.
Casper Weighted Blanket Deals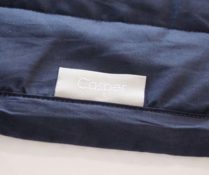 The Casper weighted blanket features fantastic weight distribution and is an effective weighted blanket for hot sleepers. 
The Casper Should Work For …
Hot sleepers. While the Casper does not feature a cooling cover like one finds with the Luxome, it does sleep quite cool. The outer shell is made of 100% cotton, a breathable material; sleepers should experience some exceptional airflow with the Casper weighted blanket, and they should not sleep too hot.
Those who prefer a throw-sized weighted blanket. It is always a good idea to find a weighted blanket that is made to fit the size of one's body, not the size of the mattress. In this respect, the Casper is a great pick; all three weights come in one 50″ x 70″ size. The Casper weighted blanket will fit the size of a single user without hanging off the edge of the mattress.
People who are seeking great weight distribution. The Casper features excellent weight distribution, so sleepers should feel like an even amount of weight is resting on top of their body. This comes from the Casper's rectangular gridding that distributes the glass beads evenly across the surface area of the blanket.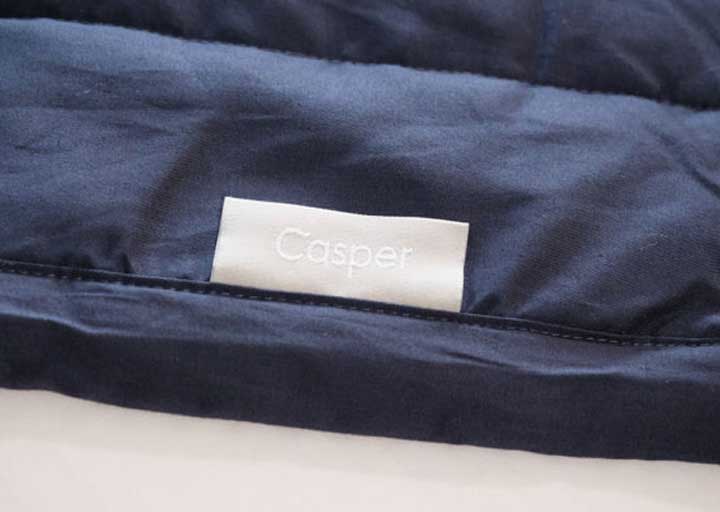 The Casper Might Not Work For …
People who are on the heavier side. The Casper only comes in three weights: 10 lbs, 15 lbs, and 20 lbs. Like most weighted blanket producers, Casper recommends that customers choose a weighted blanket that is close to 10% of their weight. Using this math, the Casper does not offer options for people who are over 200 lbs.
Those who want numerous weight and size options. The Casper is only available in three weights and only comes in one size. Other weighted blankets producers offer multiple weights and sizes, but Casper does not. People who want to find the best weighted blanket with the exact weight and size to fit their preferences might need to look elsewhere.
Those who want something more affordable. While the Casper is a high-quality weighted blanket, it does come with a higher price tag; the 20 lb weighted blanket is currently sold for around $190. Those who want to save money on their purchase can find some more budget-friendly options online.
Casper Weighted Blanket Construction
First off, as I mentioned above, the Casper is available in three weights: 10 lbs, 15 lbs, and 20 lbs. Casper recommends choosing a blanket that is approximately 10% of one's body weight. This means the Casper weighted blankets could work for people between 80 and 220 lbs.
The blanket is only available in a throw-size that is 50″ x 70″ – the blankets are narrow and do not reach to the edges of a Queen size mattress.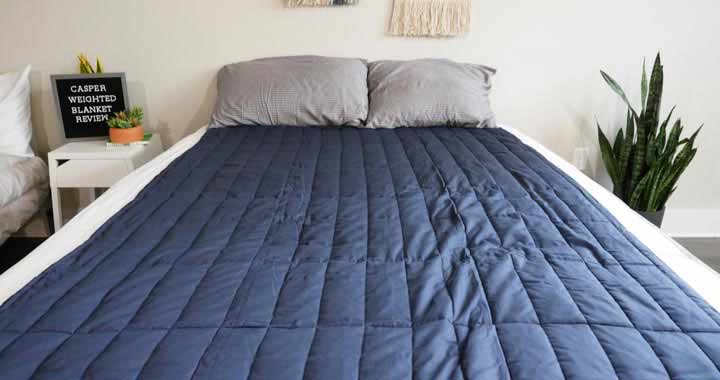 The Casper's outer shell is made of 100% cotton and is stitched in a rectangular grid pattern. Most weighted blankets feature square gridding, but the Casper's design is based more on performance sportswear. Inside, glass beads provide the Casper weighted blanket with its actual weight and some polyester batting adds just a bit of body.
The weighted blanket is not machine washable but, according to Casper, it can be spot cleaned.
Casper Weighted Blanket Deals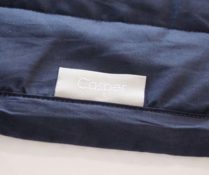 The Casper weighted blanket features fantastic weight distribution and is an effective weighted blanket for hot sleepers. 
My Experience
I weigh 250 lbs and, usually, I opt for a weighted blanket that weighs at least 25 lbs. Given that Casper's heaviest offering is 20 lbs, I went with that version. While I am getting a decent amount of weight from the Casper, I would like a few more pounds.
However, the Casper's narrow width does help out somewhat; being thinner, the 20 lbs of weight are concentrated in a smaller area. I am getting the same weight concentration I would get on a much wider 25 lb weighted blanket. This narrow width and the rectangular gridding makes it feel like the blanket is hugging my body, and it is a nice feeling.
This gridding also provides the Casper with some excellent weight distribution. The gridding is very narrow, and I feel like the blanket's weight is evenly distributed across my legs and chest. I would go so far as to say this is some of the best weight distribution I have experienced.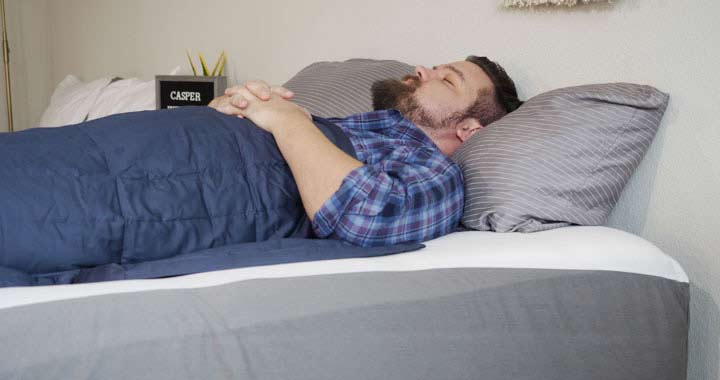 As a hot sleeper, I often worry that I will overheat under my weighted blanket. That is not a major issue with the Casper – it features a breathable cotton outer shell that keeps the blanket nice and breathable. Napping or sleeping under the Casper, I do not wake up hot and sweaty.
Taking all of this into account, the Casper is a very effective weighted blanket. Lying underneath the Casper, it is much easier to fall asleep and stay asleep. I personally use weighted blankets to deal with my anxiety, and the Casper is providing me with the necessary deep tissue pressure.
Final Thoughts
This weighted blanket is another quality product from Casper. It is a well-made weighted blanket that features excellent weight distribution and breathability.
If people want to try out the Casper, the company offers a 100-night sleep trial as well as a 1-year limited warranty.
FAQs
What are the benefits of a weighted blanket like the Casper?
Weighted blankets can have numerous benefits for users. Weighted blankets provide deep tissue pressure which has been shown to increase serotonin and dopamine levels; this can improve one's sense of wellbeing. At the same time, deep tissue pressure decreases cortisol levels, reducing stress. Because of this, weighted blankets are often prescribed as a possible treatment for anxiety.
Studies have found that weighted blankets can also help with insomnia and other sleep issues. When using a weighted blanket, most study subjects fell asleep and stayed asleep more when lying under a weighted blanket.
How heavy should your Casper Weighted Blanket be?
Like most weighted blanket companies, Casper recommends that customers find a blanket that is close to 10% of their body weight. For instance, if someone weighs 150 lbs, a 15 lb weighted blanket would be the best choice.
Will the Casper Weighted Blanket make you sleep hot?
The Casper Weighted Blanket should not make people sleep too hot; it features a cotton outer shell that is breathable and allows for good airflow. While it does add a bit of warmth, the Casper should not cause sleepers to wake up hot and sweaty.
Marten Carlson
Marten is Senior Editor at Mattress Clarity. He covers the mattress industry as well as sleep science news. He is specifically interested in the connection between sleep and overall health. Marten has written for media publications like Consequence of Sound and received a master's degree in Film Studies from Emory University. He comes from Franklin, Indiana, and spends all the time he can writing, directing, and acting in films. He has directed genre short films and features. His newest film, Starlets, recently premiered at the River Town Film Festival in Clinton, NJ. He also stars in the upcoming thriller, Sour Bear. His next film, At The Hop, is a hot rod actioner with a horror twist.