When shopping for a weighted blanket, some companies will offer a few weight and size options. Some companies only offer one size and one option, which may not be ideal for most people.
While this doesn't necessarily mean these are bad weighted blankets per se, I personally like a lot of options with my weighted blankets. I generally want numerous weight and size options to ensure I get exactly what I am looking for in a blanket.
That's what Luna Weighted Blankets are all about: options, which include a wide variety of sizes, weights, and colors.
Still, how is the actual weighted blanket? Did it help me sleep better? Read on for my full Luna Weighted Blanket review.
Luna Weighted Blanket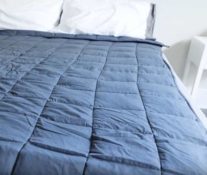 The Luna weighted blanket is a great choice for kids because it's available in many different weights.
Mattress Clarity Score
4.60 / 5
Read Full Review
Luna Weighted Blanket Video Review
Watch me put the Luna Weighted Blanket to the test in this video review.
Who Might Like the Luna…
People who want options. When it comes to weighted blankets, there is no one right size and appropriate weight for everyone. Whoever picks the Luna shouldn't have trouble finding the exact right weight for them. They offer blankets that range from 5 lbs to 25 lbs, and they come in a few sizes as well. They offer a number of duvet covers as well, which add further flexibility.
Those who are a lighter, medium-weight, or heavier person. Whether someone needs a weighted blanket for a child or a much heavier sleeper, it should be easy to find what people need with the Luna. Again, their numerous size and weight options make it possible to find a blanket for all types of sleepers.
People who are hot sleepers. One of the significant drawbacks of weighted blankets has to do with warmth. With their heavier fill, weighted blankets can make people heat up at night, something most people try to avoid. I did not have this problem with the Luna, however, because it is a breathable weighted blanket and even features a Luna's All Climate Cooling Cotton.
Those who are looking for a good value. While some weighted blankets cost upwards of $300, The Luna is priced much more affordably. Even their largest size is priced at around $109. At the same time, the blanket is well-made and seems to feature a high-quality construction. Buyers are getting a very nice weighted blanket for not too much money.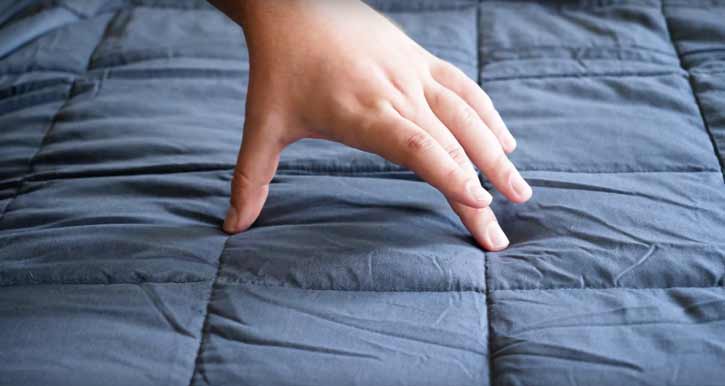 Who Might Not Like the Luna…
Those who are larger and prefer a throw-size weighted blanket. If people need a heavier weighted blanket and also prefer a narrower, throw-size, they won't be able to find this with the Luna. For instance, I like a 25 lb weighted blanket, but I have to opt for either a Queen or King-size.
People who want great weight concentration. Since buyers can't get a narrower, heavy weighted blanket, people might not get the most concentrated weight. I personally like a heavier throw-sized blanket so that I feel a good amount of weight across my body.
Those who want excellent weight distribution. While the weight distribution is by no means poor, I have seen better weight distribution in other blankets. The gridded squares are quite large, so I do find the fill is moving around a fair amount, and I am feeling a bit of varying weight across my body.
RELATED: Best Weighted Blankets for Anxiety
Construction and Options
Luna has a large number of options that can be an excellent fit for the right type of sleeper. First off, there are many weight options to choose from. The following weights are currently available: 5, 7, 10, 12, 15, 17, 20, 22, or 25 lbs.
In addition to weight options, there are also a few size options available. While it's not possible to get a 25 lb weighted blanket in a Twin-size, there are still have one or two options for each weight, including Child, Twin, Full, Queen, and King.
Now, this is rare for a weighted blanket, but there are also four color options available. On their website, Luna offers Light Grey, Dark Grey, White, and Grey Striped, and on Amazon, there are a few more colors that people can choose from.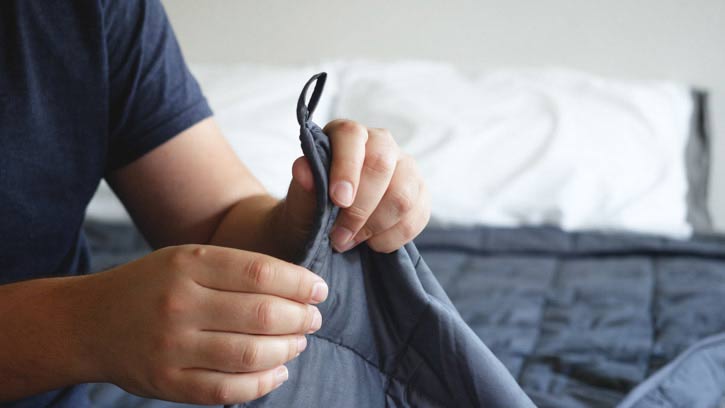 If these colors aren't to a person's liking, they can also add a Luna duvet cover to the order. The Luna Cover comes in a few other colors as well as in a soft, cozy Minky style. The blanket features eight duvet tabs that help secure the Luna properly within the duvet cover.
Now, let's talk about the blanket itself, its construction, and key takeaways. The Luna's shell is comprised of 100% organic cotton with a 400 thread count. The Luna contains something called All Climate Cooling Cotton, which is meant to wick away moisture and assist with heat dissipation.
The blanket features a standard gridded stitching with the squares measuring 4″ x 4″ and the blanket is double stitched to keep the fill in place. In terms of the fill, it consists of very fine, medical-grade glass beads that have a great feel overall.
According to Luna, anyone can wash their blanket at home with a problem. People should simply make sure to wash on a gentle cold cycle. They recommend adding towels or blankets to the washer to even out the weight, and then people can line dry the Luna.
Luna Weighted Blanket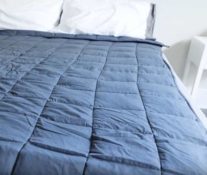 The Luna weighted blanket is a great choice for kids because it's available in many different weights.
Mattress Clarity Score
4.60 / 5
Read Full Review
My Experience
Like most weighted blanket companies, Luna recommends that people choose a blanket that is around 10% of their body weight. I am 230 lbs, and I like my blankets a bit heavier. I like my blankets a bit heavier, so the 25 lb weighted blanket is a perfect fit overall.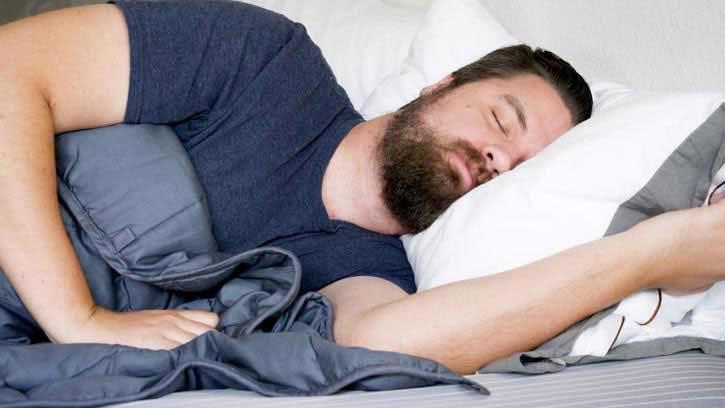 While the 25 lb weighted blanket is indeed heavy enough overall, I am not getting the best weight concentration. This is because the 25 lb weighted blanket comes only in Queen and King. So, the weight is more spread out across my body. It is not necessarily light, but I would like some more concentrated weight. Also, the weight distribution is not fantastic. I am not feeling dead spots, but I do feel some varying weight.
One of the things people will probably like the most about the Luna is its cooling nature. With the addition of a cooling fabric, it does not feel too hot underneath the Luna. I did not wake up sweating as I have done under many other weighted blankets.
The main question is: did it help me sleep better? Well, I can say that it did. I first tried the Luna at work while I was trying to write an article and found myself nodding off to sleep. Even though I would like some more concentrated weight, the Luna is definitely doing the trick and was a pleasant experience overall.
Overall
The Luna is an impressive weighted blanket with a ton of options. Hot sleepers and people of pretty much any size will find the weight they need with the Luna.
The blanket comes with a 100-night sleep trial, and Luna donates 1% of all proceeds to Mental Health of America.
Want to check out some other options? Read our Bearaby Napper review to see how it compares!