In my time reviewing weighted blankets, I have noticed that they are all essentially the same. The majority of weighted blankets I come across basically look like a comforter. Blankets filled with glass beads are heavier than down blankets, of course, but the point is that weighted blankets are particularly difficult to tell apart.
When I received the Bearaby Napper, I was very surprised by its design. It does not look like a comforter but instead has the design of an afghan or throw blanket. I was excited to try out this very unique-looking weighted blanket.
Does this standalone design still help me sleep better? Read on for my full review.
Bearaby Deals
The Bearaby Napper is a unique weighted blanket that is a good match for hot sleepers and those who like a throw-size blanket. Click the button for the best deal on Bearaby. 
Bearaby Weighted Blanket Video Review
With a uniquely designed weighted blanket by Wearaby, it can sometimes be useful to see it in action rather than just read a review. Watch me talk through the materials, design, and my personal experience below.
The Bearaby Might Be A Good Match For…
Hot sleepers. Weighted blankets are not always conducive to a cool night's sleep. Their heavier fill doesn't always leave the most room for airflow. However, the Bearaby is not a standard weighted blanket. Its design leaves an especially large amount of room of airflow, so most people shouldn't be heating up too much under the Bearaby.
Those who like a throw-sized weighted blanket. Whether one opts for the 15, 20, or 25 lb Bearaby Napper, it will be between 40″ and 48″ wide. All of the Bearaby Napper blankets are of a throw-size and are made to fit a person's body, not their bed. Sleeping under the Bearaby napper, one will get some of that cocooning effect.
Those who want a blanket with a massaging effect. Lying under the Bearaby, it feels particularly interesting. The blanket is quite bumpy and stretchy and, as the blanket moves over my body, it does have a massaging, relaxing effect. The Bearaby offers not only soothing weight but a soft massage as well.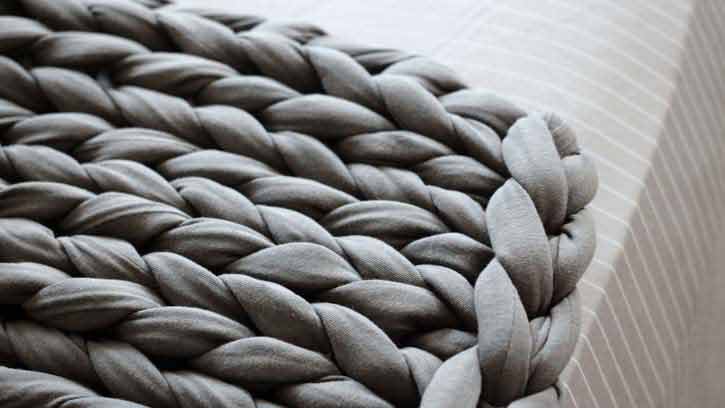 The Bearaby Might Not Be A Good Match For…
Children and lightweight people. The lightest Bearaby Napper model is 15 lbs. Bearaby and many other companies recommend choosing a weighted blanket that is around 10% of one's body weight. Based on this formula, the Napper might not work for those who are lighter than 150 lbs.
Those who prefer a more conventional weighted blanket. The Bearaby is one of the most unique weighted blankets on the market. The Napper might not be the best choice for people who are used to more conventionally-designed weighted blankets.  Bearaby does offer the Weighted Comforter for those who like more of that classic style.
Those who want a more affordable weighted blanket.  The Bearaby Napper is a very high-quality, comfortable weighted blanket. However, it is not the most budget-friendly and, for the 25 lb weighted blanket, it will cost nearly $279. This is significantly more expensive than many other weighted blankets.
Couples who want to share a weighted blanket. The widest Bearaby model is 48″ wide, so couples who want a weighted blanket that will drape over two people might need to look elsewhere. The Bearaby is not very wide and is made more to fit the body of one sleeper.
RELATED: Best Weighted Blanket
Construction And Options
In terms of weight, the Bearaby comes in three options: 15, 20, and 25 lbs. The 15 lb Bearaby is around 40″ x 72″, the 20 lb Bearaby is approximately 45″ x 72″, and the 25 lb Bearaby is around 48″ x 72″. Even though it is their largest size, it is still quite narrow.
There are many color options to choose from: Asteroid Grey, Midnight Blue, Moonstone Grey, Evening Rose, Milky Way, Cuddle Blue, and Dreamy Pink.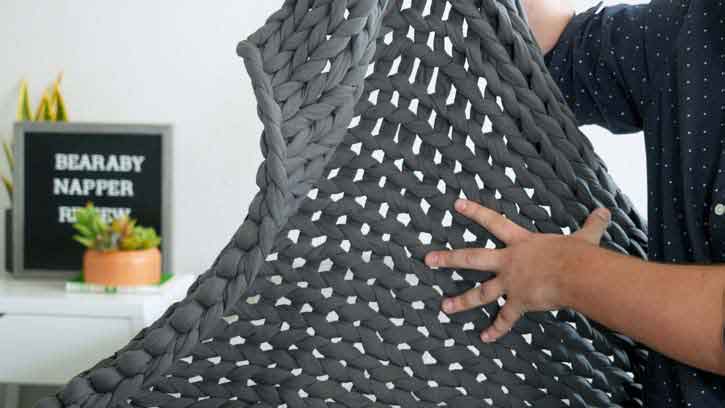 The design of Bearaby Napper is unlike any other weighted blanket I have tried. The majority of weighted blankets get their weight from glass beads or poly pellets, but the Napper's weight comes only from the fabric used. The Bearaby consists of organic cotton that is knitted and layered for weight, so there is no shifting fill that can spill out.
According to Bearaby, the weighted blanket is machine washable. They say to wash the Bearaby by itself in cool or warm water on a delicate or permanent-press cycle. Then, they recommend tumble drying on low but do not hang dry the Bearaby, as this can cause it to stretch.
Bearaby Deals
The Bearaby Napper is a unique weighted blanket that is a good match for hot sleepers and those who like a throw-size blanket. Click the button for the best deal on Bearaby. 
My Experience
Bearaby recommends that shoppers choose a weighted blanket that is close to 10% of their body weight. Since I am 230 lbs, the 25 lb weighted blanket was an excellent fit. Right off the bat, I am getting enough weight.
The Bearaby also features some fantastic weight distribution. The stretchy Bearaby clings to the body and gives me even weight across my entire body. This stretchiness and the throw-sized design create a very nice cocooning effect around the body.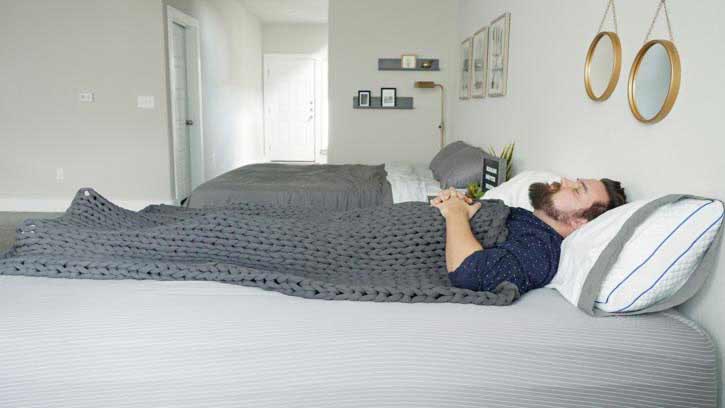 The afghan-style design adds a massaging effect to the deep tissue pressure the Bearaby provides. The blanket is quite bumpy and when I move around, it feels like it is massaging my body. This adds a level of comfort to an already soothing experience.
Now, most weighted blankets can make a person sleep especially hot at night. That is not the case with the Bearaby Napper and, just holding up the weighted blanket, there is a lot of space for air to pass through. Lying underneath the Bearaby, it is warming me up just a bit, but I am by no means sleeping hot.
Did the Bearaby Napper help me sleep better? To test out the Bearaby, I placed it over my body and lay on the bed while I tried to do some writing. I quickly found that my eyes were getting heavy and I was getting very relaxed and groggy. I quickly fell asleep and, after my nap, woke up feeling refreshed.
I have continued to use the Bearaby at my desk while writing and when it is not covering my whole body, it is very relaxing yet doesn't stop me from getting work done.
Overall
In the end, the Bearaby was very impressive for a number of reasons, including its unique design that is a great match for hot sleepers. However, those who want something more affordable weighted blanket or something for children or lighter people might have to look elsewhere.
The Bearaby comes with a 30-day return policy and a portion of proceeds goes to the National Alliance on Mental Illness.
Marten Carlson
Marten is Senior Editor at Mattress Clarity. He covers the mattress industry as well as sleep science news. He is specifically interested in the connection between sleep and overall health. Marten has written for media publications like Consequence of Sound and received a master's degree in Film Studies from Emory University. He comes from Franklin, Indiana, and spends all the time he can writing, directing, and acting in films. He has directed genre short films and features. His newest film, Starlets, recently premiered at the River Town Film Festival in Clinton, NJ. He also stars in the upcoming thriller, Sour Bear. His next film, At The Hop, is a hot rod actioner with a horror twist.