My Pillow – or "MyPillow" as it is also known –  is one of the most popular pillows on the market, which is partially to do with their extensive TV campaigns. Joe had the chance to review it for several nights and, while he does think that it's a great idea to invest in a quality pillow, he doesn't think that My Pillow should be that choice.
Overall, he had a fairly negative experience with the pillow and feels strongly that he can't recommend it for a variety of reasons – but in particular the low quality of the materials. What is actually in this pillow and why did Joe have a less-than-stellar experience? For more details, read our full My Pillow Review and see some of the issues he experienced.
Amazon Deals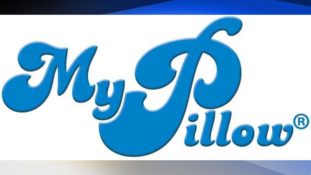 My Pillow will work well as an in-between-the-knees pillow; click on CHECK PRICE for the best deal on this pillow on Amazon!
PROS
Here are some of the things we liked about My Pillow:
Very soft and thin; could good for stomach sleepers or side sleepers
Reasonably priced compared to high-end pillows
CONS
Here are some items to take into consideration before purchasing this pillow:
Chunks of foam filling result in a lumpy feel against the face
Too thin; bad for back sleepers
Feels the low quality in both the materials, construction, and experience
RELATED: Best Mattresses 2021 – Top Brands Reviewed
Joe's Experience
Potential customers can purchase the My Pillow at a variety of retail locations, from Amazon, Target, and Bed Bath and Beyond to  Kohl's, and QVC. We personally ordered ours from Amazon, and upon arrival, followed the first instructions: Put the pillow in the dryer for 15 minutes.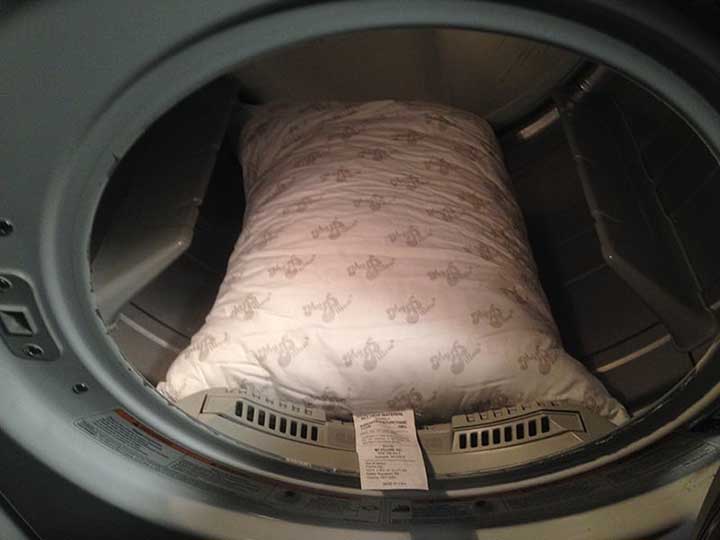 Joe is primarily a side sleeper and back sleeper – he used My Pillow as his primary pillow for several consecutive nights to get an idea of who it will be the best fit for based on sleeping position.  It's not overly firm nor overly large in size; it didn't hurt his neck by being too supportive. However, it did feel like the (proprietary?) foam was significantly separated inside of the cover, as if the foam chunks parted ways to create an empty space where his head went – definitely too lumpy.
This made his head sink seemingly all the way through the pillow, making it felt as if he wasn't sleeping on a pillow at all.
Related: Best Pillow For Side Sleepers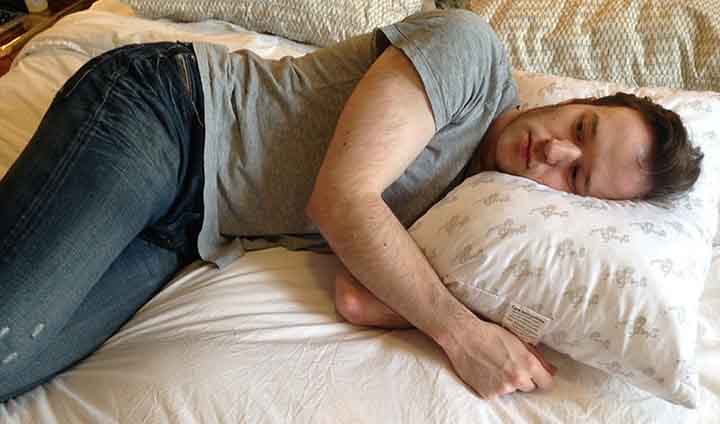 Joe read previous reviews that complained about the lumpiness and thinness and unfortunately, he had the same experience. In an effort to work with the pillow and find some positive attributes, he put it in the dryer for another 15 minutes after trying it for a few nights (in case it needed to puff up more), but that didn't make any significant difference in the sleep experience.
Joe had success when he used the pillow between his knees – when sleeping on his side – and this was a much more preferable experience. The My Pillow pillow contains the appropriate amount of cushion and support for an ideal between-the-knees pillow; plus the pillow is a nice size so that it doesn't dominate the bed.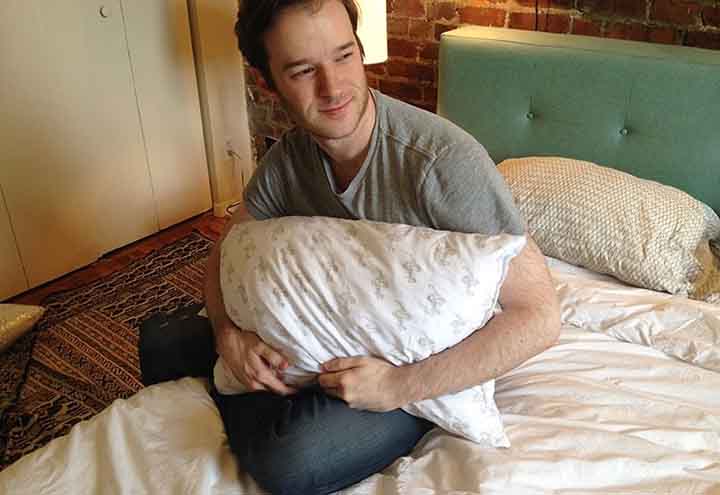 My Pillow Specs
While the pillow is sold in both King and Queen sizes, we chose the Queen and almost wish we'd gotten the King as well. Compared to other Queen size pillows we've tested and slept prior to this review, this one was significantly smaller in its dimensions. The pillow arrives compressed and flattened and should immediately be thrown in the dryer to allow the chunks of foam inside to aerate and expand in size. We'd suggest this be done nearly every night to even attempt an appropriate amount of head and neck support.
We believe the My Pillow has a warranty that should cover any errors made in the manufacturing process, but honestly, we can't imagine it arriving in a worse condition than it already did.
Amazon Deals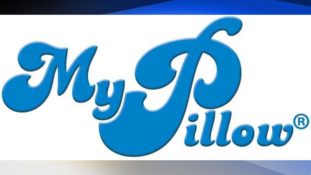 My Pillow will work well as an in-between-the-knees pillow; click on CHECK PRICE for the best deal on this pillow on Amazon!
FAQs
Let's answer some commonly asked questions about the MyPillow.
Is MyPillow any good?
The MyPillow is not for everyone – it's better suited for those who know they want a simple and straightforward chunky memory foam pillow and have an already established idea of their primary sleep position and how much support and loft they need in their pillow.
What is MyPillow filled with?
MyPillow is filled with chunks of polyurethane foam (memory foam). The pillow comes in different firmness levels, which basically means the amount of foam inside varies from support level to support level.
How much does the MyPillow cost?
It's difficult to lock down a standard price for the MyPillow. It's consistently advertised as on sale on the brand's website and sold through multiple retailers, so people may be able to purchase it for a wide range of prices. On average, we say expect to pay around $30 for a Standard size option.
What is the difference between the Classic and the Premium MyPillow?
There don't seem to be too many differences between the Classic and the Premium MyPillow pillows. The main difference seems to be the number of lofts/firmness/support levels available; the Classic offers two while the Premium offers four.
Final Recommendation
As other reviewers have implied, Joe honestly doesn't think the My Pillow is a scam – he does think that despite such a strong marketing campaign, the reality is that the My Pillow is overhyped.  There is nothing significant, substantial, or innovative about the design of this pillow – it's simply a thin cotton cover filled with chunks of some type of foam and – from his experience – it's not filled enough to fully support a person in any sleep position.
At the time of the review, The National Sleep Foundation supported the My Pillow pillow, they must be seeing some positives we are not in this product. We would always suggest investing in a quality pillow to enhance sleep – just not My Pillow. For more options and other pillows that should be a better match, look at our site for the top reviewed pillows and accompanying articles to direct towards the right one.
Joe Auer
Joe Auer is the editor of Mattress Clarity. He mainly focuses on mattress reviews and oversees the content across the site.
He likes things simple and take a straightforward, objective approach to his reviews. Joe has personally tested nearly 250 mattresses and always recommends people do their research before buying a new bed. He has been testing mattresses for over 5 years now, so he knows a thing or two when it comes to mattress selection. He has been cited as an authority in the industry by a number of large publications.
Joe has an undergraduate degree from Wake Forest University and an MBA from Columbia University.