Cabeau offers several different types of travel pillows in its Evolution line. The Evolution Cool is all about, well,  keeping you cool.
From its smooth, athletic wear-like cover to its breathable side vents and 360-degree support, the travel pillow is a nice option for those wanting to try a U-shaped neck pillow but afraid of getting warm mid-flight.
I've got a few considerations, as always! So check out all the details in my video and written post below to find out if this travel pillow is worth taking on your next trip.
Key Features
Dimensions: 9.75″ x 9.5″ x 5.5″ and 12.6 oz in weight
The cover is 92% polyester and 8% spandex with side cooling vents
Pillow filling is 100% polyurethane memory foam
The core is dual-density memory foam: soft on top and firmer at the bottom
360° head and neck support with magnetic clips and c-loops
Curved downward by the ears to leave room for headphones
Curved for shoulder support as well
Can be rolled to half of its size for compact travel
Comes with a travel case
Comes in Black, Red, Purple, and Blue color options
Full price: $59.95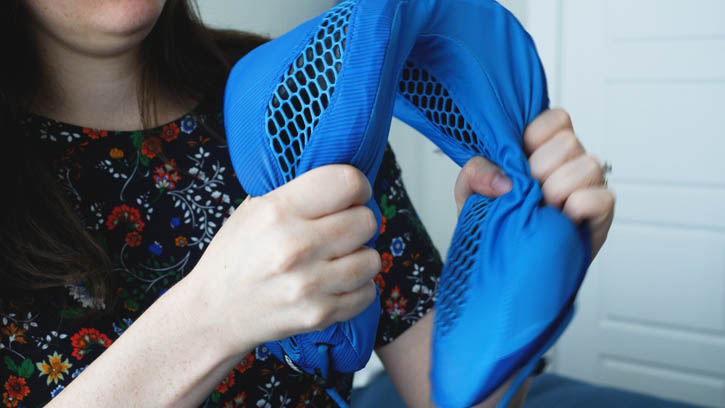 Who Makes It?
The Evolution Pillow line (including the Classic, S3, and Cool) is made by Cabeau, a company whose products are designed to help make travel more comfortable.
One of the company's goals is "transforming Coach-Class woes into a First-Class experience."
You will probably see one of the Cabeau Evolution travel pillow varieties — the S3, Classic, or Cool— at an airport, train station, or rest stop off the highway. This is a super popular brand, and they've expanded from their original Evolution travel pillow to provide options that will suit specific traveling needs.
In addition to travel pillows, Cabeau also sells items such as socks, backpacks, travel adapters, and umbrellas.
See how the Classic Evolution travel pillow fares in my best travel pillow comparison.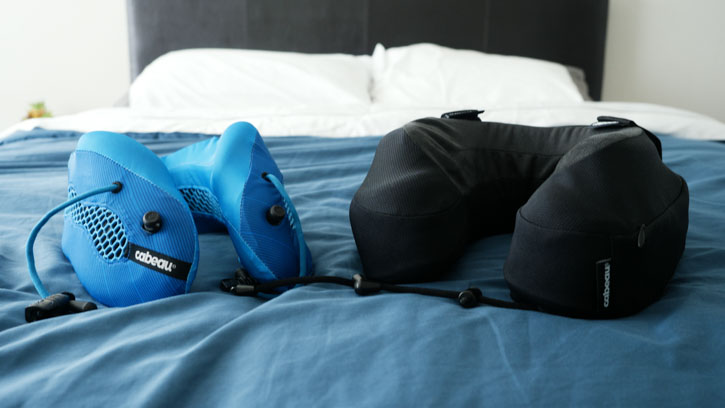 Pros
Pillow cover feels cool to the touch, and the vented areas enhance breathability
The magnetic clasp is super easy to use
The pivot loops/c-loops allows the travel pillow to work for smaller necks
The travel storage case can be used to compact the pillow to half its size
The 360-degree support system keeps you comfortable at any angle
Cons
The packaging says the cover is machine washable, but I couldn't actually get the cover off because of the extra built-in c-loops
Soft foam on the top layer may be too soft and not supportive for everyone
More expensive than other Cabeau Evolution models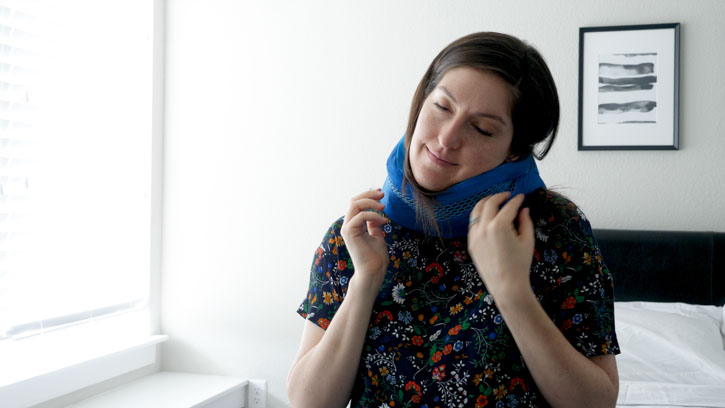 My Experience
I've had the opportunity to review two other travel pillows in the Cabeau Evolution line: the Classic pillow and the S3 pillow. These travel pillows, in addition to the Cool, are very similar in their basic construction. They're all U-shaped neck pillows filled with a solid piece of memory foam. And they all feature clasps that allow the pillow to stay anchored to the traveler's neck and provide 360-degree support.
The Cool option (as you'd imagine) features innovative features to enhance breathability. The cover is smooth and cool to the touch. It's made with mostly polyester and a little bit of spandex. It also has side vents that cut through the memory foam filling.
The Cool also has dual-density memory foam and contoured edges. This gives the pillow less of a "neck brace" feel and is a little softer compared to the Classic and the S3 options. It also allows space for your shoulders and space below your ears for low-hanging earbuds.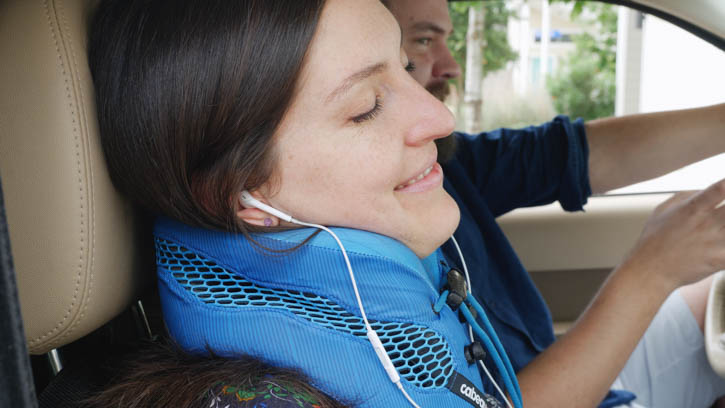 You can use a toggle to connect the ends of the pillow and adjust the tightness. This is where you'll get the full supportive effect of the solid memory foam core.
For these reasons, I think the Evolution Cool is a nice travel pillow for those hot sleepers who want a U-shaped neck pillow but are worried it'll be too hot. It should also work well for average or more petite individuals who are concerned about being engulfed by a lot of supportive foam.
My one point of hesitation with this travel pillow is the care. The packaging instructions and the tag say that you can remove the cover and machine wash it. However, I was unable to remove the cover. The magnetic toggles would not fit through the holes stitched in the cover material.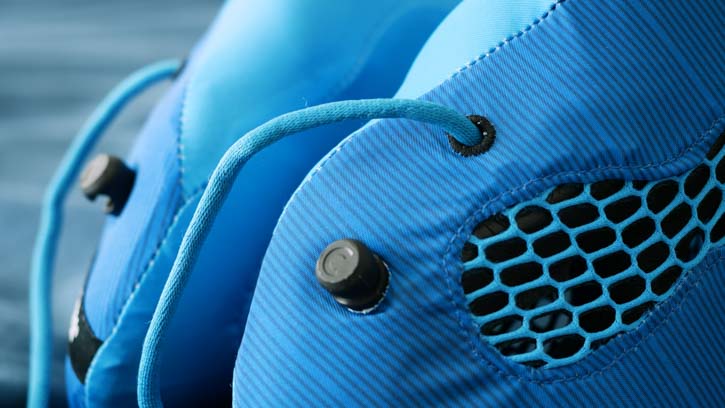 I even tried to remove the plastic within the memory foam in an effort to get the cover off, but the memory foam started to break and I didn't want to destroy the pillow. So if being able to machine wash your travel pillow cover is a priority for you, take note of this.
Despite that, I really like the overall design of the pillow and the ease of the magnetic clasps that keep it anchored to your neck. This allows you to move or adjust positions while you're resting and not worry about the travel pillow falling off your neck.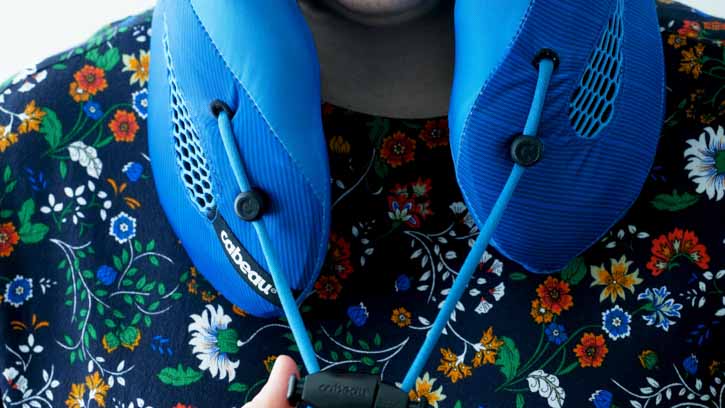 Overall
I really like that Cabeau offers an Evolution model that is designed for hot sleepers. I also appreciate that the memory foam core is softer around the edges and firmer in the center, so people with smaller body types can enjoy the support without feeling overwhelmed.
The price point is a little bit higher, but you're getting some additional value thanks to the cooling material, magnetic clasps, and c-loops for extra customization.
I do wish I had been able to get the cover on and off smoothly and machine washed it, but it was not possible based on the design of the pillow I had. Be prepared to spot-clean if you purchase this!
If you're curious about other options, see my list of best travel pillows.
The following two tabs change content below.
Katie Golde
Katie manages the day to day operations of the Mattress Clarity news site and reviews sleep products in addition to writing and editing sleep news.She hails from Austin, where she lives with her growing family. She is a Certified Sleep Science Coach and has a master's degree in Journalism from Northwestern University and has a background in health and science content. Her work can be found in print and online publications like Discover Magazine, USA Today and The Huffington Post.
Latest posts by Katie Golde (see all)