Seat Strap System. That's what the "S3" stands for in the Cabeau Evolution S3 travel pillow name.
This pillow is very similar to Cabeau's original Evolution pillow (which I have also reviewed). The travel pillow has some nice upgrades and one standout feature: velcro straps that can attach to the headrest of an airplane.
Frequent flyers may like this option a lot, especially those who like a supportive neck pillow to begin with.
What else is there know about the Evolution S3? Check out the Cabeau Evolution S3 Travel Pillow review below before starting the next trip.
Cabeau Evolution S3 Travel Pillow Review
Key Features
9.5″ x 10″ x 5″
11.6 ounces in weight
100% polyurethane memory foam filling
100% polyester cover
360° neck and head support
Removable and washable cover
The cover comes in a variety of colors
Pocket for media device/accessories
Can be rolled to half of its size for compact travel
Comes with a travel case
The strap system is designed for use on airplanes (not cars)
$40 full price
Cabeau Evolution S3 Travel Pillow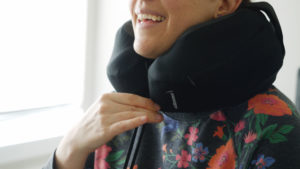 Frequent flyers may like the Cabeau Evolution S3 a lot, especially those who like a supportive neck pillow.
Mattress Clarity Score
4.90 / 5
Read Full Review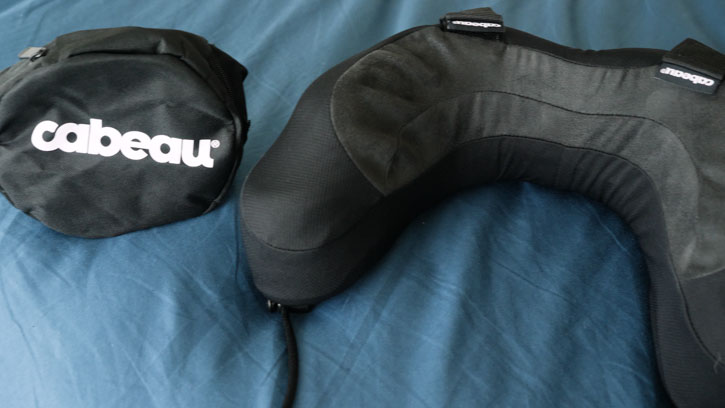 Who Makes It?
The Evolution Pillow line (including the Classic, S3, and Cool) is made by Cabeau, a company whose products are designed to help make travel more comfortable.
One of the company's goals is "transforming Coach-Class woes into a First-Class experience."
The Evolution Pillow, which was created by CEO David Sternlight, debuted in 2009 and was the company's first product. According to the website, Sternlight — a former professional basketball player who stands at 6'8" — was inspired to create the Evolution Pillow when he could not get comfortable while traveling.
Travelers may have seen one of the Cabeau Evolution travel pillow varieties — the S3, Classic, or Cool — at an airport, train station, or rest stop off the highway. This is a super popular brand, and they've expanded from their original Evolution travel pillow to provide options that will suit specific traveling needs.
In addition to travel pillows, Cabeau also sells items such as socks, backpacks, travel adapters, and umbrellas.
See how the Evolution travel pillow fares in my best travel pillow comparison.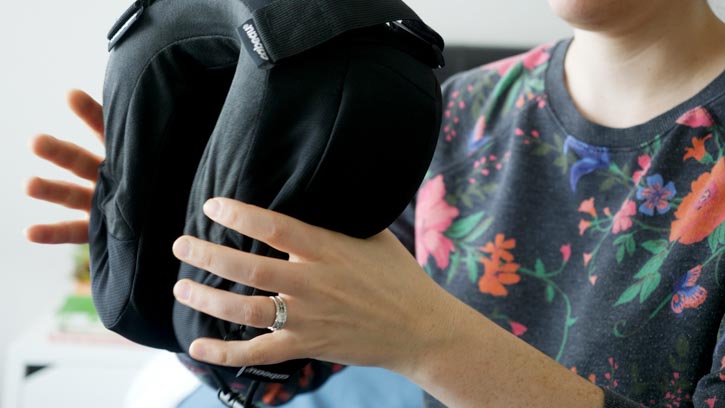 Pros
Works best for frequent flyers
The 360-degree support system helps to provide comfort at any angle
Pillow can stay anchored to the headrest or the neck
Supportive memory foam
Affordable
The cover is soft and easy to remove and clean
Easy to compact and place in the travel case
Cons
Made specifically for headrests that have extendable wings
Very strong "neck brace"-like support can overwhelm the head and neck in more petite people
May not be compatible with low-hanging earbuds or headphones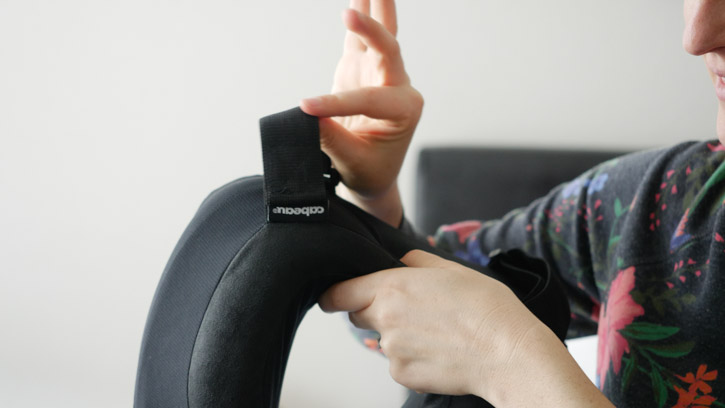 My Experience
The S3 pillow is designed with airplane travelers in mind. The S3 stands for Seat Strap System, and the velcro straps on the back are designed for the extendable wings on an airplane headrest. Note that some airplanes don't have this type of headrest, while others do.
At its core, the Evolutions S3 is a supportive neck pillow. Its 5″ in height, so for the average person it'll probably reach the bottom of an average-sized person's earlobes.
The toggle connects the ends of the pillow and adjusts the tightness; this is where the person using the pillow gets the full supportive effect of the solid memory foam core.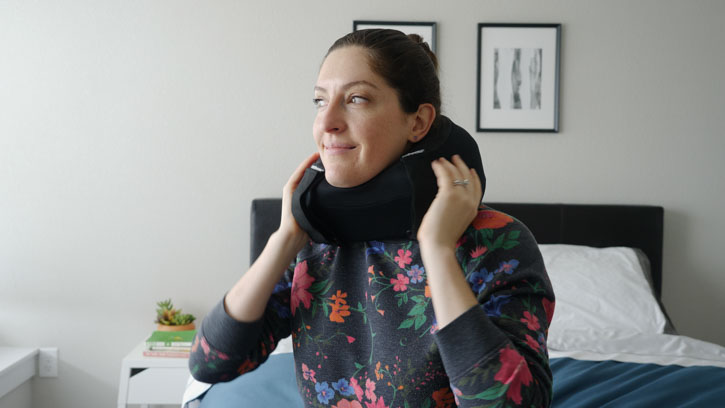 The connecting toggle allows the traveler to turn the pillow in any direction desired, so it can become customizable in that sense. The straps on the headrest will also allow the pillow to stay in place if the person gets up to use the restroom or if the person moves around while sleeping.
It comes in several different colors. Each cover is removable and can be washed, which is great since many of us want to avoid travel germs as much as possible.
The pillow isn't huge, but it could take up a decent amount of space in a carry-on. The pillow comes with a travel case and directions for how to compress and roll the travel pillow into half its original size so that it's easy to throw in a carry-on without losing too much room.
One thing I noticed about the pillow is that the sides of it touched the bottom of my earlobes and had the potential to interfere with any headphones that fall below the head (as opposed to wireless headphones or earbuds). Just something to keep in mind if using more traditional headphones.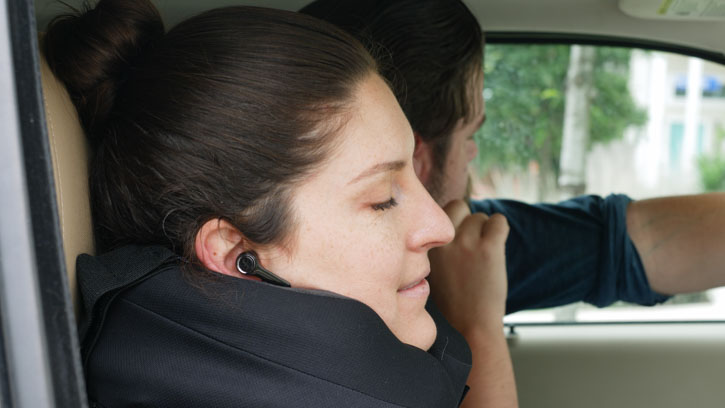 I like that a person can absolutely use the Evolution S3 in other travel settings, but the strap system will no longer be useful. It still operates like a standard memory foam neck pillow and has the toggle and additional accessory holder on the side.
Overall
Based on my experience with the Evolution S3, I think $40 for the pillow is reasonable and a good value for those looking for a memory foam neck pillow that has an attachment option.
I personally really like the flat back design, the connecting toggles, and the removable cover that can be washed.
Average and more petite individuals should remember that it's going to feel like neck brace-level support with a lot of foam surrounding the neck. It may feel like too much for some individuals.
Curious about other options? See my list of the best travel pillows.
Katie Golde
Katie previously managed the day to day operations of the Mattress Clarity news site and reviews sleep products in addition to writing and editing sleep news. She hails from Austin, where she lives with her growing family. She is a Certified Sleep Science Coach and has a master's degree in Journalism from Northwestern University and has a background in health and science content. Her work can be found in print and online publications like Discover Magazine, USA Today and The Huffington Post.