The Evolution Pillow is touted as a notable travel pillow for people who want a high level of support and stabilization and I personally found it to be surprising in several ways, not all of them positive. How did the review fare for me and will it work for all travelers? Check out my in-depth video review below and keep scrolling for my full written review as well.
Cabeau Evolution Classic Neck Pillow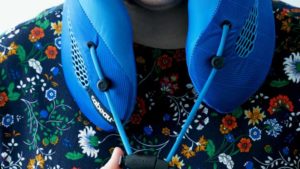 The Evolution Pillow is touted as a notable travel pillow for people who want a high level of support and stabilization.
Mattress Clarity Score
4.80 / 5
Read Full Review
Who Makes It
The Evolution Pillow is made by Cabeau, a company whose products are designed to help make travel more comfortable. One of their goals is "transforming Coach-Class woes into a First-Class experience." The Evolution Pillow, created by CEO David Sternlight, debuted in 2009 and was their first product.
According to the website, Sternlight, a former professional basketball player who stands at 6'8", was inspired to create the Evolution Pillow when he could not get comfortable while traveling. In addition to travel pillows, Cabeau also sells items like socks, backpacks, travel adapters and umbrellas.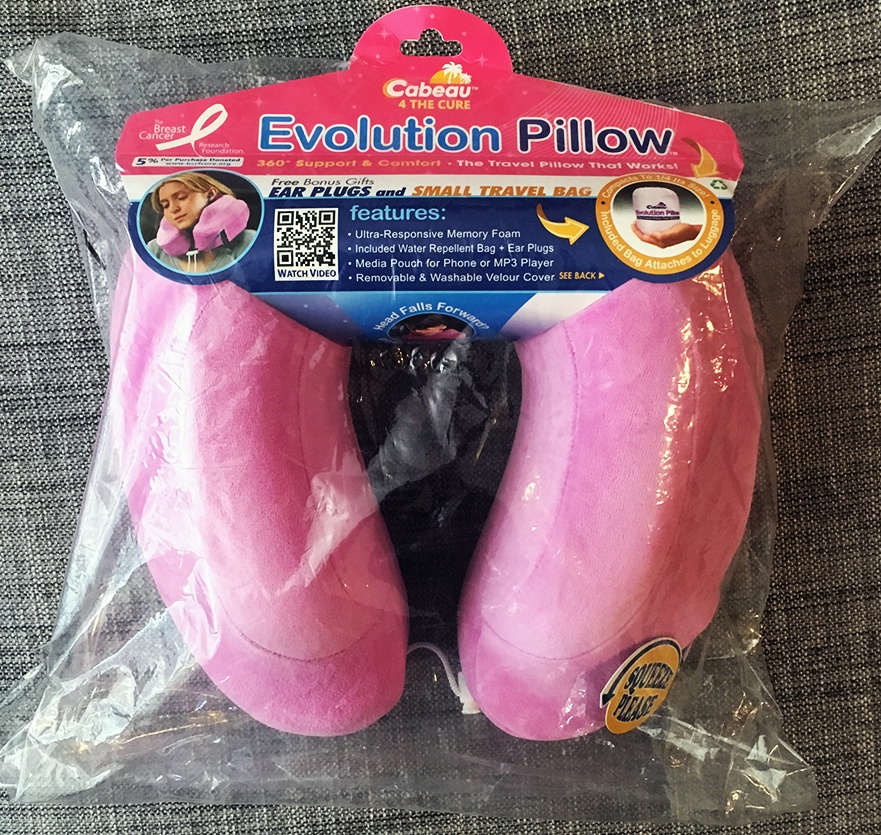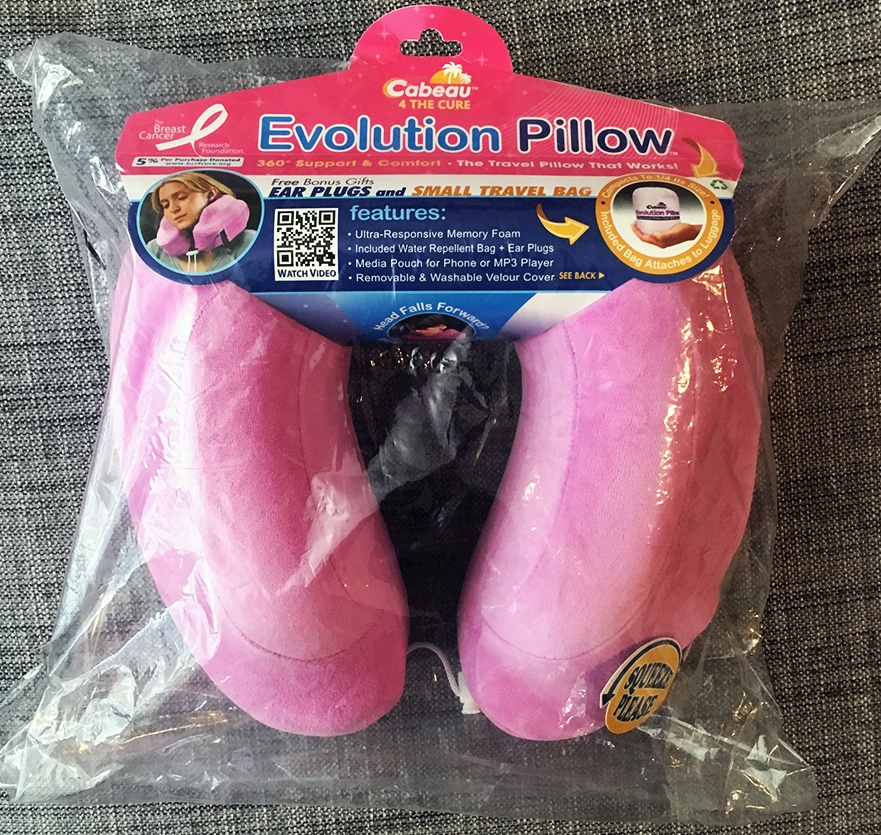 See how the Evolution travel pillow fares in my best travel pillow comparison.
Key Features of the Evolution Pillow
One size with a dimension of 9.5″ x 10″ x 5″
Cabeau Evolution is about 11.6 ounces in weight
The core is 100% Polyurethane (Memory Foam) filling
The travel pillow cover is made up of 80% cotton and 20% polyester
The travel pillow features 360° neck and head support
The fabric cover is removable and machine washable; cover is offered in a variety of colors and patterns
Features a pocket for media player
Comes with a travel case and a pair of foam earplugs
No review found! Insert a valid review ID.
My Experience
The Evolution Pillow's unique design piqued my interest immediately, as it comes in clear packaging and its label touts many features, from contouring memory foam filling to its ergonomic design and a built-in holder for a media player.
When I placed it around my neck, I immediately felt engulfed by the solid memory foam core, the raised side supports on the pillow touched the bottom of my earlobes and traced my cheekbones. The Evolution pillow looked bigger on my neck in comparison to the people in the photos on the packaging, even though I'm 5'7" – not that petite!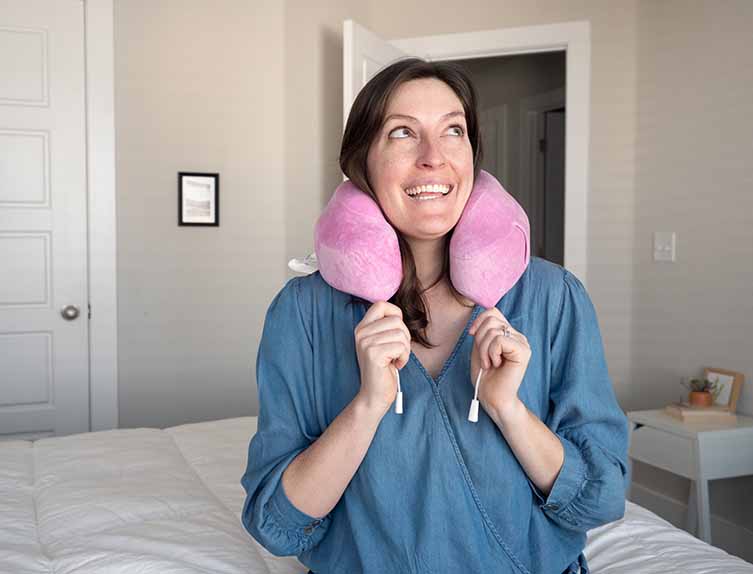 The ends of the pillow have adjustable strings and plastic toggles that snap together, allowing the traveler to connect the horseshoe shape and anchor it to the neck. This customizable aspect of the pillow is a major plus for me.
Cabeau highlights the Evolution Pillow's ability to rotate 360° to be used in any direction the brand recommends placing it backward in an effort to stop a traveler's head from falling forward while resting.
I've never worn a neck brace, but I imagine it would feel similar to how the Evolution travel pillow. Based on my experience, there is a lot of filling and it's very firm (as memory foam tends to be). My head and neck were fairly stabile and I could see that feature being convenient when I'm on a plane and I don't want to wake up when my head falls to the side.
The pillow was just a little too large for me and for that reason I think I wasn't able to get 100% comfortable and relax enough to fall asleep when I tested it in my car and in a high-backed chair in my house.
The back of the Evolution Pillow is designed with a flat back, which is intended to prevent the head from being pushed forward in an unnatural angle. This feature is a highlight for me, and I truly felt a difference in my ability to rest when I laid my head back.
I felt that the raised side supports on the Evolution prevented my ability to wear my earbuds and sleep with my head tilted to the side. The sides pushed against my ears to a point where it became uncomfortable to have headphones on.
Another feature that some reviewers liked, but fell short for me, was the built-in holder for the media player.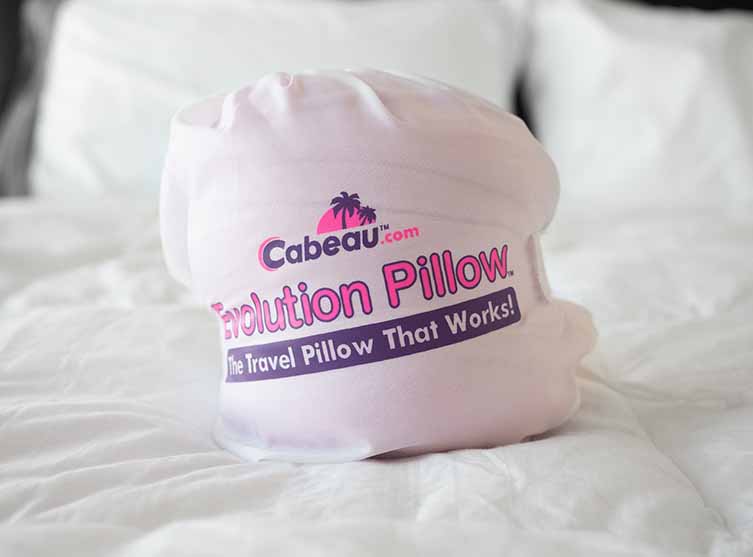 Without a case, my smaller iPhone 6 fit well and did not slide out but I am clumsy and drop my phone on a daily basis (having an infant does not help the situation, either!) It's way too risky for me to take it out of the case just to put in the holder.
As noted in the key features, the pillow comes with a small attachable travel bag that is said to compact the pillow to a quarter of its original size. 
The "Stuff and Fold" technique (for beginners), was definitely the easiest but it did still require a decent amount of arm strength to stuff the pillow into the travel case. I thought the expert-level, or "Cinnamon Roll" technique, was the best for getting the pillow as small as possible.
I also followed the instructions and gently machine washed and dried the removable pillow cover. I read a few other reviews and the authors mentioned that the fabric color bled, so I used a color catching in-wash dye trapping sheet. The fabric did bleed so I would heartily advise washing this alone before use!
What To Consider Before Buying
The size of the pillow and the stability provided by the foam was too much for me, but those who value firmness and use memory foam mattresses or pillows at home may enjoy the firm and contouring nature of this travel pillow.
I wasn't able to wear my headphones (or earbuds) comfortably and still have the ability to rest my head to the side using the Evolution. While it's possible this is just a personal problem, a few other reviewers also noted a similar experience.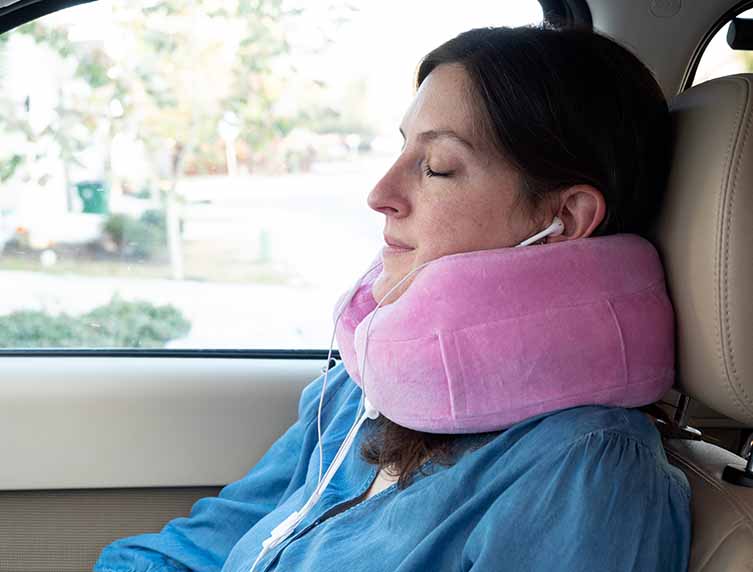 Smartphone sizing can be a potential issue, as my iPhone 8Plus did not fit in the holder due to its larger width. There were also several reviews that mentioned the poor quality of the travel bag – that it was damaged and/or broken after a couple uses – but I used it several times to pack and re-pack the pillow but had no issues with it.
The dye bled slightly when I washed the removable pillow cover for the first time. Since my pillow was a bubblegum pink it wasn't super noticeable but I'd be cautious if using a deep blue or black pillow cover for the first time.
Price
Based on my experience testing the Evolution Pillow, I think $40 for the pillow is a fair price for the quality of the materials and extra design features associated with it, including the media player and connecting toggles.
The flat-back design, which prevents the back of the head from being pushed forward when seated upright, is a lovely detail and made the pillow inherently more comfortable for me.
The adjustable toggles that allow the traveler to customize the tightness of the pillow around his or her neck was also a favorable feature and definitely enhanced the overall concept of the Evolution pillow.
For me, the size of the pillow and the firmness made it not my favorite.  See my list of the best travel pillows here.
Cabeau Evolution Classic Neck Pillow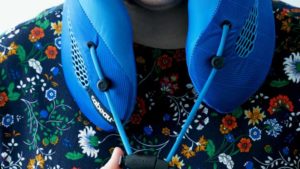 The Evolution Pillow is touted as a notable travel pillow for people who want a high level of support and stabilization.
Mattress Clarity Score
4.80 / 5
Read Full Review
Katie Golde
Katie previously managed the day to day operations of the Mattress Clarity news site and reviews sleep products in addition to writing and editing sleep news. She hails from Austin, where she lives with her growing family. She is a Certified Sleep Science Coach and has a master's degree in Journalism from Northwestern University and has a background in health and science content. Her work can be found in print and online publications like Discover Magazine, USA Today and The Huffington Post.