The Wright is a memory foam bed-in-a-box mattress targeting the luxury market.  Before trying the mattress, I really liked the design and branding of the site, so I was excited to see if the quality of the mattress matched the premium marketing (and was worth the higher price tag).
$200 Off the Wright with Coupon Code "CLARITY200"
Watch my Wright Bedding mattress review
You'll love the Wright if…
You value great design – the Wright brand and mattress cover definitely have a higher-end look than most of its bed-in-a-box competitors.  The aesthetics are more akin to a high-end furniture brand rather than a tech or millennial consumer focused brand.
You're in it for the long hall – Wright bedding definitely didn't not skimp on specs.  Looking at the materials, I expect that the Wright will hold up well over time (note: this is not from testing, but just an understanding of the materials used)
You love memory foam – Wright definitely has a top-end memory foam feel, offering the famous comfort and support tradeoff.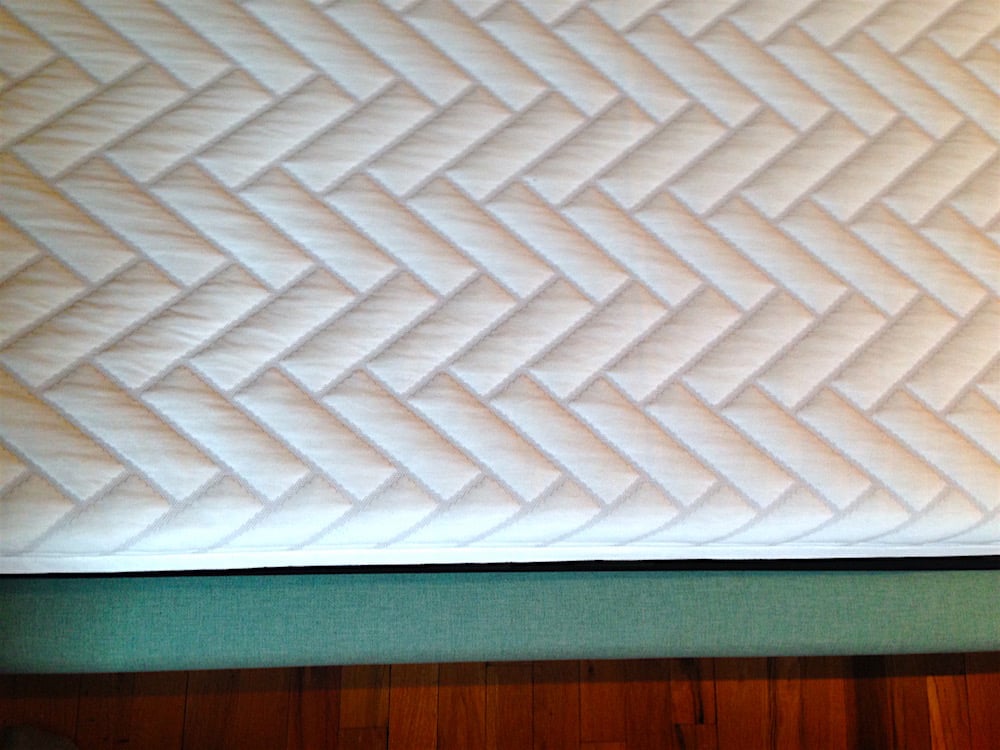 You may not like the Wright mattress if (complaints)…
You sleep on the edge of the bed – like many memory foam mattresses, the Wright doesn't have the best edge support.  If you cling to the edge of the bed while you sleep, you may have a falling-off feeling.
You have a low budget – Wright is more expensive than many of its bed-in-a-box competitors.  Though looking at the specs, if you went to the corner store (or somewhere like Tempur-pedic), you would probably pay twice as much for a similar mattress.  Overall it's a great deal, but may be out of some shoppers' budget.
$200 Off the Wright with Coupon Code "CLARITY200"
Firmness and Feel
The feel of the Wright is great, definitely on par with something like a higher-end Tempurpedic mattress.  I'd give the firmness a 6.5 out of 10 (though note this is subjective, and depends on your weight and body shape).  The top memory foam comfort layer is very plush (perhaps comparable to the Tempur-Cloud Luxe), giving you the feeling of sleeping in the mattress, rather than sleeping on the mattress.  See the "handprint test" video below for a demonstration of the responsiveness of the foam.
See the edge support
Edge support really isn't an issue for most, but just something to note for the occasional person that clings to the edge of the mattress all night.
Wright W1.27 mattress construction
The cover is removable and washable (great feature), with a quilted brick pattern.  The mattress is 11 inches thick with 4 layers of foam.  These layers include:
Comfort layer – 1.5 inches of memory foam (5 lb density, 8 IFD gel infused)
Middle layers – 3.5 inches of foam
Base layer – 6 inches of foam (2.4 lb density, 32 IFD)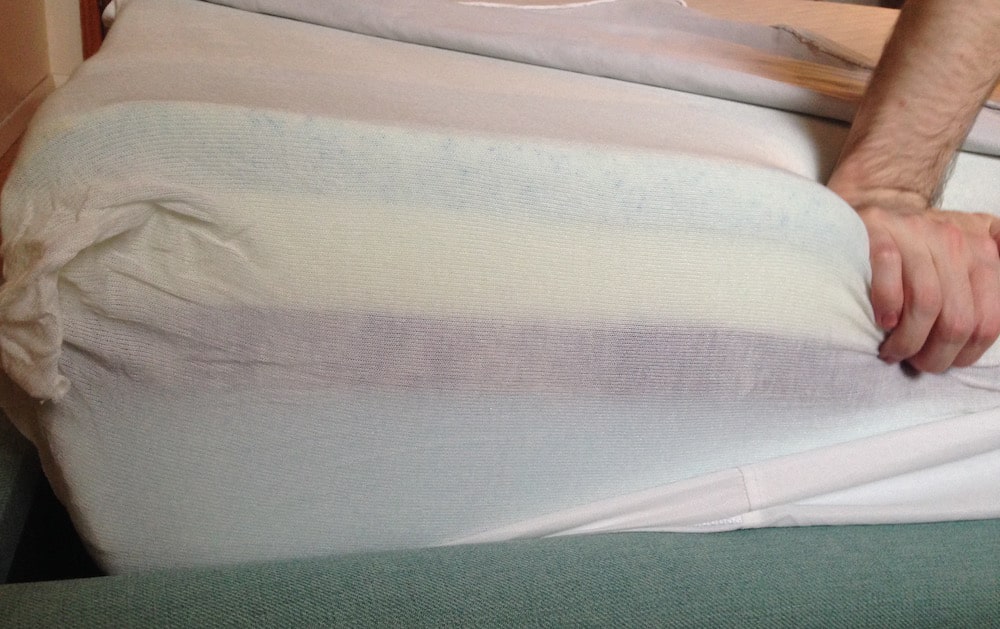 Motion Transfer Test
Memory foam mattresses often perform very well in the motion transfer test (one of their great features), and the Wright out-performs even many memory foam mattresses I tried.  After this test I can confidently say the Wright mattress is a great option for couples, particularly if you have had issues with disturbing each other in the past due to kicking or turning over.  Make sure to check out our best mattresses for couples.
See the results of my motion transfer test below:
[responsive_video type='youtube' hide_related='0′ hide_logo='0′ hide_controls='0′ hide_title='0′ hide_fullscreen='0′ autoplay='0′]https://www.youtube.com/watch?v=4oZ_WUNp0Lk[/responsive_video]
Related: Common Mattress Sizes/Dimensions
Other things to note
Wright is made in America
They have an expedited shipping option
Great return policy and standard warranty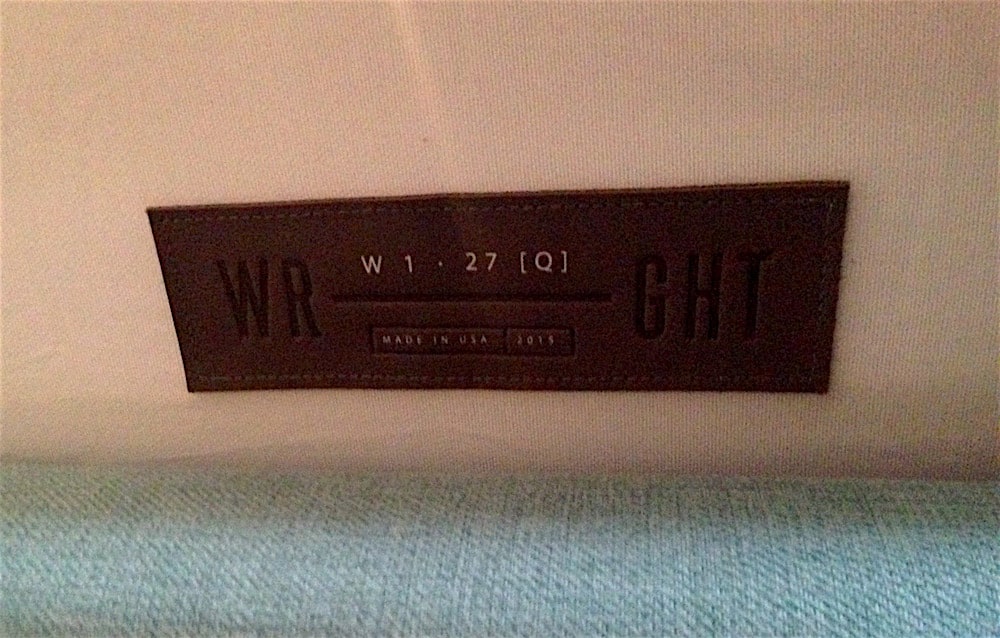 Overall Rating
Wright Mattress
Pros
Quality durable materials
Great design and branding
Very comfortable
Summary
The Wright is an online option that sets itself apart by delivering true luxury. It is the highest price bed-in-a-box that I have reviewed, but the quality materials do justify the price, and it still significantly undercuts traditional mattress brands with similar specs.
The Wright stands out in terms of quality of materials and design, though you're going to pay more for it than other bed-in-a-box options.  However, I do think that if you're willing to pay more, you'll get more with Wright, particularly in regards to luxury and durability.  Overall I think the Wright delivers on its promise to deliver a luxury memory foam product at a more reasonable price.  If you have made it this far, I would say give it a shot!
Save $200 Off the Wright with Coupon Code "CLARITY200"