The Tempur-Cloud Luxe is the softest mattress in the Tempur-Pedic line (just ahead of the Cloud Elite).  It is also one of the most expensive models.  As a result, it's not going to be for everybody, but it could be a good option for some sleepers.
Editor's Note: Tempur-Pedic no longer offers this model. Take a look at our Tempur-Cloud mattress review to find out about their updated model! 
Construction
The Cloud Luxe has a removable and washable cover.  The mattress is roughly 13.5" thick.  Unfortunately, the company does not disclose the thickness or density of any of the individual layers.  From the picture of the mattress on their website, however, you can see that the comfort layer, comprised of Tempur-ES material (extra soft), is extra thick.  The support layer is made of standard Tempur material and is about half the thickness of the comfort layer.  The base layer is quite thick.
You can tell by the picture of the layers on the site that it was made to be extra soft because of how thick the comfort layer is.
I did find that the weight of a Queen is 125 lbs.  Given that other quality mattresses with a similar thickness typically weigh less than this, it's pretty safe to assume that the company is using very durable foams in its construction.
Firmness Level
The company states that the Cloud Luxe is the firmest model that they have available, and based on the construction it is clear that this is the case.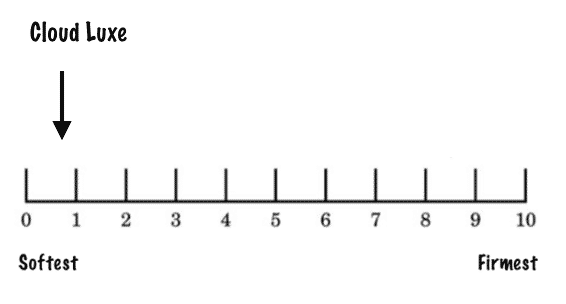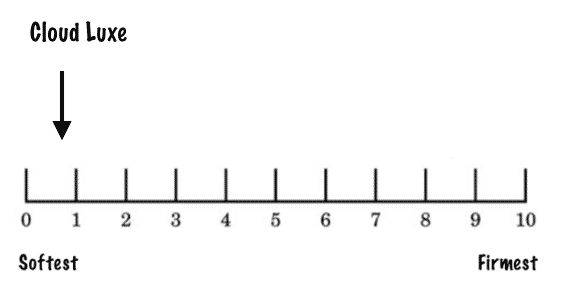 See Current Pricing on Tempur-Pedic's Website
You Might Want To Pick This Mattress If:
You Only Sleep On Your Side– Given how soft this mattress is, I think it only makes sense for most people to get it if you sleep on your side
You Are A Very Lightweight Back Sleeper– For most people over a certain weight, it's probably too soft for back sleeping, but it should be good for back sleepers who are really lightweight.
You Love A Sleeping "In" The Mattress Feel– You really sink into this mattress, so you feel more that you are sleeping "in" it rather than just "on" it.
You Sleep With A Partner– This mattress does a great job of isolating motion, so you won't be disturbed if your partner moves around in the bed at night.
You Might Not Want To Pick This Mattress If:
You Have Budget Concerns– One thing I can't quite get my head around is why this model costs so much more than other Tempur-Pedic models when the materials breakdown isn't all that much different from cheaper models.  Given how pricey it is, budget-conscious shoppers may want to look elsewhere.
You Sleep On Your Stomach Or Back– For most sleepers, the mattress is going to be too soft for you to sleep on your stomach or back (except the very lightweight sleepers).
You Like Sleeping "On" The Mattress– This mattress envelops you and you feel like you are sleeping "in" it.  It's about as soft of a memory foam mattress as you can get.
Most Common Pieces Of Praise
Lots of people talk about how great it is at relieving pressure.
People rave about how comfortable it feels.
Most Common Complaints
Some people think it is too soft for them
Some people think it at least takes a long time to get adjusted to (typical of many Tempur-Pedic models)
Why Would Someone Pick This Model Over The Other Tempur-Pedic Mattresses?
This mattress is definitely the softest in Tempur-Pedic's line, so if you are very lightweight and sleep only on your side, then this could be a good match for you.  Again, I don't know if I'm 100% sold on why it costs so much more than other Tempur-Pedic models do, so I don't know if I can give an enthusiastic recommendation of this model over the other less expensive ones.
See Pricing on Tempur-Pedic's Website
Overall
If you can afford the mattress and want a very soft mattress, then this could be a good choice for you.  You might be able to get a better value with some of the other less expensive models.