The C-2 and the I-8 models represent the wide range of mattresses available from Sleep Number. The Classic Series C-2 mattress is as standard as Sleep Number models get, while the Innovation Series I-8 has several features dedicated to enhancing your sleep experience.
So, which one is the best mattress for you? Check out our handy guide that covers the details of each mattress in order to help you decide if one is right for you.
Key Similarities
A variety of standard sizes – including FlexTop
Individual or dual air chamber options with DualAir™ adjustability
Both come with this optional feature:
FlexFit™ Adjustable Bases
Key Differences
C-2
8" mattress profile
Soft, plush style mattress top (not a pillowtop)
2" of hypersoft quilting foam sewn into the top layer followed by an adjustable air chamber(s)
$899.99 for a Queen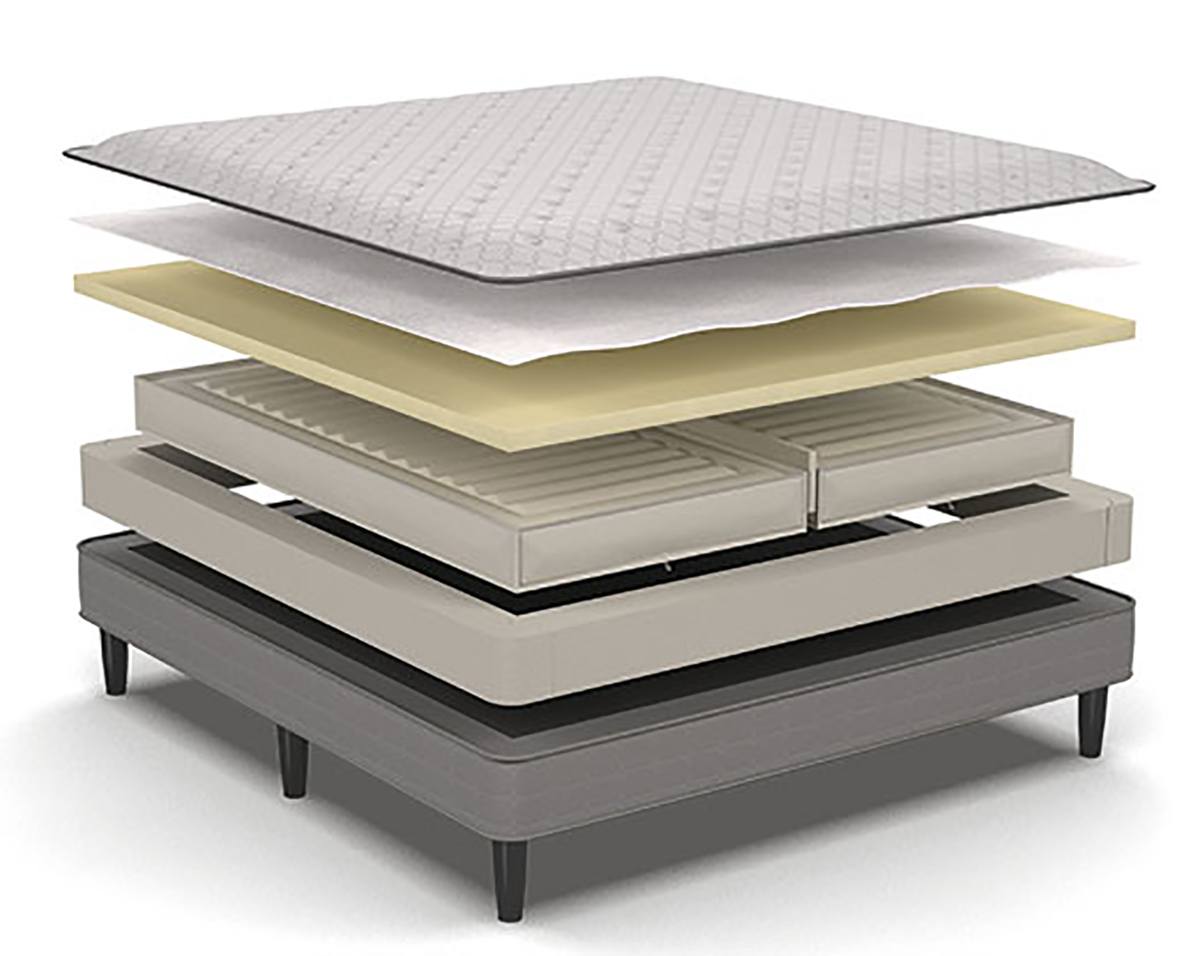 I-8
13" mattress profile
Duvet pillow top that includes 2" of hypersoft quilting foam for a plush surface and Outlast temperature balancing technology to minimize temperature swings
1" foam base pad underneath the air chamber(s)
3" of proprietary PlushFit foam – supportive foam is designed exclusively for Sleep Number to naturally conform to your curves
7 zones specifically designed to contour to your head, shoulders, lower back, hips, knees, lower legs, and feet
Mattress fabric is made with a polyester/polypropylene blend fabric that is designed to be soft and breathable
Sleep IQ Technology included
$3,499.98 for a Queen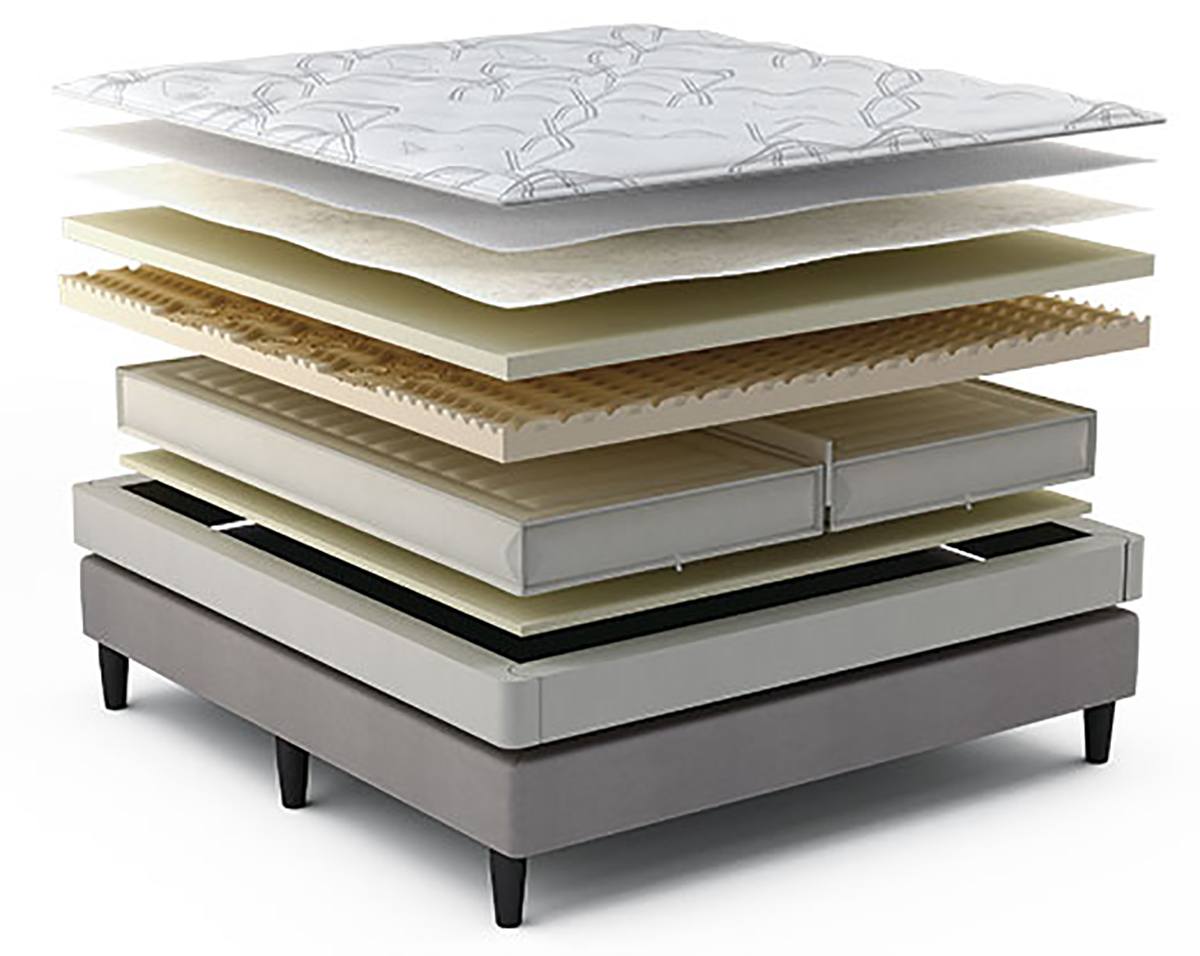 What I Found From Several Live Chat Sessions
After speaking with Sleep Number Customer Service representatives, I learned about a few extra details and clarifications that may help you decide between a C-2 or an I-8 mattress.
Firmness: By virtue of having no comfort foam layers, the C-2 is Sleep Number's naturally firmest mattress. Yes, you can technically adjust support levels by inflating/deflating the air chamber, but with no foam in between the mattress top and the air chamber, it is going to be a firmer mattress.
Popularity: A Customer Service representative mentioned that a magazine named the C-2 model a "Best Buy" value. So I did some research and found that Consumer Reports listed the C-2 as a Best Value mattress because its performance tested just as well in back and side support as compared to the more expensive I-8.
Cooling Technology: Sleep Number offers several mattresses with cooling options (like the P-6 model and the M-7 model). The I-8 features a "temperature balancing sleep surface" which representatives told me is Outlast technology, designed to pull heat away from the body and redistribute it throughout the night to help people stay comfortable.
Which Should People Pick?
C-2 if…
People Like a Firm Mattress. With absolutely no comfort foam layer in between the mattress top and the air chamber, the C-2 is Sleep Number's firmest mattress. You can adjust the firmness by inflating/deflating your air chamber (this correlates to your Sleep Number setting) but this mattress will be naturally firm.
People Are Looking For A Deal. Consumer Reports listed Sleep Number's C-2 model as a "Best Value" mattress. They said that the C-2 performed just as well as in tests for back and side support as compared to the I-8 model but for a fraction of the price.
Read our full Sleep Number C-2 review
I-8 if…
People Want Full Body Pressure Relief. The 3" PlushFit comfort foam in the I-8 is designed to relieve pressure in 7 areas of the body and the P-5 is designed to relieve pressure in only 5 areas. The I-8 adds body contouring to the knees and lower legs and the P-5 does not.
Someone Is A Hot Sleeper. The I-8 features Outlast technology, designed to pull moisture away from you at night and redistribute it throughout the night, in the surface of the mattress.
People Want Cushion. There is no doubt about it – when you're comparing these mattresses, the I-8 is hands down the better choice if you like cushion over firmness in a mattress. The I-8 offers a soft pillowtop surface and 3" of PlushFit comfort foam designed to contour to your body.
Read our full Sleep Number I-8 review
My Personal Opinion
Despite all the comforts and features the I-8 mattress has to offer, I can't say no to a good deal and would probably choose the C-2 mattress over the I-8.
Money was definitely a motivating factor when it came down to deciding between these two. There is a stunning $2,600 price difference between these mattresses (if people go with a Queen size). With those savings, people could purchase any range of supplemental material to help cushion their mattress.
The C-2 has a lot of things going for it – one of the most important being recognized as a Best Value mattress from Consumer Reports. Their tests help confirm that people can get great support from this mattress despite its lack of comfort layer.
In a lot of reviews, customers bought the C-2 and then purchased their own mattress topper, pads, and/or protectors to add additional cushion. Since mattress toppers come in a range of styles and prices, it was an easy and more affordable way to customize the bed.
The C-2 mattress allows couples – and individuals – to take advantage of Sleep Number's individual air chambers and DualAir™ adjustability options, without breaking the bank.
Katie Golde
Katie manages the day to day operations of the Mattress Clarity news site and reviews sleep products in addition to writing and editing sleep news. She hails from Austin, where she lives with her growing family. She is a Certified Sleep Science Coach and has a master's degree in Journalism from Northwestern University and has a background in health and science content. Her work can be found in print and online publications like Discover Magazine, USA Today and The Huffington Post.