The Serta Perfect Sleeper series of mattresses is wide-ranging in terms of construction and design. It also promises to help relieve five common sleep problems, including sleeping hot and tossing and turning.
Within the collection is the Kirksville Super Pillow Top mattress. It's an innerspring model that's 13.75″ in height. It features memory foam layers that are designed for pressure relief and cooling.
How firm is the mattress, and who is it going to be right for? Read on for our full overview of this Serta Perfect Sleeper mattress.
Construction Overview
The Kirkville Super Pillow Top is approximately 13.75″ high and contains the following materials and layers:
FireBlocker® Fiber
Pillo-Fill®
PillowSoft Aire™
2 ¾" Serta Comfort XD™ Foam
½" Cool Twist® Gel Foam
739 Custom Support® Innerspring with Best Edge® Foam Encasement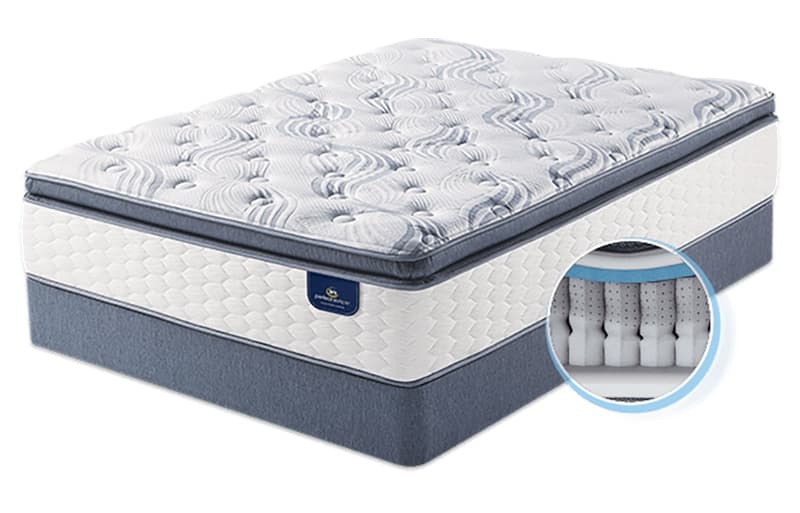 Firmness Level
This mattress is towards the softer end of Serta's firmness scale.

You Might Like This Mattress This If …
You like the feeling of a pillow-top. This mattress contains Pillo-Fill® and PillowSoft Aire™ for a comfortable softer/plusher feel.
You prefer a mattress with that traditional "bounce." The mattress features innerspring coil technology (the 739 Custom Support® Innerspring with Best Edge® Foam Encasement), meaning it will have a springier feel compared to an all-foam bed.
You run hot at night. The mattress contains Cool Twist® Gel Foam, which Serta describes as "breathable, liquid-gel infused memory foam [that] gently conforms to the body for enhanced cushioning and to help reduce pressure points that cause tossing and turning."
You want pressure relief. The mattress features 2 ¾" of Serta Comfort XD™ Foam, a foam that is designed to relieve pressure points so you're not uncomfortable and tossing and turning all night. Side sleepers may find this mattress to be ideal for supporting their shoulders, knees, and hips.
You Might Not Like This Mattress If …
You want a mattress with no memory foam at all. While it's labeled as an innerspring mattress, it does have both Serta Comfort XD™ Foam and Cool Twist® Gel Foam along with the pillow-top and innerspring coils.
You want a firmer bed. The Kirkville Super Pillow Top is on the softer end of the firmness spectrum, even for an innerspring. Reviewers say the mattress is very supportive and (in the words of one reviewer) "really leaves every inch of my body supported and nestled into the mattress," which may be a con for some people.
You don't like the feeling of a pillow-top mattress. This mattress has a pillow-top quilt layer of Pillo-Fill® and PillowSoft Aire™. This will also give it that softer and plusher feel that is not a great fit for everyone.
You're a stomach sleeper. Stomach sleepers tend to need a firmer option to support their stomach and back and maintain neutral spinal alignment. Thus, the foam layers and softer feel of this mattress may not be the best match for stomach sleepers.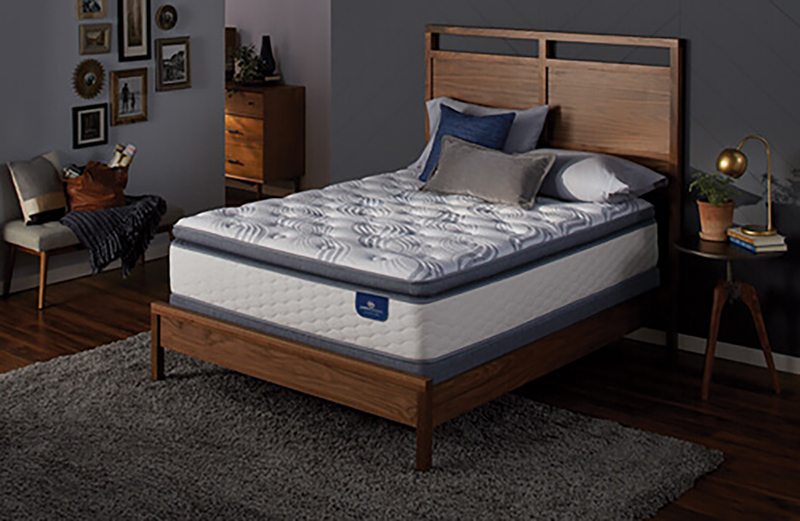 Most Common Pieces Of Praise: What Makes This Mattress Stand Out?
Buyers are pleased with the temperature regulation technology in the Cool Twist® Gel Foam. "My husband gets hot easily in his sleep and the Kirkville SPT temperature regulation has been very helpful," a reviewer wrote.
People like that the mattress is supportive but also plush on top. One reviewer wrote: "I would suggest this mattress to anyone who likes a soft pillow-top with a secure feeling. This bed offers both; you get the pillow comfort with great support."
Buyers are happy with the construction quality. "Far better construction of this mattress compared to last one, independent springs and foam are wonderful," one reviewer said.
Most Common Complaints And Other Things To Note
Because the mattress is approximately 13.75" high, some buyers have had to purchase special "deep pocket" sheets. One buyer wrote, " If I had to list a con, it would be the thickness of the mattress, being a super pillow-top special deep pocket sheets are needed, so I had to spend a bit more money on a fitted sheet and mattress cover, but it was worth it hands down."
Some buyers say the mattress took a few days to feel comfortable due to a short break-in period. One person wrote, "It did take me a few days to adjust to the mattress which is normal, but after that, I was able to sleep comfortably and peacefully uninterrupted."
Some people say this mattress may start to sink or sag after a few months. One reviewer put it like this: "At first it was comfortable and slept great but as the months went on, this mattress became more uncomfortable. My partner and I can't sleep near each other without the mattress sinking in."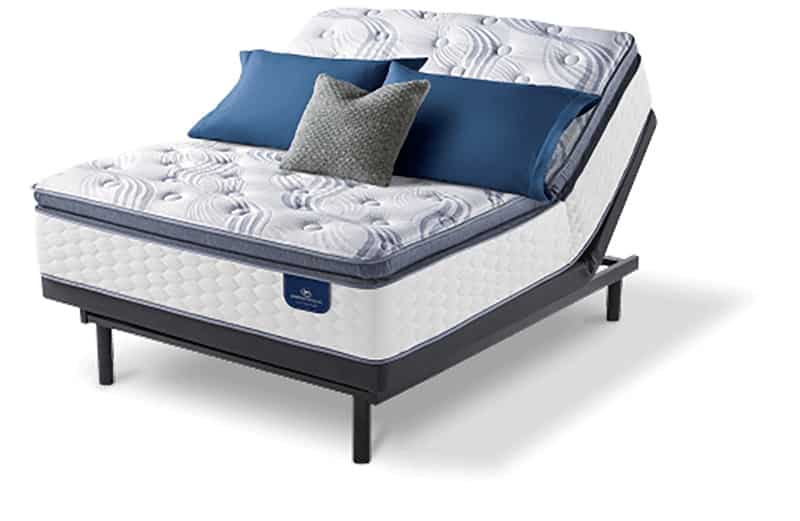 Why Pick This Over Other Serta Mattresses?
This is an innerspring mattress with a coil system and foam encasement for edge support. It will most likely lean towards a traditional innerspring feel, but the memory foam layers and pillow-top will give it a softer and plusher feel that is most likely better for back or side sleepers.
Reviewers say this mattress has great temperature-regulation technology and pressure relief. It starts at $939 for a Queen size, which keeps it competitively priced.
Overall
The Kirkville Super Pillow Top is approximately 13.75″ high and contains FireBlocker® Fiber, Pillo-Fill®, PillowSoft Aire™, 2 ¾" Serta Comfort XD™ Foam, ½" Cool Twist® Gel Foam, and 739 Custom Support® Innerspring with Best Edge® Foam Encasement. It is on the soft end of the Serta firmness scale.
This mattress is probably the best fit for side sleepers (or back sleepers) who are looking for a cooling mattress with pressure relief. It will have some bounce thanks to the coil system.
Check out our comprehensive review of the Serta Perfect Sleeper series HERE.
All images from Serta
The following two tabs change content below.
Katie Golde
Katie manages the day to day operations of the Mattress Clarity news site and reviews sleep products in addition to writing and editing sleep news.She hails from Austin, where she lives with her growing family. She is a Certified Sleep Science Coach and has a master's degree in Journalism from Northwestern University and has a background in health and science content. Her work can be found in print and online publications like Discover Magazine, USA Today and The Huffington Post.
Latest posts by Katie Golde (see all)