Serta's Perfect Sleeper collection of mattresses basically has something for everyone. The models come in innerspring, memory foam, or hybrid, and the Perfect Sleeper Express collection comes straight to your door in a box.
All models are designed to combat five sleep issues:
Tossing and turning
Lack of support
Sleeping too hot or too cold
Partner disturbance
Mattress roll-off and sagging
There are three Perfect Sleeper Express models. The 12″ option features two layers of cooling and supportive gel memory foam that place it on the firmer side overall.
For whom might this affordable mattress be the best fit? Read on for all the details on the Serta Perfect Sleeper 12-inch.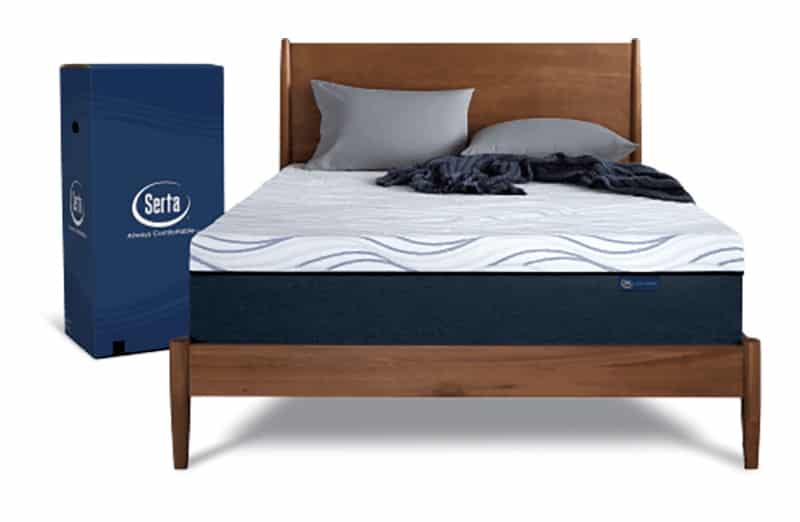 You Will Like This Mattress If …
You are looking for a pure memory foam mattress. This mattress contains two layers that are both made with foam: Serta® Premium Gel Memory Foam and Serta® Gel Infused Support Foam.
You are looking for a mattress that can be delivered in a box, rather than through a special mattress delivery. The Perfect Sleeper Express models are delivered in a box and "spring" into shape after they are unboxed. This takes the hassle out of needing to go to the store to pick out your mattress and deal with salespeople (which some customers prefer to avoid).
You are looking for a relatively budget-friendly mattress. The Perfect Sleeper Express 12″ model starts at $899 for a Queen sized mattress.
You May Not Like This Mattress If …
You prefer a bouncy or springy mattress. This mattress is pure memory foam, so it will not feel bouncy compared to a traditional innerspring mattress. (That being said, the foam is pretty responsive.)
You are a side sleeper. This mattress is on the firm side, which makes it the best fit for back and stomach sleepers. Side sleepers tend to need a softer bed to help with the pressure on their shoulders, hips, and knees. You might consider the Serta Perfect Sleeper Express 14-inch for a slightly softer option.
You want to unbox or lift the mattress yourself. The mattress comes in a regular box and may be heavy to unpack and move without assistance.
Construction Overview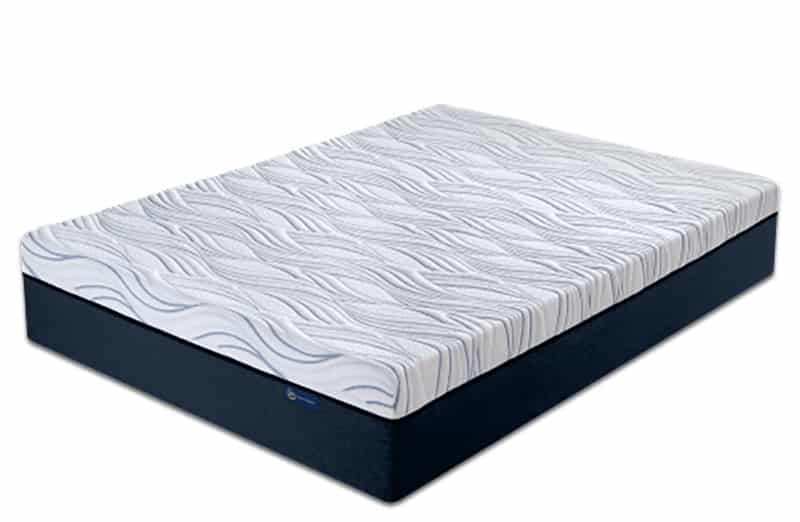 The Perfect Sleeper Express 12-inch model is approximately 12" high and contains:
Serta® Premium Gel Memory Foam
Serta® Gel Infused Support Foam
Firmness Level
This mattress is toward the firm end of Serta's mattress firmness scale.

Most Common Pieces Of Praise: What Makes This Mattress Stand Out?
Buyers say the mattress has great edge support, so they feel secure lying close to the edge of the bed. "Most soft foam mattresses are lacking in edge support, making you feel like you're going to roll right off the bed," one reviewer wrote. "Not this one! I tend to sleep close to the edge, and I never felt as if I was going to be ejected."
People appreciate how easy it is to set up this mattress. It arrives rolled up in a box, and you simply open the box and let the mattress air out for a while. " Very easy to open and set up," one buyer wrote.
According to one reviewer, the mattress's foam springs back into its original shape very quickly after you have compressed it. They wrote, "The reaction time of this mattress is amazing as well; the foam pops right back into place when you roll over, so you don't ever feel like you're stuck!"
Most Common Complaints And Other Things To Note
The mattress is quite heavy. "My only complaint is that it is a relatively heavy mattress to move or lift but I don't mind if its weight contributes to its firmness," one reviewer wrote.
Some people found the mattress a little too firm to start with, but they say the model felt more comfortable over time. One reviewer wrote, "Myself and my husband slept on this mattress for a week. After the first night, we both woke with a little back pain, but not unexpected because we were not used to a foam bed (we have a cheap hybrid). Each night got progressively better!"
This mattress is not cool enough for some people. One buyer wrote, "The one drawback is that the cover, while it says it's cooling — didn't cool enough for me."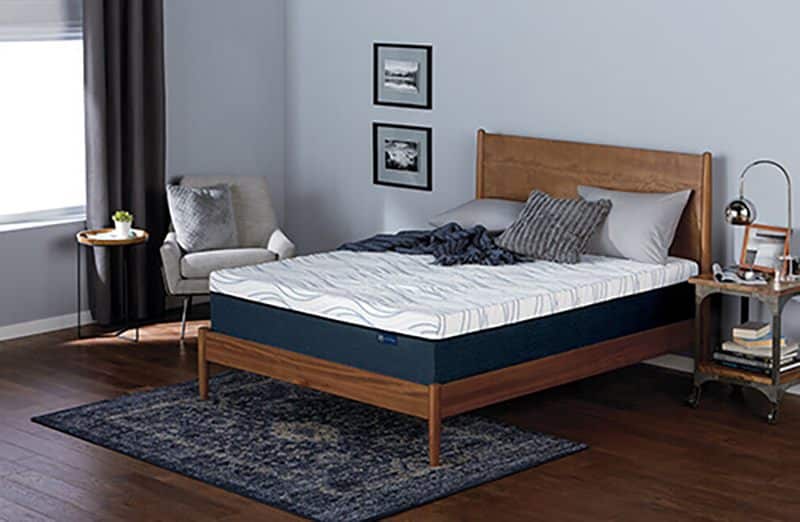 Why Pick This Over Other Serta Mattresses?
This mattress is pure memory foam rather than a hybrid or innerspring model. All Express models — including the 12-inch — come in a box, meaning it doesn't require a special delivery.
This mattress costs $899 for a Queen size, which is less expensive than many other Serta models. Of the three models, it is not the firmest or the softest option, but it definitely leans more toward firm. This most likely makes it a nice fit for back sleepers who like a mattress that's a little on the firm side.
Customers say it has good edge support, so couples who want an all-foam bed and are looking for an affordable option from Serta may enjoy it as well.
Overall
The Perfect Sleeper Express 12-inch model is approximately 12" high and contains Serta® Premium Gel Memory Foam and Serta® Gel Infused Support Foam. It is delivered in a box and costs $899 for a Queen size.
This is an affordable memory foam mattress option that can be delivered straight to your door so you can unpack it yourself. According to reviews, it is on the heavier side. It's also more firm than it is soft, which may make it the best match for back sleepers.
Check out our comprehensive review of the Serta Perfect Sleeper series HERE. 
All images from Serta
The following two tabs change content below.
Katie Golde
Katie manages the day to day operations of the Mattress Clarity news site and reviews sleep products in addition to writing and editing sleep news.She hails from Austin, where she lives with her growing family. She is a Certified Sleep Science Coach and has a master's degree in Journalism from Northwestern University and has a background in health and science content. Her work can be found in print and online publications like Discover Magazine, USA Today and The Huffington Post.
Latest posts by Katie Golde (see all)