Serta's Perfect Sleeper collection is as diverse in its construction as it is in price. The series of beds is designed to help solve five common sleep problems:
Tossing and turning
Lack of support
Sleeping too hot or too cold
Partner disturbance
Mattress roll-off and sagging
There are three Perfect Sleeper Express mattresses that come in three different thicknesses: 10-inch, 12-inch, and 14-inch. These mattresses all come delivered to your door in a box.
The 10-inch option has two foam layers and is one of the firmest options overall. It is also the most affordable mattress in the Perfect Sleeper line. Read on for more details regarding who this mattress could be a great fit for.
You Will Like This Mattress If …
You want an extremely firm mattress. This mattress is one of the firmest options in the series of Perfect Sleeper models. It will probably be a good fit for stomach sleepers who want a memory foam bed.
You are on a budget. A Queen size mattress goes for $699 on the Serta website, making it the most affordable model available in the Perfect Sleeper collection.
You like the feeling of memory foam. This mattress does not contain any innerspring coils, meaning it's pure memory foam. As such, the mattress will most likely have a slow response and no bounce or spring-like feel
You May Not Like This Mattress If …
You want a softer mattress with a pillow top feel. This is a very firm mattress, so if you prefer a softer mattress with a plusher top, you may want to look at other options in the Perfect Sleeper line (such as the Luxury Hybrid Glenmoor Super Pillow Top or the Kirkville Super Pillow Top).
You don't like the feeling of memory foam. If you want a "bouncy" or "springy" mattress rather than an enveloping one, this — or any of the Express options — may not be the right choice for you, as they are all completely made with foam.
You want a thicker mattress. This mattress is only 10" high, so some people may prefer a mattress with more height. The Perfect Sleeper Express line comes in a 12-inch and a 14-inch as well (at a slightly increased cost).
Construction Overview
The Perfect Sleeper Express 10-inch model is approximately 10" high and contains all foam materials in the following layers:
Serta® Premium Gel Memory Foam
Serta® Gel Infused Support Foam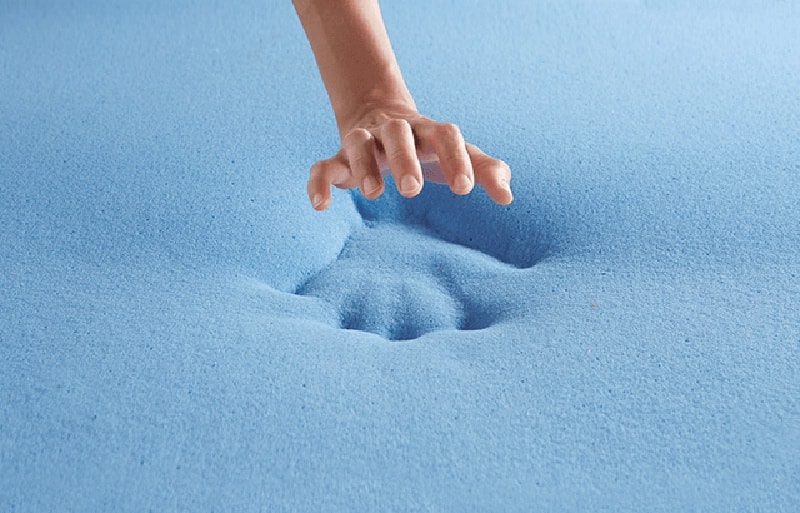 Serta's Premium Gel Memory Foam
Firmness Level
This mattress is at the firm end of Serta's mattress firmness scale. Of the three solid memory foam options, the Express 10-inch is the firmest model.


Most Common Pieces Of Praise: What Makes This Mattress Stand Out?
One customer says the motion transfer technology is great, writing, "The support is amazing and I no longer get woken up every time my husband rolls over."
Buyers enjoy the firm feeling of the mattress, saying it's comfortable and supportive. "This product is well made with a ton of comfort," one reviewer wrote. "I highly recommend this product for someone with a bad back, you feel amazing when you get up."
Because the Serta Perfect Sleeper® is the Official Mattress of the National Sleep Foundation, each Perfect Sleeper mattress will come with the National Sleep Foundation's Guide to Sleeping Well. "This informative booklet provides tips, suggestions, and resources to help you get the most from the new Perfect Sleeper mattress every night," the National Sleep Foundation explains.
Most Common Complaints And Other Things To Note
For some buyers, the mattress took a little while to feel comfortable. One wrote, "The first two nights I was not comfortable. It seemed too firm. But after about 4 nights, I sleep well and am very comfortable."
One reviewer said they constantly overheated while sleeping on this mattress. "The Cool Action Gel Memory Foam still heats up in the cold, freezing winter, would hate to see what it does on a hot summers [sic] night," they wrote.
A reviewer found they could still feel their box spring through the mattress, making for an uncomfortable experience. "You can feel the box spring frame through the mattress making it feel high in the middle," they wrote.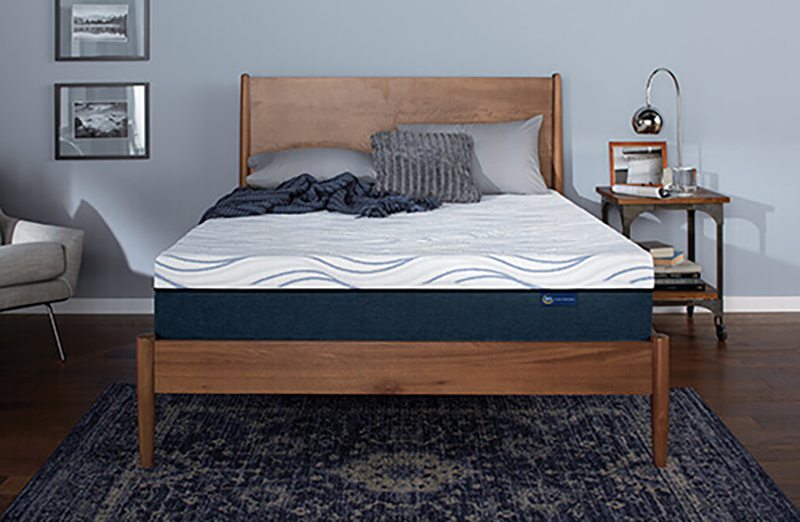 Why Pick This Over Other Serta Mattresses?
This mattress is extremely firm and will be a great option for those who sleep on their stomachs and want an all-foam bed. It's also great for anyone who doesn't want to pick up the mattress at a store and would rather check out the Perfect Sleeper Express bed-in-a-box option. (Those who want to go in-store could look at the Castleview Firm model, which offers the same firmness level.)
This mattress comes in a box, meaning it doesn't require special delivery. It is also the most affordable mattress of the whole line: At full price, it costs $699 for a Queen.
Overall
The Perfect Sleeper Express 10-inch model is approximately 10" high and contains Serta® Premium Gel Memory Foam and Serta® Gel Infused Support Foam. It is delivered in a box and costs $699 for a Queen size.
This is a very straightforward mattress and a nice option for those who want a Serta mattress delivered to their door, who don't mind the simple memory foam layers, and who want to spend less on a bed.
Check out our comprehensive review of the Serta Perfect Sleeper series HERE. 
All images from Serta
The following two tabs change content below.
Katie Golde
Katie manages the day to day operations of the Mattress Clarity news site and reviews sleep products in addition to writing and editing sleep news.She hails from Austin, where she lives with her growing family. She is a Certified Sleep Science Coach and has a master's degree in Journalism from Northwestern University and has a background in health and science content. Her work can be found in print and online publications like Discover Magazine, USA Today and The Huffington Post.
Latest posts by Katie Golde (see all)