Serta created the Perfect Sleeper line to combat common sleep problems such as lack of support and uncomfortable sleep temperature. The Castleview Firm mattress should indeed do well at keeping you cool and supported while you sleep. It is the firmest Perfect Sleeper mattress and incorporates gel foam for cooling and individually wrapped coils for support and additional airflow.
Will this firm mattress be a good match for you? Read on for our full review.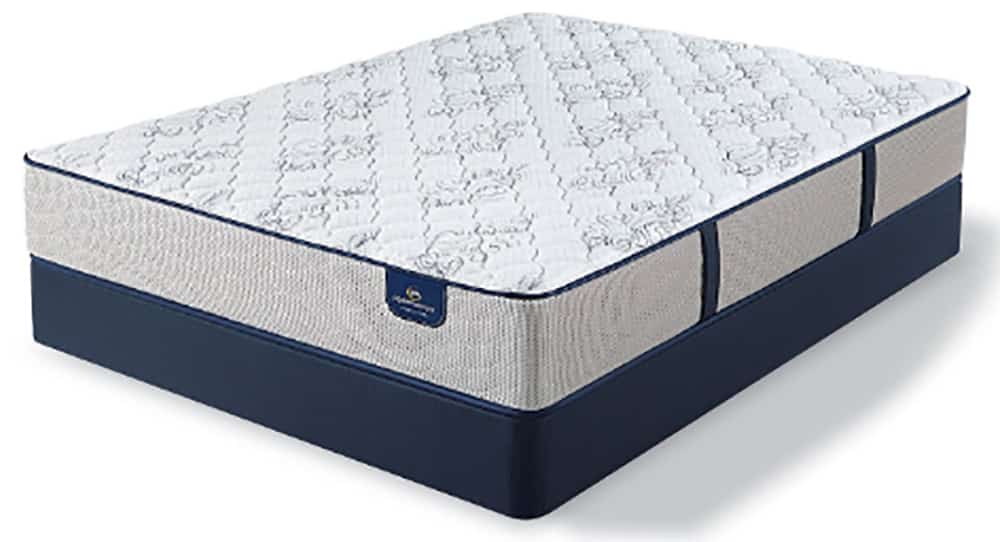 You Will Like This Mattress If …
You are a stomach sleeper. Firm mattresses are often a good fit for people who sleep on their stomachs.  That's because this position requires very good support. This mattress is the firmest in the Perfect Sleeper line and should give the proper support when you sleep on your stomach.
You are a back sleeper who prefers a firmer mattress. Medium-firm mattresses are often best for back sleepers, but this firm mattress could still work for some back sleepers. The top foam layers should allow the hips to sink in just the right right amount while still giving proper support overall.
You sleep hot. The gel foam layer and Cool Balance® fabric are both designed to dissipate heat. In addition, the individually wrapped coils system allows for airflow. All these components should work together to ensure you won't be sleeping hot.
You are looking for an affordable hybrid mattress. This mattress is currently priced at $899 for a Queen. A hybrid mattress for under $1,000 is quite a value. It is similarly priced to the other firm options in the Perfect Sleeper line.
RELATED: Read our review for the Coralview Firm mattress here
You May Not Like This Mattress If …
You are a side sleeper. Softer mattresses are often better for side sleepers. They are designed to give pressure relief on hips and shoulders. This mattress is very firm, so it may be the most comfortable and pressure-relieving for those who sleep on their sides as opposed to their stomachs.
You are a back sleeper who prefers a less firm mattress. While this mattress could work for many back sleepers, it may be too firm for some. It should give good overall support, but if you prefer to sink a bit on your back, you may want to look for a softer mattress.
You prefer the sinking feeling of classic memory foam. While this mattress does incorporate foam into its technology, it is not a very soft layer. You probably won't experience that slow compression that comes with some memory foam mattresses.
RELATED: Check out Serta's softer Excursion Super Pillow Top here
Construction Overview
This mattress is approximately 12.5" high and contains:
FireBlocker® Fiber
Cool Twist® Gel Foam
Cool Balance® fabric
739 Individually Wrapped Coil Technology with Total Edge® Foam Encasement
Firmness Level
This mattress is at the firm end of Serta's firmness scale. The Castleview Firm is the firmest mattress in the whole Perfect Sleeper line. Firm mattresses are often best for stomach sleepers and some back sleepers.

Most Common Pieces Of Praise: What Makes This Mattress Stand Out?
People love how firm and supportive this mattress is. One person wrote, "It's firm and it's comfortable. I sleep better each night with no body ache."
Buyers also say the model is very quiet. "The bed doesn't squeak or make noise when you are moving around on it," one review says.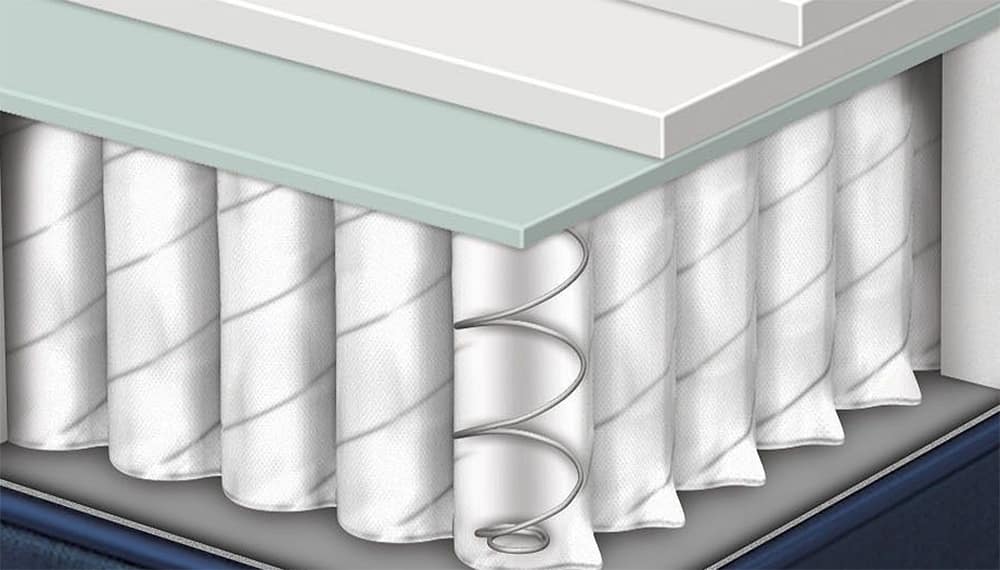 Most Common Complaints And Other Things To Note
Some people say that they overheat at night. One reviewer wrote, "I…noticed that when I'm sleeping I'm always kind of warm when I'm used to being cold at night, I guess this has something to do with the temperature regulation."
Reviewers have expressed concern about the edge support on this mattress. "If you are lying on the mattress and are too close to the edge, you get the feeling you may roll off," a buyer wrote. "If you are sleeping more toward the middle of the bed, then you get a good night sleep. But, if you share your bed, then, because of the feeling of rolling out of bed, your night of slumber is not as comfortable."
For some reviewers, it took a little while for the mattress to feel comfortable. "It was a little firm at first but after a week, I hate to get up in the morning," a reviewer wrote.
Why Pick This Over Other Serta models?
This is an extremely firm model. It should give very solid support, especially if you are on your stomach. Serta also offers medium-firm and soft models.
The Castleview Firm is a hybrid mattress. Serta also has all-foam mattresses and pure innerspring mattresses. Hybrid mattresses are designed to mix the support and contouring of coils with the pressure relief and comfort of foam.
Overall
This mattress is approximately 12.5" high and contains FireBlocker® Fiber, Cool Twist® Gel Foam, Cool Balance® fabric, and 739 Individually Wrapped Coil Technology with Total Edge® Foam Encasement.
This is the firmest mattress in the Perfect Sleep line and should be a good fit for hot sleepers, stomach sleepers, and back sleepers who prefer a firmer mattress. Side sleepers may prefer to look for a softer mattress.
Check out our overview of the complete Serta Perfect Sleeper line HERE.
All images from Serta
The following two tabs change content below.
Marten Carlson
Marten is a staff writer for Mattress Clarity News. He covers the mattress industry as well as sleep science news. He is specifically interested in the connection between sleep and overall health.Marten has written for media publications like Consequence of Sound and received a master's degree in Film Studies from Emory University.He comes from Franklin, Indiana, and spends all the time he can writing, directing, and acting in films. He has directed genre short films and features. His newest film, Starlets, recently premiered at the River Town Film Festival in Clinton, NJ. He also stars in the upcoming thriller, Sour Bear. His next film, At The Hop, is a hot rod actioner with a horror twist.
Latest posts by Marten Carlson (see all)