When shopping for a new mattress, the sheer number of options can seem a little overwhelming. It's not just that there are so many bed-in-a-box mattress brands; it's also that their products differ in so many ways, varying by price point, material, longevity, and more.
As a case in point, the Nectar and DreamCloud mattresses are different in some important ways: The Nectar is an all-foam bed offering a classic memory foam feel, while the latter is a luxurious, high-end hybrid with innerspring coils. Comparing these two mattresses may be a helpful way to pinpoint exactly which will be best for you. Read on for our full Nectar vs DreamCloud mattress comparison!
Free Accessories

Nectar

Use our coupon to get $399 of free accessories 
A great choice for side sleepers
Will work for fans of memory foam

$200 Off

DreamCloud

Save $200 on the DreamCloud by using our coupon
A good option for hot sleepers
Will be a good fit for fans of innerspring mattresses
Nectar Vs. DreamCloud Overview
Nectar is one of the most popular memory foam brands on the market today… and while part of that stems from their entertaining advertisements, a lot of it is simply because they have a solid, comfortable mattress. The Nectar mattress is made with multiple layers of memory foam that combine comfort with support; and, it's available for a low price point, enhanced by a lifetime warranty and a generous year-long sleep trial.
The DreamCloud, on the other hand, is a hybrid mattress that includes a layer of supportive pocketed coils, and a layer of high-density, supportive foam. It provides the high-end, luxury sleep experience that some shoppers may be craving, and somewhat surprisingly, it's also priced very affordably. The DreamCloud also comes with a lifetime warranty and a 365-night trial period.
Who Might Like the Nectar
Those who love the contouring feel of memory foam
Those who prefer their mattress to be on the softer side.
Who Might Like the DreamCloud
Those who prefer the feel of an innerspring mattress
Hot sleepers
Those who want more support from their mattress
Nectar Vs. DreamCloud Mattress Video Comparison
Want to get a better look at how these mattresses measure up? Check out this video comparison we put together.
Similarities Between the Nectar and DreamCloud?
Though the Nectar and the DreamCloud are distinct in many ways, there are also a few categories where they align. Some of their most significant similarities include:
Both are extremely popular online mattress brands.
Both mattresses are backed by solid customer service terms.
Both mattresses feature memory foam in their design.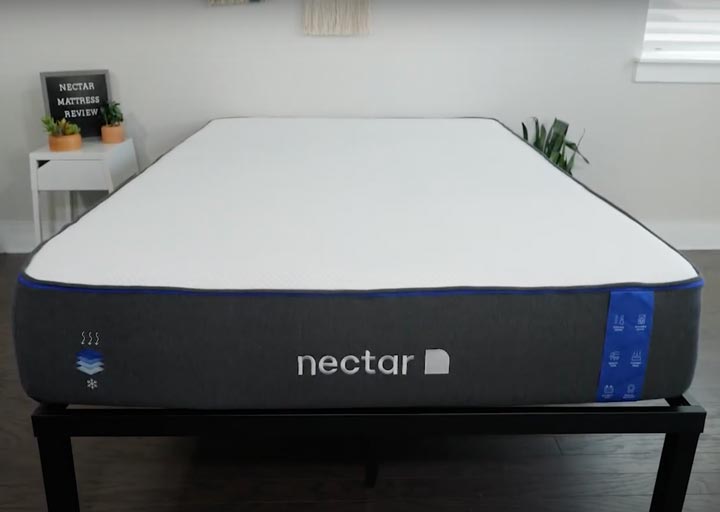 RELATED: Nectar Mattress Review 
Key Differences Between the Nectar and DreamCloud?
In other categories, the Nectar and the DreamCloud really part ways. For example:
The DreamCloud is taller than the Nectar.
The Nectar is made entirely from foam, while the DreamCloud also includes an innerspring layer.
Because they're made with different materials, they offer a different feel; the Nectar is more cushioning, while the DreamCloud is a bit sturdier and more supportive.
The Nectar mattress is softer than the DreamCloud.
The DreamCloud sleeps cooler, which makes it a better option for those who get hot while they sleep.
At full price, the DreamCloud is slightly more affordable than the Nectar.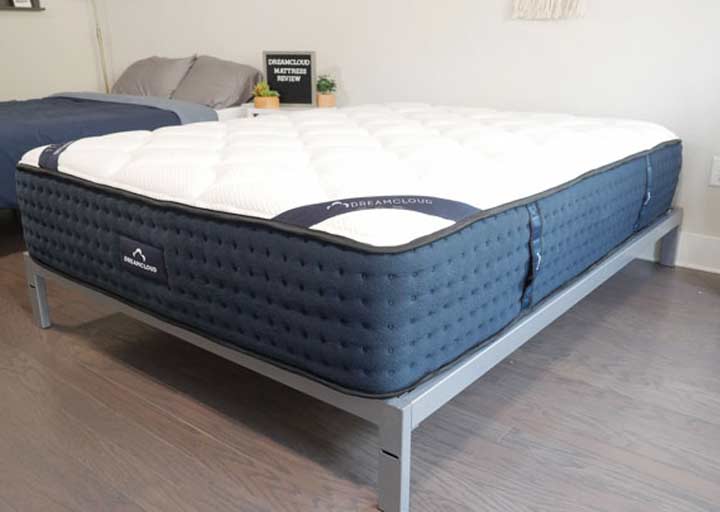 RELATED: DreamCloud Mattress Review
Firmness and Feel Differences
When shopping for a mattress, you should always consider its firmness and feel. This can really help you decide whether it will be a good fit for you or not. Keep reading to see exactly how firm the Nectar and DreamCloud mattresses are and what they will feel like.
How Firm Are The Nectar And DreamCloud Mattresses?
To us, the Nectar mattress feels like about a 6.5/10 on the firmness scale. It's made of a layer of high-density foam, a little bit firmer than conventional memory foam, which helps the mattress feel supportive and comfortable at the same time.
By contrast, we'd give the DreamCloud about a 7.5/10. It has a memory foam component but also a layer of supportive coils, which keep it from having as much "sinkage" as you'll get with the Nectar mattress. For a lot of sleepers, that 7.5 range is the sweet spot for feeling like you can sink into your mattress without getting swallowed by it.
Sleeping On The Nectar And DreamCloud Mattresses
In our experience, the Nectar works exceedingly well for back sleeping. It has a soft feel but still offers sufficient support, including targeted support along the lumbar area. There's a great amount of contouring, making it easy to maintain a healthy, comfortable spine alignment. If you are a back sleeper, you should feel the mattress take the shape of your body while it also supports you!
For side sleepers, the Nectar should offer excellent pressure relief. However, heavier sleepers may feel like they're bottoming out. Lightweight and medium-weight sleepers may fare a little better.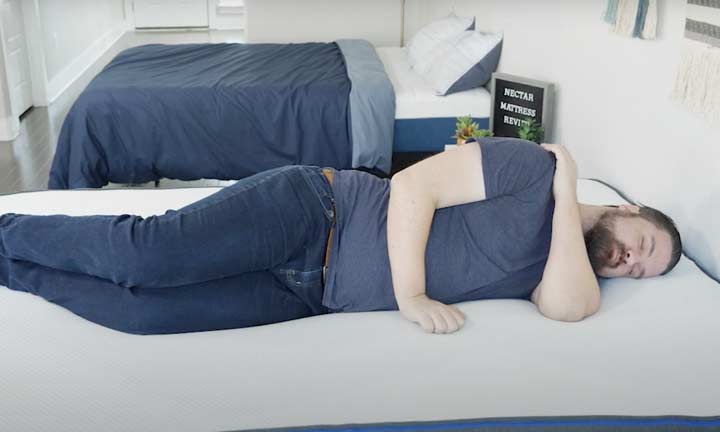 As for stomach sleepers, the Nectar mattress may be a little too soft. The Nectar can make stomach sleepers feel like they're disappearing into their bed, unable to find the straight, healthy spine alignment they need.
Like the Nectar, the DreamCloud is a good match for back sleepers. Thanks to that coil system, there's a lot of targeted lumbar support, helping shift weight from sensitive pressure points, and minimize back pain.
Side sleepers may not find the DreamCloud to be as comfortable. There's a lot of pressure and not enough "give," and the result is a feeling of being jammed up against the mattress in an uncomfortable way. You could feel some serious pressure on your shoulders and hips.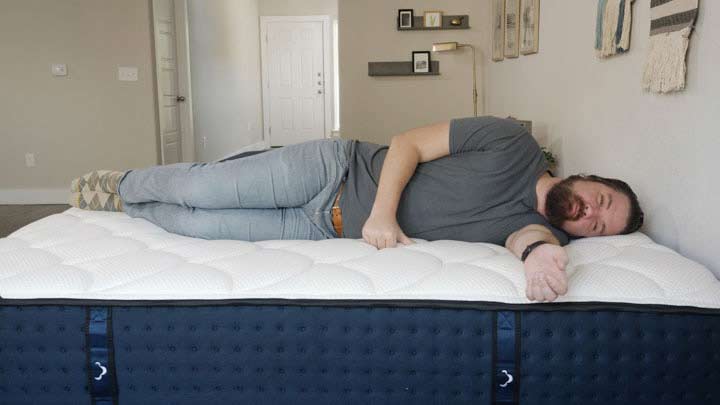 Similarly, stomach sleepers may find that the DreamCloud is not quite supportive enough. There's a lot of bowing toward the middle of the bed, particularly if you're on the heavier side. For lightweight sleepers, it may be better, but ultimately, the DreamCloud really isn't optimized for those who sleep on their stomach.
What Do The Nectar And DreamCloud Mattresses Feel Like?
Memory foam fans love that feeling of sinking into their mattress without bottoming out; of being cushioned but also properly supported. The all-foam Nectar mattress offers that classic memory foam feel; it's slow-moving and has very little bounce.
While the DreamCloud does have a layer of memory foam, it really feels more like an innerspring bed. There's quite a lot of bounce, which means it may not be as good for couples but is excellent for combination sleepers. It's very easy to move around on the DreamCloud and to change positions.
Average Weight Sleepers – 130 lbs to 230 lbs
Average weight back sleepers and side sleepers will likely find plenty of comfort and support from the Nectar mattress. Those with hip pain, in particular, will love how they can achieve just the right balance between sinkage and support. For stomach sleepers in this weight class, however, the Nectar probably just isn't supportive enough.
For average weight back sleepers, the DreamCloud is ideal: The memory foam layer will offer padding while the innerspring system ensures plenty of support. Side sleepers, on the other hand, will generally feel a little bit too bunched up, with too much pressure at the shoulders and hips. As for stomach sleepers, those closer to 130 lbs will probably be fine, but once you get near the 230 lbs mark, there may not be quite enough support under the hips.
Heavyweight Sleepers – Over 230 lbs
The Nectar offers back sleepers plenty of support, up until about 300 lbs. At that point, a more supportive mattress is likely in order. Similarly, heavier side sleepers may want to seek a thicker mattress to ensure they never bottom out. The same goes for stomach sleepers, who may feel like their mattress bows in the middle and leaves their hips unsupported.
Heavyweight back sleepers will be amply supported by the DreamCloud, up until around 300 lbs; then, a more durable mattress is recommended. It's not the best mattress for heavyweight side sleepers, who will feel too much pressure, nor for stomach sleepers, who will feel their hips sinking too deep into the bed.
Lightweight Sleepers – Under 130 lbs
The Nectar mattress is perfectly comfortable and supportive for lightweight sleepers who favor either their back or their side. Most stomach sleepers will need a firmer mattress to ensure healthy and comfortable spinal alignment.
The DreamCloud is a good match for lightweight sleepers in almost any position. Between the contouring memory foam layer and the coil support system, there's just the right balance of comfort and support.
Mattress Construction Differences
Now, let's look under the hood of both these mattresses and see exactly what's going on inside:
Cover
The Nectar mattress features a polyethylene cover to help keep you cool throughout the night. The DreamCloud is topped with a cashmere cover, very soft and also cool; it's tufted and quilted with foam to give a nice, plush sensation.
Comfort Layers
With the Nectar, you get a gel memory foam cover that's slow-moving, pressure-relieving, and heat-dissipating. Under that is a transition layer, which is firmer than the top memory foam layer. Not only does this offer supple support but it also acts as a transition layer, keeping you from bottoming out.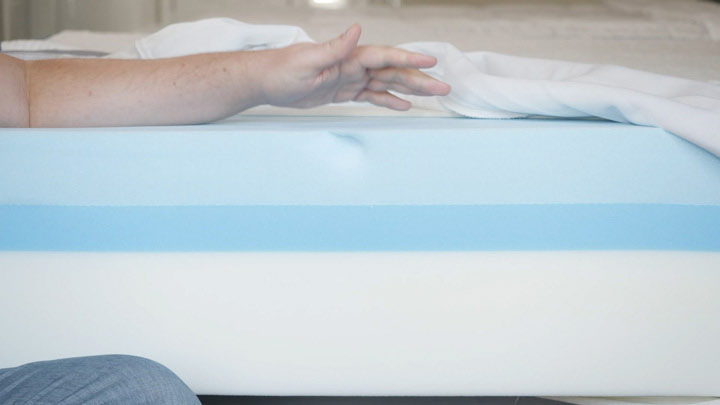 Below the quilted cover of the DreamCloud, there's gel-infused memory foam; as with the Nectar, this comfort layer is soft and cooling. Under that, a layer of transition foam prevents too much sinking.
Support Layer
The Nectar has a foam base layer made of very dense, supportive foam. The DreamCloud, on the other hand, has coils, which give the mattress some bounce.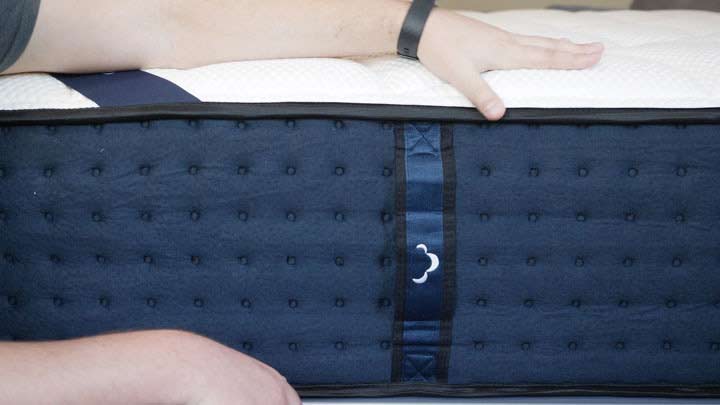 Mattress Height
The Nectar mattress is 12" in height, while the DreamCloud measures in at 14".
Nectar Vs. DreamCloud Mattress Size Options and Price
For up-to-date information about the size options and price point of each mattress, just take a look at these charts.
Nectar
| | | |
| --- | --- | --- |
| Size | Dimensions | Price |
| Twin | 39″ x 75″ x 12″ | $798 |
| Twin XL | 39″ x 80″ x 12″ | $868 |
| Full | 54″ x 75″ x 12″ | $1098 |
| Queen | 60″ x 80″ x 12″ | $1198 |
| King | 76″ x 80″ x 12″ | $1498 |
| California King | 72″ x 84″ x 12″ | $1498 |
DreamCloud
| | | |
| --- | --- | --- |
| Size | Dimensions | Price |
| Twin | 39″ x 75″ x 14″ | $899 |
| Twin XL | 39″ x 80″ x 14″ | $999 |
| Full | 54″ x 75″ x 14″ | $1099 |
| Queen | 60″ x 80″ x 14″ | $1199 |
| King | 76″ x 80″ x 14″ | $1399 |
| California King | 72″ x 84″ x 14″ | $1399 |
Free Accessories

Nectar

Use our coupon to get $399 of free accessories 
A great choice for side sleepers
Will work for fans of memory foam

$200 Off

DreamCloud

Save $200 on the DreamCloud by using our coupon
A good option for hot sleepers
Will be a good fit for fans of innerspring mattresses
Nectar Vs. DreamCloud Performance Differences
We also ran the Nectar and DreamCloud through a number of tests to find out just how they handle motion transfer, edge support, and cooling. To see how they compare to other mattresses, make sure to check out our mattress comparison page for reviews like Nectar vs Brooklyn Bedding and DreamCloud vs Purple.
Sleeping Hot or Cold
Memory foam mattresses are known for retaining heat, and while the Nectar won't win any awards for being the coolest mattress, it generally avoids being as stuffy as the other beds in its category. The gel-infused memory foam helps draw heat away from your body to ensure a reasonably cool night's rest.
The DreamCloud also has cooling gel memory foam, but what really makes it the winner in this category is the innerspring coil layer. These coils offer considerable cooling and allow for healthy air circulation.
Motion Transfer
The Nectar's slow-moving memory foam reduces motion transfer considerably, making it an excellent mattress for couples who share a bed. The DreamCloud has a lot of bounce to it, which means it's not as good at isolating motion; partners who share a DreamCloud might find that their movements disrupt one another.
Edge Support
Surprisingly, the Nectar offers better edge support. It's totally supportive, while the corners of the DreamCloud tend to buckle under too much body weight.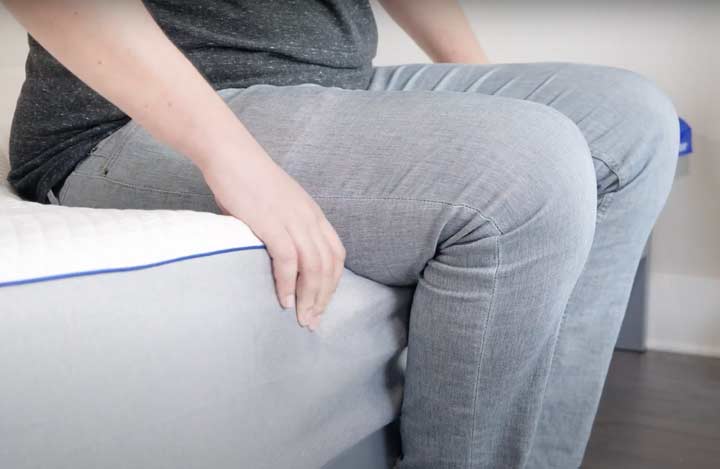 Durability
When it comes to mattress longevity, it's a draw. Both of these mattresses are made with high-quality materials, and no matter which you choose, you can expect it to last seven to 10 years.
Off-Gassing
Some mattresses emit a slight chemical odor when you first unbox them. We noticed this for both the Nectar and the DreamCloud, but in both cases, the smell went away after 48 hours.
Noise
As an all-foam mattress, the Nectar is pretty close to noise-free. Meanwhile, the coils on the DreamCloud can make a little bit of noise, especially after a few years and they take on some wear and tear.
Sex
Because it's responsive and easy to move around on, the DreamCloud is ultimately the better option for sexual partners. (The presence of some noise may be the only slight caveat here.)
Warranty Info
Both mattresses inspire confidence through their Forever Warranty and 365-night sleep trial.
Marten Carlson
Marten is Senior Editor at Mattress Clarity. He covers the mattress industry as well as sleep science news. He is specifically interested in the connection between sleep and overall health. Marten has written for media publications like Consequence of Sound and received a master's degree in Film Studies from Emory University. He comes from Franklin, Indiana, and spends all the time he can writing, directing, and acting in films. He has directed genre short films and features. His newest film, Starlets, recently premiered at the River Town Film Festival in Clinton, NJ. He also stars in the upcoming thriller, Sour Bear. His next film, At The Hop, is a hot rod actioner with a horror twist.