Many mattresses contain eco-friendly and hypoallergenic materials, but few actually manufacture latex-free mattresses. Enter: My Green Mattress. This company builds all of their bedding products in their certified organic factory, and they sell a wide range of earth-friendly mattresses.
In our My Green Mattress review, we'll look closely at two of their most popular models: the Natural Escape Latex Hybrid and the Pure Echo, a latex-free innerspring mattress. Ready to see which one is best for you? Let's look closely at each bed's firmness, feel, edge support, durability, and more.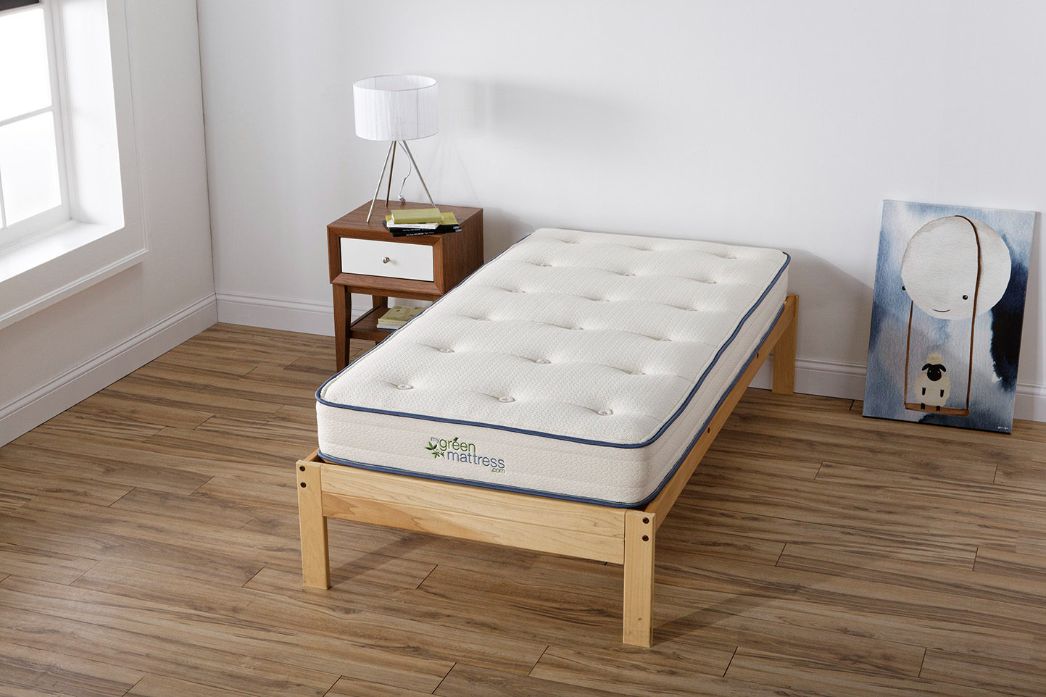 My Green Mattress Pure Echo Mattress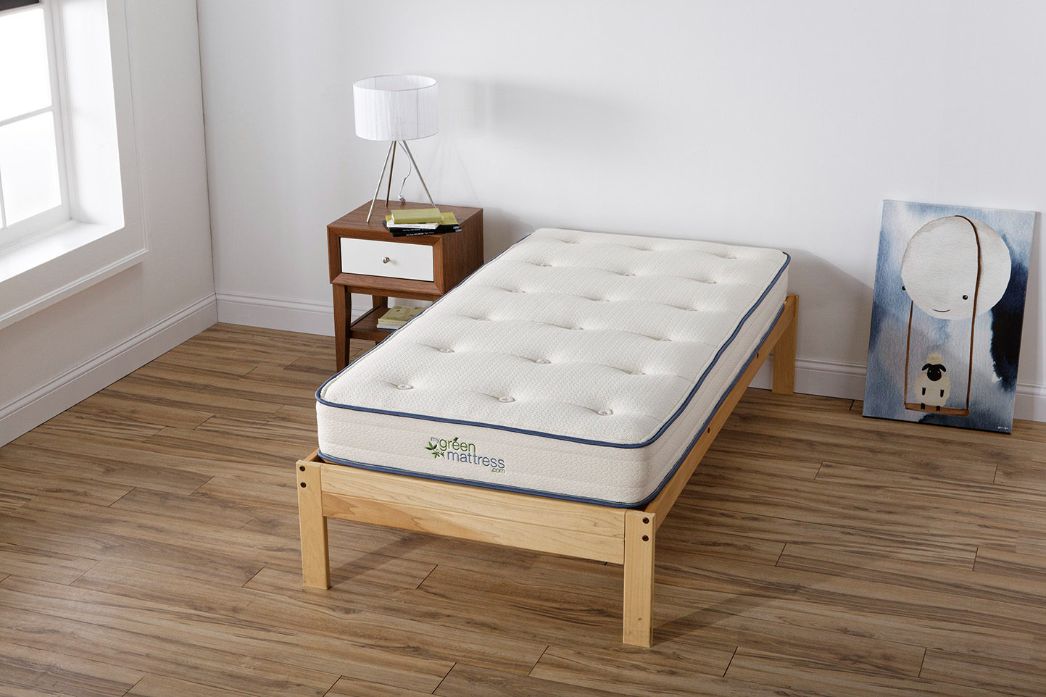 Product
My Green Mattress Pure Echo Mattress
Score
My Green Mattress Overview
Made in Illinois, My Green Mattresses are handcrafted in a family-run factory. They sell eco-friendly innerspring mattresses, spring-free mattresses, and even latex-free mattresses.
With so many options, it may feel daunting to choose. But that's what we're here for! Before diving into all of the nitty gritty details, here's a quick overview of who should consider getting a My Green Mattress.
Who Might Like My Green Mattress?
Hot sleepers
People looking for eco-friendly or latex-free mattresses
Those who like responsive mattresses
Who Might Not Like My Green Mattress?
Those who like beds with a slow-moving feel
Couples who are especially concerned about motion isolation
People who prefer flippable beds with many customization options
My Green Mattress Video Review
Ready to see this eco-friendly mattress in action? Take a look at our video review below.
My Green Mattress Firmness and Feel
The first thing you'll want to consider when shopping for a new mattress is its firmness and feel. These two aspects vary greatly from person to person, so we'll break down who may like these mattresses based on body type and personal preferences.
How Firm is the My Green Mattress?
The Natural Escape, My Green's latex hybrid mattress, feels like a 6.5/10 on our firmness scale. This also happens to be the industry standard for medium-firm beds. So if you tend to rest on your back or side, this bed could work well for you.
The Pure Echo latex-free mattress, on the other hand, feels significantly firmer. Because it doesn't have a latex foam comfort layer, this bed feels like an 8/10 on our scale. This means it may work better for stomach sleepers.
Sleeping On The My Green Mattress
In general, the Natural Escape mattress works exceptionally well for back and side sleepers. The latex foam layer provides plenty of pressure relief for the shoulders and hips, and the strong coil system supports the lower back. However, because it feels medium-firm, it won't work well for most stomach sleepers. In this sleeping position, many people will feel their hips sink into the top layer. This can lead to lower back pain, and nobody wants to deal with that.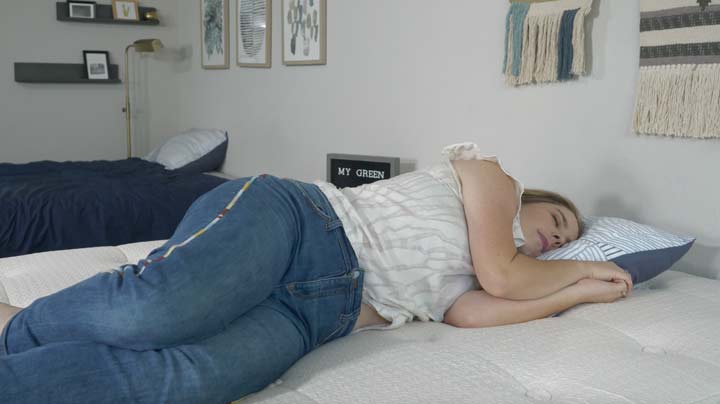 The Pure Echo mattress doesn't contain a latex foam layer, so it feels much firmer. Heavyweight back sleepers should get tons of support on this organic mattress, but it may feel too firm for lightweight folks. We also don't recommend this mattress for side sleepers. Because it lacks a layer of plush cushioning on top, this mattress doesn't absorb enough pressure.
Stomach sleepers, though, should find the Pure Echo is a great fit. When resting in this position, you shouldn't feel your hips dipping out of alignment. This means you can keep your back straight all night and wake up without aches and pains.
What Does My Green Mattress Feel Like?
Both mattresses have a bouncy innerspring feel, thanks to their sturdy support coils. However, the Natural Escape feels more plush and responsive. The natural Dunlop latex layer immediately snaps back into place after you apply pressure, so it's a great pick for people who need some extra body contouring. The Pure Echo mattress only has a layer of natural wool under its cover, so sleepers will notice more of its innerspring bounce.
Average Weight Sleepers – 130lbs – 230lbs
Average weight sleepers should love the Natural Escape mattress, especially when back and side sleeping. Thanks to its classic medium-firm feel, this mattress provides a great balance of comfort and support in these sleeping positions. The Natural Escape mattress just isn't firm enough to support stomach sleepers, however.
The Pure Echo mattress isn't the best pick for average-weight back or side sleepers because it doesn't create enough pressure relief. Stomach sleepers who weigh between 130lbs and 230lbs, though, should feel plenty of support and comfort on this bed. Its springy and firm feel will help stomach sleepers maintain the correct alignment all night.
Heavyweight Sleepers – Over 230lbs
On the Natural Escape, heavyweight sleepers should feel well supported and comfy – especially when back and side sleeping. Because the coils feel especially sturdy, larger people shouldn't "bottom out" on this bed. Larger people may sink deeper into the latex foam layer, but it should still provide the necessary pressure relief. Not surprisingly, though, the Natural Escape doesn't work extremely well for stomach sleepers.
RELATED: Best mattresses for heavy people
The Pure Echo, in our experience, should work well for larger stomach sleepers. The coils can support heavier weights, and the firm feel will help heavier folks keep a straight spine. The latex-free mattress isn't recommended for heavyweight back or side sleepers. Chances are, people in this category will need a mattress topper for additional comfort.
Lightweight Sleepers – Under 130lbs
On the Natural Escape, lightweight sleepers should feel comfortable in all three sleeping positions. Because smaller people won't compress the latex foam too much, even stomach sleepers should get the comfort and support they need.
The Pure Echo still isn't the best pick for lightweight side sleepers, but it could work well for smaller back and stomach sleepers. Still, though, some folks may find they need to add a foam mattress topper in order to get the necessary pressure relief.
My Green Mattress Construction
We already know that My Green Mattress isn't your typical bed-in-a-box. Let's check out what makes this eco-friendly bed so special by looking at its construction.
Cover
Both the Natural Escape and Pure Echo mattresses have covers made from 100% organic cotton and natural wool. Better yet – they're hand tufted for an even more luxurious feel.
Comfort Layer
The My Green Mattress Natural Escape has a comfort layer made from 3" of organic Dunlop latex foam. Not only is this material breathable, it feels especially responsive. This means sleepers won't sink into the material too much, and they should feel cool throughout the night.
The Pure Echo mattress doesn't have a natural latex foam layer. Instead, sleepers will rest on top of the cotton and wool cover and feel more of the firm coils underneath.
Support Layer
Both mattresses have a support layer made from 8" of pocketed coil innersprings. These materials provide plenty of lower back support, and they're especially durable.
Mattress Height
The Natural Escape mattress is 11" tall, and the Pure Echo stands at 9.25" tall.
My Green Mattress Size Options and Price
Check out our size and price chart below for even more information.
Natural Escape
| | | |
| --- | --- | --- |
| Size | Dimensions | Price |
| Twin | 38" x 75" | $999.00 |
| Twin XL | 38" x 80" | $1099.00 |
| Full | 53" x 75" | $1299.00 |
| Queen | 60" x 80" | $1499.00 |
| King | 76" x 80" | $1799.00 |
| California King | 72" x 84" | $1799.00 |
Pure Echo
| | | |
| --- | --- | --- |
| Size | Dimensions | Price |
| Twin | 38" x 74" | $789.00 |
| Twin XL | 38" x 79" | $829.00 |
| Full | 53" x 74" | $939.00 |
| Queen | 59" x 79" | $1099.00 |
| King | 75" x 79" | $1499.00 |
| California King | 71" x 83" | $1539.00 |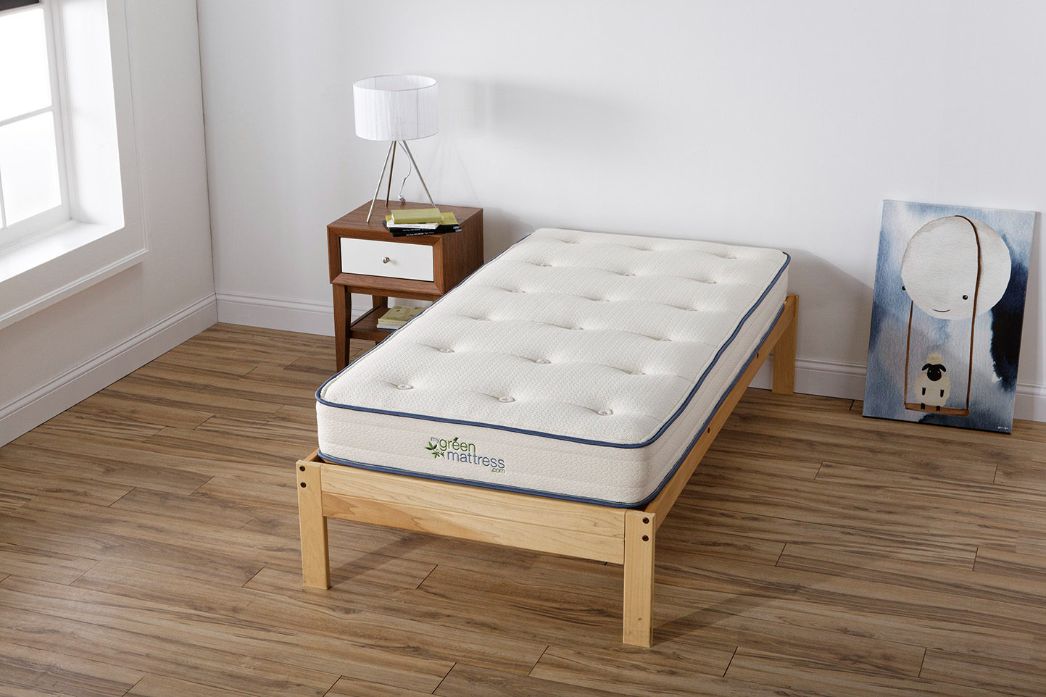 My Green Mattress Pure Echo Mattress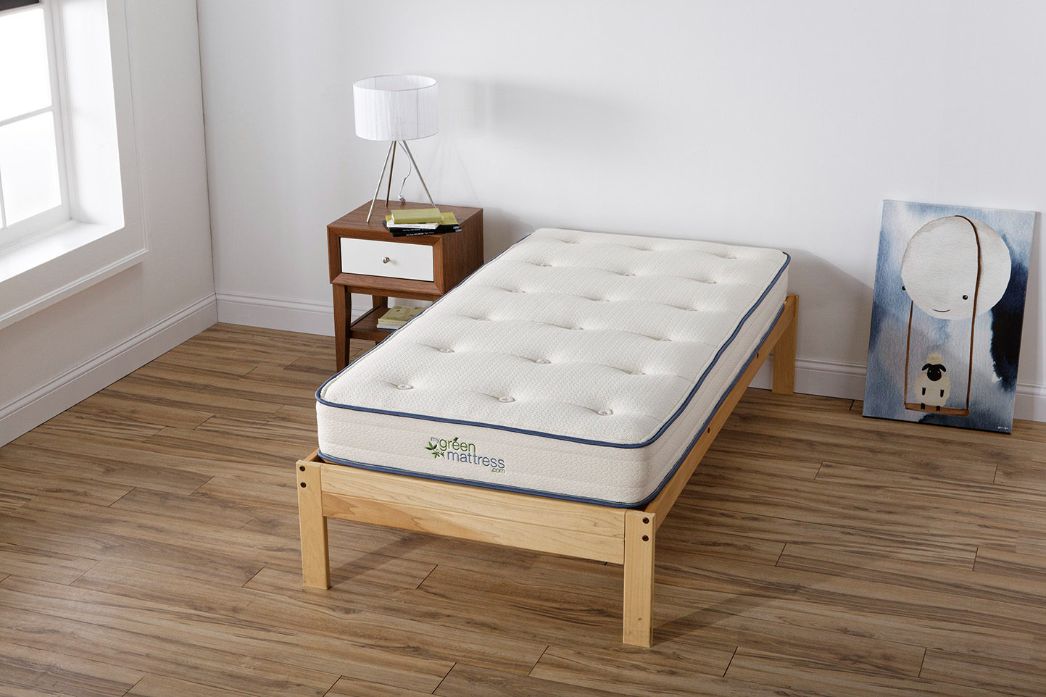 Product
My Green Mattress Pure Echo Mattress
Score
My Green Mattress Performance
Which mattress performs better when it comes to motion transfer, edge support, cooling, and durability? Let's take a look at the specifics.
Sleeping Hot or Cold
Both mattresses should work well for hot sleepers, because the innerspring coils promote airflow. Plus, the wool in the cover helps regulate body temperature.
You won't need to worry about overheating on the Natural Escape, either. Dunlop latex is especially breathable, so you shouldn't wake up feeling hot and stuffy.
RELATED: Best cooling mattresses
Motion Transfer
Because both beds have the same innerspring support layer, they don't isolate motion especially well. If you share a bed with a partner, you might feel their movements when they switch sleeping positions at night. If you're a light sleeper, you might prefer to purchase one of the best mattresses for couples.
Edge Support
The Natural Escape mattress has good edge support, so you should feel secure when you're resting near the side of the bed. The Pure Echo, however, has exceptional edge support. Because this is a firm mattress, the sides hardly collapse when you sit along the edge.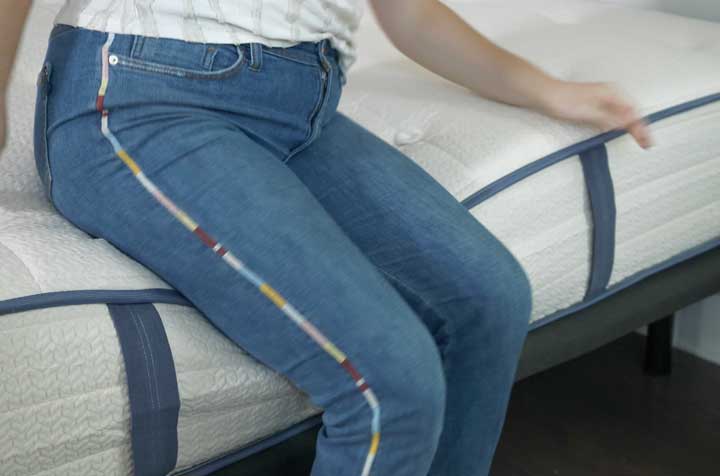 Durability
Both mattresses contain high-quality materials that are especially eco-friendly. Therefore, we think they should last at least 10 years.
Off-Gassing
My Green Mattresses arrive compressed inside a cardboard box, so off-gassing is to be expected. But unlike many memory foam mattresses, these beds don't emit a chemical odor. You might notice a slight earthy smell from the materials, but it will completely fade away after 48 hours.
Noise
Neither mattress created sound whenever we tested them, but it's possible they could squeak as time goes on.
Sex
If you're looking for a good bed for getting intimate, you will love My Green Mattress. The Natural Escape and Pure Echo have a bouncy feel, so it's easy to move around and switch positions on top of them.
RELATED: Best mattresses for sex
Overall Rating
Drumroll, please! Here are the final tallies for the Natural Escape and Pure Echo mattresses.
Company Policies
Of course, you don't want to buy a new mattress without checking out the company policies. Here's a quick overview of My Green Mattress's warranty information, sleep trial period, and return policy.
Warranty Info
My Green Mattresses are backed by a 20-year warranty, which is significantly longer than most.
Sleep Trial
With a 120-night risk-free sleep trial period, you have plenty of time to test the mattress within the comfort of your own home.
Return Policy
Not happy with your mattress? Not to worry. You can easily return the bed and receive a full refund, as long as it's within the 120-night trial period.
Common My Green Mattress Complaints
Most customers love My Green Mattresses, but occasionally, people complain about the Pure Echo's firmness level. Because this bed is latex-free, sleepers won't get the same cushioning and body contouring as they do on the Natural Escape. Some people have found that they need to add a mattress topper to this bed.
RELATED: Best mattress toppers
FAQs
Before wrapping up, we'll answer some of the most frequently asked questions about My Green Mattress.
How long will My Green Mattress last?
My Green Mattresses contain high-quality and all-natural materials, so we expect them to last a long time. On average, these beds have a lifespan of 7-10 years.
Can you flip the My Green Mattress?
Because it contains support layers on the bottom and comfort layers on top, you cannot flip this mattress.
What if I don't like My Green Mattress?
If you aren't pleased with your mattress purchase, you can easily return it for a full refund - as long as it's within the 120-night trial period. For more info, visit mygreenmattress.com.
Elisa Regulski
Elisa the Editor of Mattress Clarity, where she analyzes sleep products and appears in review videos. She earned a M.A in Mass Communication from Texas State University and a B.F.A in acting from Oklahoma City University. In addition to writing about sleep health, Elisa is passionate about reviewing music. Her articles about the Austin City Limits Music Festival have appeared in Glide Magazine and Speakers In Code. When she isn't writing, Elisa can be heard singing with national party band, Saved By The '90s. She also performs with Austin-based arts collective, New Manifest Theatre Company.