The Luxi mattress has a very interesting concept. It is customizable to fit your firmness preferences. By flipping the components of the mattress, you can have a soft, medium, or firm mattress.
In addition, for Queen mattresses and larger, the mattress is split, so each side can be customized to fit two people's individual needs.
I was excited to try out the Luxi for myself and see if this 3-in-1 mattress really does offer something for every type of sleeper. Which side will of this mattress will be the best fit for you? Read on for my full review.
Note: We've received some complaints about the customer service at the company and the company not honoring return requests, so we just wanted to make a note of that at the top of this review.
You Might Want To Pick The Luxi If:
You sleep with a partner. If you choose a Queen size or bigger, the mattress is split in two. This means each partner can choose how they want their side configured. Also, this cuts down on motion transfer, so you shouldn't feel your partner moving around at night.
You sleep hot. The latex is perforated and the grid system also allows for a lot of airflow. You shouldn't be sleeping hot on this mattress.
You are a side sleeper. This mattress relieves pressure quite well on the medium configuration. The grid system conforms to your body when you are on your side, so you shouldn't feel too much pressure on your shoulders on hips. If you want something even softer, you can switch to the softer configuration.
Get $250 off the Luxi with coupon code "July4"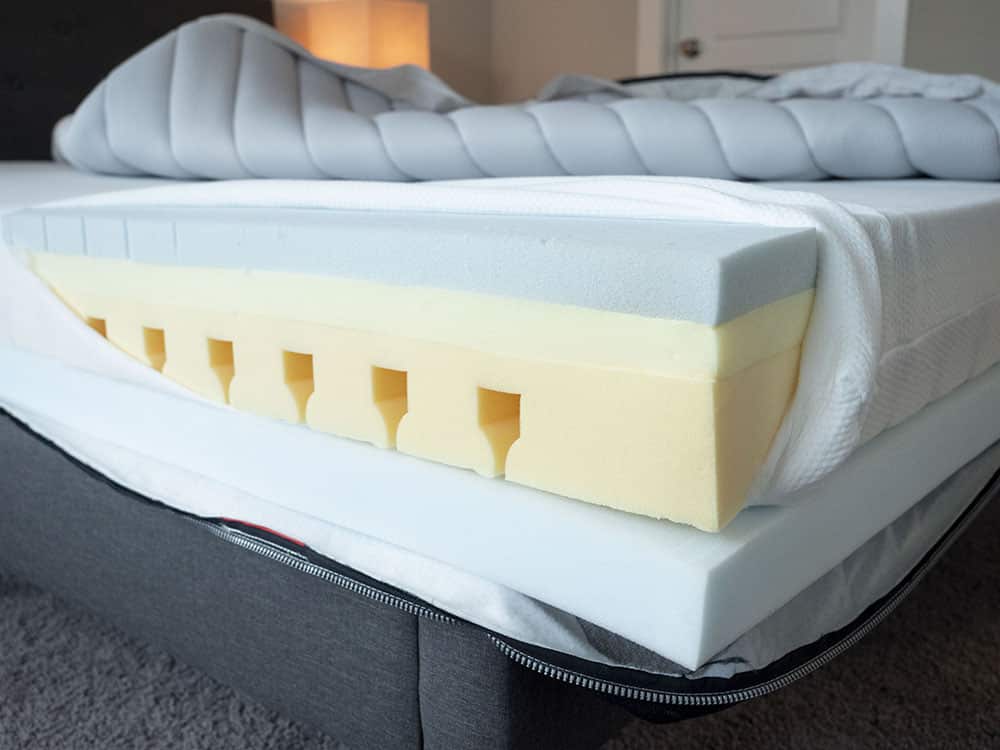 You Might Not Want To Pick The Luxi If:
You want a very supportive mattress. If you sleep primarily on your stomach or back, this mattress might not be the best fit for you. Even on the firm side, there are soft layers right below that firm top layer. I personally require more support when I am on my stomach or back.
You are a stomach sleeper. Even on the firm side, I didn't feel like the mattress gave me enough support on my hips. I think this is because there are soft layers right below the firm upper layer. Without a firm base layer, this mattress lacks the support I need when I am on my stomach.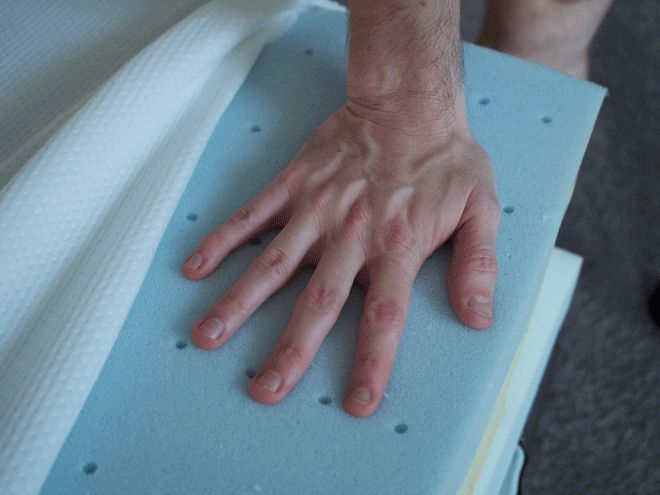 Construction Overview
The mattress is 10.25" tall.
The cover is soft with memory foam quilted into it.
In the medium configuration, the first layer is a 1.5" springy latex layer.
Then you have a 1" layer of a fast-responding memory foam.
Then there is a 3.5" grid layer called SBT for Support Balancing Technology.
The base layer is 3.5" of a standard polyfoam.
All the foams in this mattress are Certi-PUR US certified. This means they are eco-friendly.
The Luxi is made in the USA.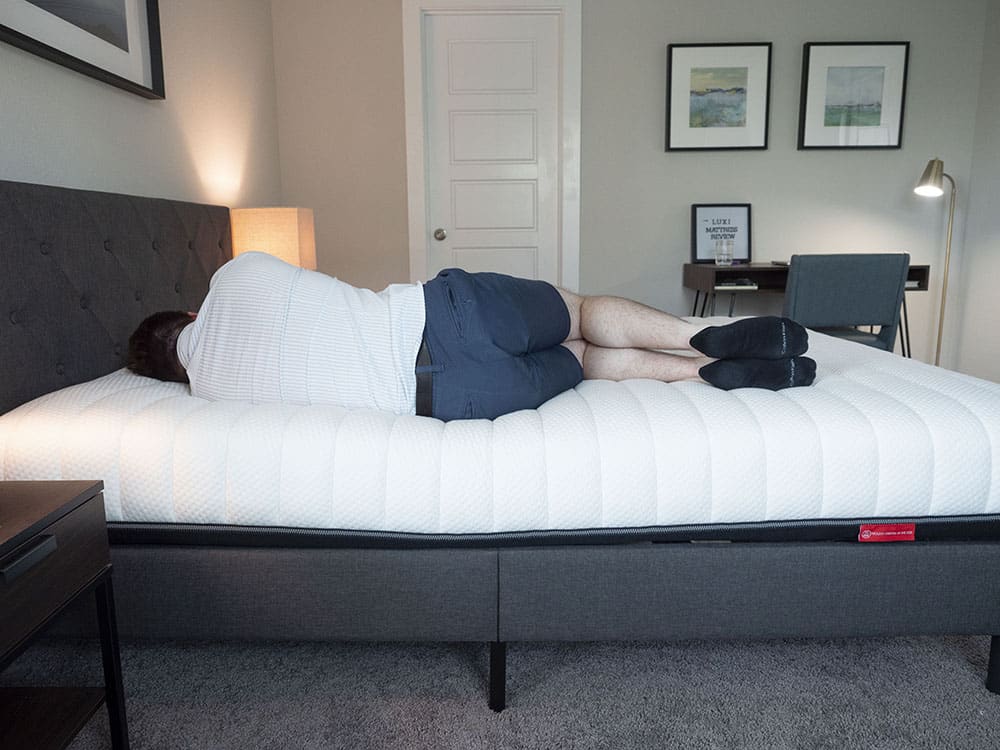 Construction Takeaways
The mattress is available in Twin, Twin XL, Full, Queen, King, and California King.
The latex layer has holes in it that allow for airflow. The SBT grid also has larger channels built in. These both help keep the mattress cool.
The SBT grid is designed to contour to your body, relieving pressure while still keeping you supported. The columns will collapse under the heavier parts of your body.
If you buy a Queen size or larger, the mattress will be split in half. Each side can be configured to fit your and a partner's specific sleeping styles.
They also offer the Luxi One, a mattress without the 3-in-1 construction.
See how the Luxi compares, here.
Firmness/Feel

In the medium configuration, I felt like the mattress was a 6/10, a bit softer than average. You also have the firmer and softer side which, of course, felt different.
On the medium side, I felt very nice pressure relief. There was little no pressure on my shoulders. On my back, there was decent overall support, but I definitely needed more support when I was on my stomach.
The softer configuration was even more pressure relieving when I was on my side. However, the firmer side still didn't give me the support I needed when I was on my stomach.
In terms of feel, the mattress has a bit of bounce to it. The memory foam layer is fast to respond, so you get that pressure relief without getting "stuck" in the mattress.
Motion Isolation
Being that this is an all-foam mattress, I expected the Luxi to isolate motion well. Also, the mattress is split down the middle, and this should help even more with motion isolation.
When I moved around the glass during my tests, there was only a little disturbance. When Marten moved around on the other side of the mattress, I barely felt his motion at all.
Considering this, I think the Luxi could be a great mattress for couples.
Edge Support
All-foam mattresses aren't always the best when it comes to edge support. Sitting near the edge of this mattress, I did feel the mattress compress. However, I did not feel like I was going to fall off.
Likewise, lying down, I didn't feel like I was going to be thrown off the bed. The edge support is not, overall, a highlight of this mattress.
You can see the edge support in the photo below.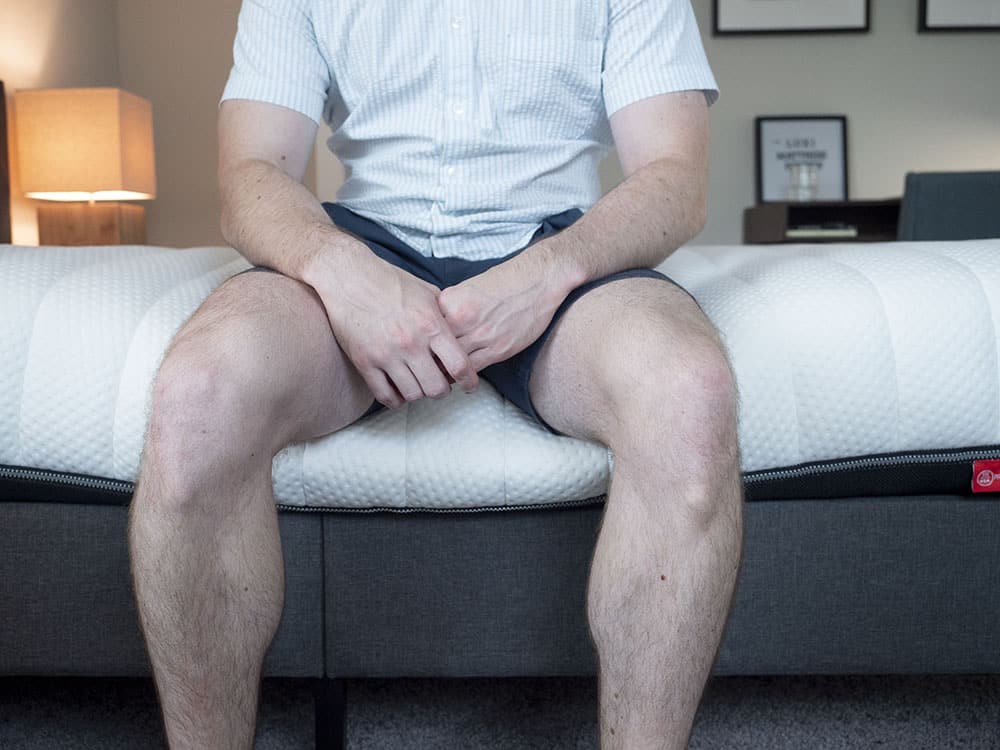 Marten's Take
Marten is a staff writer for us. He has a much different body type than me: He is 6'7″ and weighs about 230 lb; I am 5'9″ and 160 lb. Here is what he thought about the mattress
The Luxi is a very interesting mattress because you have multiple firmness options. You have a soft side, a medium side, and a firm side.
On the medium side, I felt it was a 7.5/10 in terms of firmness. When I was on my back I felt the best. I had a really nice overall support. On my stomach, I sunk in a little bit at my rib cage. On my side, I felt some pressure on my shoulders and my hips.
On the softer side, I felt it was a 6/10 in terms of firmness. This felt very nice on my side, but it was a little too soft when I was on my stomach. Still, there was some decent support when I was on my back.
The firm side didn't work for me. I sunk in through that thin firm layer and felt the soft layers beneath. I didn't get the proper support and it also didn't relieve pressure when I was on my side.
Marten is heavier, so he needed a little more pressure relief when he was on his side. He opted for the soft side, and this seemed to give him the needed relief on his shoulders. We both felt that there was good support when we were on our backs. Marten and I agree that neither side of the mattress is ideal for stomach sleepers. Even the firmer side did not give enough support for Marten.
What Makes This Mattress Stand Out
It has multiple firmness options in one mattress. There are three configurations so you can choose which configuration fits your sleep style.
The mattress is great for couples. The two separate sides mean you and your partner can set the mattress to your specifications. And there shouldn't be too much motion transfer from one side to the other.
The grid layer relieves pressure very well. When you sleep on your side, it conforms well to the curves of your body.
This is a great mattress for sleeping cool. The latex layer has holes and the grid layer has a good amount of room. These both help with airflow and keep the mattress from getting too hot.
Unboxing This Mattress
The Luxi 3-in-1 mattress is a bed-in-a-box mattress, which means it will come compressed and be shipped straight to you. You will want to begin by removing the rolled up Luxi mattress from its box. Then, preferably with another person's assistance, position the roll on your bed.
Carefully cut away the first layers of plastic until the still-compact mattress can be laid down flat. Then, pierce through the final layer of plastic and the Luxi will expand. Simply clear away the excess plastic and allow your mattress to breathe and fully expand.
Get $250 off the Luxi with coupon code "July4"
Overall Rating
Luxi Mattress
Summary
The Luxi is a great option for couples, making it easy to customize the firmness on each side of the bed. It is also ideal for side sleepers and hot sleepers.
The Luxi is a very interesting mattress. Its 3-in-1 construction makes it a good fit for back, side, and combination sleepers. However, if you are primarily a stomach sleeper or you prefer a firmer mattress, this might not be the best choice for you.
The company also offers the Luxi One mattress which does not have the customization option that comes with the 3-in-1. Luxi also offers bedding accessories.
This mattress comes with a 100-Night Trial period and 10-year warranty. Luxi also offers free shipping and returns. Financing is also available.