Loftie is one of the leading sunrise lamps on the market, but its features go beyond just waking you up in the morning. Is this the best lamp for you? My Loftie lamp review will help you find out!
I personally tested the Loftie lamp and assessed its usability, features and price point. Keep reading for the full scoop.
Loftie Lamp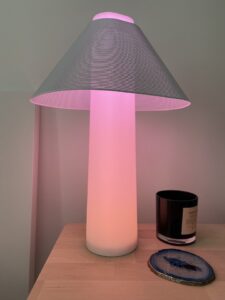 The Loftie sunrise and sunset lamp gently wakes you up in the morning and helps you wind down at night.
Loftie Lamp Overview
As a company, Loftie encourages people to break up with their cell phone alarms and wake up with light and gentle sound. Loftie sells two products: the Loftie clock and the Loftie lamp. Both of them can pair with your smartphone so that you can easily adjust and preset the settings, which means you can leave your phone away from your bed.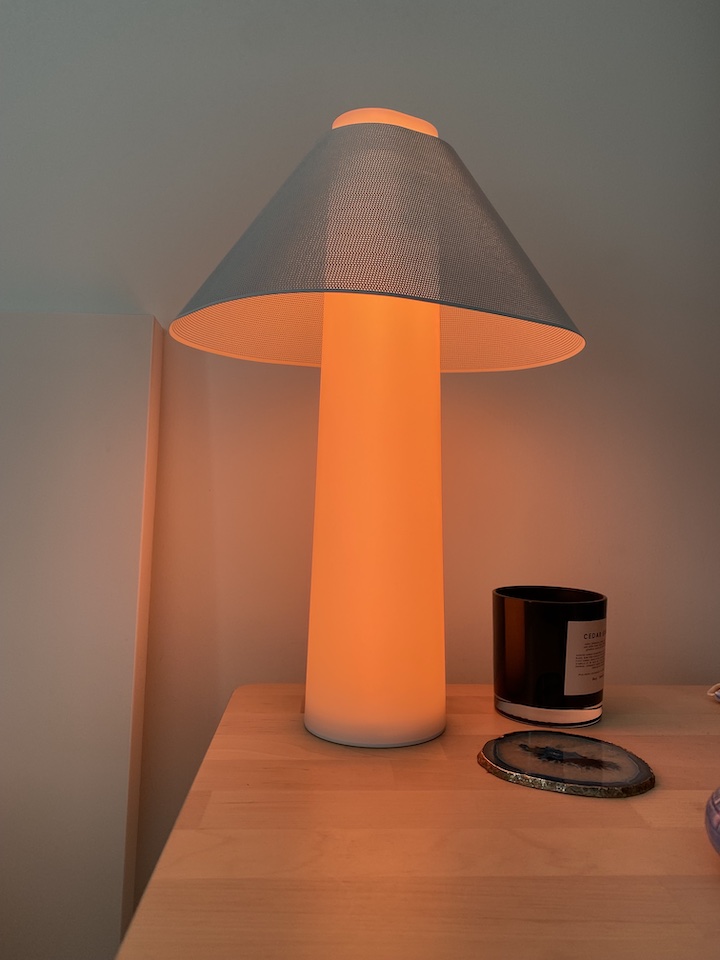 We named the Loftie clock one of the best sunrise alarm clocks because of its sleek design and numerous white noise functions. The Loftie lamp can wake you up with light, but it has some additional features that some users may prefer. Here's a quick rundown of the pros and cons of the Loftie lamp:
| | |
| --- | --- |
| Pros | Cons |
| Can choose from 13 different sunrise color gradients, all representing different places across the world | Costs about $250, which may be too pricey for some people |
| Easy to set up | Requires a strong wifi connection |
| Has a sleek look that works in almost any bedroom aesthetic | You can only set the color gradients for sunrise |
| Has a red light setting that helps sleepers avoid blue light before bedtime | Doesn't play white noise like the Loftie Clock does |
Loftie Lamp Features
The Loftie isn't your typical lamp. Here's a look at all of its unique features.
Sunrise Alarm
The sunrise alarm allows sleepers to wake up gradually, as if by the sun. Light exposure first thing in the morning can help you feel more alert and focused. It's also a great option for people who are hearing impaired.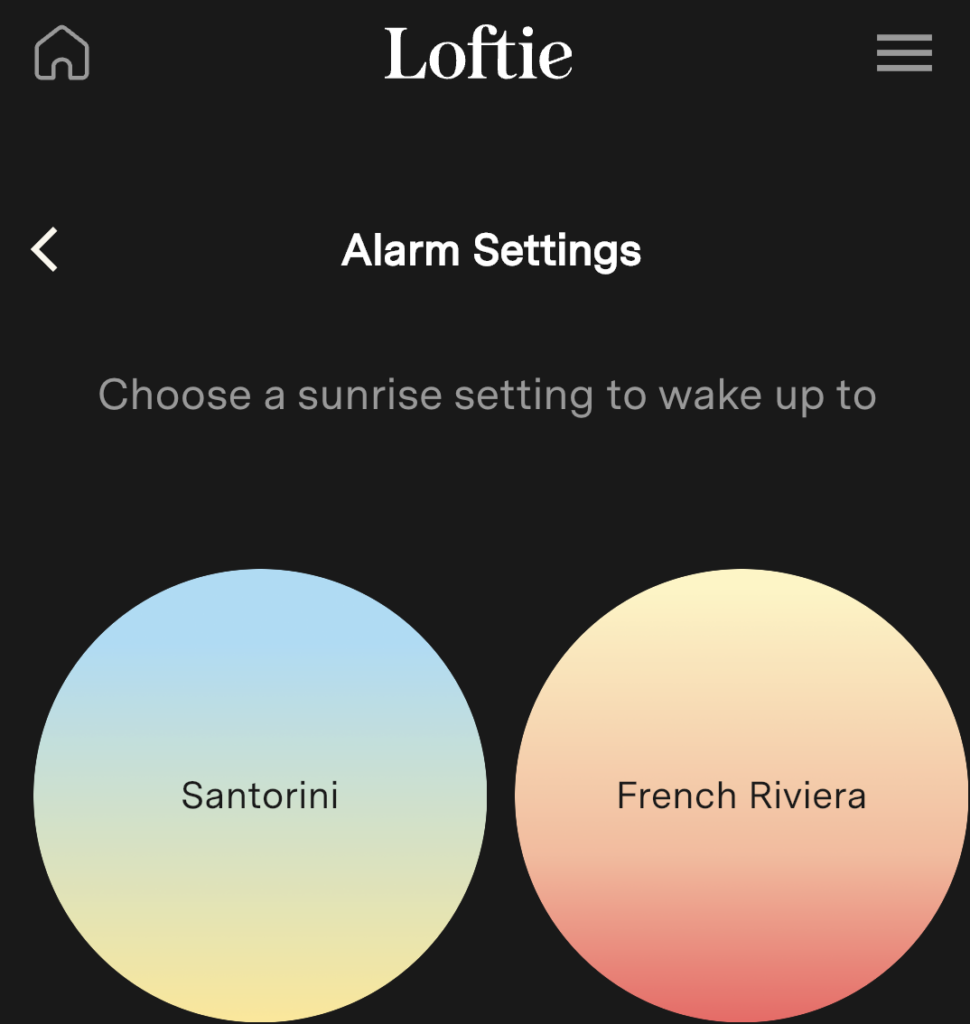 Loftie has 13 different sunrise gradients to choose from, and they are all inspired by beautiful destinations across the globe. The Bali-inspired light features violet, pink and orange, while the Santorini-inspired gradient includes shades of blue and yellow.
Sunset Bed Signal
The sunset bed signal can help sleepers maintain a consistent sleep schedule, which is an important element of good sleep hygiene. When the dreamy light shines through the lamp, it acts as a reminder to unwind and relax before bed.
Therapeutic Red Light
Red light therapy can help people who deal with insomnia and sleep apnea. But even if you don't have a sleep condition, the Loftie's red light setting can help you avoid blue light before bed and get better sleep. Often emitted by cellphones and TVs, blue light can disrupt melatonin production and make it more difficult to fall asleep at night.
Reading Mode
This setting is ideal for everyday use. It's gentler than the full light mode, making it great for reading and relaxing.
Personal Experience with the Loftie Lamp
I love all of the different sunrise settings the Loftie lamp has to offer. The Joshua Tree setting features a blend of purple and orange hues, which makes me feel like I'm on a relaxing vacation. And it was super easy to set up the Loftie lamp. All I had to do was attach the base and shade—no lightbulb required. Its sleek design looks great in my bedroom, and I can see it working in a variety of bedroom aesthetics.
The sunrise setting lasts nine minutes. The light gently woke me up, and I found that I didn't even need to set a backup phone alarm. But because I don't have the best wifi connection in my apartment, I had to re-pair my phone's bluetooth to the Loftie multiple times. Each time it disconnected, I had to type in my wifi password again. This issue resolved after about a week of use, but it was annoying to have to continually re-connect the lamp to my phone.
I was also disappointed that you can't customize the colors when you use wind down mode. This setting gradually dims a pleasant mix of colors for nine minutes, which acts as a reminder to get ready for bed. Though the colors are calming, I wish I could choose the specific color settings like I can with the sunrise setting.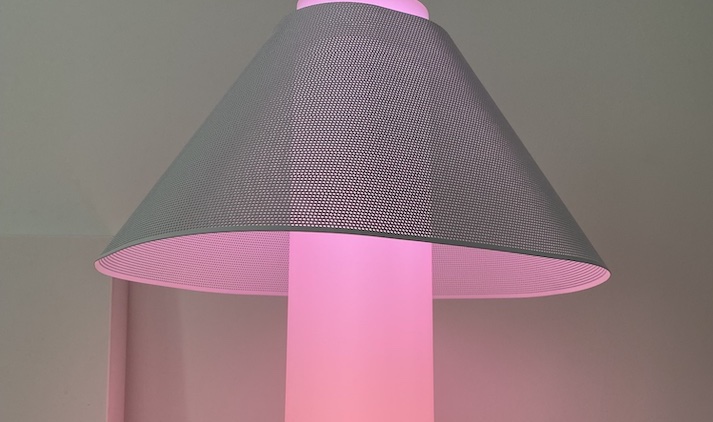 Overall, the Loftie Lamp is a great choice if you're looking for a soothing and aesthetically pleasing sunrise alarm lamp. I appreciated that I didn't have to look at my phone first thing in the morning, and I found that the reading light mode was perfect for everyday use. If you don't want to pay the $250 price tag and you want white noise features, I would recommend getting the $150 Loftie clock instead.
Loftie Lamp Dimensions and Weight
The Loftie lamp measures 16″ H x 11.5" W x 9" D. The lamp's base is 4" in diameter.
The Loftie lamp weighs 2.12 lb.
Loftie Company Policies
Before buying the Loftie, it's a good idea to read the company's policies. Here's a quick rundown of what you can expect:
Price
The Loftie lamp costs about $250. You can choose between a white and black perforated steel shade. Keep in mind that the brand offers discounts periodically.
Shipping
Loftie offers free shipping on all purchases made through their website.
Returns
There is a 60-day return window. If you are unhappy with your purchase during this timeframe, you can return it and get a full refund.
Warranty
The Loftie lamp is backed by a one-year warranty, which covers the repair and replacement of the lamp. . Certain exceptions include: damage occurred during transportation or storage, damage due to improper use, damage caused by unauthorized repair, normal wear and tear and damage caused by accidents.
Customers have the option to add accidental damage protection for $24.99 per year, $42.99 for two years and $64.99 for three years.
FAQs
What is a Loftie lamp?

The Loftie lamp is a sunrise and sunset lamp that helps sleepers fall asleep and wake up without their cellphones. The lamp has many unique features, such as a calming red light setting and wind down mode.
Does Loftie light up?

Yes, the Loftie lamp does light up. When you put it on your desired setting, the lamp's base will illuminate. You can choose from a variety of different sunset gradients and light settings.
How do I update my Loftie lamp?

The Loftie lamp continually checks for the latest firmware updates, whether it's turned on or off. To manually update the lamp, go to the Loftie app and look for a cloud download symbol. If you see the icon, tap the image and the lamp will download the latest update.
How do you turn off a Loftie lamp?

To turn off the Loftie Lamp, simply hold the main button for three to five seconds.