Sometimes guests show up expectedly, and it's pretty much impossible to be ready. For those of us who don't have a decked-out spare bedroom, it can be difficult to put together sleeping arrangements for those unexpected visitors – if someone doesn't want to relegate their guests to the uncomfortable couch, an air mattress might be in order.
The models from Intex are some of the best air mattresses out there; they are available online and in big box stores like Walmart. Intex offers everything from thin camping mattresses to thick deluxe options, and at the higher end of Intex's line of air mattresses is the Dura-Beam Hi-Rise Premium Comfort Airbed with Internal Pump. This is a thicker air mattress with some very exciting features – to find out if it is a good fit, read on for our full Intex air mattress review!
Intex Air Mattress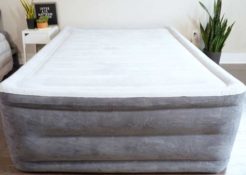 The Intex Dura Beam is a thicker more substantial air mattress that should be a good fit for house guests.
Mattress Clarity Score
4.40 / 5
Read Full Review
The Intex Might Work For …
Guests and visitors. The Dura-Beam air mattress from Intex will be a good mattress for guest rooms if you have people passing through town – it is 22″ tall and has more of the shape and look of a real mattress and bed, so guests won't feel like they are sleeping on the floor and, with its automatic pump, it is possible to get the Intex set up in just a few minutes.
Those who don't want to blow the air mattress up themselves. Let's face it, one of the major drawbacks of air mattresses is that one has to blow them up; this can take forever, and the majority of people feel like they need to pass out after the mattress is inflated. The Intex's internal pump will save people's lungs; with the flip of a switch, the mattress inflates itself in under five minutes!
People who want something durable. With air mattresses, there is always the fear that they will get punctured or pop. While this is possible with any air mattress, the Intex should help put most sleepers' minds at ease – it features Fiber-Tech technology that reinforces the mattress with thousands of polyester strands, making it much less likely that the Intex will pop and bust open.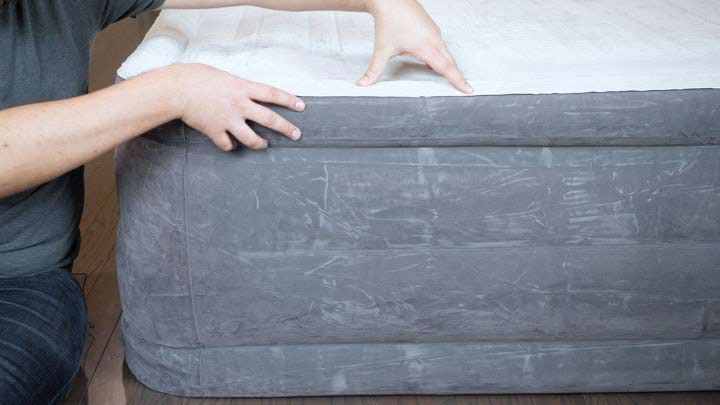 The Intex Might Not Work For …
Camping. The Dura-Beam is a large air mattress that is meant for in-home use, not for camping – even if one wanted to use the air mattress in a tent, it would be difficult to fit it through the tent flap! Intex offers many other air mattresses that are meant specifically for camping and outdoor use.
Those who need something simple for kids or smaller sleepers. This Intex model is a large, deluxe air mattress, and it might be too much for a child or other lightweight sleepers. While they could be comfortable, a smaller, thinner Intex air mattress could be a better fit and would cost less money as well.
People who want firmness settings. Some air mattresses with built-in pumps have firmness options; basically, sleepers can choose from Soft, Medium, or Firm. The Intex's pump is much simpler and does not have these presets, so people will need to inflate or deflate and work out what firmness feels best.
RELATED: Best Mattresses & Sleep Gear for Camping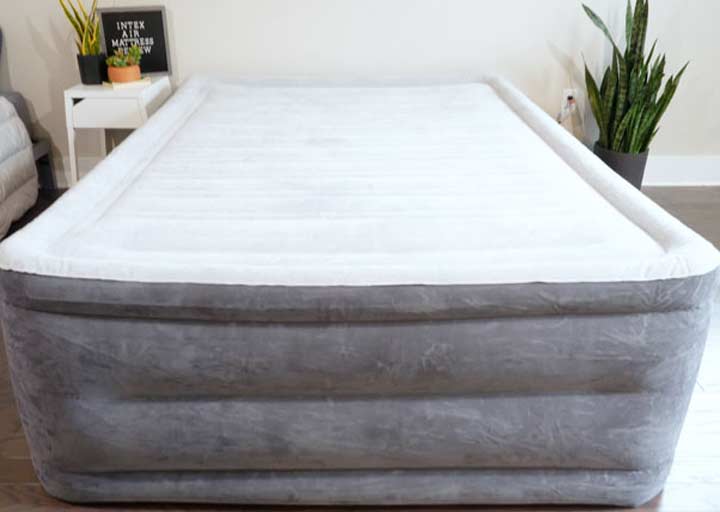 Intex Air Mattress Design And Construction
This air mattress is part of Intex's Dura-Beam line – this consists of mattresses that are 13″, 18″, 20″, and 22″ tall, and customers can also choose from Twin, Full, and Queen size models. The Dura-Beam Hi-Rise Premium Comfort Airbed with Internal Pump is a Queen size and is 22″ tall.
This air mattress is made of standard PVC material with a proprietary Fiber-Tech construction; basically, thousands of strands of polyester run throughout the PVC and are meant to make the Intex more durable and supportive. A soft flocking also covers all surfaces of the Intex and is also meant to prevent punctures and abrasions while giving the Intex a soft, velvety feel.
Running along the top edge of the Intex is a special edge support system, and this is there to keep sleepers from rolling off the mattress when they move around at night. Also, a thin indentation runs along the sides of the Intex mattress; this is there to keep fitted sheets from slipping up the sides of the mattress.
Inside the Intex, there are multiple horizontal air chambers that are also fortified with Fiber-Tech technology, and these chambers act as support beams across the mattress.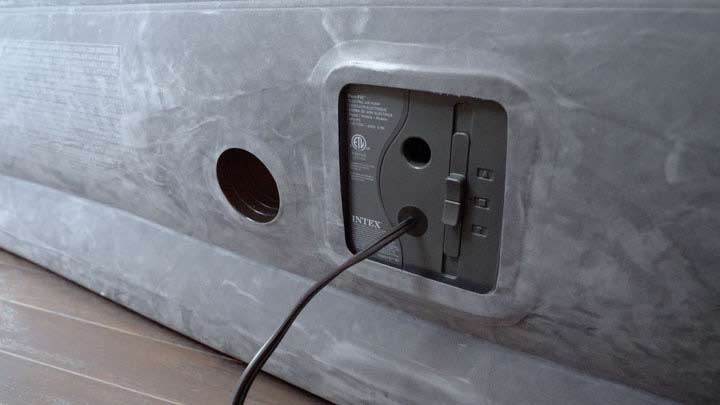 Finally, let's talk about the Intex's internal pump. It features a simple configuration with a horizontal toggle switch – pushing the switch up will inflate the Intex, and pushing it down will deflate it.
RELATED: Best Mattress
Intex Air Mattress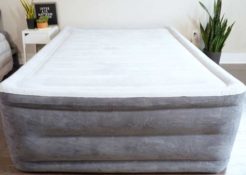 The Intex Dura Beam is a thicker more substantial air mattress that should be a good fit for house guests.
Mattress Clarity Score
4.40 / 5
Read Full Review
My Intex Air Mattress Experience
First off, setting up the Intex air mattress was pretty straightforward. It comes in a carrying bag and, after some jiggling, it slides out. After laying the Intex out, I plugged it into the wall and set the pump to "inflate" and, after about 4 minutes and 30 seconds, the Intex was fully inflated. However, I will note that the Intex's pump does not seem to have an automatic shutoff; I'm not sure that it will stop inflating on its own, and I didn't want to chance it!
To get an idea of how the Intex performs, I lay on the mattress in all three positions. When I was back sleeping, the mattress was definitely supportive enough for me, and I felt the horizontal air chambers holding my body up. Side sleeping, the Intex was a little too firm for me, but I let and bit of air out of the mattress and this softened things up a bit.
RELATED: Best Mattress for Side Sleepers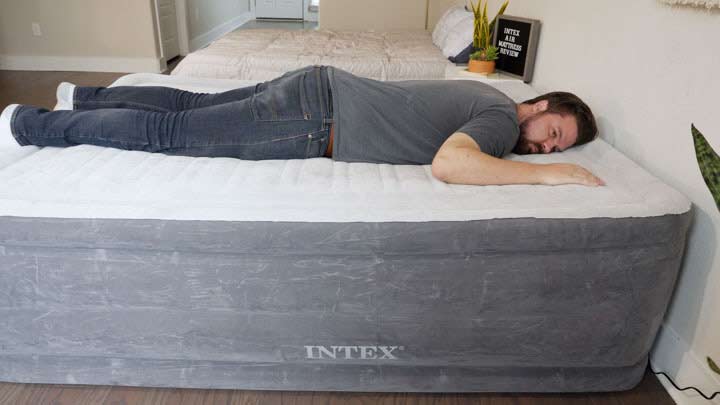 Moving to my stomach, the Intex is also supportive enough, even for someone of my heavier weight (250 lbs). The edge support is a great feature, and it is keeping me from rolling off the mattress when I lie near the edge I will note that, after lying on the Intex for a good amount of time, the mattress seems to lose some of its air, but it doesn't seem like much, and I am in no way sleeping on the floor.
When I was done with the Intex, it was also easy to put away. The "deflate" setting pushes the air out of the Intex in about 5 minutes and 20 seconds. Then, I folded the mattress up and put it back in its bag.
Intex Deals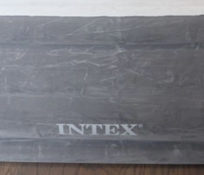 The Intex Dura Beam is a thicker more substantial air mattress that should be a good fit for house guests. 
Final Thoughts
The Intex Dura-Beam Hi-Rise Premium Comfort Airbed with Internal Pump is an impressive air mattress that can offer real support and comfort for any houseguest. However, those who want something for camping or a thinner mattress for children might want to look elsewhere.
The air mattress comes with a 90-day limited warranty.
FAQs
Is Intex a good air mattress brand?
In my experience, Intex is a good air mattress brand. The company has been around for many years and they offer air mattresses of all different shapes and sizes; they have everything from simple camping mattresses to luxury mattresses for long-term in-home use.
Does the Intex air mattress come with pump?
Many of the Intex air mattresses come with a built-in automatic pump; other models come with a small foot pump.
How do I fix my Intex air mattress?
If the Intex air mattress has a hole, it is quite easy to fix. Find where the hole is and then deflate the mattress then clean and dry the area around the hole. Use a patch kit to seal the hole - apply adhesive to the patch and then press it against the hole. Finally, put something heavy on the patch and leave it for 12 to 15 hours; this will give the adhesive time to set.
Intex Deals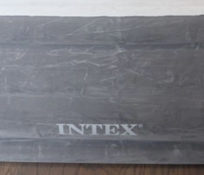 The Intex Dura Beam is a thicker more substantial air mattress that should be a good fit for house guests.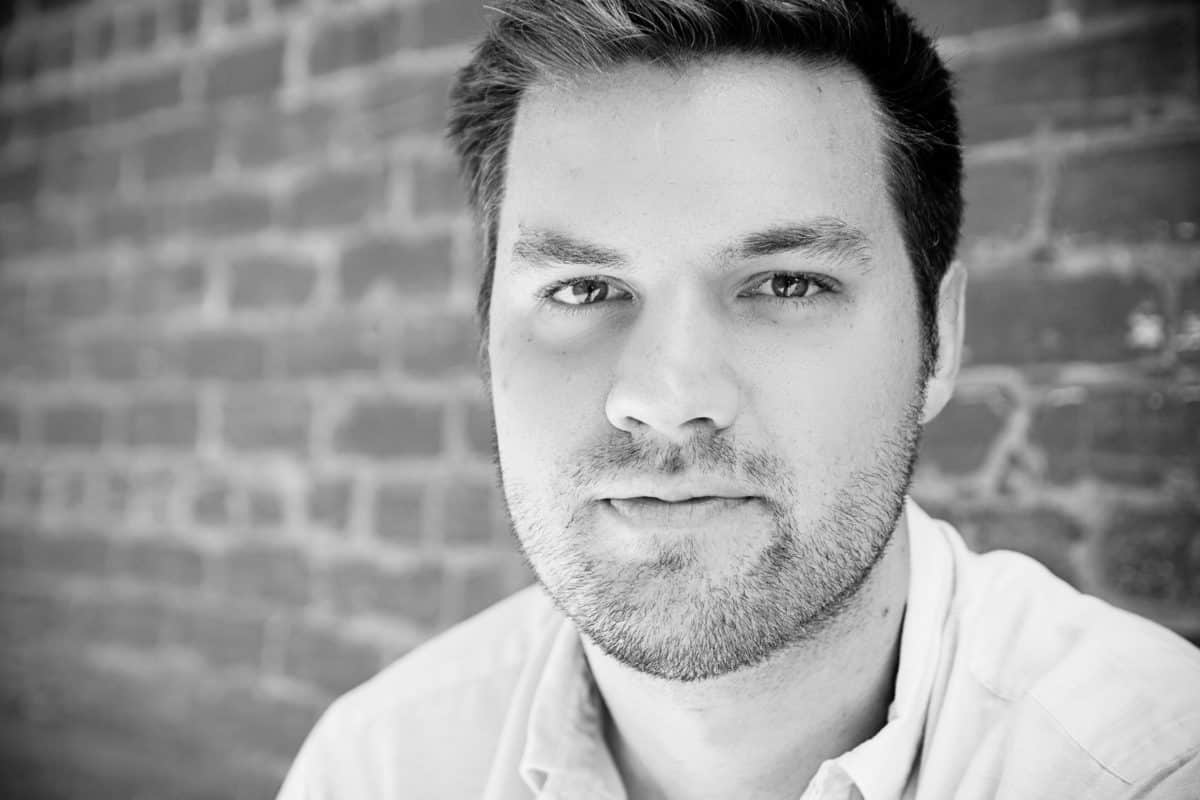 Marten Carlson
Marten is the Lead Reviewer at Mattress Clarity. He is a Certified Sleep Science Coach and covers the mattress industry as well as sleep science news. He is specifically interested in the connection between sleep and overall health. Marten has written for media publications like Consequence of Sound and received a master's degree in Film Studies from Emory University. He comes from Franklin, Indiana, and spends all the time he can writing, directing, and acting in films.