Hush might just be the mattress industry's best kept secret. Created in Canada, this bed boasts superior support and durability. And best of all, it's available to purchase in the United States!
Take it for a virtual test drive in our Hush mattress review. As professional mattress testers, we know what people should look for in a new bed. We'll outline its firmness, feel, construction, durability, and more.
Hush Mattress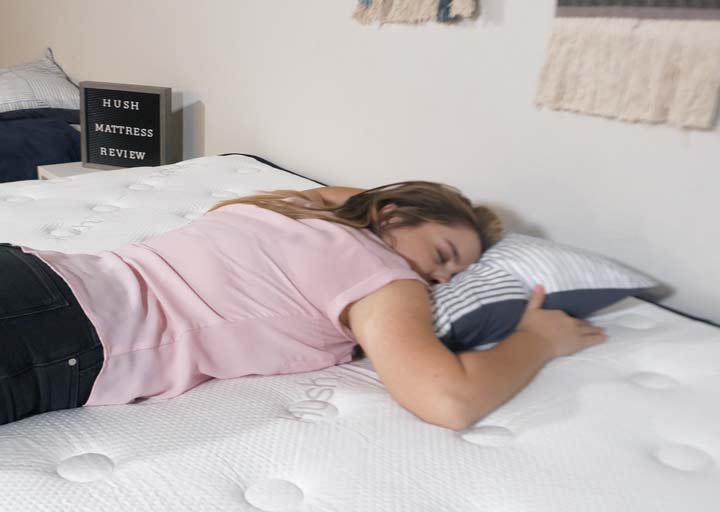 Shipping Method
Free shipping
Firmness
Medium-firm: 7/10
Warranty
10-year warranty
Hush Mattress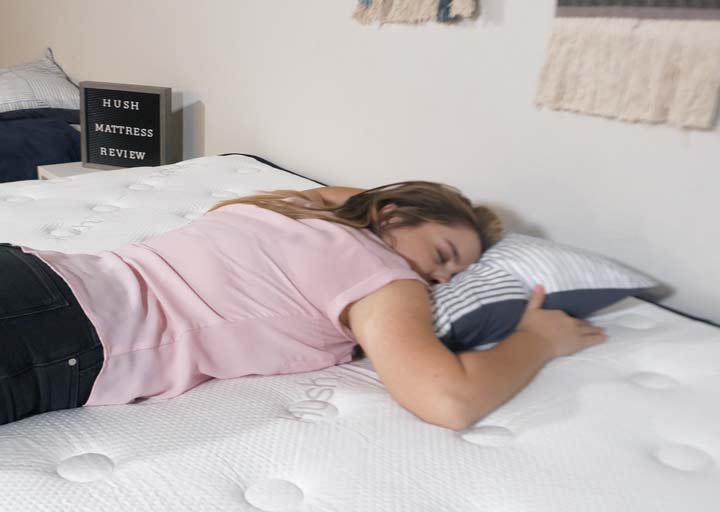 Warranty
10-year warranty
Firmness
Medium-firm: 7/10
Shipping Method
Free shipping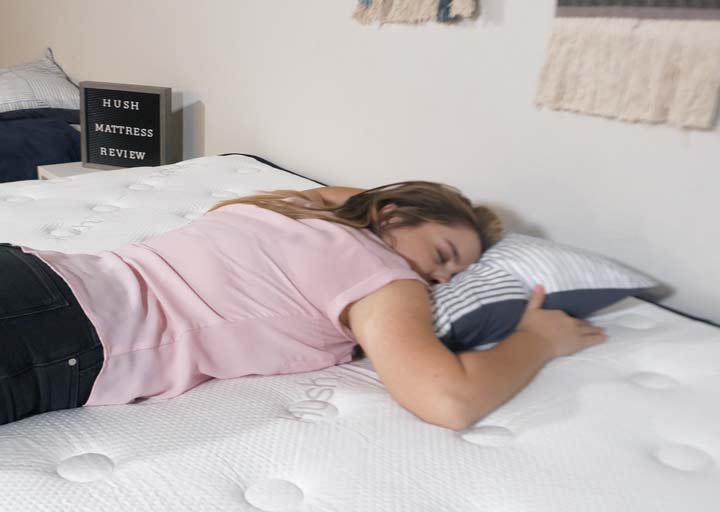 Hush Mattress
Firmness
Medium-firm: 7/10
Warranty
10-year warranty
Shipping Method
Free shipping
Hush Mattress Overview
This Canadian company is known for craftings cozy weighted blankets, but they recently added mattresses to their lineup. Made with durable coils and cloud-like foam, the Hush mattress has a classic medium-firm feel.
But even so, we don't expect this bed to work for every single sleeper. Below, we outlined who we think may enjoy the Hush mattress.
Who Might Like The Hush Mattress?
Back and stomach sleepers
People who frequently deal with back pain
Fans of bouncy mattresses with plush pillow tops
Who Might Not Like The Hush Mattress?
Side sleepers
People who want customization options
Those who want a mattress with a slow-moving feel
Hush Mattress Review Video
To learn more, check out our in-depth video review!
Hush Mattress Firmness and Feel
Before we explore the mattress's unique features, let's focus on the most important elements: firmness and feel. After reading this section, you should be able to quickly assess whether this mattress will meet all of your sleep needs.
How Firm is the Hush Mattress?
Here at Mattress Clarity, we have a firmness scale that ranges from 1-10, with 6.5/10 representing medium-firm. Most beds fall in this category, but the Hush feels slightly firmer. Based on our tests, the Hush mattress comes in at 7/10. It's important to note, though, that we expect the mattress to soften slightly as time goes on.
Sleeping On The Hush Mattress
Because of its zoned support system, the Hush mattress works especially well for back sleepers. The mattress feels slightly firmer toward the center and softer near the head and foot. The result? A well-balanced feel that can help alleviate back pain.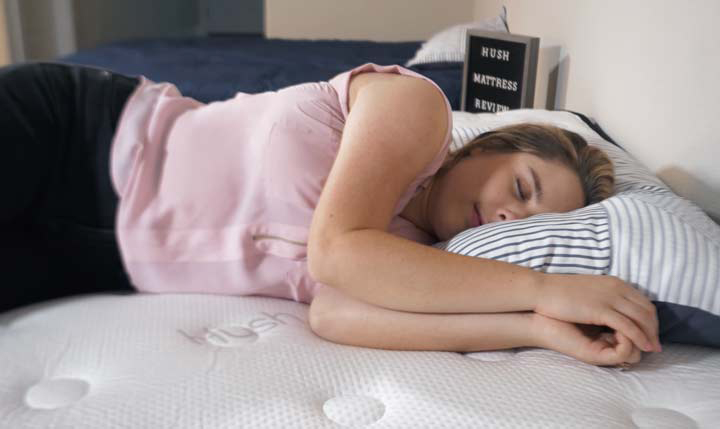 The Hush mattress may not work for many side sleepers, because the thin memory foam comfort layers don't offer a lot of pressure relief. If you rest in this sleeping position, you might want to consider getting a mattress topper.
The Hush mattress works well for many stomach sleepers, especially those who weigh less than 200lbs. The high-density coils near the center help keep the hips elevated, so you shouldn't develop lower back pain.
What Does the Hush Mattress Feel Like?
Because it features bouncy coils and soft foam, the Hush mattress has a traditional innerspring feel. Sleepers should feel plenty of support from the springs and ample pressure relief from the pillow top.
It's easy to move around and switch sleeping positions on this mattress, so if you're a combination sleeper, you may want to keep this one top-of-mind.
Average Weight Sleepers – 130lbs – 230lbs
The Hush mattress's zoned support system really helps average-weight back sleepers. Because the coils feel firmer near the center of the mattress, the mattress helps keep the spine in the correct alignment.
Average-weight side sleepers may feel some pain along pressure points. If you rest in this position, you might want to look for one of the best mattresses for side sleepers.
Stomach sleepers, on the other hand, should feel quite comfortable on the Hush mattress. Its firmness level should help elevate the hips and alleviate lower back pain.
Heavyweight Sleepers – Over 230lbs
Heavyweight back sleepers will likely think the Hush mattress is a great match. The durable coils prevent the mattress from sagging, so larger people aren't likely to 'bottom out' on this bed.
Heavier side sleepers, though, might notice some pain along their shoulders and hips. Larger people will compress the memory foam more than lightweight people, so they'll feel the innersprings more. This could make the bed feel especially firm, which isn't ideal for side sleepers.
People who weigh less than 300lbs might get the support they need while stomach sleeping, heavier folks will prefer a firmer mattress. For more great options, take a look at our list of the best mattresses for heavy people.
Lightweight Sleepers – Under 130lbs
Lightweight sleepers should feel comfortable while back and stomach sleeping. Petite side sleepers, however, might need more pressure relief. Of course, you can always remedy the situation with the help of a memory foam mattress topper.
Hush Mattress Construction
Though it has a fairly standard layout, the Hush mattress has a few unique features that make it stand out from the crowd. Keep reading to learn more about them!
Cover
On the outside of the mattress, you'll find the Hush Iced cover. Like its name suggests, this fabric feels cool to the touch. It's made with phase change material, which helps lower body temperatures and keep sleepers cool.
Comfort Layer
A layer of responsive memory foam sits beneath the cover, creating a plush pillowtop look and feel. Because this material feels especially springy, sleepers won't sink into the top layer. It's important to note, however, that this foam may not provide enough pressure relief for many side sleepers.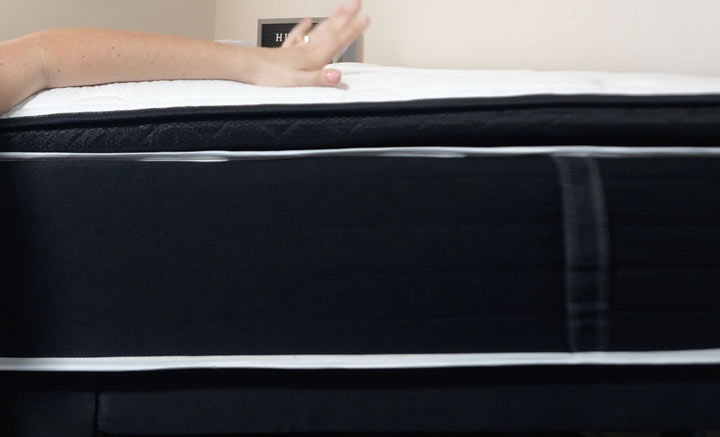 Support Layer
Here's where the Hush mattress really shines. The bottom layer features Hush's zoned support system. This is a fancy way of saying that the bed includes high-density coils toward the center and lighter coils near the top and bottom. Not only does this help prevent sagging – it also helps promote the proper spinal alignment. That's a win-win in our books.
Mattress Height
The Hush mattress is 13" tall.
Hush Mattress Size Options and Price
We can't forget about what's arguably the most important element – price! Check out our chart below for more information regarding sizing and costs.
| | | |
| --- | --- | --- |
| Size | Dimensions | Price |
| Twin | 38" x 74.5" | $1150.00 |
| Twin XL | 38" x 79.5" | $1200.00 |
| Full | 53" x 74.5" | $1450.00 |
| Queen | 60" x 79.5" | $1700.00 |
| King | 76" x 79.5" | $1950.00 |
| California King | 72" x 83.5" | $2100.00 |
Hush Mattress Performance
You might be wondering how well this mattress performs in terms of cooling, edge support, and motion transfer. Lucky for you, we thoroughly test each mattress and report the most in-depth information.
Sleeping Hot or Cold
Overall, the Hush mattress works well for hot sleepers. The cover contains phase change material, which is one of the best cooling fabrics available. Plus, the innerspring support layers create plenty of room for airflow.
Motion Transfer
Most innerspring mattresses don't isolate motion particularly well, but the Hush is an exception. The individually wrapped coils absorb motion well, so if you share a bed with a partner, you're less likely to feel the bed shake if they move around during the night.
Edge Support
If you're looking for one of the best mattresses for couples, you'll want to make sure the bed has great edge support. If the sides sink under pressure, you and your partner will move toward the center of the bed and have less room to spread out.
Fortunately, the Hush mattress also has good edge support. When I sat along the side, the bed only collapsed a little bit. Lying down on the mattress, I felt even more secure.
Durability
We expect the Hush mattress to last about 10 years, which is typical for most hybrid models.
Off-Gassing
When you first open a bed-in-a-box mattress, it's common to notice a slight chemical smell. We had this experience when we unboxed the Hush. While it did smell at first, the odor faded after 48 hours.
Noise
Even though it contains coils, the Hush mattress is completely silent.
Sex
Typically, people looking for one of the best mattresses for sex want something that's easy to move around on. The Hush mattress definitely fits the bill. The responsive foam layers, paired with the springy coils, gives the bed a bouncy feel. You shouldn't feel trapped in this bed like many people do on memory foam mattresses.
Overall Rating
We've thrown a lot of information at you. To make things simpler, we calculated the Hush mattress's overall rating. Check it out.
Company Policies
When you're shopping for a new mattress, it's always a good idea to completely understand the company policies. Here's what you can expect if you order from Hush.
Warranty Info
The Hush mattress is backed by a 10-year warranty.
Sleep Trial
With the 100-night guarantee, Hush lets customers try out the mattress for several months risk-free.
Return Policy
Customers can issue a return within the first 100 days and receive a full refund.
Common Hush Mattress Complaints
Most people love their Hush mattress, but we occasionally come across some negative customer reviews. Oftentimes, people complain that the mattress feels too firm. Like all mattresses, the Hush has a short break in period. After sleeping on it for a few weeks, the bed will soften up.
How Does The Hush Compare To Other Mattresses?
Chances are, you aren't looking for just a good mattress. You're searching for the one that will give the best sleep possible. In order to find that, you might need to look at several options.
To make the process easier, we compared the Hush to two other popular brands, Polysleep and Casper.
Hush Vs. Polysleep
Even though they're both Canadian mattresses, these beds have many differences. The Polysleep mattress is made entirely out of foam, and it has a responsive feel. The Hush mattress contains coils and foam, which makes it feel especially bouncy.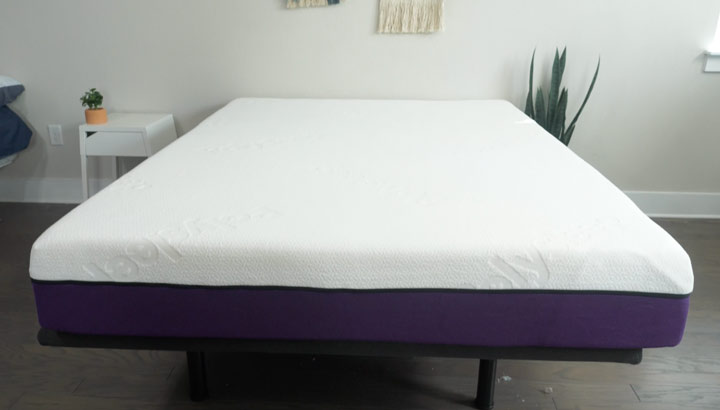 Both mattresses feel slightly firmer than average, coming in at 7/10 on our scale. However, thanks to its all-foam construction, the Polysleep provides more pressure relief for side sleepers.
The Polsyleep mattress might work better for couples, because it's motion isolation and edge support are superb. But the Hush mattress works better for hot sleepers, thanks to its cooling cover and breathable coils.
Who Should Get The Hush Mattress?
People who prefer bouncy hybrid mattresses
Hot sleepers
Stomach sleepers
Who Should Get The Polysleep?
Those who prefer all-foam mattresses
Couples
Side sleepers
Read our full Polysleep mattress review.
Hush Vs. Casper
Casper is one of the most popular bed-in-a-box brands in the United States, and it shares many similarities with the Hush. First of all, both beds have zoned support systems. This means that if you suffer from back pain, these mattresses may help ease the tension. These two premium mattresses also work well for hot sleepers, because they contain breathable materials.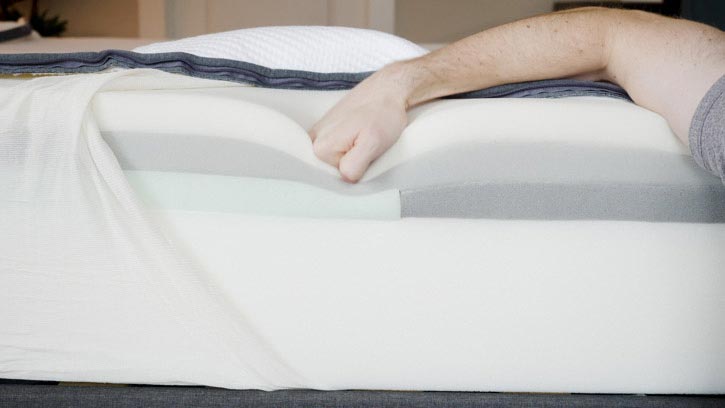 Casper sells both hybrid and all-foam mattresses, and both options have lower price points. However, thanks to Hush's especially strong coil system, we expect it to last a little bit longer.
Who Should Get The Hush?
People who want a hybrid mattress
Those who want an especially durable mattress
Who Should Get The Casper?
People who want to save some money
Those who want more options
Read our Casper mattress review for more information.
FAQs
Before wrapping up, we'll answer some of the most common questions about the Hush mattress.
How long will a Hush mattress last?
Thanks to their high-quality materials, we expect Hush mattresses to last at least a decade.
Can you flip the Hush mattress?
No, you cannot flip a Hush mattress. It's designed with support layers at the bottom and comfort layers on top. For a good night's rest, you'll need to sleep with it facing rightside up.
What if I don't like my Hush mattress?
Not a fan? Not to worry. Hush has a 100-night guarantee, which acts as a sleep trial period. If you issue a return during this time frame, you will receive a full refund.
Elisa Regulski
Elisa the Editor of Mattress Clarity, where she analyzes sleep products and appears in review videos. She earned a M.A in Mass Communication from Texas State University and a B.F.A in acting from Oklahoma City University. In addition to writing about sleep health, Elisa is passionate about reviewing music. Her articles about the Austin City Limits Music Festival have appeared in Glide Magazine and Speakers In Code. When she isn't writing, Elisa can be heard singing with national party band, Saved By The '90s. She also performs with Austin-based arts collective, New Manifest Theatre Company.