Have you ever stayed at a nice hotel, collapsed onto a big, welcoming mattress, and been blown away by the sheer luxury and comfort? If so, you've probably wondered why your mattress back home can't be quite as plush and supportive. Well, two brands boast five-star comfort and high-end construction in their mattresses. Those companies, DreamCloud and Saatva, are well-regarded in the online mattress space, and worth looking into.
But does one mattress have an edge over the other? Take a closer look at some of the specific perks and features offered by the DreamCloud Luxury Hybrid and the classic Saatva.
(Note: The Saatva comes in several different levels of firmness, but for the purposes of this DreamCloud vs. Saatva comparison, we're looking specifically at the Luxury Firm model.)
DreamCloud vs Saatva
Compare the DreamCloud and Saatva mattresses below to see which may be best for you!
DreamCloud vs Saatva
Compare the DreamCloud and Saatva mattresses below to see which may be best for you!
DreamCloud vs. Saatva Overview
Both the DreamCloud and the Saatva provide a combination of supportive innerspring coils along with cushioning foam. Both mattresses are known for their high-quality materials as well as their long lifespans. And yet, there are also some significant distinctions between the two products: For example, Saatva offers three firmness levels to choose from, while the DreamCloud comes a bit more standardized. Each mattress will be a better fit for different types of sleepers, so let's see which is best for you!
| | |
| --- | --- |
| Who Should Choose the DreamCloud? | Who Should Choose the Saatva? |
| Those who are on a tighter budget and want to spend a little less money | Those who want to spring for a highly luxurious mattress |
| Those who prefer their mattress to be on the firmer side | Side sleepers |
| Stomach sleepers | Those who want to choose between different firmness options |
DreamCloud vs. Saatva Mattress Video Comparison
Looking for a quick rundown of each mattress, including pros and cons for both the DreamCloud and the Saatva? Take a few minutes to watch our in-depth video comparison.
DreamCloud vs Saatva: Similarities and Differences
While the DreamCloud and the Saatva are far from identical, they do align in a few important ways. Check out our chart below to learn more about the similarities and differences between the two!
| | |
| --- | --- |
| Similarities | Differences |
| Both mattresses boast strong, supportive innerspring coil systems, overlaid with plush and cushioning materials. | The DreamCloud is a little bit taller than the Saatva. |
| Both mattresses are very supportive and will help you feel like your body is being cradled throughout the night. | The DreamCloud is also the firmer of the two options; yes, it's even firmer than the Luxury Firm version of the Saatva. |
| Thanks to high-end materials and expert construction, both mattresses are very durable and should hold up well for years to come. | At full price, the DreamCloud costs less than the Saatva. |
| | Saatva offers more room for customization, including two height options and three firmness levels. DreamCloud only offers the one, standard option. |
Firmness and Feel Differences
Firmness and feel are always a good place to start when trying to buy a mattress. Let's discuss exactly how firm the DreamCloud and Saatva mattresses are as well as what it feels like to sleep on them.
How Firm are the DreamCloud and Saatva Mattresses?
We'd say the DreamCloud feels like about a 7.5/10 on the firmness scale. While there's a welcoming layer of memory foam to top the mattress, helping sleepers feel like they're being cradled to sleep, that strong, sturdy innerspring coil system ensures that there's not too much sagging or "give." DreamCloud offers what they call their "Sink in Just Right Layer," a special foam blend that allows you to nestle down just far enough into the mattress, without feeling like it's swallowing you whole.
By contrast, the Saatva Luxury Firm model is about a 7/10. The pillow top layer is extremely soft, and while a couple of innerspring layers balance that out, we'd still say it's just a notch or two less firm than the DreamCloud. It's worth remembering that Saatva offers three firmness settings, and we're reviewing the one that's right in the middle… so, you can go a little softer or a little firmer if need be.
Sleeping On The DreamCloud And Saatva Mattresses
The DreamCloud works really well for back sleepers. That's largely thanks to the targeted lumbar support offered by the coil system, which helps to evenly distribute your weight and keep too much pressure away from your lower back or other sensitive areas. Additionally, the firmness level really hits the sweet spot for back-sleeping.
Side-sleeping doesn't work quite as well. This is where that firmer feel is a little bit of a problem: Side sleepers may feel like they're experiencing too much pressure, or like they're jammed against the mattress material. There's just not enough "give" for the DreamCloud to fit side sleepers.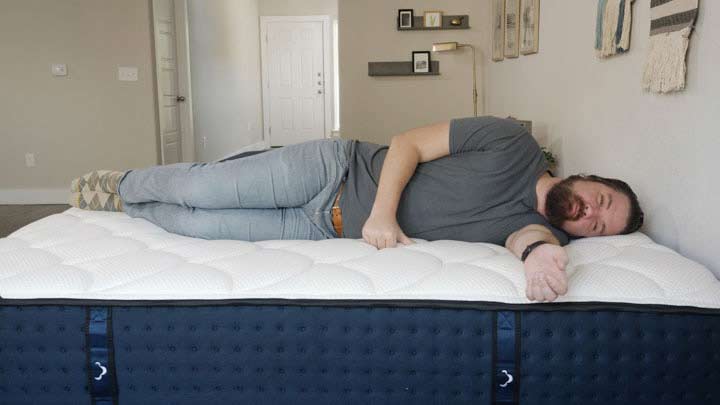 We also didn't love the DreamCloud for stomach-sleeping, in large part because the mattress isn't quite firm enough. Heavier stomach sleepers, in particular, may feel like they're bowing into the mattress, making it hard for them to maintain a comfortable sleep posture. Lightweight sleepers may fare a little better.
As for the Saatva, it's well-regarded for its support, and we certainly found it to work well for back-sleeping. Again, it hits that firmness sweet spot, allowing you to feel like you're being gently cradled without sinking too deep into your bed.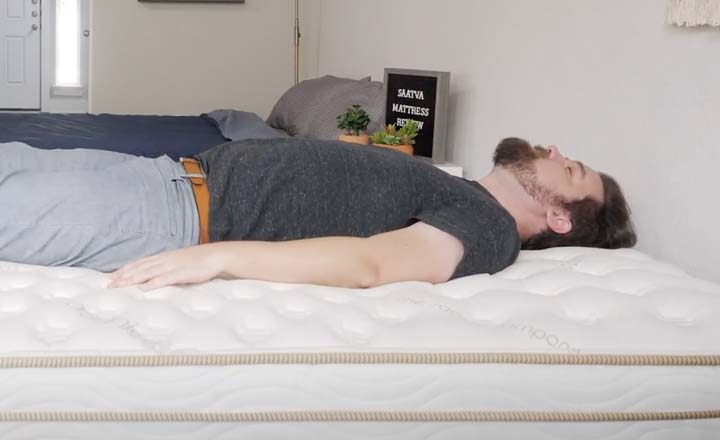 Side sleepers may find the Saatva to be a little less comfortable, at least in its Luxury Firm level. While there is some decent pressure relief available for the hips and shoulders, side sleepers will probably want to get the Plush model. That extra "give" can go a long way.
The Saatva works well for stomach sleepers. There's some solid overall support, not really allowing the hips to sink into the bed. It's definitely a better match for stomach sleepers than the DreamCloud, despite being a little softer.
What Do The DreamCloud And Saatva Mattresses Feel Like?
While the DreamCloud technically qualifies as a hybrid mattress, it really feels more like an innerspring. The memory foam does provide a little cushioning, but the main impression is the bouncy, springy feel of the coils. This is great news for combination sleepers, because the DreamCloud makes it really easy and comfortable for you to move around and change positions in the night.
The Saatva, too, offers a nice innerspring feel, even with a soft pillow top layer. You'll definitely feel like you're sleeping on the mattress rather than in it. And, like the DreamCloud, Saatva offers some good bounce, making it easy to shift positions and get comfortable as you drift to sleep each night.
Average-Weight Sleepers: 130 lb to 230 lb
Average weight sleepers should find the DreamCloud to be an excellent choice for back-sleeping, allowing that perfect balance of sinking into your mattress without being enveloped by it. Side sleepers, on the other hand, may feel like they're a little cramped, especially at the shoulders and the hips. Stomach sleepers closer to 130 lb will probably find the DreamCloud to be plenty supportive, but those closer to 230 lb may find that their hips sink too far into the mattress.
As for the Saatva, it makes a good option for average weight sleepers in all three positions. There's stable support for back and stomach sleepers, and great pressure relief and spinal alignment for those who prefer to sleep on their side.
Heavyweight Sleepers: Over 230 lb
For back sleepers and stomach sleepers over 230l lb, the DreamCloud should offer ample support for a comfortable night's sleep. We'd only sound a note of caution for those above 300 lb, for whom the DreamCloud may not be quite robust enough. Heavyweight side sleepers, on the other hand, will likely find that there's too much pressure here, leaving them feeling bunched-up and uncomfortable.
The Saatva largely works well for all three sleep positions, though stomach sleepers are encouraged to consider the firmer version of the mattress, while side sleepers may benefit from the Plush model. Also, note that Saatva offers the Saatva HD, a mattress specially made for heavyweight sleepers – Those over 300 lb may want to consider it.
Lightweight Sleepers: Under 130 lb
The DreamCloud is a good option for lightweight sleepers in any position, offering plenty of comfort and support, plus the bounce you'll need if you're someone who tends to shift positions in the night.
The Saatva also works well for lightweight sleepers of all positions, though we would advise side sleepers to also consider the Plush option.
Mattress Construction Differences
Now, let's look under the cover of both the DreamCloud and Saatva mattress. We will see how each layer affects the overall feel of these two mattresses.
DreamCloud
| | |
| --- | --- |
| Layer | Description |
| Cover | The DreamCloud comes with a cashmere cover, which is designed to feel soft and cool. Under that is a nice, quilted layer of foam. |
| Comfort Layer #1 | Below its quilted cover, the DreamCloud packs several layers of premium materials, including cooling gel memory foam that's great for pressure relief and for temperature control. |
| Comfort Layer # 2 | Below that is transition foam, which basically exists to keep you from sinking too deep into the center of the bed. |
| Support Layer | The DreamCloud has a layer of individually-wrapped coils, which help the mattress feel sturdy but also responsive and "springy." |
Saatva
| | |
| --- | --- |
| Layer | Description |
| Cover | The Saatva's cover is made with organic cotton and feels luxuriously soft. |
| Comfort Layer #1 | The Saatva has a quilted foam layer that gives it a plush, pillowtop feel. |
| Comfort Layer #2 | Under that is a thin layer of memory foam, designed to give some lumbar support. |
| Support Layer | The Saatva actually has two layers of coils, including individually wrapped coils and then a lower level of durable support coils. |
Mattress Height
The DreamCloud registers at 14". The Saatva is actually available in two variants: 11.5" or 14.5". In this review, we've been assessing the 11.5" option.
DreamCloud and Saatva Mattress Size Options and Price
For up-to-date information about mattress sizing and pricing for these two models, please review these handy charts:
DreamCloud
| | | |
| --- | --- | --- |
| Size | Dimensions | Price |
| Twin | 38" x 75" | $839.00 |
| Twin XL | 38" x 80" | $1089.00 |
| Full | 54" x 75" | $1199.00 |
| Queen | 60" x 80" | $1332.00 |
| King | 76" x 80" | $1669.00 |
| California King | 72" x 84" | $1669.00 |
Saatva
| | | |
| --- | --- | --- |
| Size | Dimensions | Price |
| Twin | 38" x 75" | $995.00 |
| Twin XL | 38" x 80" | $1355.00 |
| Full | 54" x 75" | $1895.00 |
| Queen | 60" x 80" | $1995.00 |
| King | 76" x 80" | $2445.00 |
| California King | 72" x 84" | $2445.00 |
| Split King | 76" x 80" | $2710.00 |
| Split California King | Two 38" x 80" pieces | $2710.00 |
DreamCloud And Saatva Performance Differences
There are other things you should think about when picking out a mattress – these include motion transfer, cooling, and edge support. We tested out both mattresses to see how they performed! For more information on how they stack up against other brands, check out our DreamCloud mattress comparisons and Saatva mattress comparisons.
Sleeping Hot or Cold
One of the benefits of innerspring coils is that they allow plenty of room for air to circulate, meaning coil mattresses tend to promote a good, cool night's sleep. The DreamCloud benefits from this system, as well as from gel-infused memory foam that draws heat away from the body. We can easily recommend this as a cooling mattress for hot sleepers.
The same holds true with Saatva, which doesn't have the gel foam but does have two distinct coil layers to promote air circulation for a cool sleep. It's another great option for anyone who tends to run a bit hot during the night.
Motion Transfer
The DreamCloud doesn't test particularly well in motion isolation. It's got a lot of bounce to it, which is nice for combination sleepers but not necessarily for couples, who may find that their movements can be disruptive to each other.
The Saatva is similarly lackluster with regard to motion isolation. Couples who share a bed should know that, with this mattress, they are likely to feel some waves of motion from one another.
Edge Support
For those who tend to sleep at the very edge of their bed, edge support is a critical performance factor. The Saatva wins the day here, with two coil layers that help you feel well-supported, even if you're at the very periphery of the bed.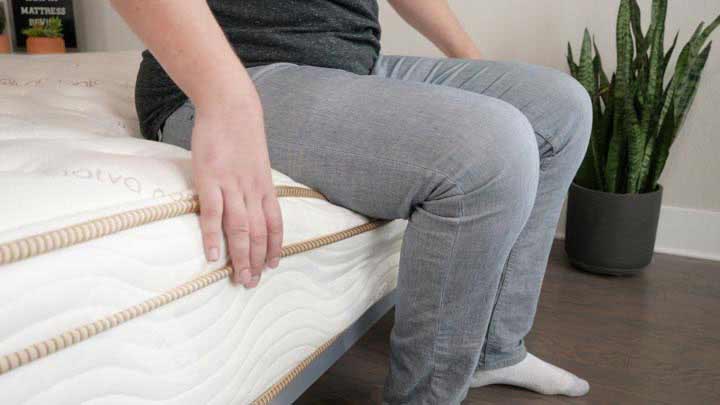 Durability
Both of these mattresses are made with similarly high-end materials, which means that, in the durability category, it's a bit of a draw. Both the DreamCloud and the Saatva are made to withstand seven to 10 years.
Off-Gassing
Some mattresses give off a little bit of a chemical smell when you unbox them. We noticed this for the DreamCloud, though the smell went away pretty quickly. We didn't notice any off-gassing or odors from the Saatva.
Noise
Both the DreamCloud and the Saatva will make a bit amount of noise as you move around on them, but this is pretty par for the course with innerspring mattresses.
Sex
As for which mattress is better for having sex, we'd call it a tie. Both are highly responsive, making it easy to comfortably move around the bed. And, both create roughly the same level of noise from their innerspring systems.
Warranty
The DreamCloud is backed with a generous year-long sleep trial, plus a lifetime warranty. The Saatva gives you a 365-night sleep trial and a lifetime warranty.