The DreamCloud Premier and Purple are both popular mattresses that are sold online. Purple offers different constructions and firmness options, while DreamCloud Premier comes in only one luxury spring option. This mattress comparison will compare the two in this post so you can better determine which is best for you.
Save $200

DreamCloud

Click the button to save $200 on DreamCloud
A better match for those who like innerspring mattresses
Features a plush pillow top that provides real comfort

Purple Mattress Deals

Purple

Click the button for the best deal on a Purple mattress
A good match for side sleeping 
Numerous models to choose from
Key Similarities
Both are relatively firm mattresses and also have

 some bounce and resilience.

Both use materials conducive to sleeping cool.

Both offer free shipping and great customer service.
Key Differences
Purple has an all-foam mattress as well as spring mattress options (with different firmness levels), while DreamCloud has two spring mattresses.

Purple has less expensive options (about $1,000 to $1,700 for DreamCloud Premier; $699 to $1,299 for the all-foam Purple; and $1,299 to $1,899 for a Purple mattress with coils). 

Purple has multiple firmness options.

Purple uses a unique material that makes it both bouncy and soft. It markets this material with its raw egg test.

Purple has a combination of a memory-foam feel and a latex-like feel. DreamCloud Premier feels more like a traditional spring mattress.

Purple comes as thin as 9.5″, though some options are thicker. DreamCloud Premier only comes in one 15″ thickness.

DreamCloud Premier offers a longer trial (365 nights compared to 100 nights for Purple).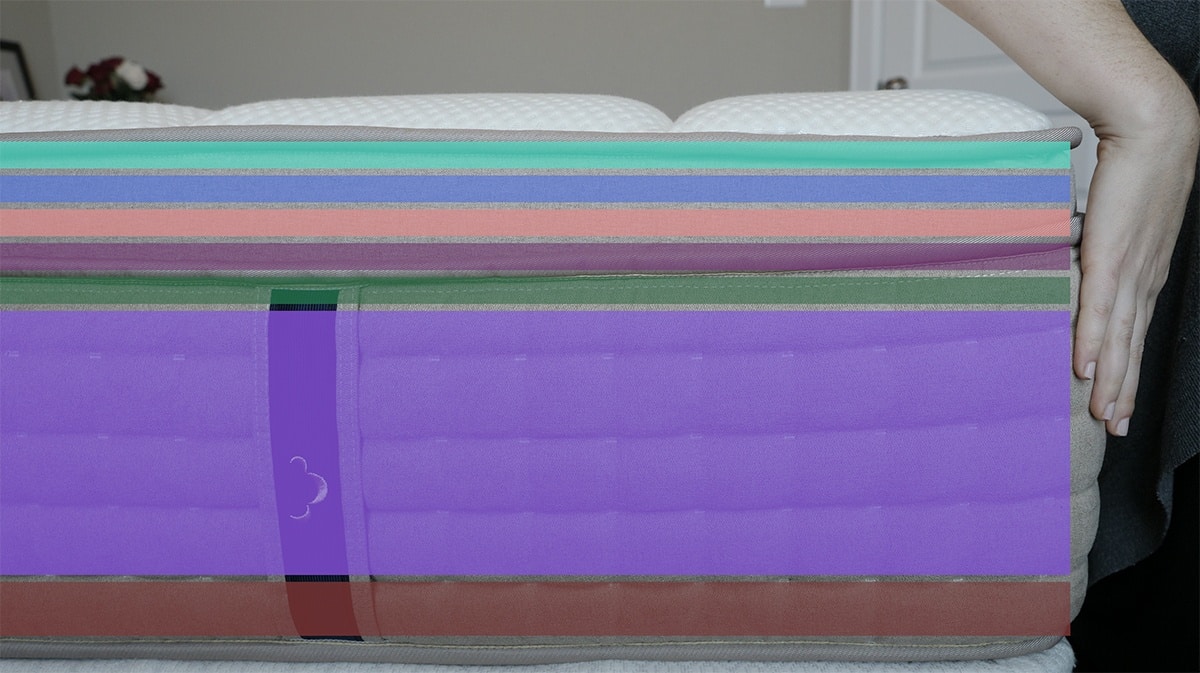 DreamCloud Premier Construction
This mattress is comprised of several relatively thin layers.

DreamCloud Premier has a True Tufted™ Cashmere Top that has a Eurotop feel and features hand-sewn tufts.

Various layers of memory foam with different levels of thickness, softness, and texture come next.

The first foam layer is 0.39″ (1 cm) of gel-infused memory foam.

Next are two layers of quilted memory foam totaling 1.77″ (4.5 cm).

A thin layer of natural latex (0.39″ or 1 cm) breaks up the memory foam layering and contributes bounce.

More memory foam follows, this time approximately 2″ (5 cm) of "Dreamplush" supporting memory foam.

Another thin layer (0.59″ or 1.5 cm) of super dense, super soft memory foam comes before the spring layer.
An almost 8″ (20 cm) coil layer comprises DreamCloud Premier's thickest layer. Individually pocketed "BestRest" coils in two levels of resistance are positioned in five comfort zones to ensure the right kind of support for the right part of your body.

On the bottom is 1.6″ (5 cm) of high-density, super soft memory foam.
Read our full DreamCloud Premier mattress review to learn more.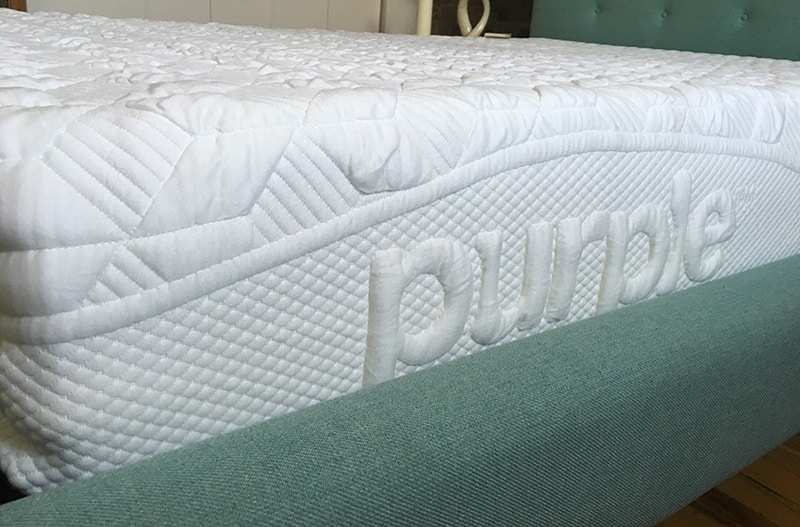 Purple Construction
Purple has a relatively simple construction. The foam version has just three layers, and the spring version swaps out a dense foam base for coils sandwiched between thinner layers of foam. Layers are also different thicknesses in the coil version, depending on the level of firmness.

The cover is a breathable blend of viscose, polyester, and polyester-lycra.
The first layer is 2″ of hyper-elastic polymer, which is the unique material that gives this mattress its particular bounciness, pressure relief and coolness.

The middle layer is 3.5″ of relatively dense polyurethane foam.

The base is 4″ of denser polyurethane foam. (The base construction is a bit different in the spring version.) 
Read our full Purple Review HERE.
Construction Differences/Notes
Both are relatively firm, but DreamCloud Premier is firmer.

Purple has better pressure relief because of the hyper-elastic gel material.
DreamCloud Premier has a more complex construction than any of Purple's options.
Purple's proprietary foam material gives it a unique memory-foam-latex combo feel that is firm but pressure-relieving at the same time.

Purple offers thinner options than DreamCloud Premier.

Both sleep cool for most people, DreamCloud because of its coils and Purple because of its special materials.
Feel Differences
Watch the videos below to get a sense of how the mattresses respond to pressure. Both are very responsive and return to shape quickly, but DreamCloud Premier's pillow-top gives it a different feel. Note that the Purple video is for the all-foam version.
Motion Transfer Differences
The videos below show off the differences in motion isolation. Both do a respectable job at preventing motion from transferring, but Purple's all-foam version absorbs motion a little better.
Pick DreamCloud Premier If …
You like traditional spring mattresses. DreamCloud Premier has a more traditional spring mattress feel than Purple's all-foam or coil options. If you've had success with traditional mattresses in the past, then you may feel right at home with the DreamCloud Premier.
You want luxury on top. DreamCloud's hand-tufted pillow-top and cashmere cover give it an extra luxurious feel.
Pick Purple If …
You sleep on your side. Purple's special foam gives it better pressure relief, making it one of the best mattresses for side sleepers.
You are on a budget. Purple has more economical options that are more affordable.
You want more options. Purple lets you pick between all-foam and a foam-coil combo, with different thicknesses of layers for different levels of firmness.
RELATED: Best Mattress Picks Overall
Overall
These mattresses have a mix of similarities and differences and will generally appeal to different types of sleepers. I hope this review has helped you determine which mattress maker better serves your needs.
If you need more information about these two mattresses and how they stack up to competition, make sure to check out our other popular DreamCloud and Purple Reviews like DreamCloud Premier vs Amerisleep and Purple vs Leesa. Please leave any specific questions in the comments.
Marten Carlson
Marten is Senior Editor at Mattress Clarity. He covers the mattress industry as well as sleep science news. He is specifically interested in the connection between sleep and overall health. Marten has written for media publications like Consequence of Sound and received a master's degree in Film Studies from Emory University. He comes from Franklin, Indiana, and spends all the time he can writing, directing, and acting in films. He has directed genre short films and features. His newest film, Starlets, recently premiered at the River Town Film Festival in Clinton, NJ. He also stars in the upcoming thriller, Sour Bear. His next film, At The Hop, is a hot rod actioner with a horror twist.