The Snuggle-Pedic Full Body Pillow is a great full-length pillow that can work well for pregnant women who aren't interested in C-shape or U-shaped options. It has a really nice shredded foam filling and soft breathable cover. The great news is that it's one of the few large pillows I've reviewed that can be washed in its entirety.
Could it work during your pregnancy? Read on for my full review.
Key Features
One size; dimensions are 20" x 54"
Kool-Flow micro-vented cover made up of 43 percent viscose of bamboo, 56.4 percent polyester, and 0.6 percent Lycra
Filling is a shredded-style combination of different types of memory foam
Manufactured with Biogreen® and CertiPUR-US certified foam
Entire pillow is machine washable and dryer friendly
Hypoallergenic and dust mite resistant
120-Day returns
20-year limited warranty
Made in the USA
Removable cover with zipper is an optional product that is sold separately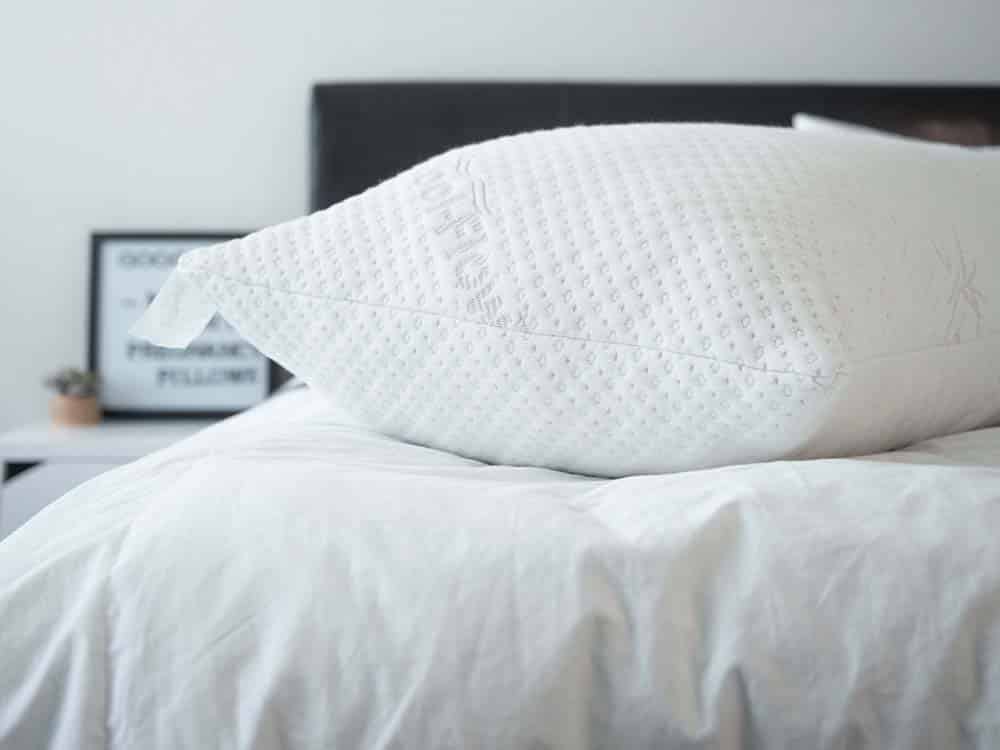 Pillow Construction
The body pillow is 20″ wide and 54″ in length. It has a soft knit outer cover that is made from a combination of viscose from bamboo, polyester, and a little bit of Lycra for stretch. The cover fabric is called "Kool-Flow" and you'll see the logo imprinted on the pillow's fabric.
Inside the pillow is a shredded mix of memory foam pieces. The pieces are a proprietary shredded mix of several different foams that are left over from the process of cutting out of a large foam bun to make a mattress or mattress topper, says the company.
While other Snuggle-Pedic products are adjustable (meaning you can reach in and add or remove the filling), the body pillow is sealed. However, if you feel that you want more filling — or perhaps less — you can contact Relief-Mart (the maker of the pillow) directly and they will adjust the pillow and re-seal it for you.
Who Makes It?
This body pillow is made by an online health products company called Relief-Mart, Inc. Snuggle-Pedic is a subsidiary of Relief-Mart.
The company says all of their products and support products are developed with the supervision of Dr. Rick Swartzburg, D.C., author of the #1 Back Pain Site and MemoryFoamMattress.org.
In addition to the body pillow, the Snuggle-Pedic brand also sells an adjustable shredded memory foam pillow, memory foam mattress topper, and mattress that focuses on airflow.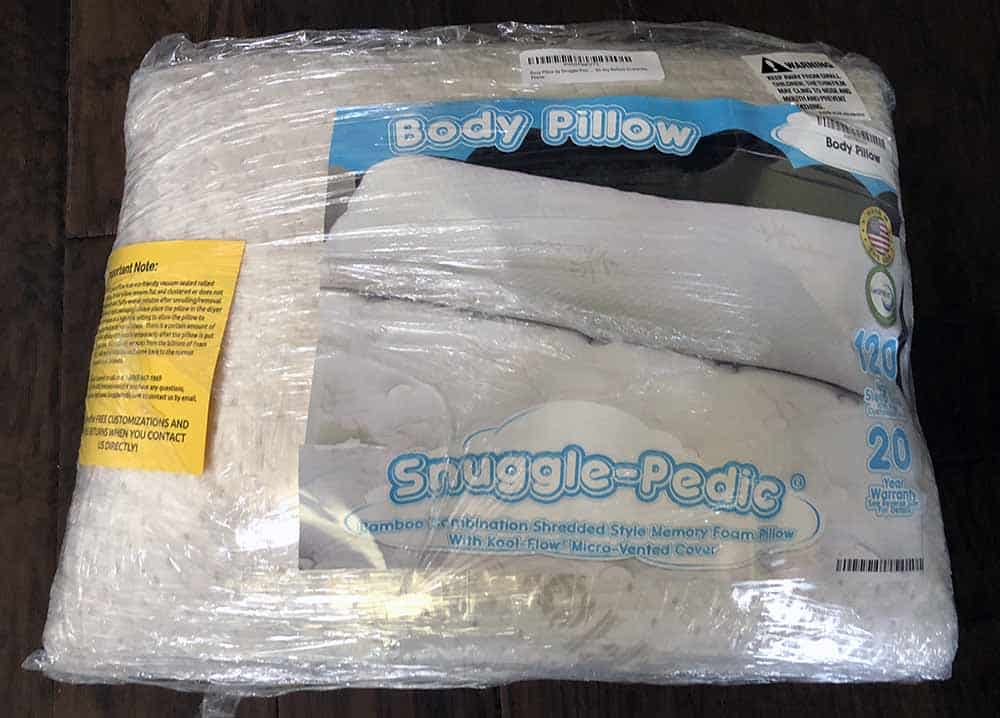 Cleaning
Snuggle-Pedic is always really good about including a lot of instructions for and information about their products. The body pillow comes compressed and rolled up, so the company suggests the first thing you do (prior to washing) is to put it in the dryer for 10 to 20 minutes on high heat.
Here are additional cleaning instructions from Snuggle-Pedic:
If you do want to wash the pillow, we recommend washing the pillows in cold water on a gentle/delicate setting. If needed, color safe hydrogen peroxide bleach may be used for tougher stains. Please ensure that the washing machine is well balanced, due in part to when the pillow is fully saturated it can throw the spin cycle off if the load is not in balance. When the pillow is done in the washing machine, feel free to squeeze the pillow to remove [any] excess water that was absorbed as this will help significantly reduce the time needed for drying.
For drying the pillow, we suggest starting out on a low heat setting and if necessary, gradually increasing the dryer heat until the cycle takes no longer to dry than a large load of laundry. We recommend following this procedure because each individual's dryer works at different levels of strength. What is low heat on one individual's dryer may be medium or even high heat on another. Putting the pillow in the dryer will actually revitalize the pillow, so feel free to do so every so often. 
Pros
Can be a useful pillow not only while pregnant but also postpartum and for other family members
Helpful customer service is happy to assist you with customizing the pillow if needed
Fully machine washable and dryer friendly
Can support your back, bump, and side. You can also place it between your knees for additional support
Does not sleep hot
The cover is soft knit
Cons
Needs to be fluffed to maintain loft and firmness

Takes up a decent amount of space in your bed

You can't open up the pillow and adjust the filling yourself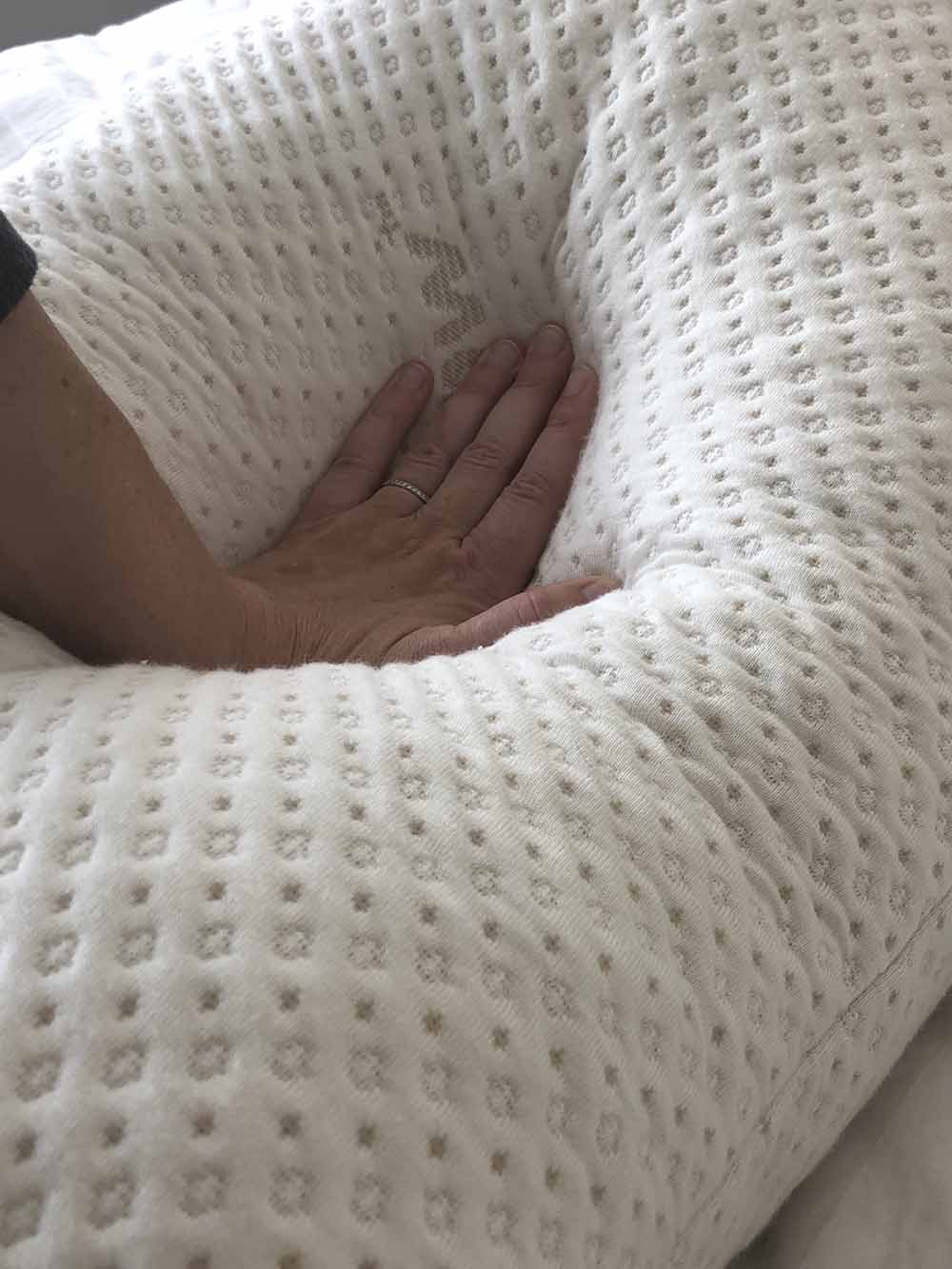 My Experience
I wanted to include a non-traditional pregnancy pillow amidst my reviews of pregnancy pillows, because not everyone wants a C-shaped or U-shaped body pillow during their pregnancies. Sometimes a more attractive option can be a straight full body pillow that adds support but can also be used in other contexts.
The Snuggle-Pedic Body Pillow is substantial. It's 54″ in length and is filled with a proprietary mix of shredded memory foam pieces from the company's factory in the States. The cover is textured, but it's also a soft knit and can be covered with an additional pillowcase if desired. I personally had no problem sleeping on it directly, but it's good to know there are other cover options if needed.
My experience with the pillow was straightforward at night. I'm in my third trimester and used it to support my back some nights and then to support my legs and bump the other nights of my review. I found it the most comfortable when it was in front of me and I could sort of "spoon" it and let it support my bump and rest between my knees to better align my hips.
This pillow is large, so if you are planning to clean it you'll need a washing machine that's large enough. Follow the directions carefully to ensure the pillow is fully dried by the end.
I would highly recommend fluffing it when you first get it to help soften it up and loosen up the smaller pieces of filling. Put it in a balanced load in your washer and then squeeze out as much water as you can before throwing it in the dryer to cut down on drying time. Expect it to take a little while to dry; you may need to move the pieces around inside the pillow to make sure everything dries evenly. (Try throwing it in with a tennis ball, too!)
I think this pillow is probably beneficial for all trimesters, but I think it becomes very useful after you hit 20 weeks and you need to primarily sleep on your side (as some experts suggest). I also like that you can manipulate the filling inside and it's dense enough that it won't fall flat.
If you decide you want even more filling, you can work with the customer service team to send the pillow back and have it customized to your liking!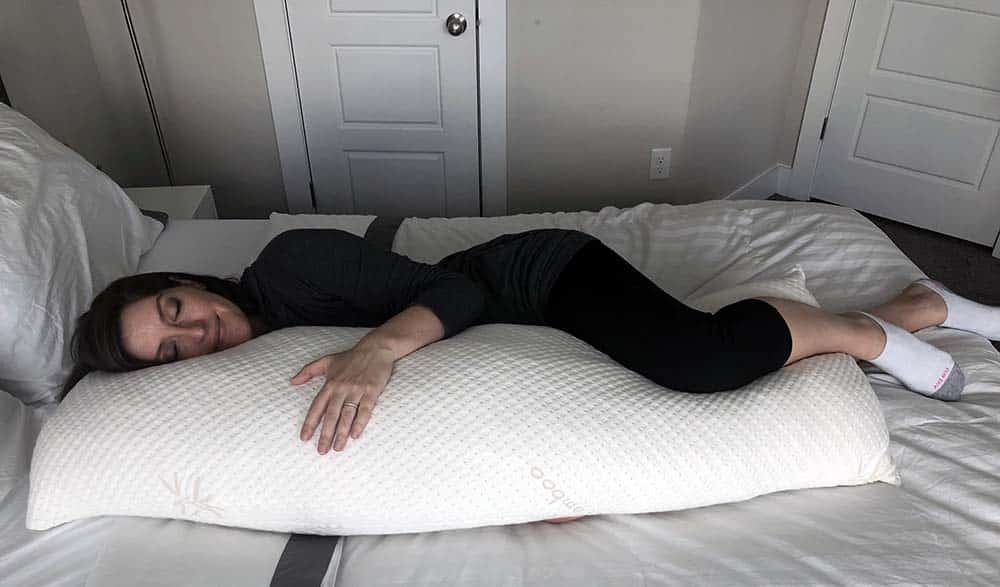 Overall
Snuggle-Pedic's Body Pillow is a great alternative as a non-traditional pregnancy pillow option. If you are already a fan of Snuggle-Pedic's shredded foam pillows and mattresses, you will probably like this feel as well. It stays supportive, but you will need to fluff it on occasion. It won't curve around your body, but it will support your back or front if you lay on your side at night. Plus, after the baby comes it can be a nice option for your postpartum needs or to share with someone else in the family.
The price point is a little high — around $70 at full price. Check with different retailers to price shop. Also, know that Snuggle-Pedic is very accommodating when it comes to customer service and helping to adjust the pillow until it works for you.
For other pregnancy pillow reviews, click HERE.
[Editor's Note: The content provided on this site is for general informational purposes only. Any medical information provided is not a substitute for professional medical advice. We encourage you to consult with the appropriate health expert if you have concerns.]
The following two tabs change content below.
Katie Golde
Katie manages the day to day operations of the Mattress Clarity news site and reviews sleep products in addition to writing and editing sleep news.She hails from Austin, where she lives with her growing family. She is a Certified Sleep Science Coach and has a master's degree in Journalism from Northwestern University and has a background in health and science content. Her work can be found in print and online publications like Discover Magazine, USA Today and The Huffington Post.
Latest posts by Katie Golde (see all)