I Love My Pillow is a brand that I hear about a lot – they are known for having quality products, as well as options to please different types of sleepers.  I decided to run the full gamut and test out three of them.
Overall I like the pillows, and personally I definitely prefer one out of the bunch for myself – and have some thoughts on the others (see how it stacks up HERE).  Read on for my full I Love My Pillow review.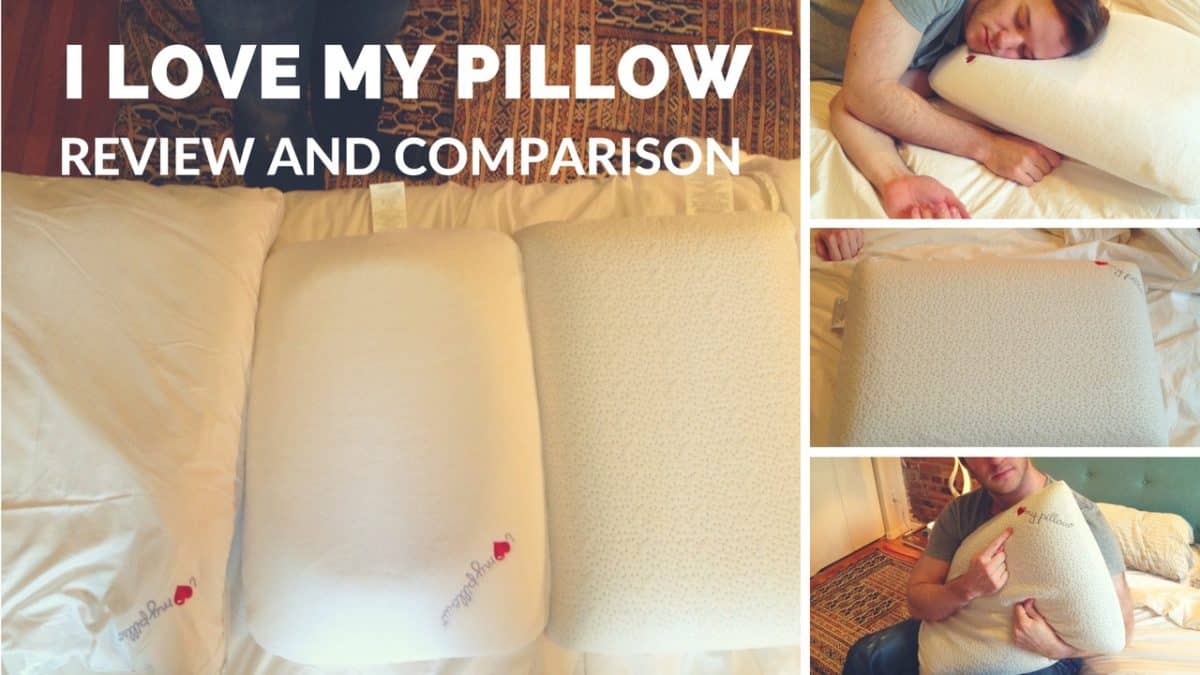 The Basics
I Love My Pillow is a popular pillow brand that offers several types of pillows to please all sleepers.  Personally I tried three – the Signature Contour pillow, the Gel Memory Foam pillow, and the Memory Down pillow.  The company also offers a Classic Traditional Pillow and a Travel Pillow.
Overall I thought the three pillows I tried were really nice and have a feeling of good quality.  They each have very distinct feels, and cater to different sleepers or preferences.  I found the pillows to be a good size, having nice length/width but not having too much height to disturb spinal alignment.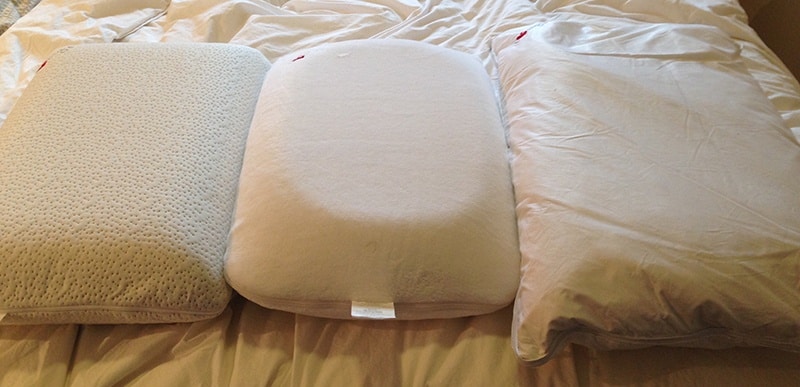 Favorite Feature: One common feature to note is that they all have removable covers, so you can unzip them and put them in the washing machine (make sure to check washing instructions before doing so).
Complaints: The pillows felt a little too big (for me) to put between the legs for side sleepers.  Of the three, the down pillow felt the best for this for me since it's a little less firm than the other two.
Favorite I Love My Pillow? My favorite of the three was the Signature Contour, but read on for my experience with each one.
Get 10% off any pillow with code "SLUMBER10"
Note: I Love My Pillow is an entirely different company and product than My Pillow (from the infomercials)
Signature Contour Pillow Review
The Signature Contour pillow comes in Queen and King size (I got the Queen).  It comes in the below box featuring the I Love My Pillow stitching in the upper right hand corner.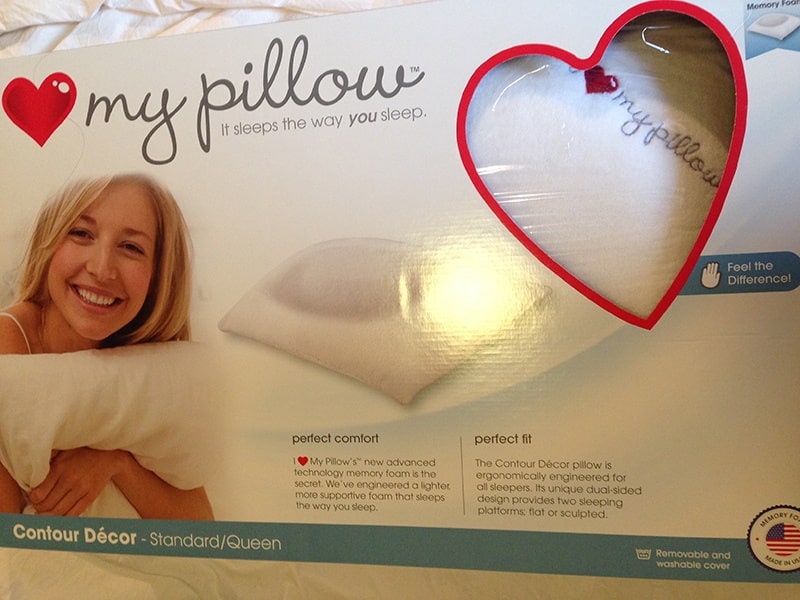 You can see the Queen is a nice size, can be comfortably held, but not so big that it will overwhelm the bed.  I don't have the King size to compare, but make sure you like a pillow a good bit bigger than this one if you go with the King.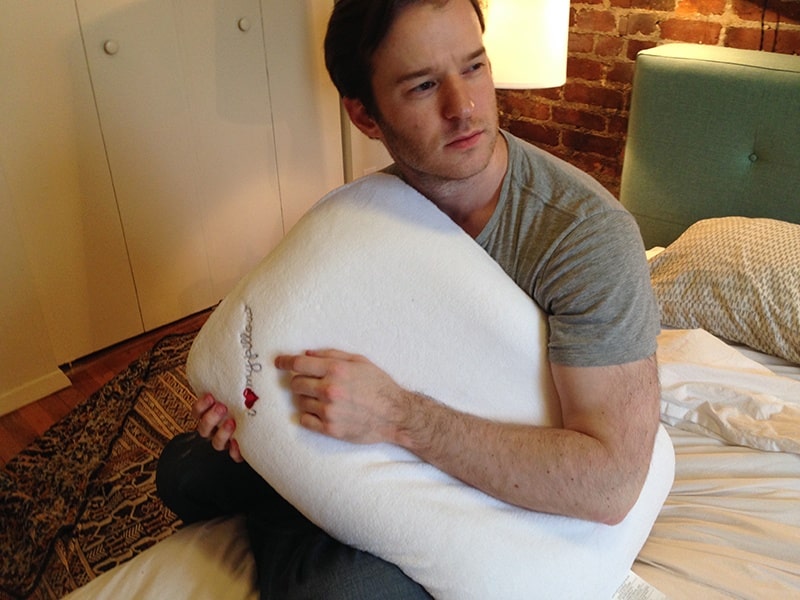 Though a well-sized pillow in terms of width and height, the biggest concern for me for memory foam pillows is that they will be too thick and misalign the spine.  I think the I Love My Pillow height was perfect for me in this case.
This pillow also has a very soft, almost fuzzy cover, which feels great even without a pillow case.  I was worried about it having issues after washing, but I've washed it twice so far and the texture and feel have remained constant.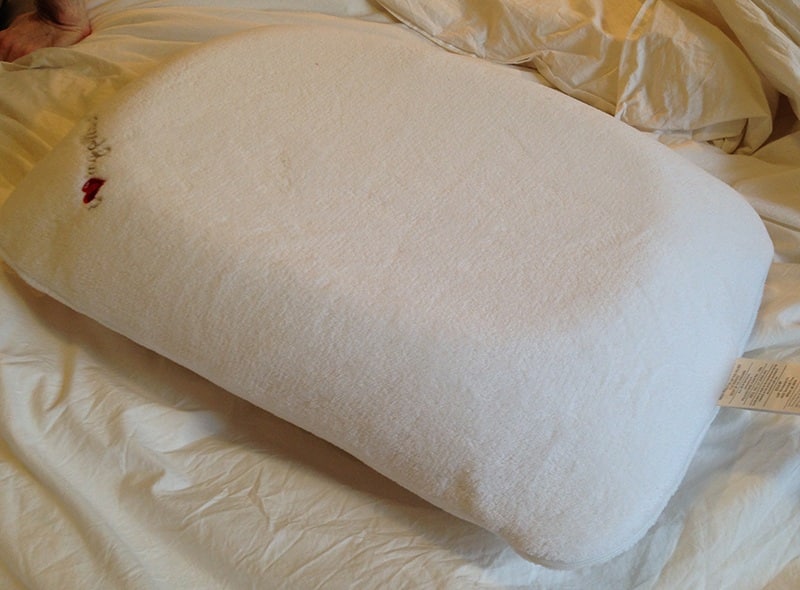 The other thing to note is the slight cavity in the middle of the pillow, my favorite design feature.  It results in extra support for the neck, letting the head drop in, making it a good fit for side sleepers especially.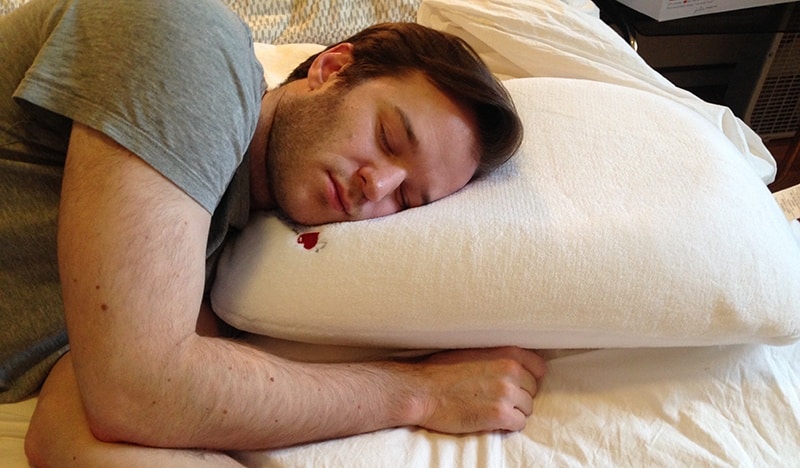 The other concern with memory foam is that it will be too firm, and result in a soreness after a night of sleeping on it.  The I Love My Pillow is just a tad firmer than I like in my memory foam pillows (but a tad softer than the average memory foam pillow), but didn't result in any soreness, and definitely gave great support.
Why is this my favorite of the I Love My Pillows?  I like the memory foam pillow style (when the firmness is right), so this hit the spot for me.  However, read on for my second pick from this group.
Memory Down Pillow Review
The Memory Down pillow is actually quite aptly named when thinking about the feel – it does feel somewhere between a memory foam and down pillow.
The first thing that I noted was that compared to the other two, this one is more compressible.  For me this made it my pick for putting it between my legs when I'm sleeping on my side.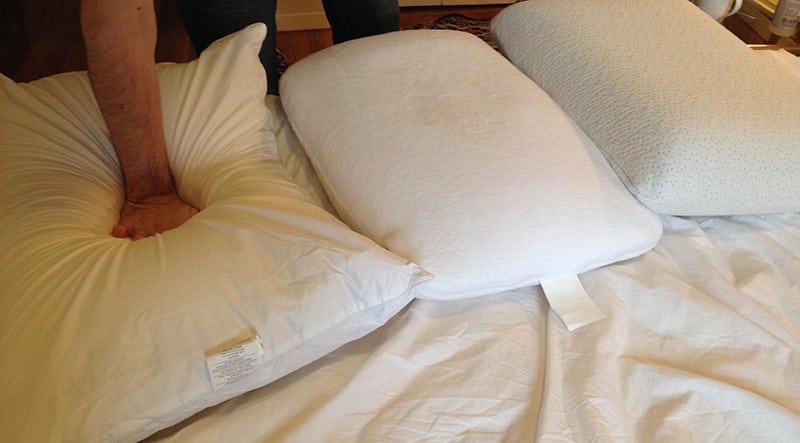 Although this pillow is more compressible than the other two, the height is a bit higher, and so it ended up not being my pick when sleeping on my side.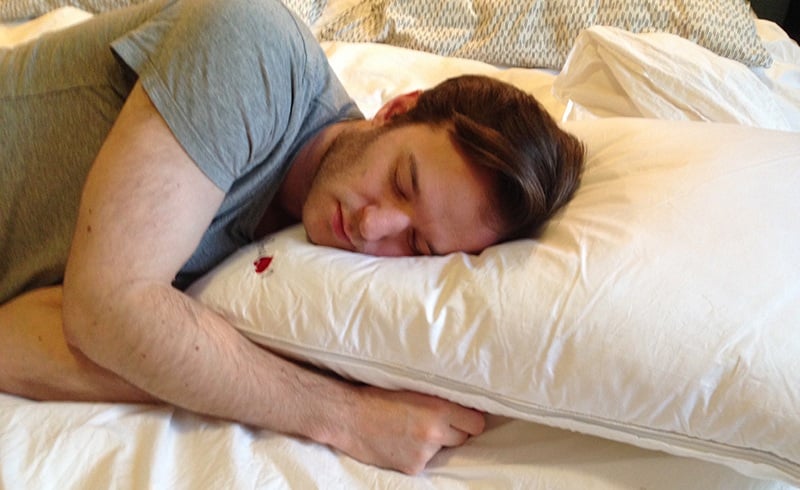 Overall I really liked this pillow, and used it mostly between the legs, though I think it could be good if you are sleeping on your back as well.  The feel is really unique (hard to describe), in terms of feel it might even be my favorite of the three.
Gel Memory Pillow Review
Third place does not mean down and out, just my least favorite from three great options!  Again I went with the queen.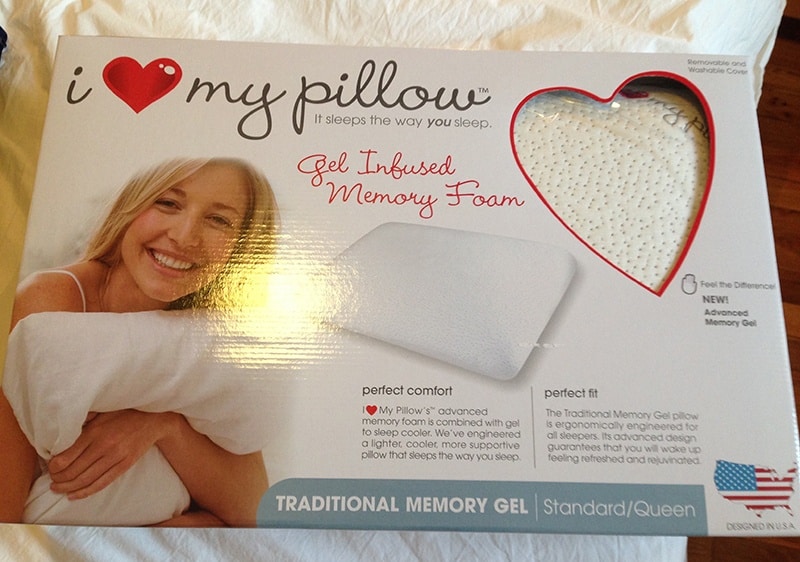 This one is definitely targeting a person looking for a memory foam pillow that sleeps cool.  It includes the gel, and you can see in the cover that there are little holes to let are flow in and out of the pillow more easily.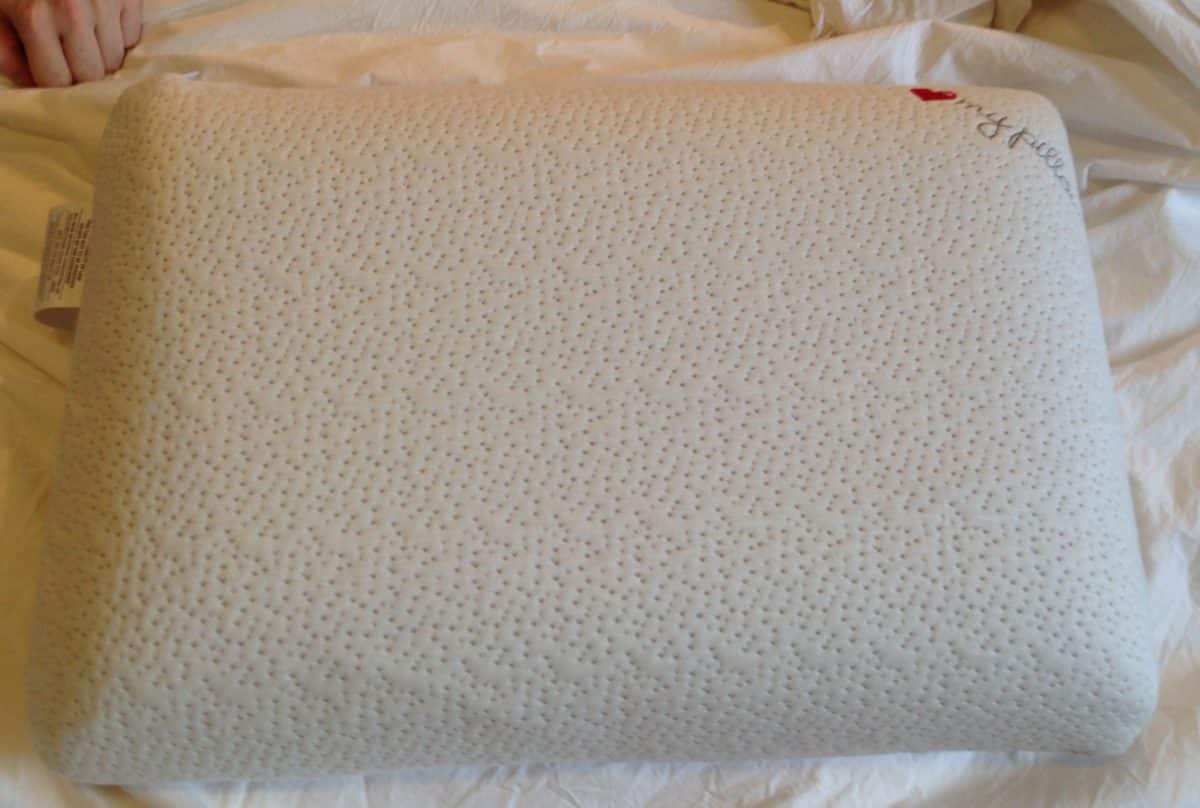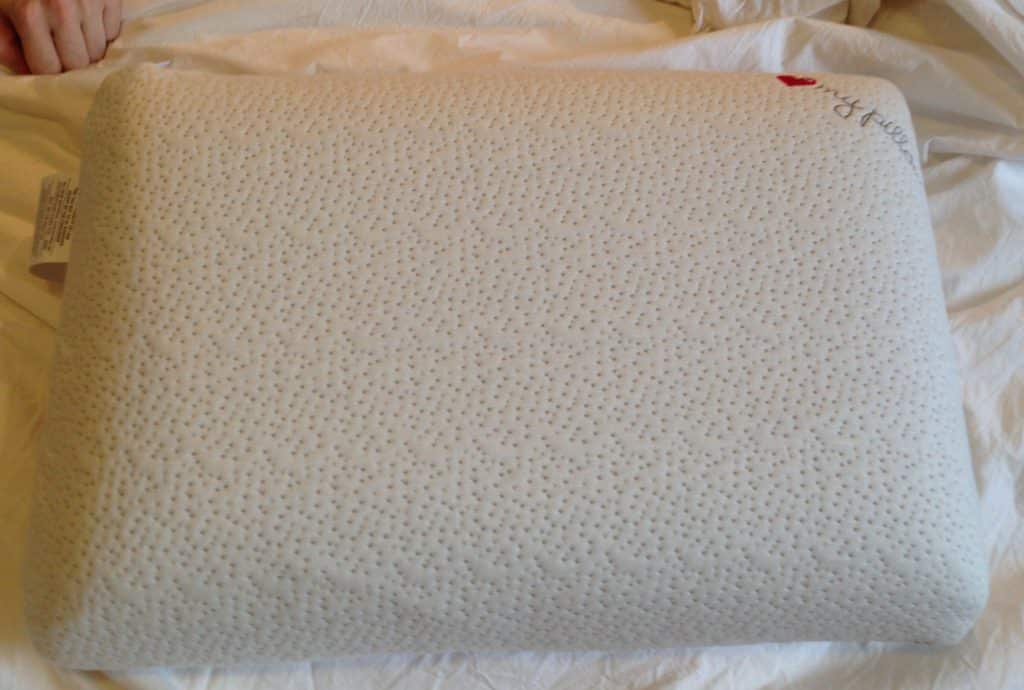 In my personal testing, I can't say the pillow slept noticeably cooler than either of the two options (it didn't sleep hot at all either), but I am also not the most sensitive person to pillow heat.
The pillow is very comfortable, generally a similar feel to the contour, though I found this one to be thicker, and thus not as great for me when sleeping on my side.  I found this pillow to be most comfortable for me when sleeping on my back.
Final Recommendation
The I Love My Pillow line is definitely high quality, and are certainly amongst the best pillows I have reviewed.  Though I outlined my favorites in this review, know this is very subjective, and you may have a totally different favorite I Love My Pillow based on your sleeping position and preferences.
Only word of caution I have is that they are on the larger side – so if you're considering a King, make sure you're ready for some serious pillow action!
So yes, final word, I can definitely say I love my I Love My Pillow.
Get 10% off any pillow with code "SLUMBER10"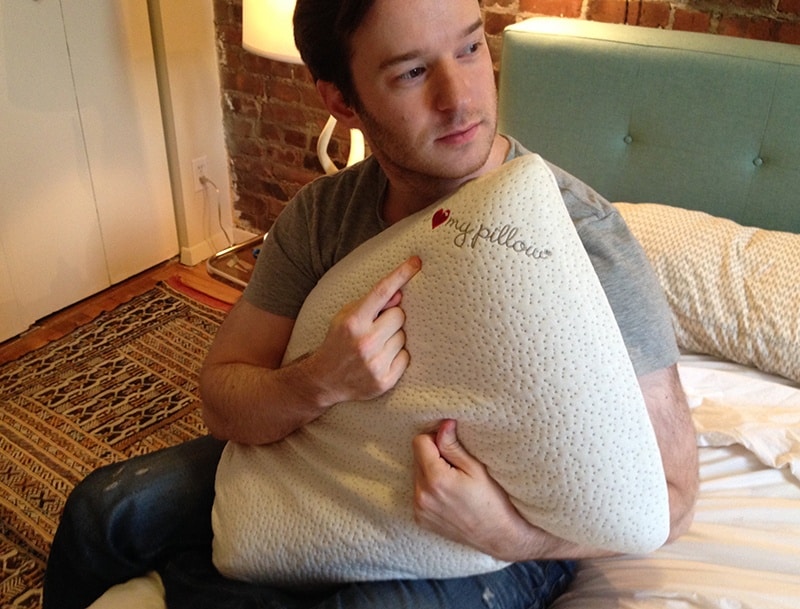 The following two tabs change content below.
Joe Auer
Joe Auer is the editor of Mattress Clarity. He mainly focuses on mattress reviews and oversees the content across the site.
He likes things simple and take a straightforward, objective approach to his reviews. Joe has personally tested nearly 250 mattresses and always recommends people do their research before buying a new bed. He has been testing mattresses for over 5 years now, so he knows a thing or two when it comes to mattress selection. He has been cited as an authority in the industry by a number of large publications.
Joe has an undergraduate degree from Wake Forest University and an MBA from Columbia University.