Halloween may be over but Casper is still around! The Casper Foam Pillow, I mean! This new addition to Casper's collection of pillows fills the gap by providing a solid and firm foam option, where there was previously only fluffier down and down alternative choices.
In this exhilarating Casper Foam Pillow review, I'll cover every square inch of this pillow, from the cover materials to the layers of foam inside the core. Who is it going to be the best fit for in terms of sleep position? How about heavier sleepers? All will be revealed in my video review as well as my written review included below!
Casper Pillow Deals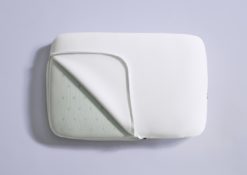 Casper's Foam Pillow has a polyester/spandex knit cover and a 3-layer foam core that's made with plush outer layers and a firmer center layer. The fill acts as a solid piece of ventilated foam but it's truly a firm pillow that's the best fit for side sleepers.
Key Features
Comes in two sizes: Standard and King (I reviewed the Standard)
Standard dimensions are 16″ x 24″ with a 2″ gusset with a 6" height level
The cover is a knit combination of 88% Polyester and 12% Spandex fabrics
The core is unique – it's three ventilated pieces of foam that are 77% Polyurethane Foam, 23% Viscoelastic Polyurethane. The supportive inner layer contours to the head and neck in all sleep positions, while plush outer layers offer nice comfort.
The inner liner is 90% Polyester and 10% Spandex
Designed in the USA, assembled in China
To clean the cover, remove it from the pillow and machine wash cold on a delicate cycle. Dry flat, and do not bleach or iron
Pricing is Standard: $89 King $119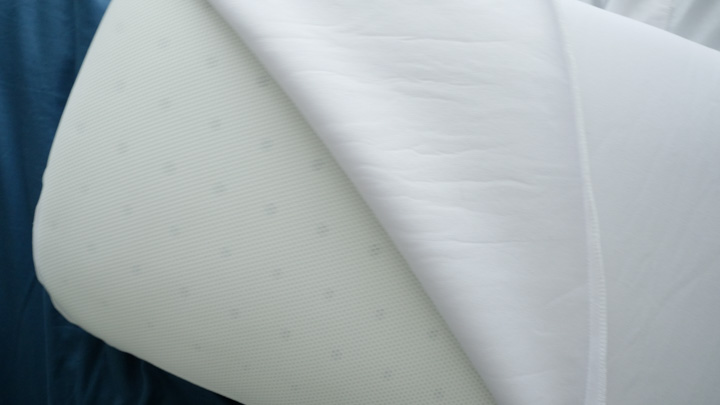 Pros
This is a new option for those who like Casper but prefer a foam pillow (I like options!)
With its firmness level and design, it absolutely won't go flat or change shape
The smooth cover is removable and washable
Despite being a solid foam core, the pillow is breathable
Durable high-quality foams mean the pillow will last awhile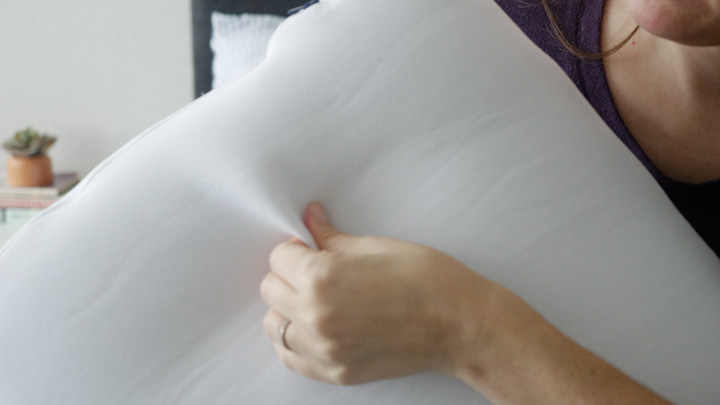 Cons
Priced decently for foam but still expensive
Firm and very responsive, not a classic memory foam "sinking" feel
I could only get comfortable in one position despite the pillow being marketed for everyone
The cover must be line-dried (no dryer)
Best Sleep Positions For Casper's Foam Pillow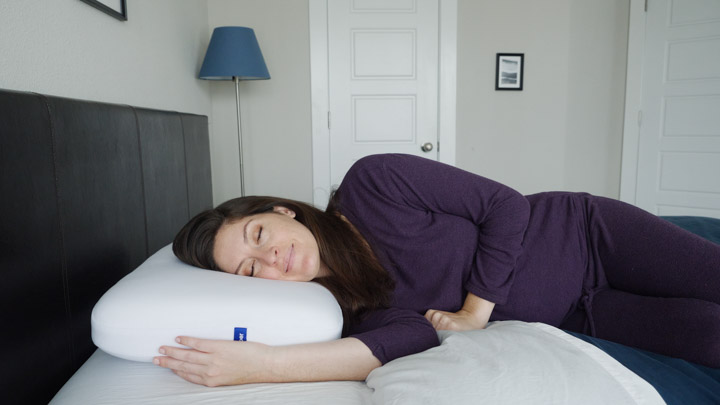 Casper certainly has a unique design with its layered foam core, but I did not find it comfortable in all three main sleep positions: stomach, back, and side. At 5′ 7″ and about average body weight, I was only able to sleep on my side with this pillow – and that's for good reason. Combining 6″ of basically solid medium to firm foam means that really only side sleepers, who need the most loft and support to fill that gap between the head and the shoulder, are going to find this comfortable.
Don't just take my word for it! My co-worker Marten is going to test the pillow out for larger body types and share his experience in the section below.
Marten's Take
Hey guys, it's Marten and I'm here to give my take on the new Casper Foam pillow. I'm 6′ 7″ and about 230 lbs and am primarily a side sleeper, and I want to share how this pillow might feel for larger body types. I personally like foam pillows and it feels like this Casper Foam pillow is pretty firm, and it's quick to respond and my head doesn't sink in very far.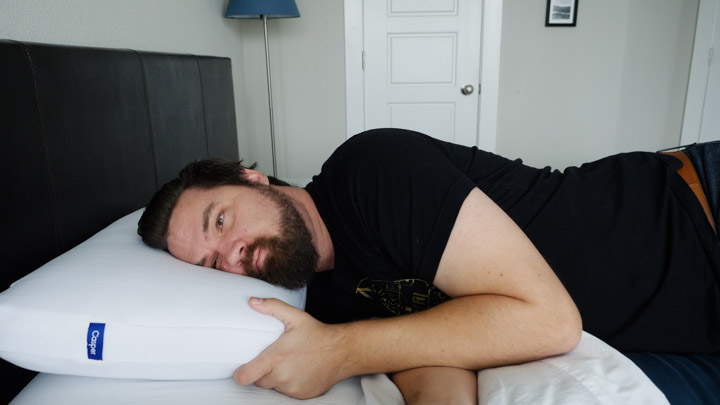 Because it doesn't sink in and it's a pretty tall pillow, it works really well for me when I sleep on my side. When I move onto my back I can feel the foam in the pillow pushing my head forward and that is not comfortable. When I move onto my stomach the firmness is just too much for my head and neck.
Overall, I think this Casper Foam pillow is a good option for heavier side sleepers but is too thick for larger back and stomach sleepers.
Three Casper Pillows – How They Stack Up
Here's a brief description of Casper's three pillow offerings:
Original – made with a crisp cotton cover and a pillow-in a pillow design. The filling is polyester coated microfibers that are more supportive in the inner pillow.
Down – 100% cotton outer cover filled with down in a 5-chamber design where the ratio of feathers to down changes in each chamber.
Foam – A three-layer ventilated solid foam pillow with plusher outer foam layers and a supportive core. The cover is a smooth polyester and spandex knit.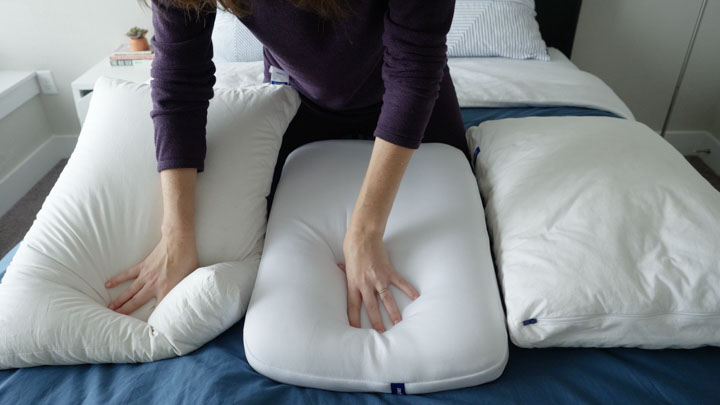 The prices all vary on the Casper pillows, and that's one main difference. The key thing they all have in common is a design element that involves softer outer layers and firmer cores for support. My guess is that this is Casper's way of ensuring that no pillow, no matter what the filling, goes flat.
In terms of the overall look, the Original and the Down look very similar on the outside. They both have gorgeous cotton covers with Supima cotton for durability.
When it comes to sleeping positions, stomach sleepers are best off with the pillow-in-a-pillow design of the Original and back and side sleepers will like the Down or the Foam. Larger side sleepers will definitely want to look at the Foam option.
RELATED: Casper Pillow Review
Final Thoughts
I like that Casper made something well suited for side sleepers because they were kind of missing that option pillow with the other two pillows, the Original and the Down. Yes, it's expensive in general but not overpriced for durable foam – I think the quality is spot on.
While I love the idea and the design in theory, the execution of the foam core missed the mark for me in terms of its thickness and adaptability. I do wish the foam layers were plusher and the pillow was closer to 4″ or 5″ so back and larger stomach sleepers could enjoy it too.
FAQs
Are Casper pillows any good?
Yes! Casper does a great job with mattresses and at Mattress Clarity, we're a big fan of their pillows, too.
Casper has three pillows, the Original, the Down and the Foam. The Original pillow is filled with coated polyester microfibers and the others are down and solid ventilated foam.
Stomach sleepers will enjoy the Original, while back and side sleepers will want to look at the Down or the Foam pillow options.
How do I clean my Casper Foam pillow?
Following the care instructions Casper provides is the best way to keep the pillow clean. Remove the cover and machine wash it on a delicate cycle. Make sure to let it line-dry or air-dry (no dryer!). The foam should be left alone and spot clean only if necessary.
How much do Casper pillows cost?
The Original pillow is $65 at full price for a Standard, the Down option is $125 for a Standard, and the Foam pillow is $85 for the Standard size.
Katie Golde
Katie manages the day to day operations of the Mattress Clarity news site and reviews sleep products in addition to writing and editing sleep news. She hails from Austin, where she lives with her growing family. She is a Certified Sleep Science Coach and has a master's degree in Journalism from Northwestern University and has a background in health and science content. Her work can be found in print and online publications like Discover Magazine, USA Today and The Huffington Post.