Researchers say "recreational" marijuana users may be purchasing weed as an alternative to over-the-counter sleep and pain medications.
Using customer feedback survey data from two Colorado retail stores tied to a cannabis dispensary, experts from The Albert Einstein College of Medicine in New York and University of Miami Miller School of Medicine say a significant percentage of customers purchase cannabis as a way to help them sleep better and reduce pain.
Of the 1,000 adult respondents of the survey, 74% reported using marijuana to help them sleep and 65% reported taking it for pain. All respondents were over the age of 21 and purchased the cannabis as "recreational" users and without a medical certification.
"There have been a number of articles written about medical cannabis patients; this is the first one about adult use," study author Dr. Gwen Wurm told Mattress Clarity. "As purchasers of cannabis, we believed this would give us insight into a current use population."
Marijuana As A Sleep Aid
Around 68% of survey respondents who used cannabis to help them sleep said they used it daily.
Within the group of survey respondents who reported taking over-the-counter sleep aids, 87% said they reduced or stopped using their medication. Among the group that was taking prescription sleep aids, 83% reported reducing or stopping their prescribed medication.
In addition, the survey asked respondents to rate how helpful cannabis was to aid their sleep. Approximately 83% of the respondents reported using cannabis to fall asleep to be "very helpful" or "extremely helpful."
Wurm says the high percentage of respondents who reported finding marijuana "extremely helpful" in aiding their sleep is not surprising.
"The medical cannabis observation studies have shown this to be true," she told us. "Lots of anecdotal info on websites also discuss sleep. This was our way of putting some numbers to a self-selected adult-use population."
Other research offers insights into why people might seek cannabis for better sleep.
"Past studies show that both ingestion and inhalation of cannabis high in THC reduces REM sleep time, which for most, will reduce nightmares and other disturbances that wake us," Mike Robinson, founder of the Global Cannabinoid Research Center in California, told Mattress Clarity. Robinson is unaffiliated with the study.
"The analgesic properties of THC and CBD both often hit the core symptoms that keep us awake," says Robinson. "Most insomniacs have an underlying illness or pain, either physical or emotional, that keeps them awake."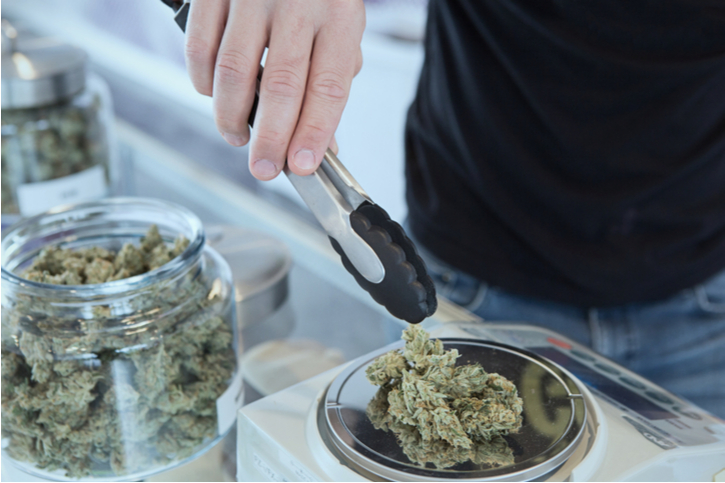 Study Limitations
The limited population and self-selected nature of the survey make the results difficult to generalize for a larger population, the study authors told us.
"Respondents who had specific experiences or opinions may have been more likely to respond than those who did not," researchers concluded in their study.
They also pointed out that the dispensary organization did not collect information on the number of customers approached or the survey response rate, and they did not have demographic or other information about the overall pool of adult-use customers that visit the dispensary organization.
Because of these limitations, the study authors say they do not know if survey respondents were a representative sample. "People coming to a cannabis dispensary may be more likely to get the effect they want," Wurm told us.
Others in the field appear to agree.
"Although I'm skeptical about a study that utilized store clerks to gain consumer input on a survey, as a cannabinoid medicine researcher, I personally use extracts to help me sleep," Robinson told us.
"I believe this peer-reviewed research is very legitimate," he told us. "But keep in mind these are cannabis patients that already had experience in getting to sleep using it. I strongly believe if this was a random group the response would be different."
Legal Hurdles
Ten states have legalized the use of marijuana for recreational purposes. Effective January 2020, Illinois will become the eleventh state to join the group.
However, marijuana use is still illegal under federal law. The federal government has ruled cannabis as a "Schedule 1″ drug. Drugs in this category are defined as "drugs with no currently accepted medical use and a high potential for abuse." Also included in this list are LSD and Ecstasy.
"We need placebo-controlled studies with a general population to find out how many people will experience a positive effect in regards to sleep," Wurm told us. Due to federal regulations around marijuana use, this type of study is not possible at this time, she said.
The research results were published in the Journal of Psychoactive Drugs.
Featured image: Adam Melnyk/Shutterstock
The following two tabs change content below.
Katie Golde
Katie manages the day to day operations of the Mattress Clarity news site and reviews sleep products in addition to writing and editing sleep news.She hails from Austin, where she lives with her growing family. She is a Certified Sleep Science Coach and has a master's degree in Journalism from Northwestern University and has a background in health and science content. Her work can be found in print and online publications like Discover Magazine, USA Today and The Huffington Post.
Latest posts by Katie Golde (see all)