Those with a sweet tooth may want to think twice about keeping a candy stash in their bedside tables. That's because research, including a study in the American Journal of Lifestyle Medicine, suggests there may be a negative relationship between sugar consumption and sleep.
We're not saying people should lay off sweets entirely (we're not insane), but it is helpful to understand how eating sugar might influence your ability to get a good night's sleep. Once you understand the relationship between sleep and sugar, you'll be better equipped to satisfy that sweet tooth while still getting high-quality Zzzs.
The Science Behind Sugar and Sleep
The American Journal of Lifestyle Medicine says the science behind sugar and sleep indicates that eating sugar at or near bedtime can lead to poor sleep. To stop sugar from impacting your sleep quality, you need to understand how sugar affects your brain. We talked to some experts to find out exactly what happens in your brain when you eat sugar!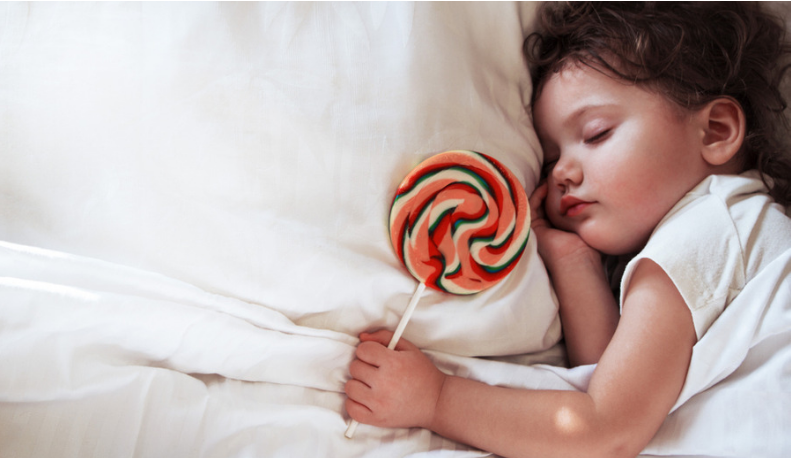 How Sugar Affects the Brain
According to Dr. Emmanuel Asare, CEO of MiraBurst®, sugar can affect the brain in several ways. He told us that consuming sugar "triggers the release of dopamine, a neurotransmitter associated with pleasure and reward, which can lead to cravings and addiction." In other words, the more sugar you eat, the more sugar you'll want.
Dr. Asare says sugar might also make our blood sugar levels fluctuate, which can lead to "fatigue, irritability, and difficulty concentrating." And spiking blood sugar at bedtime can make it hard to fall asleep. Since sleep and mental health are closely linked, lowering sugar intake at night could make you feel better day to day.
Anxiety
According to registered dietitian nutritionist Kelsey Costa, when your blood sugar spikes and crashes after eating sugar, it "activates your body to release hormones including insulin, adrenaline, growth hormone, and cortisol. This process results in anxiety, irritability, and frequent awakenings throughout the night."
In other words, eating too much sugar can make you feel anxious. Just like sugar and sleep, anxiety and sleep are closely linked. So cutting back on sugar to get better sleep might make you feel less anxious throughout the day.
Depression
Krutika Nanavati, registered dietitian and nutritionist at Clinicspots, says that "high sugar intake is associated with increased risk of depression and anxiety." Processed sugar in refined carbohydrates is especially likely to lead to mood disorders. Depression and sleep are also related, and depression could lead to sleep problems or oversleeping. Reducing sugar intake might help with both issues.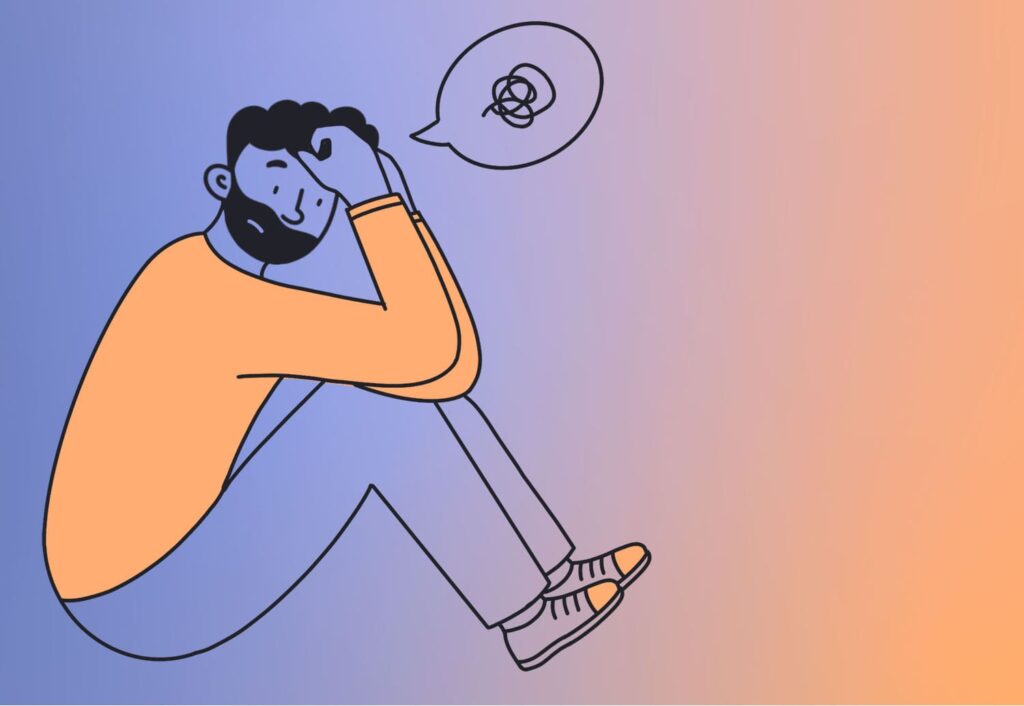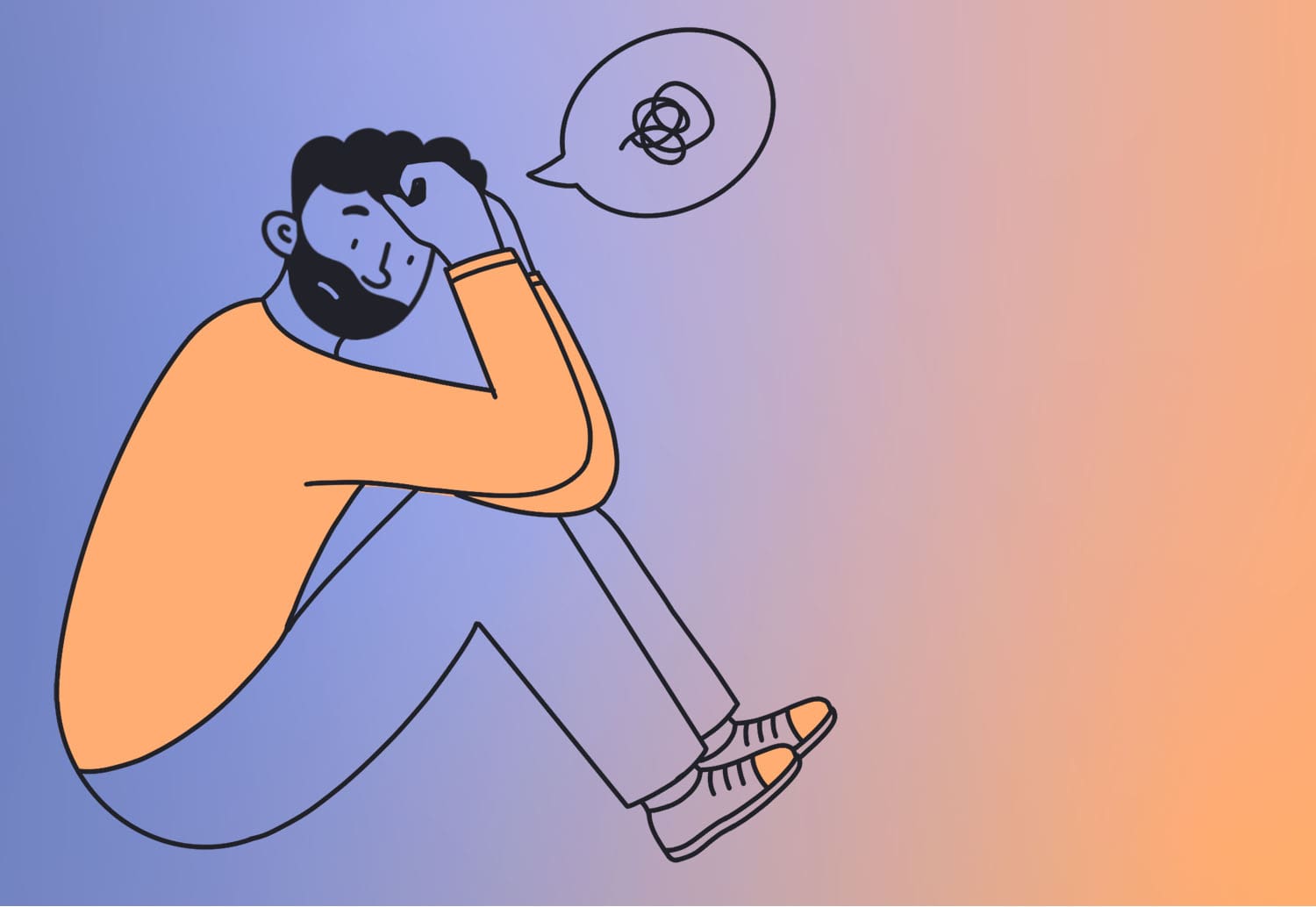 How Sugar Affects the Body
As Dr. Asare explained, sugar affects the body by rapidly increasing and then decreasing your blood sugar levels. This leads to an increase in hormone production. Over time, too much sugar can also lead to weight gain, heart disease, type 2 diabetes, and obesity. It may also cause inflammation and migraines.
Inflammation
Nanavati explains that "high sugar intake can lead to inflammation throughout the body and in the brain, which can interfere with cognitive function." This inflammation can cause issues with memory and learning. Inflammation in the body can lead to joint pain, aging, fatty liver disease, heart disease and high blood pressure, and weight gain. So eating high amounts of sugar, especially processed sugar, is not good for your overall health.
Curious about what other foods can cause inflammation? Read our full article about sleep and gut health.
Migraines
For some people, eating sugary treats can cause migraines. That's because sugary snacks raise blood sugar levels and cause the body to create extra insulin. Then, blood sugar levels crash and cause low glucose levels, which can trigger a migraine. If you notice you get migraines after eating junk food, you may want to consider changing your eating habits.
If you struggle with chronic migraines, check out our How to Sleep with a Migraine guide.
How Does Sugar Affect Sleep?
According to Costa, eating too much sugar can "significantly disrupt your sleep patterns, hindering both quality and duration." Costa also says that high blood sugar levels and poor sleep can "increase the risk of developing some sleep disorders, such as obstructive sleep apnea and restless leg syndrome." Costa cautions that sleep deprivation can make it harder to manage your diabetes.
Can Sugar Cause Insomnia?
Dr. Sony Sherpa, a holistic physician at Nature's Rise, says that "research links disturbed sleeping patterns to increased sugar intake, including the risk of developing chronic conditions like insomnia and obstructive sleep apnea." Dr. Sherpa also says that "eating too much sugar can worsen existing sleep disorders, such as insomnia." She also cautions that eating too much sugar can decrease the amount of deep sleep you get at night.
If you're struggling with poor sleep quality, or don't feel like you are getting restorative sleep but don't know what's wrong, check out our What Is Insomnia? guide. It might help you understand what's going wrong.
Does Sugar Cause Nightmares?
Nightmares are caused when you have more active brainwaves during sleep. Eating sugar before bed can disturb your circadian rhythm and may cause bad dreams. Costa says that "too much added sugar before bed may … cause nightmares and night terrors" for toddlers especially. If you're worried about your little one's sleep habits, cutting out sugary treats before bed might help stop some sleep issues. If your child is scared of going to bed at night, they might be struggling with somniphobia, and you should check out our guide for help.
Types of Sugar
Now you know sugar can be bad for your sleep health, but there are tons of different sugars out there! Before you start cutting out foods, read on below to learn what the different types of sugars are and which you should be avoiding.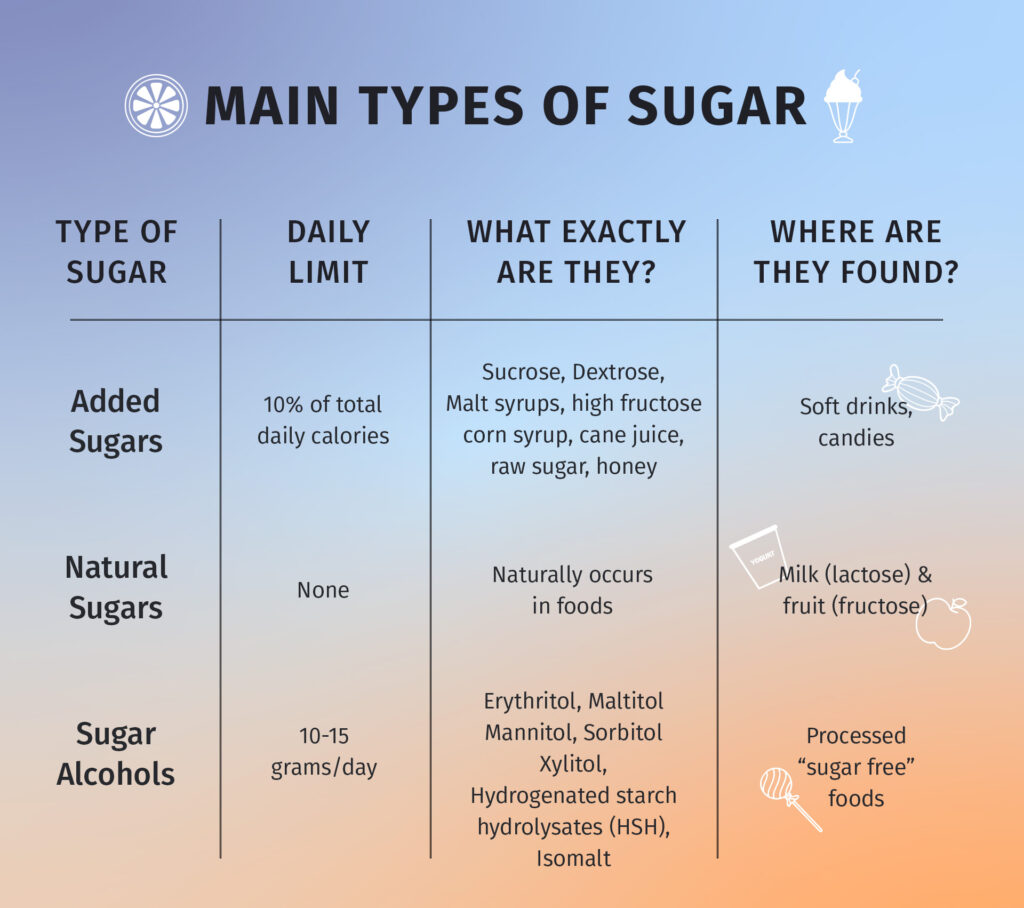 Natural Sugar
Natural sugars are those that are found naturally in food. For example, the sugar found in fruits or milk. Costa says that natural sugars "do not count against the recommended daily allowance for sugars." If you're cutting down on sugar to improve cardiovascular health or lose weight, you don't need to worry about reducing natural sugars. Instead, you'll want to worry about added sugars.
Added Sugar
Costa says added sugar is the culprit that disrupts our sleep patterns and negatively affects our health. If you're checking packaging to see if your snacks have added sugars or sweeteners, look for words like sucrose, dextrose, fructose. These are all indicators that your snacks have added sugars.
Remember that the more added sugar you eat, the more you'll want. It's a vicious cycle that can make it hard to reduce sugar intake to meet our dietary needs. Sticking to low sugar snacks and drinks can make a big difference in your overall sleep quality and health.
Sugar Alcohol
According to the Cleveland Clinic, sugar alcohols are used to sweeten food without adding actual sugar or calories. Processed foods and "sugar-free" foods like gum and soft drinks often use sugar alcohols like mannitol, sorbitol, and more. If you see "-tol" at the end of an ingredient, there's a good chance it's a sugar alcohol! Sugar alcohols are very common sweeteners and add texture to many foods. But too much sugar alcohol might cause bloating, diarrhea, or weight gain. Sugar alcohols might also cause blood sugar problems for Type 1 diabetics.
If you're concerned about your sugar alcohol intake, reducing the amount of processed foods you eat can give you peace of mind.
Simple Sugar vs Complex Sugar
Simple sugars, also called simple carbs, only have one or two sugar molecules. Complex sugars have three or more sugar molecules. Simple sugars include glucose, fructose, galactose, sucrose, lactose, and maltose. They are commonly found in fruits and dairy products.
Complex sugars are commonly found in starchy vegetables, nuts, beans, whole grains like barley and brown rice, and refined or processed foods like white bread. Simple and complex sugars can both be good or bad for you, depending on if you eat them in a naturally occurring form (like fruit) or processed form (like candy).
How Much Sugar Should You Consume in a Day?
According to Dr. Asare, men should consume no more than 36 grams of added sugar per day, and women should not consume more than 24 grams per day. But he cautions that "the amount of sugar that a person should consume may vary based on age, health concerns, and activity level."
For instance, children should consume under 24 grams of sugar per day. Remember that these numbers refer to added sugars. Natural sugars like those in fruits are not included in this count.
Check out our Nutrition and Sleep guide to learn more about how your diet can help you get a good night's rest.
High Sugar Drinks
Cutting out sugary drinks is a great way to reduce your sugar intake. Sodas, sweet teas, energy and sports drinks, juices, and cocktails can all be very high in sugar. According to Costa, some of the most sugary fast food chain drinks include "Chick-fil-A's lemonade with 55 grams of sugar per medium drink and McDonald's lemonade with 54 grams of sugar per medium drink."
She says, "soda and sweet tea at any fast food restaurant tend to be very high in sugar, with 56 grams of sugar in a medium Coca-Cola and about 32 grams in a medium sweet tea."
Nanavati recommends being cautious of frappes, mochas, and frozen drinks from chains like McDonalds, Dunkin' Donuts, and Starbucks, which can contain up to 135 grams of sugar!
Dr. Asare recommends checking the nutrition labels and portion sizes of your drinks when researching how much sugar they include. He says people should be on the lookout for "items that have high amounts of added sugars, such as corn syrup, honey, and cane sugar."
Curious about what other drinks affect your sleep? Read our full articles about how caffeine affects sleep and how alcohol impacts sleep.
Sugar Free Drink Alternatives
So, dietitians and sleep experts are anti energy drinks and fast food sodas. But what should you drink when you want something more exciting than water? Costa recommends trying "unsweetened tea, black coffee, seltzer water, vegetable juice, or fruit juice diluted with water," which are "all much healthier alternatives to sugar-sweetened and artificially sweetened beverages." Costa also suggests making your own smoothies from fresh fruits and plant-based milk or water.
Foods High in Sugar
Foods like candy, cookies, cake, and ice cream are all very high in sugar. But so are other processed foods like white bread and ketchup. Nanavati recommends checking the "total sugar" line on nutrition labels, being mindful of serving sizes on food packages.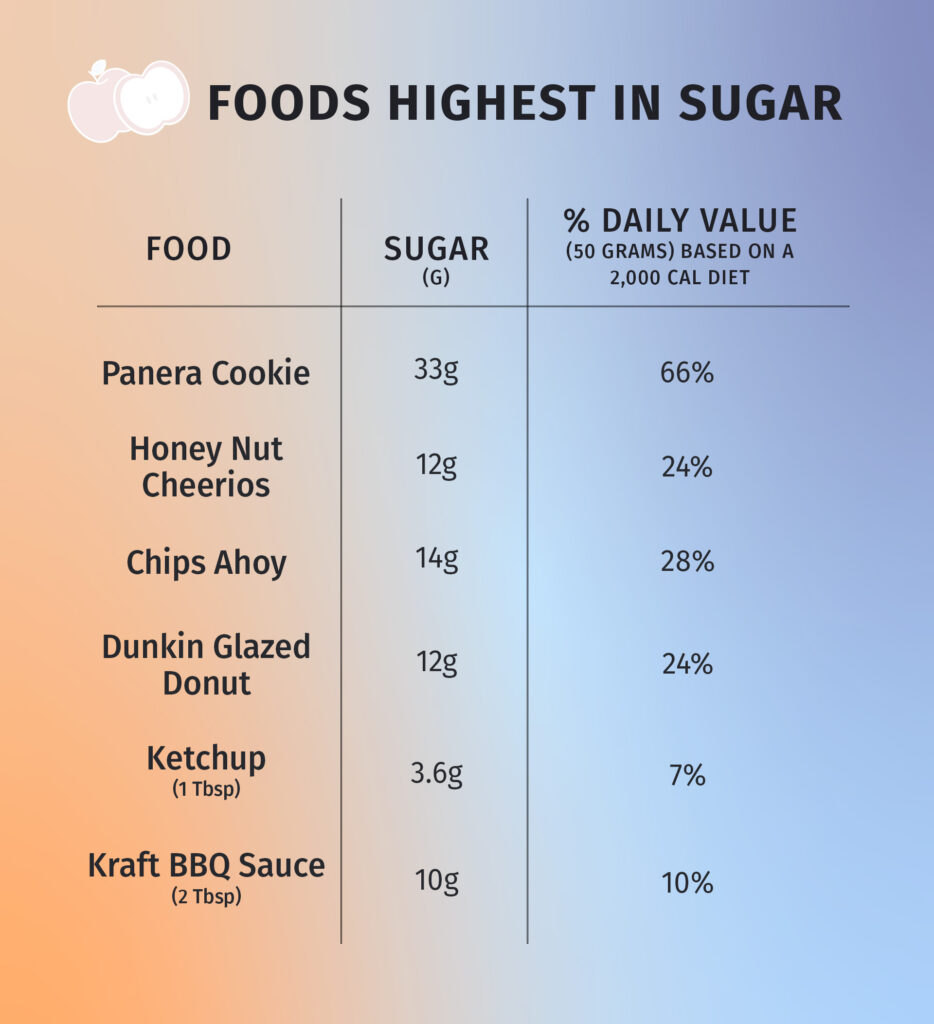 Looking for a midnight snack that's low in added sugar? Go for tart cherries to make it easier to fall back to sleep!
Sugar Free Food and Snack Alternatives
There are plenty of great sugar-free food and snack alternatives. Substituting salsas, olive oil-based marinades, and vinaigrettes for other condiments can dramatically cut down on sugar in your diet. And opting for snacks like fresh or dried fruit, fat-free yogurt, air-popped popcorn, hummus, nut butters, and oatmeal with cinnamon can help you reduce added sugar intake.
How Long Before Bed Should I Stop Eating Sugar?
According to Dr. Asare, you should stop eating sugar at least two to three hours before bed. This will give your blood sugar time to stabilize. Wondering how long before bed you should stop eating completely? Click the link to find out!
How to Sleep After Eating Sugar
If you've already eaten a few midnight cookies and are having trouble falling back to sleep, don't worry! We've got plenty of tips to help. Check out our What to Do If You Can't Sleep and Mediation and Sleep guides for breathing exercises and stretches that can help you get back to bed.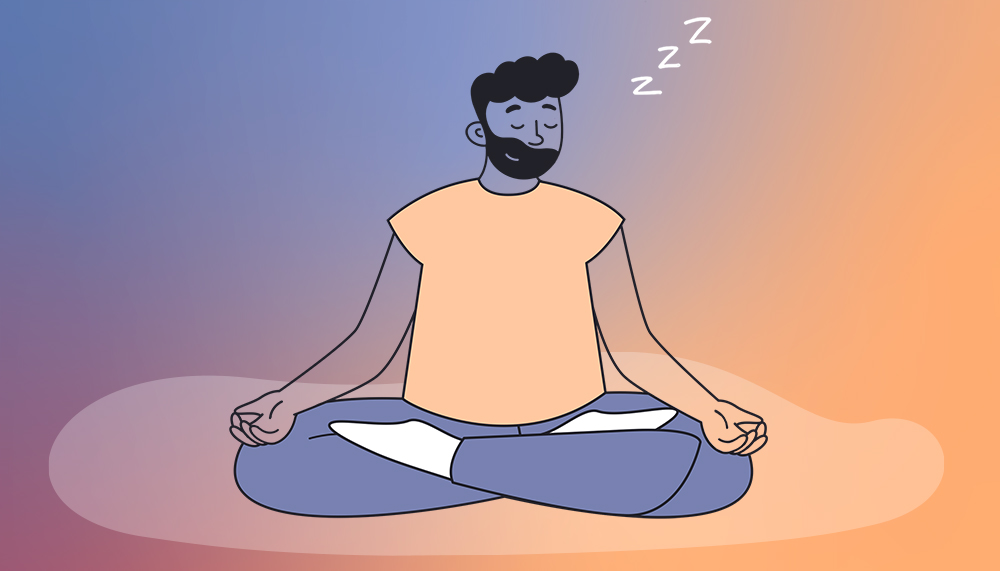 If you often struggle to fall asleep, consider our How to Fall and Stay Asleep guide. You might also want to consider a magnesium supplement, which can help some people sleep.
FAQs
Does eating sugar before bed affect sleep?

Eating sugar before bed can spike your blood sugar, making it hard to fall asleep and stay asleep. Doctors and dietitians recommend avoiding sugar for at least two to three hours before bedtime.
Does lack of sleep affect blood sugar?

Lack of sleep can raise your blood sugar levels and worsen prediabetes or diabetes.
How does sugar affect my toddler's sleep?

Eating sugar before bed can make it hard for your toddler to fall asleep and stay asleep, and it might lead to indigestion and bad dreams.