Slumber Cloud Dry Line and Bear mattress protectors are designed to keep people comfortable while asleep with their unique temperature-regulating technologies. This side-by-side comparison will help shoppers make a more informed decision as to which protector is better for them.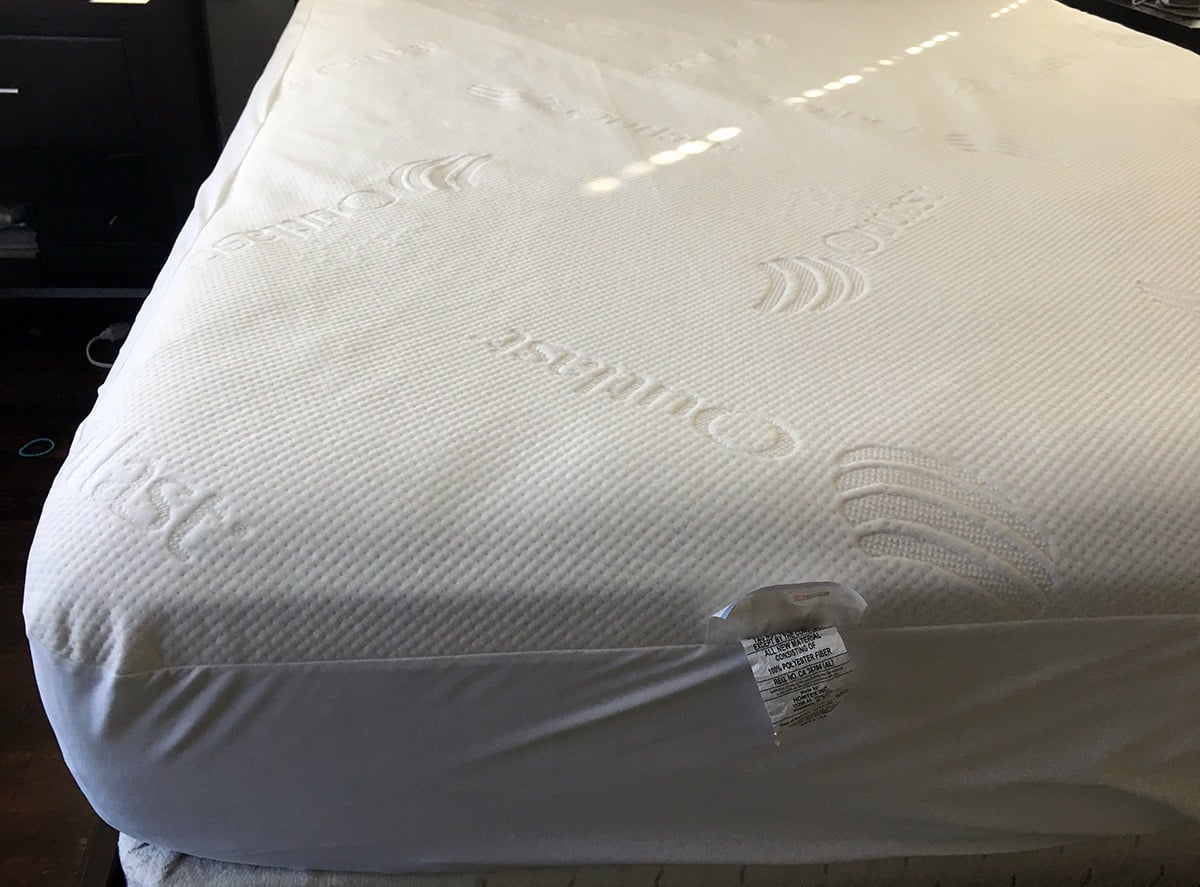 Key Similarities
Fitted sheet style (protection on five sides)
Designed to create a cool and comfortable environment
Good for regulating body temperature
Waterproof surface
Hypoallergenic and dust mite protection
Machine washable, tumble low dry heat (or line dry); do not bleach, iron or dry clean
Cost more than $100 for a Queen size
Available in standard sizes – Twin, Twin XL – Cal King
Good customer service
Click Here to Get the Best Deal on Slumber Cloud
Check out the best-reviewed mattress protectors, here.
Key Differences
Slumber Cloud Dry Line…
Can fit mattresses up to 16 inches thick
Utilizes Outlast® technology* to manage temperature swings throughout the night
$175.99 for Queen
Made in the U.S.A.
30-day money back satisfaction guarantee
* Outlast Technology is described as being:"Perfect for those who experience mild sleep discomfort and temperature swings."
Click Here to Get the Best Deal on Bear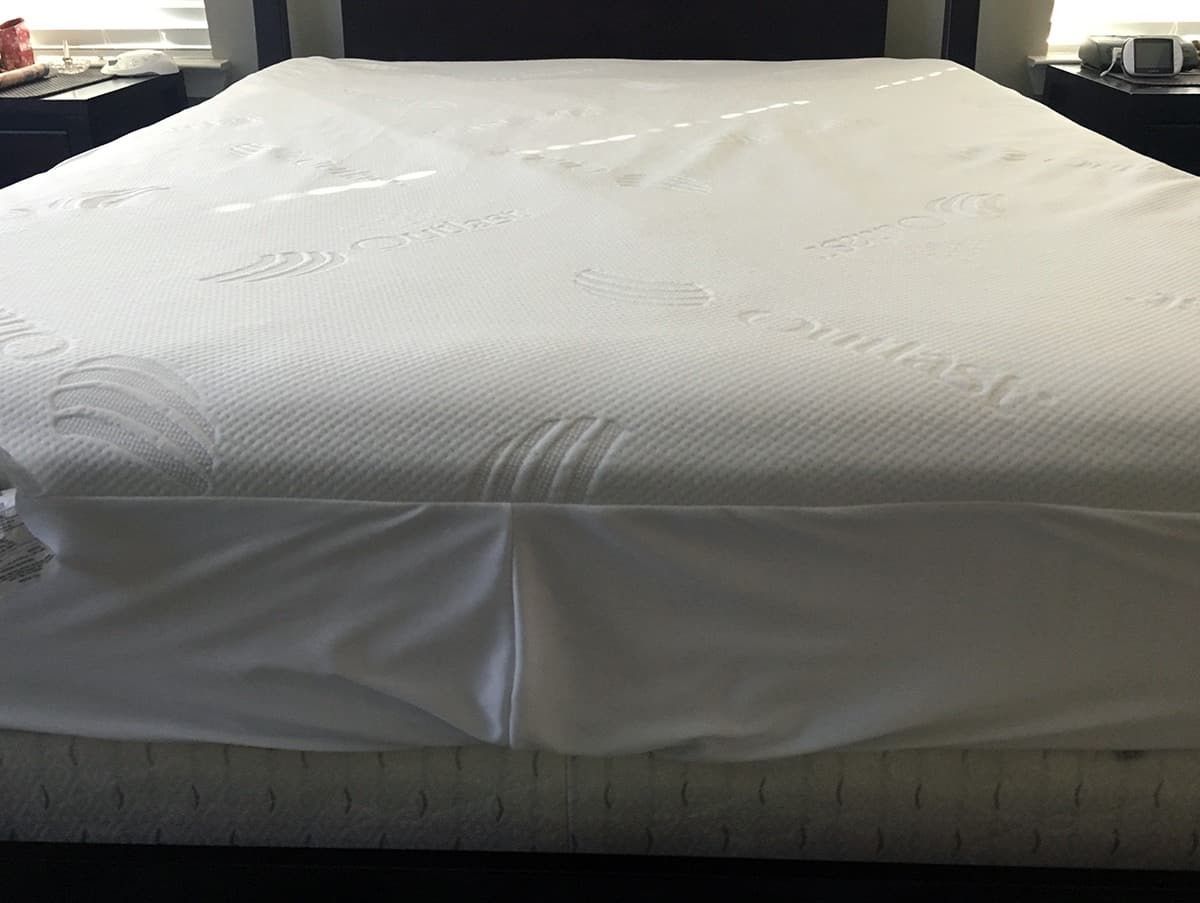 Bear…
Can fit mattresses up to 20 inches thick
Utilizes HeiQ Adaptive Fabric* technology that transports moisture and heat away from the body
Engineered to work with Bear Mattress and Celliant technology (but can work on any mattress)
$110 for Queen
10 year warranty and free shipping
* HeiQ Adaptive fabric is a proprietary fabric so they don't share what is in it. But it is designed to: "It is waterproof and responds dynamically to environmental changes, creating a cool, dry microclimate for sleep…"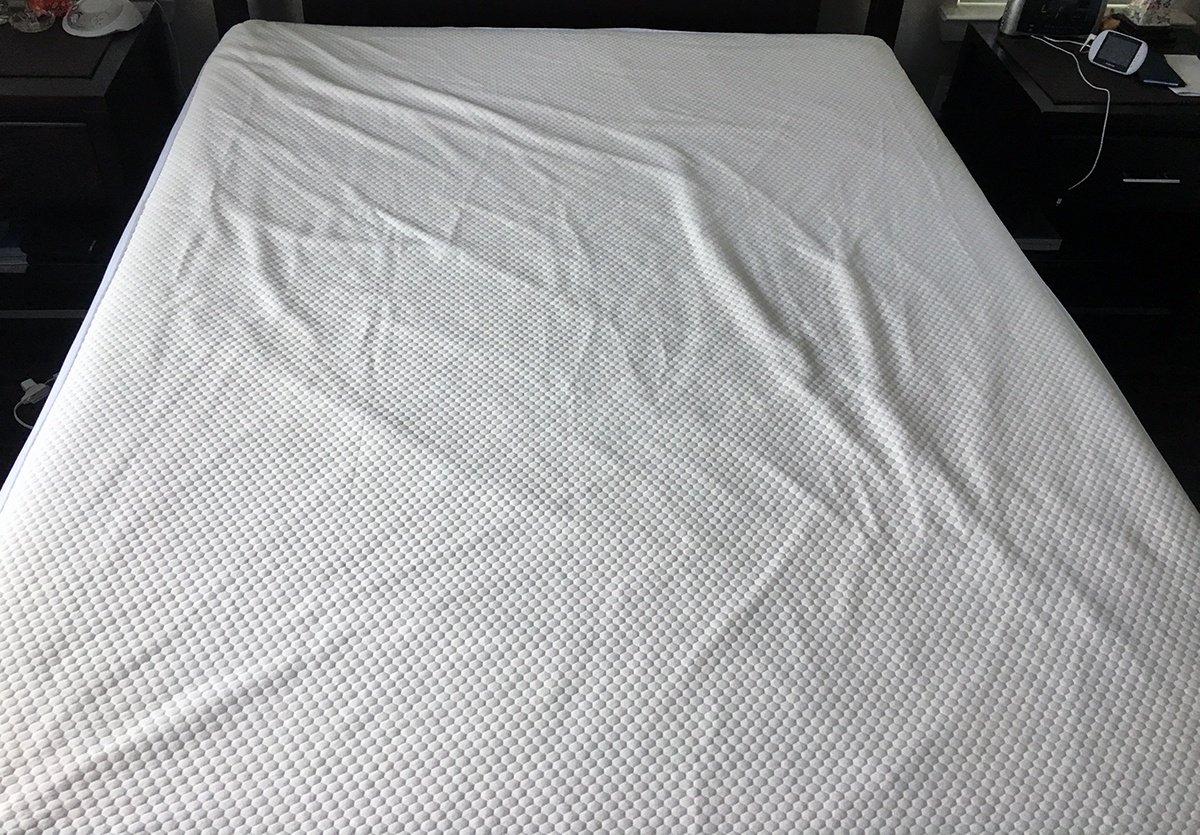 Pros and Cons of Each Protector
Who Might Want Slumber Cloud
Those who have a thicker mattress (16-inches thick or less)
Those who want to know exactly what materials the mattress protector is made with
Those who want the protector to be made in the USA
Those who want breathability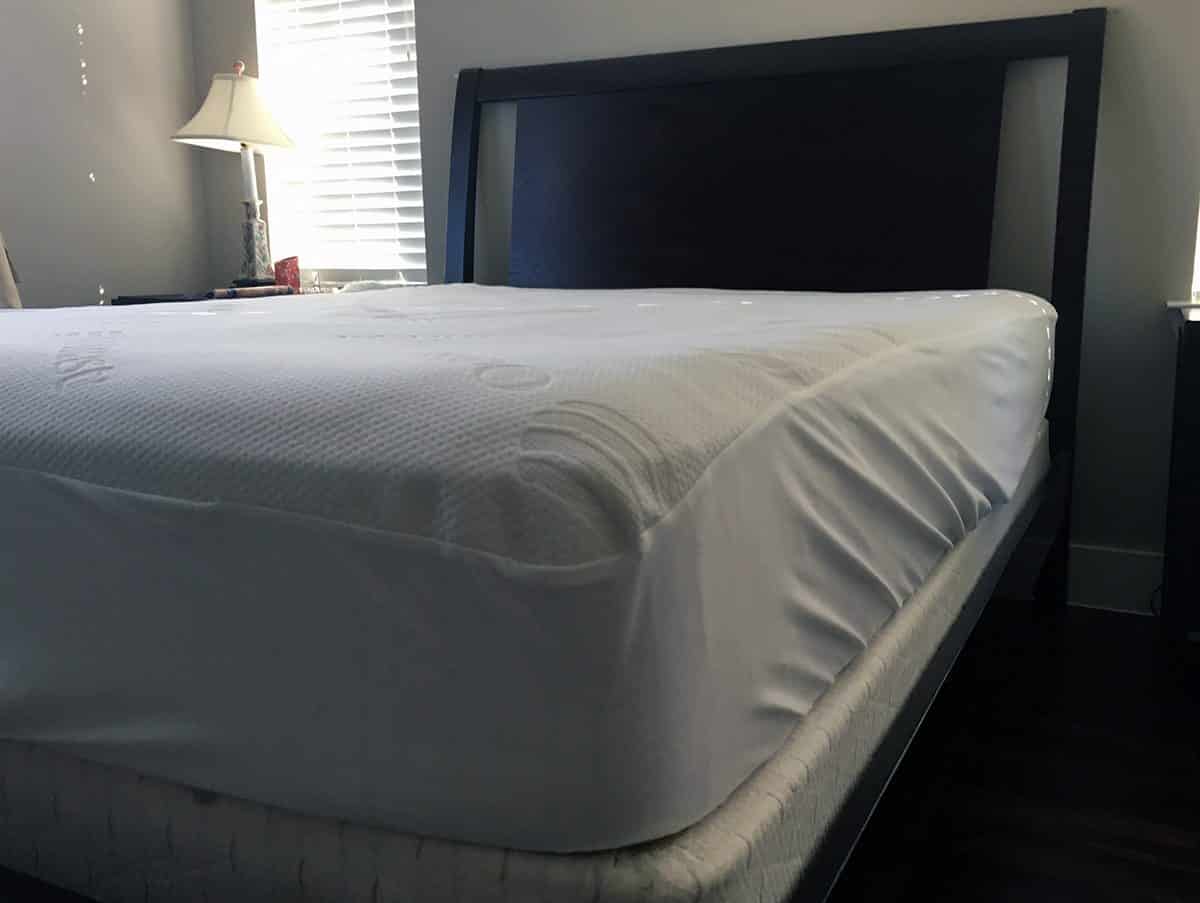 The full Slumber Cloud Dry Line mattress protector review is available here.
Who Might Want Bear…
Those who already have a Bear mattress already and want something to complement it
Those who have a mattress that is 20 inches deep or smaller and prefer a snug fit
Those who want a protector that is easy to care for
Those who want a breathable protector
People who are athletes or have night sweats and want an especially cool sleeping environment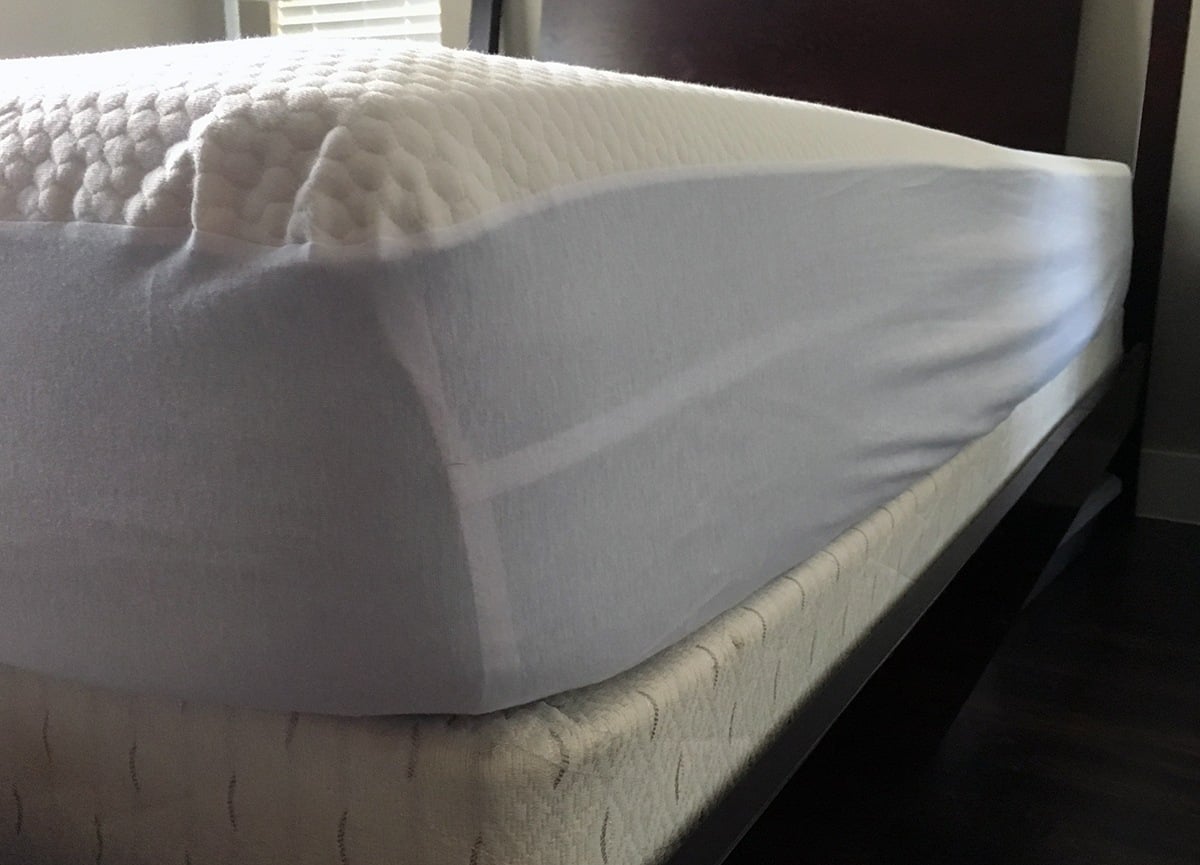 The full Bear Mattress Protector review is available here.
Slumber Cloud Dry Line vs. Bear
Overall
Those who struggle with feeling hot or cold during the night will potentially enjoy what both Slumber Cloud and Bear have available.
The protectors offer the same feel in terms of softness and thickness – the Casper mattress may have a little more stretch (it has Lycra).
Neither of them showed any signs of wear or damage after being run through the washer and dryer, and there was no shrinking with either protector.
These mattress protectors are really intended to keep people's body temperature consistent in order to experience a full night's sleep. Their small details set them apart and may help people decide which one to choose.
My personal preference is the Bear mattress protector. Although it was designed with the Bear mattress in mind, it does fit perfectly onto the 10 inch Casper mattress and provided a slightly better experience overall.
It is on the more expensive end of mattress protectors, but I thought the fabric was soft and quilted and overall had a really nice feel.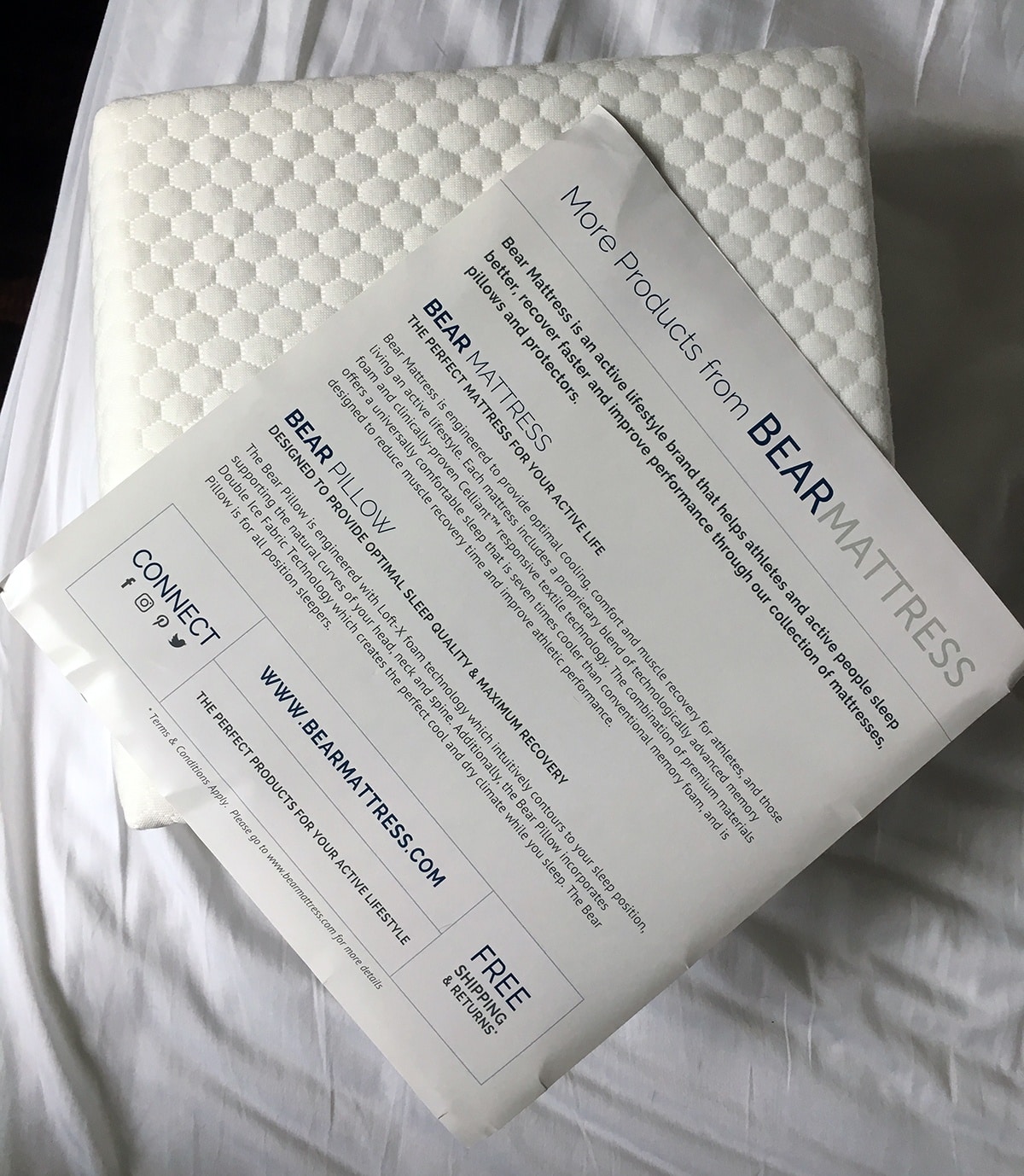 Unlike the Slumber Cloud Dry Line protector, I did not wake up at all due to being hot or cold with the Bear protector. But I also did not feel exceptionally "cool" on the mattress, just comfortable.
Both brands offer innovative technology, soft, waterproof surfaces, and good customer service. Depending on your mattress and your needs, both protectors will do the job.
Katie Golde
Katie manages the day to day operations of the Mattress Clarity news site and reviews sleep products in addition to writing and editing sleep news. She hails from Austin, where she lives with her growing family. She is a Certified Sleep Science Coach and has a master's degree in Journalism from Northwestern University and has a background in health and science content. Her work can be found in print and online publications like Discover Magazine, USA Today and The Huffington Post.