There are so many options when it comes to picking out the perfect bedding. You have so much to consider:, like if you sleep hot or what kind of texture you feel the most cozy in. It can be overwhelming to choose from all of the fabrics, from bamboo to cotton, and now lyocell.
Lyocell is an increasingly popular fiber that has made its way into the apparel industry.  Now you can find lyocell sheets, comforters, and blankets, too. If you're interested in learning more about this material for your next bedding makeover, keep reading!
What Is Lyocell?
You'll most often see lyocell labeled as Tencel. That's because Tencel is the most common brand name of lyocell in the bedding market. Do you know how Kleenex isn't the only tissue brand? Well, lyocell has a trademarked term called Tencel. Some brands that use this material label it as Tencel lyocell or just as Tencel on its own.
What Is Lyocell Made Of?
This fabric is semi-synthetic and made from eucalyptus trees. It's made from ground wood pulp that is mixed with solvent that makes it dissolve, and then spun until it's dry. The process is closed-loop, meaning manufacturers reuse the solvents and water from the lyocell production process.
Is Lyocell a Natural Fiber?
As mentioned, lyocell is semi-synthetic. The natural part of the material is the wood pulp, while the chemical solvents used to process the pulp are artificial.
Is Lyocell Sustainable?
Lyocell is a more sustainable option when compared to other materials, like cotton or bamboo. The chemicals used to make lyocell are non-toxic to the environment and those who come in contact with it.
One of the top reasons lyocell is sustainable is because of the closed-loop process that involves reusing solvents and water. Manufacturers can't reuse water in most material production, which contributes to water waste.
Is Lyocell the Same as Tencel?
Yes, lyocell is the generic term for Tencel. So these terms are often used interchangeably, together or on their own.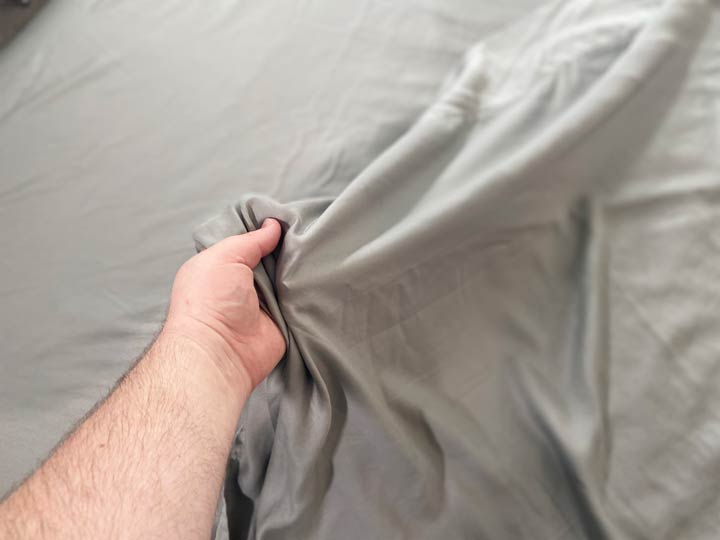 What Does Lyocell Feel Like?
Lyocell is soft to the touch, and is often compared to cotton and bamboo. However, lyocell can be designed to have other textures depending on the manufacturer.
Lyocell bedding will feel very soft, almost silky to the touch. And because of its natural breathability and moisture-wicking properties, it can even feel cool to the touch.
Lyocell Benefits
There are a bunch of benefits to lyocell, from its breathability to its low environmental impact. Let's talk about why you might want lyocell bedding in your room.
Breathability
Lyocell is a breathable fiber that is even more absorbent than cotton. Sheets made of lyocell are moisture-wicking, which will  keep hot sleepers dry while they rest. If you're on the hunt for cooling sheets, check out our article of top picks.
Softness
Lyocell is soft to the touch and comfortable on the skin.
Durability
Lyocell is designed to last. Bedding products made with this material tend to be quite durable. Companies offer warranties from a range of 1-5 years. These warranties cover defects or damages of your items, so make sure to read the warranty policy before you buy.
Versatility
This fiber can be used to make sheets, comforters, and blankets in the bedding category, and anything from athletic to formal wear when it comes to clothing. Check out two of our favorite lyocell Tencel sheets from Helix and Sweave!
Eco-Friendly
Lyocell production can be eco-friendly because it doesn't contribute to water waste and it doesn't use toxic chemicals. However, depending on the manufacturer, the factories may use fossil fuels. If you're particularly concerned about the environmental impact of your bedding, make sure to check out the manufacturer's website for detailed information of the production process.
Lyocell vs Viscose
Lyocell and viscose are similar because they are both semi-synthetic fibers. The main differences are that viscose is less absorbent and uses more chemicals than lyocell.
Both have a plant basis, but viscose is often made with bamboo, in addition to the synthetic fibers, while lyocell is made exclusively from eucalyptus.
RELATED: Eucalyptus Sheets vs Bamboo Sheets
Lyocell vs Polyester
Lyocell and polyester are very different because polyester is a fully synthetic fiber. Polyester contains chemicals and isn't hypoallergenic, whereas lyocell doesn't contain any toxic chemicals and is naturally hypoallergenic.
Lyocell vs Linen
Lyocell and linen are different because linen is a natural fabric, whereas lyocell is semi-synthetic. One of the biggest differences is texture. Linens have a coarse feel to them, while lyocell will feel much smoother.
They share similarities in breathability and moisture-wicking abilities. If linen sounds more your speed, check out our best linen sheets article to learn more!
Lyocell vs Bamboo
Bamboo is a natural fiber, while lyocell is semi-synthetic. Both are sustainable, but lyocell uses much less water since the water can be reused when producing the fabric. Bamboo and lyocell are soft, breathable, and hypoallergenic. Learn more about our favorite bamboo sheets!
How to Wash Lyocell
Lyocell can last long when you take care of it properly. Generally, you should wash lyocell items with a low temperature on a delicate setting when you throw them in the washer. You can either opt for air drying or use a delicate setting on your dryer. If your dryer doesn't have a delicate setting, low heat is the way to go.
In general, it's a good idea to follow the individual care instructions for your specific bedding before you wash and dry. For those who dread laundry day, we have the complete guide to washing your bed sheets so you don't have to stress!
Should I Buy Products Made with Lyocell?
Everyone is going to have their own preferences for their ideal bedding. So should you buy sheets, comforters, or blankets made of lyocell? We have a quick rundown for you.
Who should buy products made with lyocell
Hot sleepers who need breathable and moisture-wicking bedding

People with sensitive skin and allergies who need hypoallergenic products

Conscious shoppers who want eco-friendly sleep accessories
Who shouldn't buy products made with lyocell
Shoppers on a tight budget — lyocell products can be on the expensive side

Sleepers who prefer crisp, firm sheets over soft
FAQs
Get the answers to your questions in our FAQ section below!
Is lyocell the same as cotton?
It is not the same as cotton, although its softness and breathability are often compared to cotton. Producing cotton has negative impacts on the environment, which is why many are making the shift to the more eco-friendly lyocell.
Does lyocell shrink?
It's been known to shrink after a first wash or two but the material won't shrink every time you do laundry. Again, read the specific instructions on your items to avoid any mishaps - air drying or using low heat may be recommended for your items.
Is lyocell stretchy?
Lyocell will give here and there but it isn't a super stretchy fiber.
Is lyocell breathable?
Yes, lyocell is naturally breathable. 
Can lyocell be dry cleaned?
Yes, lyocell garments can be dry cleaned.