If you're a fan of soft sateen sheets with a silky feel, but need a budget-friendly option, the Pizuna sheets are perfect for you. These 100% cotton sheets come in all sorts of colors and bed sizes and won't break the bank!
In this Pizuna Linens sheets review, I'll give you an unbiased look into this cotton sheet set, including their performance, my experience with them, and more. Keep reading and find out my expert opinion on these sheets!
Pizuna Linens 400 Thread Count Cotton Sheets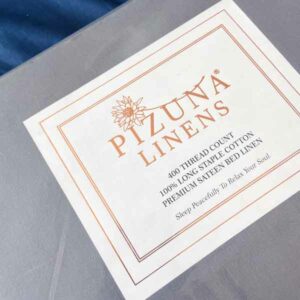 Luxurious feeling sheets shouldn't have to break the bank! Pizuna offers affordable, high-quality cotton sateen sheets, with a rainbow of colors to choose from.
Mattress Clarity Score
4.90 / 5
Read Full Review
Pizuna Sheets Overview
Pizuna Linens is a company that makes high-quality sheet sets, and sells duvet covers and pillowcase sets as well. They have two main sheet sets, the Classic and the Damask. Both are cotton sateen sheets, but the main difference is that the Damask only comes in king and queen size sets, and has a 600 thread count.
For this review, I'll be looking at the classic set with a 400 thread count. Here's a quick overview:
Who Might Like the Pizuna Sheets
Anyone shopping for sheets on a budget
Sheet shoppers looking for color variety
Fans of cotton sheets
Who Might Not Like the Pizuna Sheets
Fans of bamboo sheets
Anyone who gets cold quickly during the night
Fans of textured linen sheets
| | |
| --- | --- |
| Specs | Details |
| Mattress Clarity Rating | 4.2 |
| Customer Rating | 4.9 |
| Price | $38.39 – $159.99 |
| Material | 100% long-staple cotton |
| Thread Count | 400, 600, 800, 1,000 |
| Color Options | Various (Availability depends on size selected) |
| Size Options | Twin, Twin XL, Full, Queen, Short Queen, King, Split King, California King, Short King |
| Return Policy | Free returns and exchanges up to 30 days after delivery |
What Do the Pizuna Sheets Feel Like?
The Pizuna sheets have a very smooth, cotton feel to them. Because they're made with a sateen weave, they don't feel very crisp, like a set of percale weave sheets would. They also won't feel as luxuriously silky like a set of bamboo or Tencel sheets. The sateen weave gives these sheets an almost satin-like feel!
RELATED: Percale vs Sateen Sheets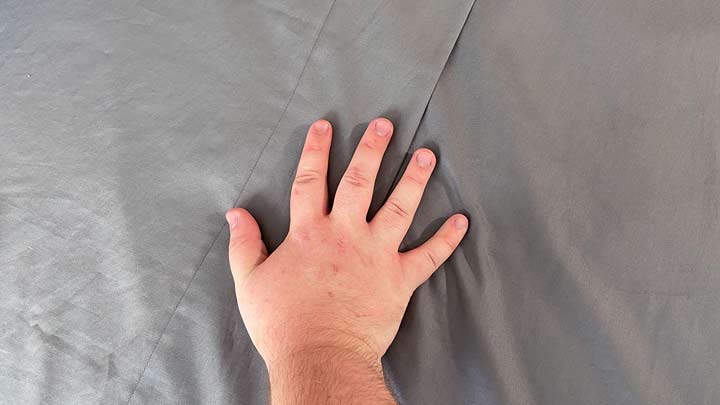 Pizuna Sheets Materials
Pizuna uses high-quality 100% long-staple cotton in its sheets. The company makes a variety of thread count sheets as well, ranging from 400 to 1,000. Thread count isn't necessarily an indicator of quality, but directly impacts how breathable a set of sheets are. If you tend to sleep hot, opt for the 400 set. But if you love a more luxurious, soft feel, get the higher 800 or 1,000 thread count sheets.
RELATED: Best Thread Count for Sheets
Some companies also use multi-ply threads–meaning the threads have two or three fibers in a single thread–but Pizuna uses single ply threads. Companies that use multi-ply can artificially inflate thread count, while single-ply is a more accurate number for thread count. It also aids in the durability of these sheets.
The cotton has been OEKO-Tex certified, making these sheets eco-friendly, and free from harmful chemicals in the production process.
Pizuna Sheets Size Options and Price
Take a look at our handy price chart to get up-to-date information on the Pizuna sheets. (Note: this is the price before any special deal or discount, as well as the prices for all the standard sets, as Pizuna offers different types of bundles)
| | |
| --- | --- |
| Size | Price |
| Twin | $38.39 |
| Twin XL | $38.39 |
| Full | $109.99 |
| Queen | $101.99 |
| King | $139.99 |
| California King | $139.99 |
| Split King | $131.99 |
Pizuna Linens 400 Thread Count Cotton Sheets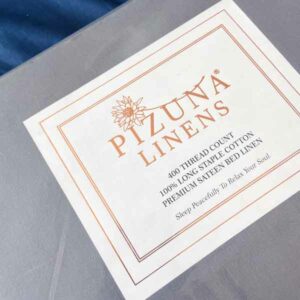 Luxurious feeling sheets shouldn't have to break the bank! Pizuna offers affordable, high-quality cotton sateen sheets, with a rainbow of colors to choose from.
Mattress Clarity Score
4.90 / 5
Read Full Review
What to Consider Before Buying
Here's what you need to know before you make a purchase with Pizuna.
Sleeping Hot or Cold
If you're a hot sleeper, like myself, then the Pizuna cotton sheets should be a good option for you. Cotton is a good material for bed sheets thanks to its natural breathability. And if you opt for lower thread count cotton sheets, you won't have to worry about overheating.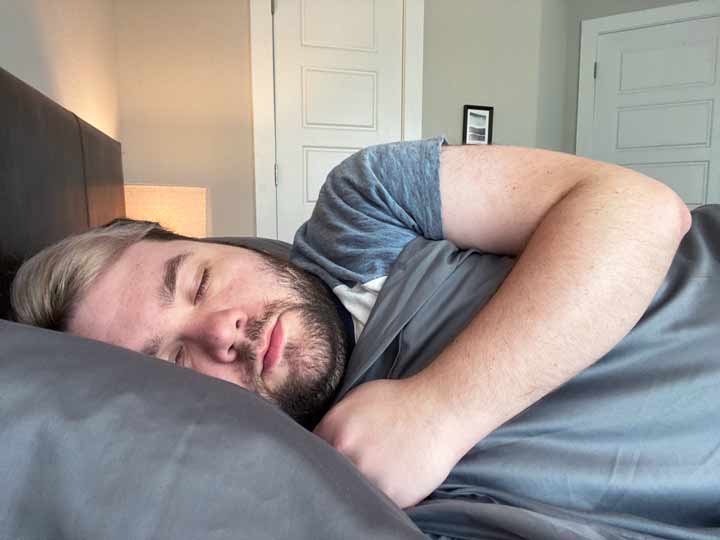 If you're someone who gets cold quickly, opt for the higher thread count options of these sheets. However, when I slept with just the top sheet of the 400 count option, I ended up reaching for a thin blanket to help me from feeling too cold at night. I prefer the option of multiple, but thin layers of sheets for this reason!
If you live in a cooler climate, I would recommend, again, the high thread count option or looking at flannels to keep you warm at night.
RELATED: Best Flannel Sheets
Care Instructions
The Pizuna sheets can be machine-washed. Here's what Pizuna recommends:
Wash them with the temperature setting of your choice, on a gentle cycle. From there, you can tumble dry them in the dryer. Pizuna recommends removing the cotton sheets while slightly damp to ensure that the sheets won't shrink.
Avoid using bleach if you get a set of sheets with color, though Pizuna does mention you can use bleach if you have a white set.
Allergies
While not listed as a hypoallergenic set of sheets, cotton isn't known to trap allergens in your sleep environment. These sheets shouldn't trigger allergies, and are safe for sensitive skin.
Company Policies
Here's what you can expect when you make a purchase from Pizuna Linens.
Set Includes
For this review, I received a queen-size, 400 thread count set. This included:
A fitted sheet
A flat sheet
Two pillow cases
Pizuna sells this set in all bed sizes, from twin to California king. The twin and twin XL sizes come with one pillow case, while full up to California king have two. However, you do have the option to buy a six piece queen or king set, which includes four pillowcases.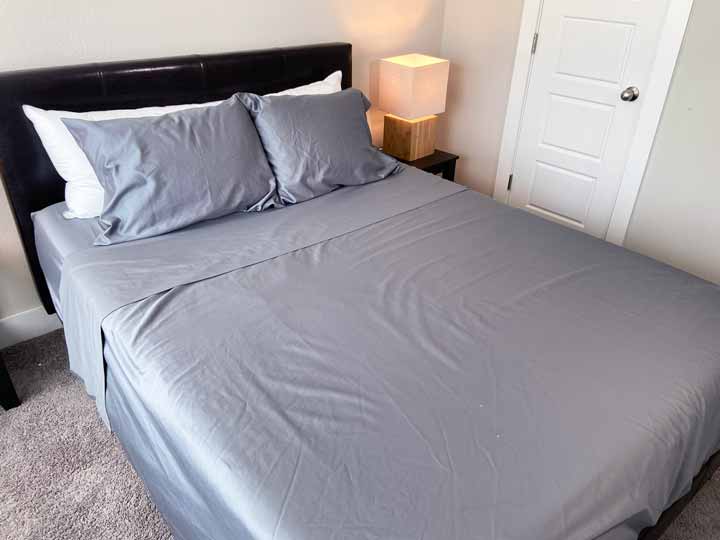 Additionally, Pizuna does sell two piece pillowcase sets if you need more than one for the twin and twin XL sets.
The fitted sheet also has side labels to help you dress the bed easier. And the fitted sheet can fit mattresses up to 15" tall. And, as mentioned above, the classic sheet set does have four different thread count options available to meet a wide variety of preferences.
Return Policy
If you're not sure the Pizuna sheets are for you, you have 30 days to make exchanges or returns from the day they were delivered.
Pizuna does offer free shipping for orders and returns as well.
How Do the Pizuna Linens Sheets Compare to Other Sheets?
If you're still uncertain about the Pizuna sheets, sometimes it helps to do some comparison shopping. Let's look at two popular sets of sheets and how they stack up against the Pizuna sheets.
Pizuna vs Brooklinen
There are two main weave styles used for cotton sheets: percale and sateen. These weave styles produce different feels, with percale sheets feeling very crisp, while sateen sheets tend to feel much softer and smoother, similar to satin.
One popular set of sheets that use the percale weave are the Classic Core sheets from Booklinen. These sheets have a very crisp cotton feel to them thanks to the percale weave. These sheets tend to have a lower thread count, and Brooklinen only sells this set in one thread count option, coming in at 270. This makes them a better option for hot sleepers, as they won't trap heat as much as higher thread counts.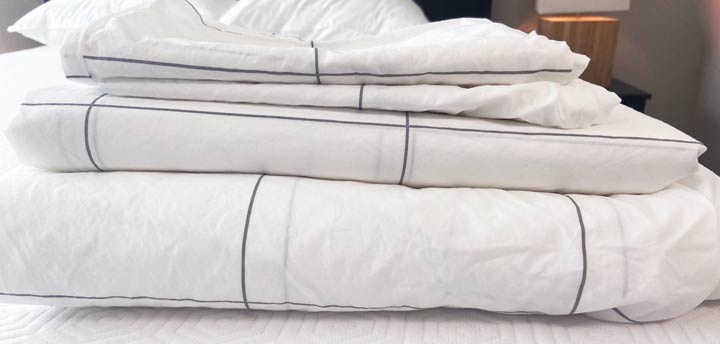 If you prefer higher thread count sheets, with a more satin-like feel, the Pizuna sheets will be the better option. Additionally, if you're shopping on a budget, the Pizuna sheets are considerably less than the Brooklinen sheets.
Who Should Get the Pizuna Sheets?
Shoppers on a budget
Fans of sateen sheets
Who Should Get the Brooklinen Classic Core Set?
Fans of crisp, cotton sheets
Hot sleepers
Read our full Brooklinen Classic Core sheets review.
Pizuna vs Serta
Another material used for sheets is Tencel, also called Tencel lyocell or lyocell. This is derived from eucalyptus and is praised for its cooling properties. So it makes sense that the Serta Arctic Cooling sheets are named as such!
The Serta sheets are a great option for hot sleepers — they even feel cool to the touch! Tencel is moisture-wicking, meaning you won't feel hot and sweaty while using these icy cool sheets. These sheets have very deep pockets, and can fit mattresses up to 18" tall.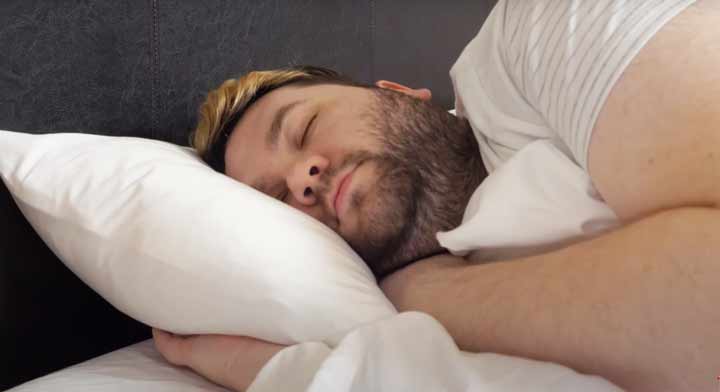 Serta doesn't use any dyes in these sheets, so they only come in white. If you're looking for variety, Pizuna's sheets have a rainbow of color options for you to choose from. Finally, looking at price points, again Pizuna comes in at the lower end, making it a more budget-friendly option.
Who Should Get the Pizuna Sheets?
Anyone wanting a wide variety of colors to choose from
Fans of cotton sheets.
Who Should Get the Serta Arctic Sheets?
Hot sleepers
Anyone who prefers white sheets
Read our full Serta Arctic Cooling sheets review.
Pizuna Linens Sheets Review Rating
Take a look at our Mattress Clarity score for the Pizuna Linens sheets!
Pizuna Linens Sheets Review
FAQs
Let's answer some of the most frequently asked questions about the Pizuna Linens sheets.
Where are the Pizuna Linen Sheets made?
Pizuna produces its sheets in India. Pizuna also believes in working directly with suppliers so the company can remove the middle man, which is what helps make its sheets affordable.

They use something called the fine yarn technique, which means the yarn is spun into super-fine, very long fibers and helps make the sheets very durable.
Are Pizuna Sheets good quality?
In my experience with the Pizuna sheets, they are very good quality sheets! Personally, I prefer bamboo viscose sheets, but because these sheets were made with the sateen weave, they have a silky feel which I prefer over crisp sheets. They really did feel like luxury sheets!
How long will the Pizuna Sheets last?
While sateen sheets are prone to pilling, the Pizuna sheets are made with something called "single-dent" sateen weave which weaves the threads tighter than standard sateen sheets. Cotton sheets have a lifespan of about 2 years, so these sheets should last that long–if not more–with good care!
Tony Klespis
Tony is a staff writer at Mattress Clarity where he analyzes sleep products and appears in review videos. He earned a B.A in English from Sam Houston State University and a M.A in Mass Communication from Texas State University. When he isn't writing about sleep products, Tony loves to unwind with a good book or can be found playing Pokemon Go outside with his friends, or cuddling with his cat, Penguin. He's always down to try a new, local restaurant and try new foods.