Frette's linens are recognized worldwide for being elegant, luxurious, and produced with high-quality fibers. Many hotels feature Frette's crisp cotton sheets and are the inspiration for the Italian brand's Hotel Collection.
The Hotel Classic sheet set comes in a clean-looking white color and features a classic double embroidery in more neutral colors. The tight percale weave gives them that crisp and cool feel that lasts after multiple nights of sleep. What are some big factors to consider? Care and price for sure — check out the full review below.
Key Features
Comes in Twin, Queen, King, and California King
King dimensions:

Top sheet: 106" x 126"
Bottom fitted sheet: 79" x 80", depth 15″
Two King pillowcases: 20" x 40″

Made in Italy
Machine washable, air-dry/low-dry only
May need to be ironed
Available colors are White, White/Grey, and White/Khaki (I reviewed White/Navy, which is no longer available)
Made with pure, extra-long-staple cotton in a Percale weave for that crisp, hotel-sheet feel (200 to 240 thread count)
Double embroidered borders
Matching bath collection is available
Price: $450 – $625
Who Makes It?
Frette 1860 is a luxury linen and home furnishings company that has been around since, well, 1860. Frette's bed linens are in some of the world's most prestigious hotels and, as the brand puts it, in the most "discerning private homes, yachts, and aircraft."
The Hotel Series is all about recreating the feeling of a luxury overnight in a hotel but in one's own home. The Percale cotton sheets give the whole bed that cool and crisp feeling that the Frette calls "simple and timeless." The sheets are part of the brand's Classic Collection and also come with a matching bath collection.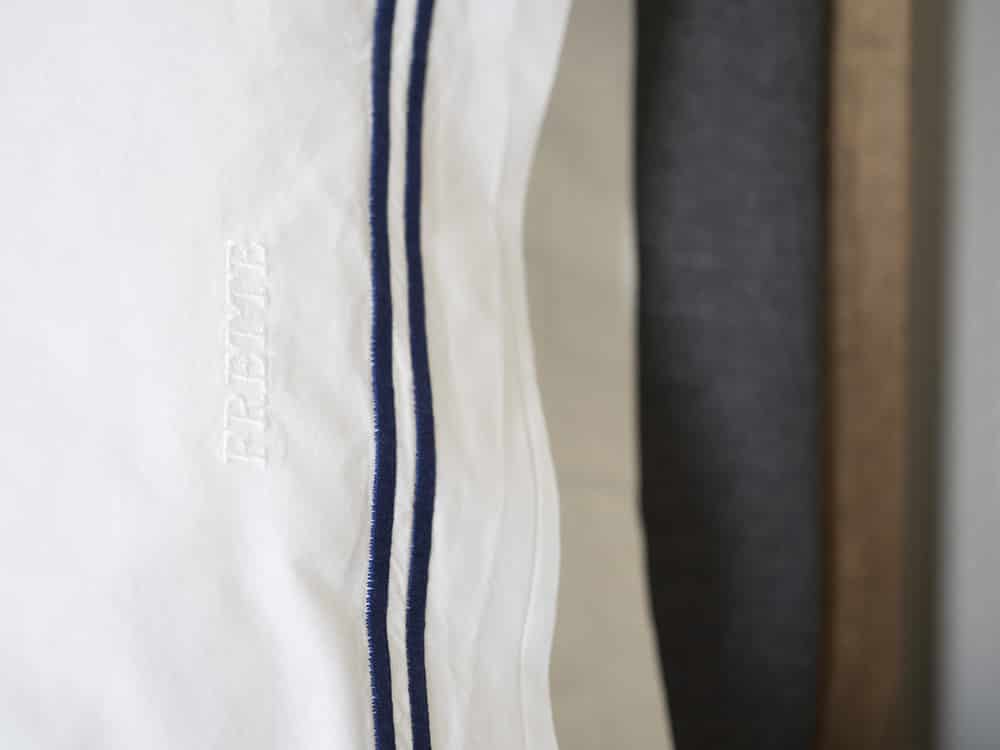 What Is Extra-Long-Staple Cotton?
The word "staple" may call to mind images of attaching papers together with an office stapler, that's not exactly what we're talking about when it comes to sheets.
In this case, "staple" refers to the specific length of fibers in a set of sheets. Extra-long-staple cotton utilizes longer fibers (or "staples") from the cotton plant and these longer fibers are believed to translate to a more luxurious, high-end feel compared to shorter staples.
In addition to being made with extra-long-staple cotton, these sheets also feature a Percale weave. This means that the fibers are woven tightly together to create an extra smooth, crisp feel.
RELATED: Percale vs. Sateen Sheets
Care
In order to keep these sheets performing at a top-level, please ensure the care instructions provided by Frette are followed closely. For the Hotel Classic sheet set, the instructions indicate that they be can machine washed in cold water with mild, liquid, biodegradable detergent and without added bleach or whiteners. Dry on a low setting and remove the sheets before they're completely dry to fold and iron them.
The sheets will definitely wrinkle in the dryer; I would recommend observing them closely and removing them before they're completely dry so one can iron them sufficiently.
There is an incredible amount of detailed information about caring for all of the Frette linens and other products on the company's website. I would recommend reading it through, and following their guidelines based on the washing and drying system at one's own house; check out their Care Guide here.
Pros
Crisp, soft percale cotton that mimics a 5-star hotel at home
Durable thanks to the extra-long-staple cotton fibers used to make the sheets
Variety of sizes and colors
Sure to please even the pickiest sleeper
Fits mattresses up to 15"; will work with thicker luxury mattresses

Cons
Higher maintenance in terms of care — low- or no-heat drying
Ironing is required if individuals prefer to avoid wrinkles
Price is out of some (many) budgets
My Experience
I'm very impressed with how much care Frette takes in the actual production of their linens. They're highly transparent in sharing that they only manufacture sheets cotton with long and smooth fibers. Frette says the result is a more uniform and smoother overall feel to their finished product. To the consumer, it also means they're durable and easy to care for without losing their softness.
The Hotel Classic Bedding Collection, which includes the Classic sheets I reviewed, is made with cotton in a Percale weave, offering a lightweight feel and a crisp, matte look. Frette suggests using these thinner sheets during warmer months or in hotter climates.
From my experience, everything they say about their quality really holds up. I washed the sheets as soon as I got them. I did a gentle delicate cycle on low (using a mild and natural detergent) and then used the air-dry only function on my dryer.
I had to keep my eye on the sheets and tried to grab them when they were slightly damp so they were a little easier to iron. I would highly recommend ironing this sheet set; it will look great on a bed and really helps solidify that "elevated luxury hotel" experience. I will admit, though, it took me a long time to iron a whole King sheet set.
I slept on the sheets for several weeks and washed them one more time during my review. They did wrinkle a little more with use, but each night I could still feel that crisp and cool feeling from the sheets. They really maintained their overall feel and stayed soft and breathable.
RELATED: Best Cooling Sheets
I think the double embroidery on the edges helps give the sheets that "classic" look that is in their description. The navy and white color combination went well with my bedding, but they come in other colors as well.
While these sheets would definitely be a splurge in my book, I think they really lived up to expectations and are some of my absolute favorite cotton sheets. I know I'll continue to use them as often as possible.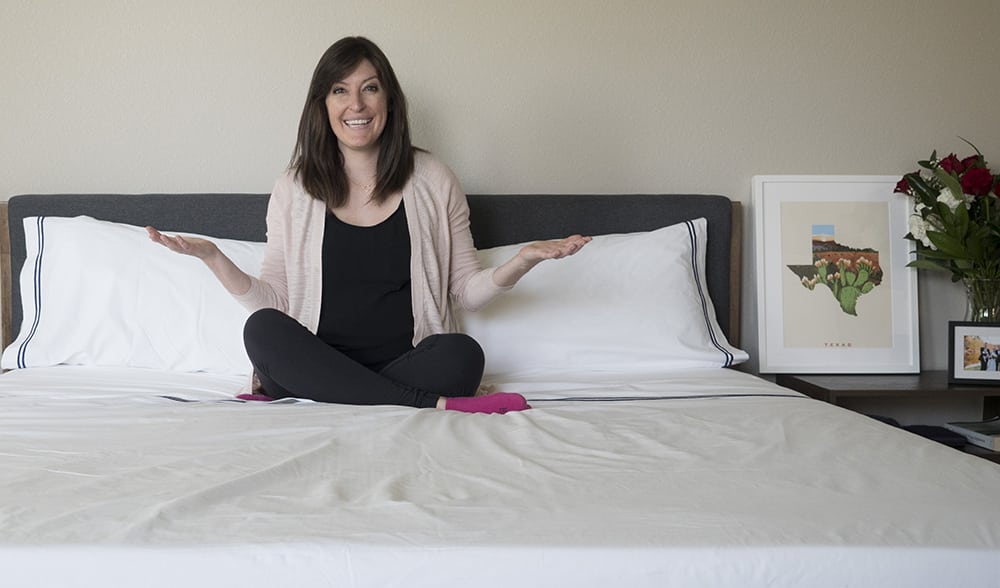 Overall
The set consists of two pillowcases, a top sheet, and a bottom sheet that can fit mattresses up to 15" deep. Frette's Hotel Classic Collection sheets reside at a elevated price point: $575 for a Queen size. and $625 for a King-sized sheet set.
I agree that this is a serious amount of money to pay for bed sheets. After spending many nights on these sheets, I think the price does reflect the value and quality of the craftsmanship and the fabric. The sheets remained cool and crisp, even after more than a week of consistent use.
I believe in their durability and quality and saw no signs of longevity issues in the weeks that I slept on the sheets. Those who are looking for gorgeous Percale cotton sheets and have some room in the budget, I'd highly recommend giving Frette's Hotel Classic sheet set a try.
Take a look at our other sheet reviews HERE. 
Katie Golde
Katie manages the day to day operations of the Mattress Clarity news site and reviews sleep products in addition to writing and editing sleep news. She hails from Austin, where she lives with her growing family. She is a Certified Sleep Science Coach and has a master's degree in Journalism from Northwestern University and has a background in health and science content. Her work can be found in print and online publications like Discover Magazine, USA Today and The Huffington Post.