Want to weigh in on the top sheet debate but not sure what the difference between a flat sheet and a fitted sheet is? We've got you covered! Read on below to learn everything you need to know about the difference between flat and fitted bed sheets.
What is a Flat Sheet?
A flat sheet, also called a top sheet, does not include any elastic around the edges. They are used as an extra layer between your body and your duvet cover or comforter. When you make the bed, you'll place it on top of the fitted sheet. To avoid kicking your flat bed sheet to the foot of the bed or getting tangled at night, I'd recommend using hospital corners to keep it in place. Check out our how to make hospital corners guide to learn how.
You can buy flat sheets individually, but they're most often sold as part of a complete bedding set (which will also include a bottom sheet and pillowcases or shams). Flat sheets are a more popular choice among older sleepers, while many younger sleepers are foregoing them altogether. Many European sleepers also eschew the top sheet. Whether or not to use a top sheet has become quite a debate, so to help you weigh in I've listed a few benefits of using a top sheet below.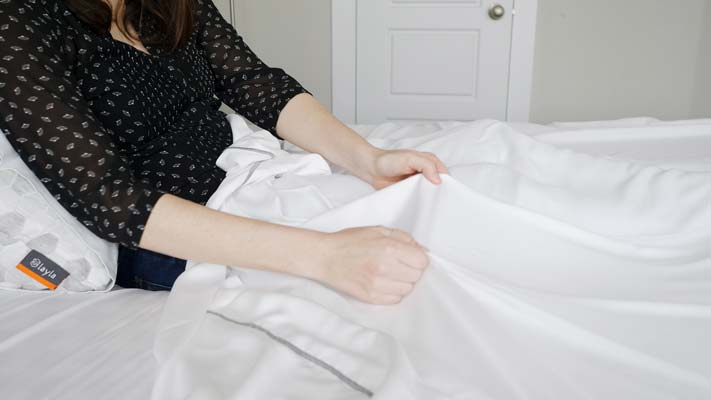 Benefits of Flat Sheets
Using a top sheet in the summer months can make your bed feel more breathable, especially if you use a more cooling sheet material than comforter material. Plus, sleepers in warmer climates can ditch the blanket and use just the top sheet on hot nights. Check out the

best cooling sheets

of the year for some recommendations.
Top sheets reduce how frequently you need to wash your comforter or duvet. Since they rest between your body and your top blanket, it keeps your heavier blanket hygienic longer.
A high-quality top sheet can protect sensitive skin. Hypoallergenic sheets are less expensive than organic comforters or duvets, and can protect easily irritated skin from synthetic materials in other bedding.
What is a Fitted Sheet?
Rather than a rectangular piece of cloth like a flat sheet, a fitted sheet is a sheet with an elastic band running around the edge. These elastic corners fit snugly over the corners of your mattress. You can place your fitted sheet right on top of your mattress or over a mattress protector.
If you have an especially thick mattress or use a mattress topper, you'll want to purchase deep fitted sheets. The deep pocket will ensure a snug fit over your entire mattress, and prevent your sheets from coming off at the corners, which can be very irritating.
You can buy a fitted sheet as part of bed sheet sets or alone. It is more common to find single fitted sheets than single flat sheets for sale because of shoppers' growing personal preference for sleeping without a top sheet. Take a look at some benefits of fitted sheets below.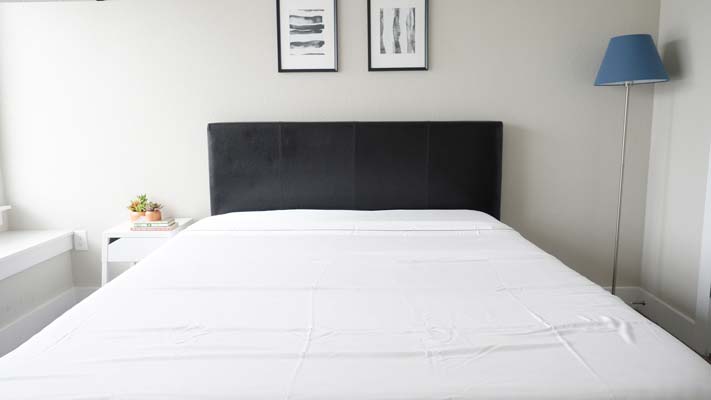 Benefits of Fitted Sheets
Fitted sheets keep your body off your mattress or mattress protector. They will make your bed feel more comfortable and breathable.
Using a fitted sheet is more hygienic than sleeping on a bare mattress because you can wash them.
Fitted sheets wrinkle less easily than flat sheets because they are stretched tightly against your sleeping surface.
Flat & Fitted Sheet Dimensions
Curious about how big your new bed linens will be? Take a look below to see the dimensions of different sized sheets.
| | | |
| --- | --- | --- |
| Mattress Size | Flat Sheet Dimensions | Fitted Sheet Dimensions |
| Twin | 66 x 96 inches | 39 x 75 inches |
| Twin XL | 66 x 96 inches | 39 x 80 inches |
| Full | 96 x 102 inches | 54 x 75 inches |
| Queen | 96  x 102 inches | 60 x 80 inches |
| King | 102 x 112 inches | 76 x 80 inches |
| California King | 102 x 112 inches | 72 x 84 inches |
Can You Use a Flat Sheet as a Fitted Sheet?
Have an old flat sheet lying around and wondering if you can repurpose it as a fitted sheet? The answer is yes! You can tuck and fold the corners of your flat sheet down around your mattress to use it as your bottom sheet.
Keep in mind that the elastic in a fitted sheet makes it easier to make your bed. It also makes it less likely that your sheet will come off in the middle of the night.
How to Choose Your Bed Sheets
There are a ton of different types of sheets out there, so you'll want to consider a few things other than flat vs fitted when choosing a set for yourself. Take a look below to see what we recommend thinking about pre-purchase.
Fabric – There are many different sheet fabrics on the market. Cotton is the most popular and often a safe choice. As a general overview, sleepers looking for cooling sheets should opt for cotton, bamboo, Tencel, linen, or silk; sleepers who want cozy bedding should consider flannel or jersey; and sleepers on a budget should consider microfiber or polyester. Take a look at our

best material for bed sheets

article to learn more.

Weave – Weave describes how your bedding fabric is woven or knit together. Different weaves have different textures and can affect how wrinkle-resistant your sheets are. The most popular weaves are combed cotton,

percale

, and

sateen

. 

Thread Count – Thread count is the number of threads per square inch of fabric in your sheets. Sheets with a higher thread count can feel softer. Higher thread counts also come with higher price tags, but as a general rule of thumb, sheets in the 250-300 thread count tend to be affordable and comfortable. Keep in mind that certain fabrics naturally have a higher or lower thread count, so make sure to research your fabric before deciding what thread count you'll need.

Price – Price is a big factor in choosing a new set of sheets. The most affordable sheet sets tend to be made of polyester, jersey, flannel, and microfiber. Luxury sheets are often made from Egyptian cotton, Supima cotton, silk, and linen. Some middle-ground options include Upland cotton, bamboo, and Tencel.
Personal preference – You're the best judge of what you need to get a good night's sleep. Be sure to choose sheets that cater to your needs. Some important things to keep in mind are whether you sleep hot, how sensitive your skin is, if you want organic bedding, and if you want machine-washable bedding. Take a look at our

Best Sheets of 2023

roundup to see some options for every sleeper!

FAQs
How do you make a bed with flat sheets only?
To make a bed with flat sheets only, tightly tuck the corners of one flat sheet under your mattress. Use a second flat sheet as a top sheep.
Why does my fitted sheet keep coming off?
Your fitted sheet is likely too small for your bed. If your mattress is very thick or you're using a topper, look into deep pocket sheets, which are built to accommodate the extra height. You can also consider non-slip sheets (which have reinforced corners or include additional elastic to tuck under your mattress). Another option is a bed scrunchie, which hooks your fitted sheet into your mattress using a suspender-like system.
What is a deep pocket fitted sheet?
A deep pocket fitted sheet has additional depth to accommodate thick mattresses. Typically, they will be 13-17 inches deep. Extra deep pocket sheets can be up to 25 inches deep.
Do you sleep under the flat sheet?
Yes, most people use flat sheets between their quilts and their bottom sheets. But, you can also use a flat sheet as a bottom sheet, or forgo a flat sheet and use just a fitted sheet and comforter.