Editor's Note: The Eli & Elm Wharf Collection Bamboo sheets are no longer available. For more options, check out our list of the best sheets.
Eli & Elm's Wharf Collection bamboo sheets are hypoallergenic, have thermo-regulating properties, and have a luxurious, silky-soft feel thanks to their sateen weave. They come in three lovely, neutral shades and patterns, including a great-looking grey stripe.
They may look all business, but these sheets are made for relaxing. This review will go over the construction of the sheets and attempt to highlight what consumers should know if they are considering making a purchase.
Eli & Elm Wharf Collection Bamboo Sheets Video Review
Key Features
Set comes with a flat sheet, fitted sheet, and two pillowcases
300 thread count, resort-style Bamboo sheet set
Sateen weave
Made from 100 percent viscose from bamboo
Three color options: striped, "window payne," and white
Hypoallergenic
Temperature-regulating properties
Anti-microbial
45-day money back guarantee
$139 for a Queen set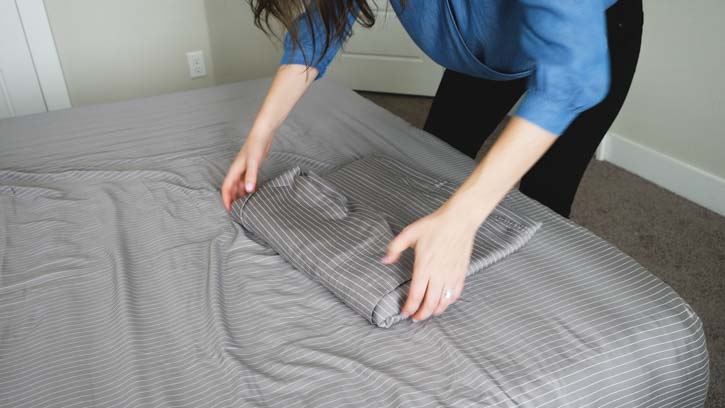 Who Makes Them?
These bamboo sheets are manufactured by bedding brand Eli & Elm. The company says its bedding consists of "high thread count, long-staple fibers that ensure maximum comfort, durability, and luxury."
In addition to its bamboo sheets, Eli & Elm also makes cotton sheets with Phase Change Material (PCM) as well as two pillows, including one specifically designed for side sleepers.
Pros
Silky soft; very luxurious feeling
Three color varieties
Good temperature regulation
Features of bamboo: hypoallergenic and anti-microbial
Temperature-regulating
45-day return policy
Cons
On the more expensive side
Prone to wrinkles
Might be too thick/heavy for hot sleepers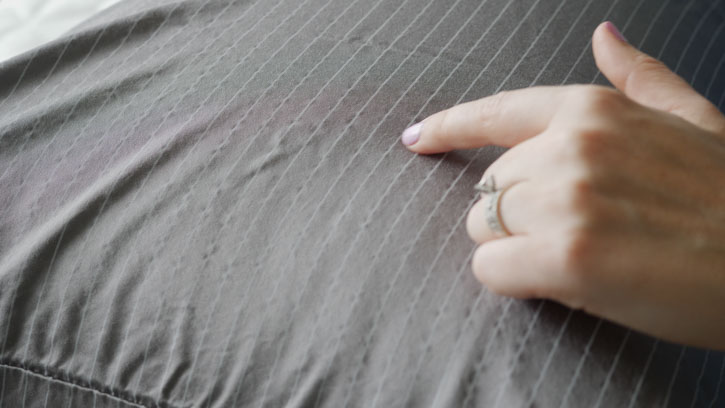 My Experience
Eli & Elm's Wharf Collection striped bamboo sheets definitely have a luxurious feel to them thanks to their long-staple fibers and lustrous sateen weave.
I reviewed the color that is a charcoal grey with light grey stripes, which adds a nice pattern next to solid-colored comforters, duvets, or other bedding.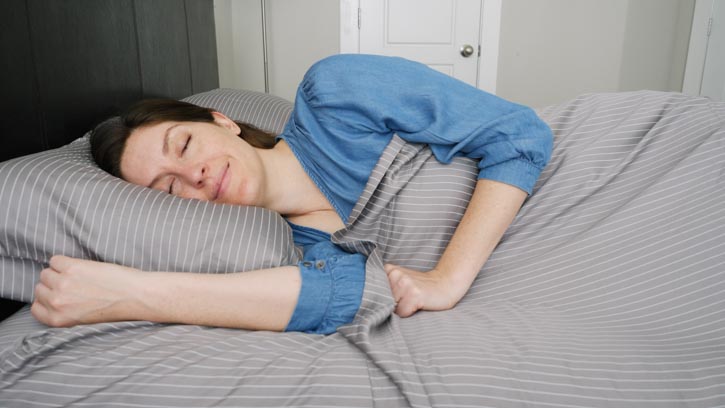 While the sheets aren't necessarily "light" in their overall feel, they did have noticeable breathability and there were no issues with temperature regulation. This means they could work for individuals who want something heavier but are worried about potentially sleeping hot.
Bamboo sheets do tend to wrinkle more than other fabrics I've reviewed. If someone hate wrinkles, they'll need to consider using an iron on a low heat setting to remove the wrinkles from these sheets.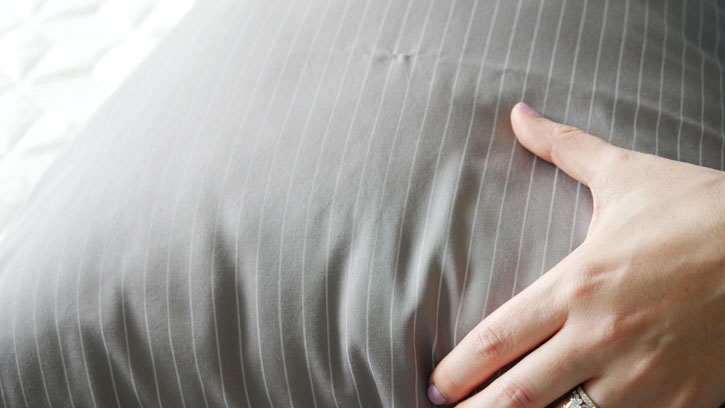 Besides wrinkling, the sheets are fairly simple to care for. Just follow the care instructions for the machine wash and dry, and that combined with the long-staple fibers should enhance durability — leaving consumers with these sheets in top condition for a good period of time.
I thought the sheets draped really well over my 10″ mattress. They should fit mattresses up to 15″ deep. They have less of a crisp feel and more of a buttery-soft feel that definitely gives them a luxurious edge. They come in grey stripe, white, and something called "Window Payne," which is mostly white with a black line pattern.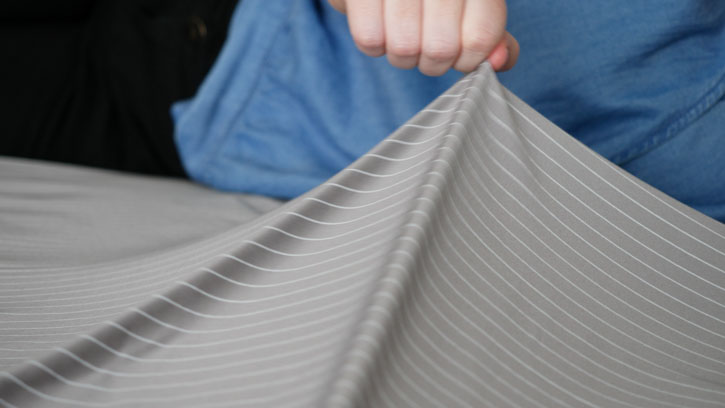 If someone is in the market for some new bamboo sheets and have $140 to spend on a Queen set, this is a more elite-looking offering that people could consider. The sheets come with a 45-day return policy.
Overall
Overall, I thought the material felt very high quality and also super soft. The sheets were easy to get on and off the bed, easy to machine wash and dry, and (while they did wrinkle even when I put them on the bed right after taking them out of the dryer) they were easy to iron and the wrinkles came right out.
If someone has over $100 to spend on a set of sheets and they want something to impress their guests (or just to enjoy themselves), I'd recommend giving them a try!