Sheets are one of the keys to a great night's sleep.. Whether you want sheets that are buttery soft or made with crisp cotton, choosing the right set for you can be stressful. Not only do you have the material to factor in, you'll also want to be budget-conscious. Just like mattresses, sheets can carry a big price tag.
You don't have to sacrifice the sheets of your dreams because of the price. High comfort and high cost aren't mutually exclusive. Below you'll find a list of our top picks for the best affordable sheets — each set is budget-friendly and high-quality  With the help of our guide, you're one step closer to your perfect sleep haven.
Our Top Picks for Best Affordable Sheets
Best Affordable Cotton Sheets – Pizuna Sheets Review
Pizuna Linens 400 Thread Count Cotton Sheets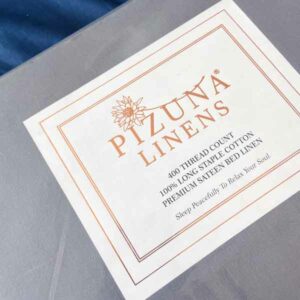 Luxurious feeling sheets shouldn't have to break the bank! Pizuna offers affordable, high-quality cotton sateen sheets, with a rainbow of colors to choose from.
Mattress Clarity Score
4.90 / 5
Read Full Review
Who's It For?
The Pizuna sheets are great for sleepers who are looking for sateen bedding with 100% cotton. If you're specifically looking for thread count, Pizuna offers a range of thread counts from 400-1,000. Those who want a soft, smooth feel to cozy up in while they rest will love these sheets. Pizuna has various sizing options so you can get a set for any and every bed in your home, from twin  to  split-king.
What Makes the Pizuna Sheets Stand Out?
The Pizuna sheets earned a notable 4.9/5 star rating from customers!

Pizuna offers a wide range of color options so you can easily incorporate these sheets into your bedroom theme.

There is a 30-day trial period and free shipping on returns, so you don't have to fully commit before you know if these are the sheets for you.
Check out our full review of the Pizuna sheets!
Best Affordable Bamboo Sheets – Nolah Bamboo Sheet Set
Nolah Bamboo Sheets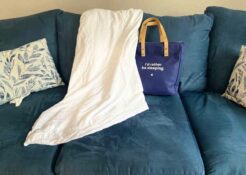 Nolah's bamboo sheets are super soft to the touch. They will keep you cool at night, and they're hypoallergenic for allergy sufferers.
Mattress Clarity Score
4.80 / 5
Read Full Review
Who's It For?
The Nolah Bamboo sheets come in a variety of sizes, so they are sure to carry whatever size mattress you have. The bamboo viscose material is naturally moisture-wicking, so sleepers who have night sweats can stay dry while they rest. Along with moisture-wicking properties, bamboo is hypoallergenic, making these ideal for those who have allergies and sensitive skin. If you're worried about ruining your bedding, there is nothing to stress about  with these Nolah sheets! You can easily throw them into your washer and dryer with similar colors, just refrain from using bleach.
What Makes the Nolah Bamboo Sheet Set Stand Out?
These sheets are breathable and moisture-wicking to keep you from overheating at night.

These bamboo sheets are naturally hypoallergenic.

Bamboo is a material that is known for its buttery soft texture.
Read our full review of the Nolah Bamboo sheet set!
Best Affordable Sheets on Amazon – Mellanni Brushed Microfiber Bed Sheets
Mellanni Microfiber Sheet Set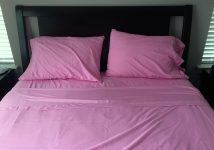 Sleep happy in the soft Mellanni Brushed Microfiber sheets, available in over 30 different colors and patterns!
Mattress Clarity Score
4.50 / 5
Read Full Review
Who's It For?
The Mellanni Brushed Microfiber bed sheets come in an array of more than 30 colors and patterns! That makes this bedding easy to add to any bedroom design. These sheets will make anyone who loves soft, polyester sheets rest happy. Deep pockets are a key feature to this set, so you don't have to worry about the sheets popping up off the mattress while you sleeping. These hypoallergenic sheets are great for those who have allergies, especially from dust mites.
What Makes the Mellanni Brushed Microfiber Bed Sheets Stand Out?
These sheets are hypoallergenic and resistant to dust mites!

If you tend to easily spill or shrink your laundry — these sheets are great for you! They are stain resistant with simple care instructions.

The Mellanni Promise is a guarantee from this company that says customers can return their sheets back at any time for any reason if they aren't satisfied.
Read our full review of the Mellani Brushed Microfiber Bed Sheets!
Best Affordable Luxury Sheets – LUXOME Luxury Sheet Set
Luxome Luxury Sheet Set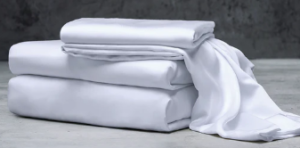 The LUXOME Luxury Sheet Set offers 400 thread count bamboo for sleepers who want soft, cool bedding.
Mattress Clarity Score
4.90 / 5
Who's It For?
LUXOME offers a luxury set of bamboo sheets with a 400 thread count! This thread count makes them soft to the touch. These sheets are made with viscose from bamboo, in a sateen weave, which is perfect for those who are looking for plush bedding. Hot sleepers can rest cool with these thermal-regulating sheets.
Learn more about sateen vs. percale sheets!
What Makes the LUXOME Luxury Sheet Set Stand Out?
These sheets are not only made from 100% viscose bamboo, but they are 400 thread count which is the highest count of bamboo available.

LUXOME offers 10 color and 7 size options so you can find the matching set to your current bedding.

The design of these sheets includes 17-inch deep pockets so you don't have to worry about adjusting anything while you sleep.
Check out our full LUXOME Luxury Sheets review!
Best Affordable Soft Sheets – Brooklyn Bedding Brushed Microfiber Sheets
Brooklyn Bedding Brushed Microfiber Sheets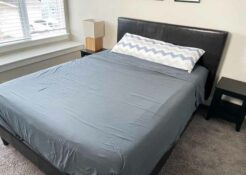 The Brooklyn Bedding Brushed Microfiber Sheets are a great value pick that are sure to make your bed look nice! These sheets have been brushed, which gives them a very soft, velvety feel.
Mattress Clarity Score
4.70 / 5
Read Full Review
Who's It For?
Brooklyn Bedding brings a soft set of brushed microfiber sheets made from polyester! These sheets come in various sizes and colors, perfect for any bedroom. If you sleep hot, this set of sheets can combat overheating easily! When it's time to do laundry, you can't ruin these machine-washable sheets — no specific instructions necessary!
What Makes the Brooklyn Bedding Brushed Microfiber Sheets Stand Out?
The microfibers in these sheets have been brushed twice to create the ideal texture for those looking for velvety soft bedding.

The polyester material has been designed to combat pilling and wrinkles.

Brooklyn Bedding offers a 30-day trial period and 1-year warranty for sheets, so you're covered whether you want to return the product or get a replacement set for any defects.
Here's the full Brooklyn Bedding Brushed Microfiber Sheets review!
The Best Affordable Sheets
Here's a quick rundown of the best affordable sheets!
What to Consider When Looking for Affordable Sheets
Sheets come in various different materials, sizes, colors, prices and more — so where do you begin on your checklist? Check out our top tips for shopping for sheets that won't break the bank!
Types of Affordable Sheets
There are many things that go into play when it comes down to the pricing of sheets. One of the key aspects is the material that's being used. Keep reading to learn about the top materials for affordable sheets!
Microfiber
Microfiber is made from polyester, which is a readily available material compared to others. The microfiber can be brushed, making it super soft. The texture is often compared to  silk. This material is great for those who want simple-to-care-for sheets. Microfiber has wrinkle-resistant qualities for those looking for a crisp looking bed!
Cotton
Cotton is one of the most widely used and known materials for bed sheets. This material is breathable which makes it an optimal choice for hot sleepers. If you're wanting the classic crisp feel of sheets, cotton is a great affordable option! It's also made with natural materials which is ideal for sleepers with allergies or sensitive skin.
Bamboo
Bamboo is made from bamboo fibers along with other natural materials. This is a solid choice for those looking to have sustainable bedding. This material is thin, soft, and breathable for sleepers who run hot.
What Makes Sheets More Affordable
The reason some sheets are more expensive than others, is because of factors like material accessibility. The most common types of affordable sheets are made of cotton and microfiber. These materials are easier to acquire than say, bamboo. Another element that causes prices to be lower is the thread count. Higher thread count is more luxurious, so affordable sheets will have a lower thread count.
How to Choose Affordable Sheets
Affordable doesn't necessarily mean less comfortable. When it comes to choosing affordable sheets, make a list of what you want in your new bedding. Although price is the highest priority, finding the best sheets for you is based on a few personal preferences. Start your list by jotting down which materials you like the feel of, if you tend to sleep hot or cold and what color or pattern you want to create your bedroom design. Always check the reviews of the sheets you're looking at before purchasing; real customers are one of the best resources when shopping. With your wish list, budget and our reviews, you're sure to be sleeping soundly!
FAQs
Still have some burning questions? Don't fret – check out our FAQs below!
How much should you spend on sheets?
Everyone's budget is different, so there isn't a set price for how much a person should spend on new bed sheets. If you need to save money on sleep accessories to purchase a new mattress, a budget-friendly set of sheets can still provide comfort. Decide on how much you're willing to spend on sheets before you start your shopping journey so you know exactly what to expect when browsing.
How can I make cheap bed sheets feel expensive?
When people think of expensive bedding, they usually think plush. Comfortable, soft sheets doesn't mean you need to break the bank, but how can you make them feel luxurious? Pay attention to the care instructions. Washing with the correct temperature of water and dryer heat can help maintain lavish comfort.
Are affordable bed sheets good quality?
Affordable sheets don't always mean low quality. Some materials can be more accessible, which makes them more budget-friendly, like microfiber. Price doesn't directly correlate to quality every time. The best way to find good quality sheets is to do thorough research. With the help of our reviews, customer reviews, and product descriptions, you can get great quality sheets at your budget!