If you're tired of pillows from the bargain bin, and want something that is long-lasting and keeps you cool, you should consider getting a bamboo pillow.
I've tested dozens of pillows, and many with bamboo covers. I've compiled my findings to put together a list of the best bamboo pillows. Spoiler: I use one of these pillows every night! Want to see which one? Keep reading to find out.
Our Top Picks for the Best Bamboo Pillows
How We Chose the Best Bamboo Pillows
Our team of Certified Sleep Science Coaches have reviewed over 100 sleep accessories, using proprietary analysis and hands-on testing to establish easy-to-understand scores. In addition to an overall score, we measure subscores for support, cooling, durability, trial period, and warranty, to name a few.
To choose the Best Bamboo Pillows, we focused on several pillows with bamboo covers. We also kept a close eye on the category of support and adjustability. All pillows scored at least an overall average score of 4.0/5.
Best Overall – Lagoon Otter
Our Expert's Take
The Lagoon Otter is one of the brand's softer pillows, thanks to the shredded memory foam filling. The softness is balanced out by some nice contouring, giving it an overall medium-firm feel. The outside of the Otter is made with bamboo which is naturally moisture-wicking and should keep you cool at night.
On the inside, Lagoon uses gel-infused memory foam, and since the foam is shredded, it allows the pillow to be moldable to accommodate different sleeping positions. You also have the option to adjust the height and firmness of this pillow by taking out or adding in additional memory foam.
Pros of the Lagoon Otter
Won't trap heat
Works for all sleeping positions
Comes with a 5-year warranty
Cons of the Lagoon Otter
Read what we have to say about some popular Lagoon pillows!
Best for Neck Pain – Coop Sleep Goods Eden
Our Expert's Take
Adjustable pillows are good for neck pain because you can find that sweet spot to keep your head and neck in a proper alignment while you sleep. The Coop Sleep Goods Eden pillow is a good bamboo pillow for people who want to help alleviate neck pain because of its adjustability.
If you're a back sleeper, try finding a good medium loft in this pillow, which will be around 4" tall. This will keep your chin from jutting into your chest. Side sleepers should keep the pillow stuffed full — a nice and tall loft will prevent your head from dipping down. Stomach sleepers should make the pillow flat to keep their heads from craning upwards.
Pros of the Eden pillow
Comes in single, double, or four pillow packs
Hypoallergenic
You can change the firmness and loft
Cons of the Eden pillow
Trial and error to find that sweet spot
Read our full Coop Sleep Goods Eden pillow review.
Best Luxury – Cozy Earth Silk Pillow
Our Expert's Take
Luxury takes the form of a pillow with the Cozy Earth Silk pillow. Even though this has silk in the name, the outer cover of this pillow is 100% bamboo. This gives it a luxuriously soft, almost silk-like feel already! But it's what's in this pillow that makes it true luxury.
Cozy Earth uses 100% Mulberry silk fibers for the inside of this pillow. This gives the pillow a soft, yet supportive feel. You can't adjust this pillow, but it should work well for most back sleepers. You won't sink through this pillow because of the supportive silk fibers.
Pros of the Cozy Earth Silk pillow
Made with luxury materials
Good for back sleeping
Materials are certified to be ethical and safe
Cons of the Cozy Earth Silk pillow
Luxury means it's an investment
Might not be supportive for everyone
Read our full Cozy Earth Silk pillow review.
Best Memory Foam – Luxome LAYR
Our Expert's Take
Memory foam comes in two forms for pillows: a single piece or shredded. One pillow that combines both, and adds in some soft down alternative, is the Luxome LAYR. This pillow is the epitome of an adjustable pillow. With three separate fill pieces, you can make this pillow your perfect match.
For the memory foam lovers, use the firm single foam piece with the shredded medium-firm piece. The firm foam provides support to keep you from bottoming out of the pillow, while the shredded foam provides plush comfort. And this all comes inside a soft, breathable bamboo cover.
Pros of the Luxome LAYR
Uses different types of foam
Can change height and firmness
Doesn't trap heat
Cons of the Luxome LAYR
Can be confusing to make "just right"
Read our full Luxome LAYR pillow review.
Best Affordable – Snuggle-Pedic
Our Expert's Take
Some bamboo pillows can cost a pretty penny, but for those on the hunt with a budget, the Snuggle-Pedic pillow is a great choice. You can find it on Amazon, which is a convenient place for most shoppers to look. It comes in standard, queen, and king-size options, and the standard is the most affordable choice.
Like other pillows on this list, it contains shredded memory foam. It's soft, slow-moving, and will provide some pressure relief along the neck and upper shoulders. The bamboo cover feels very soft and is both breathable and moisture-wicking. And because you can adjust the fill, you can make it work for your sleeping position.
Pros of the Snuggle-Pedic
The standard size is very affordable
You can purchase on Amazon
Good for all sleep positions
Cons of the Snuggle-Pedic
Shredded fill might make a mess
Might not be firm enough for everyone
Read our full Snuggle-Pedic pillow review.
What is a Bamboo Pillow?
Despite what the name might imply, bamboo pillows don't often feature a bamboo fiber fill. All the pillows on this list featured a bamboo outer cover, and many bamboo pillows will have the same.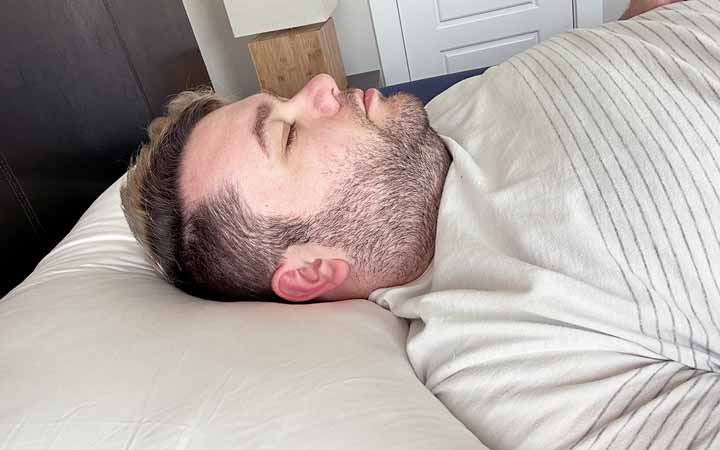 We've covered the best bamboo sheets before, but the bamboo used for pillowcases can feel a bit different than sheets. Some pillows on this list use 100% bamboo in its cover, like the Cozy Earth Silk pillow. This pillow's cover had that classic bamboo sheet feel, which is very soft, and almost silk-like.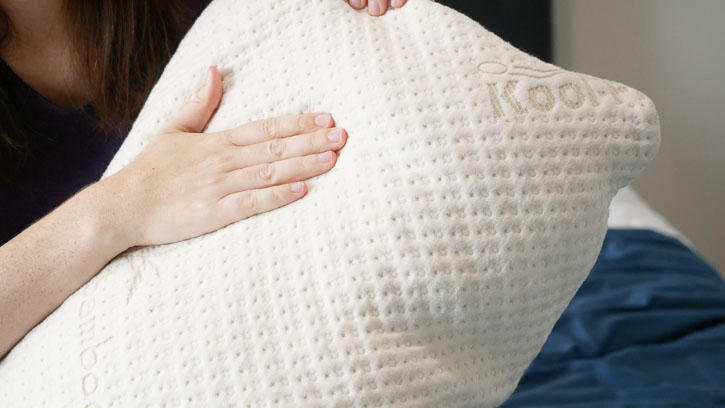 However, pillows like the Snuggle-Pedic have a more soft, almost quilted feel to them. These covers still perform the same, being breathable and moisture-wicking, but they have different feels. Some pillows, like the Lagoon Otter, also feature a bamboo blend in the cover, meaning that it isn't 100% bamboo.
How to Choose a Bamboo Pillow
If you've never used a bamboo pillow before, there are some considerations to keep in mind. Bamboo is a great choice for hot sleepers, because it's breathable and moisture-wicking. If you happen to sleep hot, bamboo pillows are already a good place to start.
However, all but one of the pillows on this list are adjustable in some shape or form. Adjustable pillows are great for their ability to work for just about anyone. But the downside is that it can take some trial and error to find that sweet spot. If this isn't something you like to do with your pillows, sticking with a non-adjustable pillow like the Cozy Earth Silk pillow is the way to go.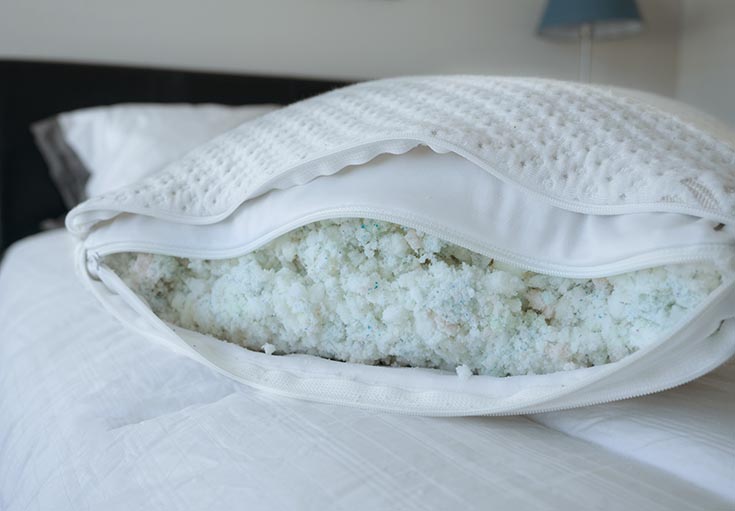 You should also consider your budget. There are some good, affordable options on the market, such as the Snuggle-Pedic. But more often than not, bamboo pillows are a bit more expensive than pillows that feature cotton or polyester outer covers.
Here's a quick pros and cons list to help you decide if bamboo pillows are for you:
| | |
| --- | --- |
| Pros | Cons |
| Good for hot sleepers | Many are adjustable, which can make a mess or take some trial and error to figure out |
| Covers are machine-washable | Some aren't 100% bamboo covers, and can be blended with polyester |
| Bamboo is naturally hypoallergenic | Might be more pricey than cotton or polyester cover pillows |
Who Should Use a Bamboo Pillow?
To sum everything up, a bamboo pillow is right for you if you are:
A hot sleeper: Bamboo is a great, cooling material for hot sleepers that keeps most from overheating.
Someone with sensitive allergies: Bamboo is naturally hypoallergenic, and bamboo covers can be machine-washed.
Looking for a durable pillow: In terms of durability, bamboo is very long lasting.
The Best Bamboo Pillows FAQs
How do you clean a bamboo pillow?

Bamboo pillows can be machine-washed. In most cases, bamboo pillows only have a bamboo cover. These are often removable and can be machine washed. But it's worth looking into the care instructions provided by the manufacturer for best results.

If you want more general information on how to clean your pillow, we've put together a full guide!
How long do bamboo pillows last?

Bamboo is a durable material that can last anywhere from three to five years. A bamboo pillow might be more of an investment when compared to other pillows, but they are often a long lasting choice.
Do bamboo pillows have a smell?

In my experience, the bamboo pillows that have a smell are those that have memory foam fills. This is because memory foam pillows are often compressed to make shipping easier. If you notice a faint chemical smell to your bamboo pillow, don't stress.

This usually dissipates after 24-48 hours. We call this "off-gassing" and for best results, we recommend letting pillows off-gas in a well ventilated area.
Do you put a pillow case on a bamboo pillow?

Yes! And you put it on the same way you put on any other pillow case! Most bamboo pillows have bamboo outer covers, but that won't interfere with you putting on a pillow case. It's as simple as putting on a case however you'd normally do so.