The SkyRest Travel Pillow is an inflatable travel pillow that, when inflated, as big as it is comfortable! In the right setting, it will make a great travel companion. What's the key to success with this pillow? Check out my video review below to get an inside look at how the SkyRest works and keep scrolling for my full written review.
SkyRest Inflatable Travel Pillow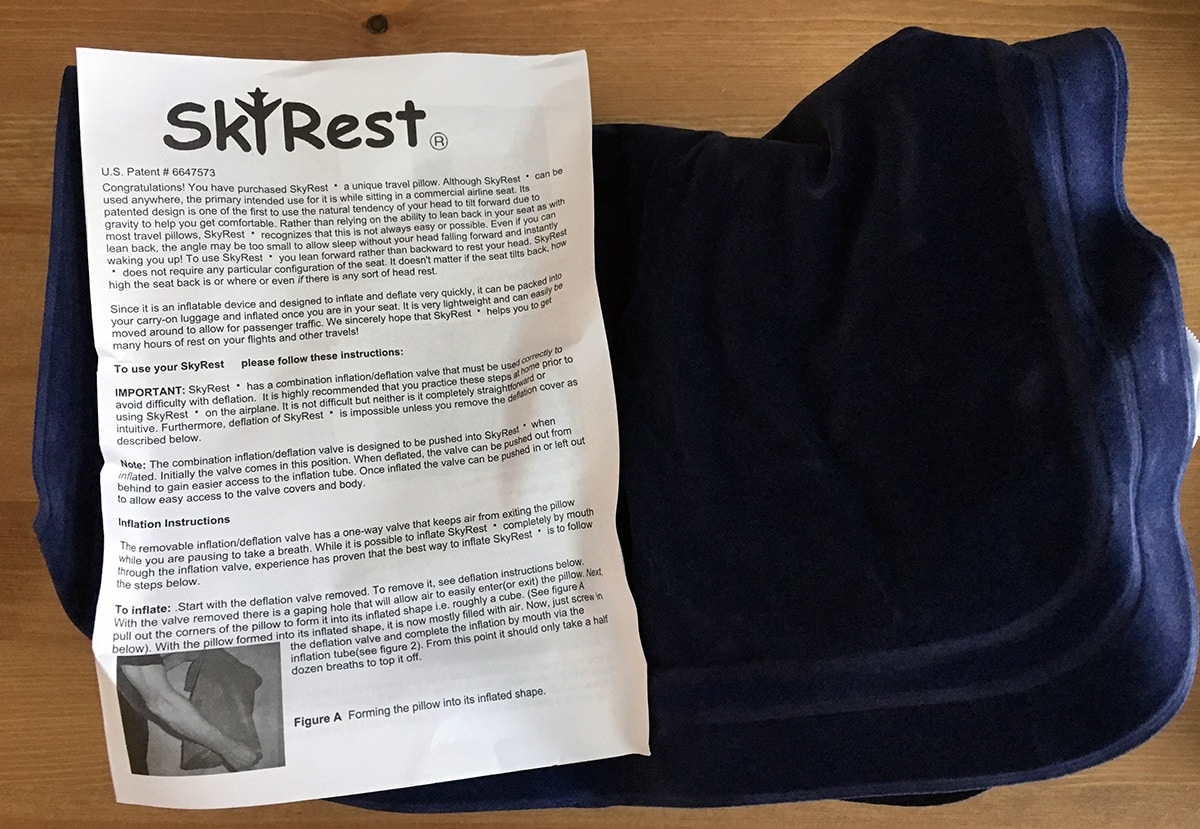 The SkyRest Travel Pillow is an inflatable travel pillow that, when inflated, is as big as it is comfortable! In the right setting, it will make a great travel companion.
Mattress Clarity Score
3.70 / 5
Read Full Review
Who Makes It
SkyRest is designed and manufactured by DAC Innovations Inc., based in San Jose, California. In the past, SkyRest was featured on local news channels and in the Sky Mall catalog located in the seatback pocket of many planes. DAC Innovations also makes a cover for their pillow as well as the leguP bolster pillow.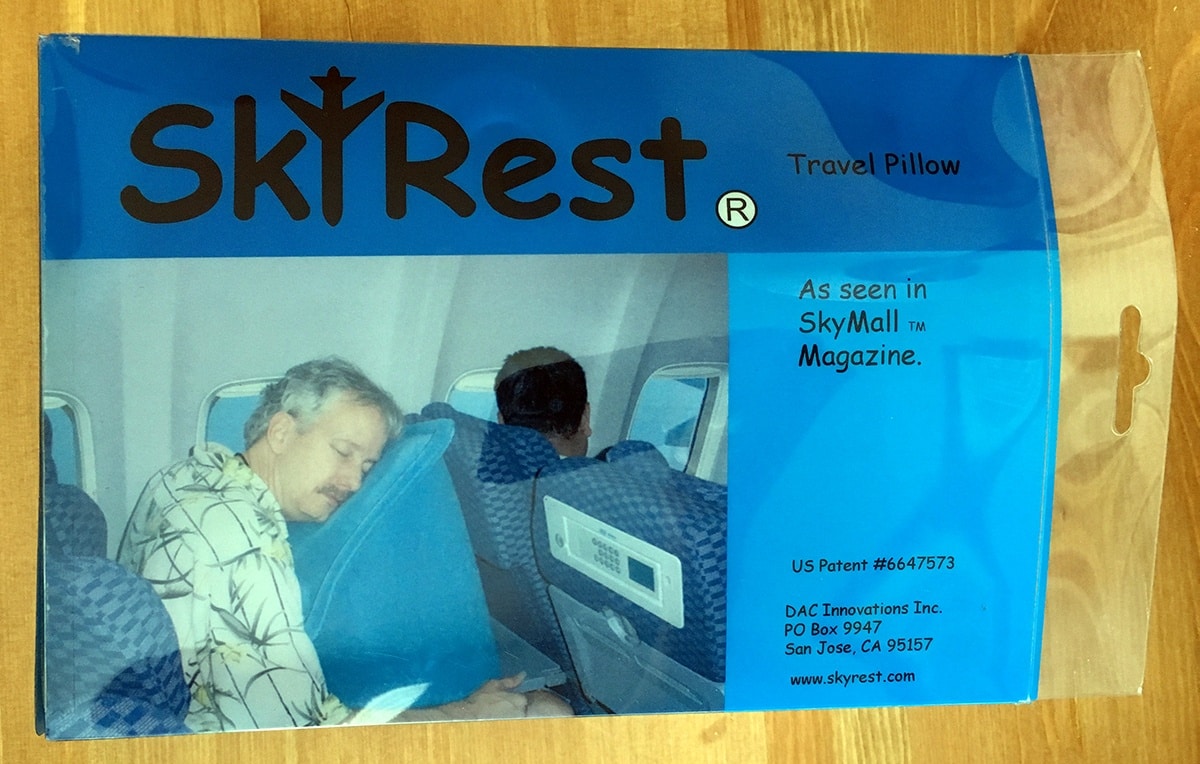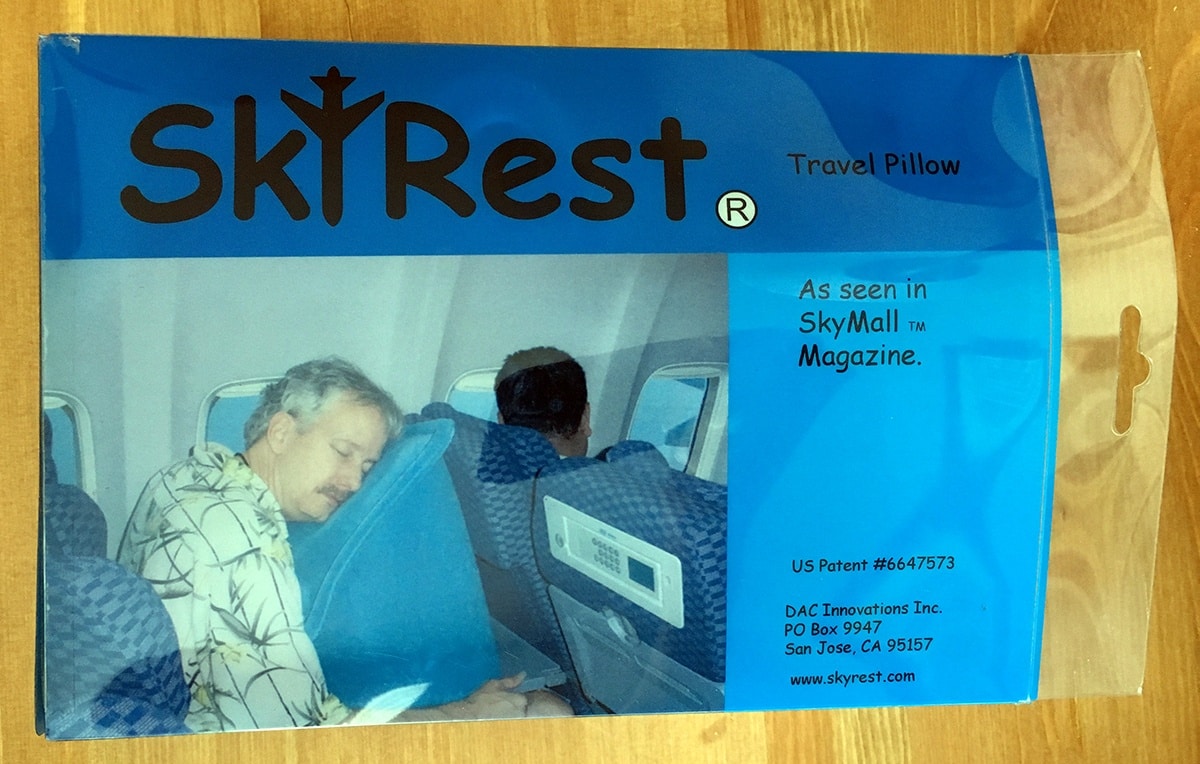 See how Skyrest compares on my best travel pillows page.
Key Features
An inflatable travel pillow
Comes in one size and the dimensions are 14″ x 13″ x 17″ inches when inflated (slopes to 12 inches)
The deflated dimensions are 6″ x 9″ x 3″
The pillow is very light and weighs approximately 1lb
To care for the travel pillow, hand-wash and/or sponge clean only
The SkyRest comes in one available color (blue)
It is made with crushed velvet fabric
There is a built-in pocket for hands to rest when wrapped around the pillow
The brand says it's comfortable for travelers who range in height from 4'10" to 6'6″
Pros
The travel pillow is super lightweight
The deflated nature makes it easy to pack in carry-on
It's versatile – can be used in several positions
The hand-pocket for resting hands is a key feature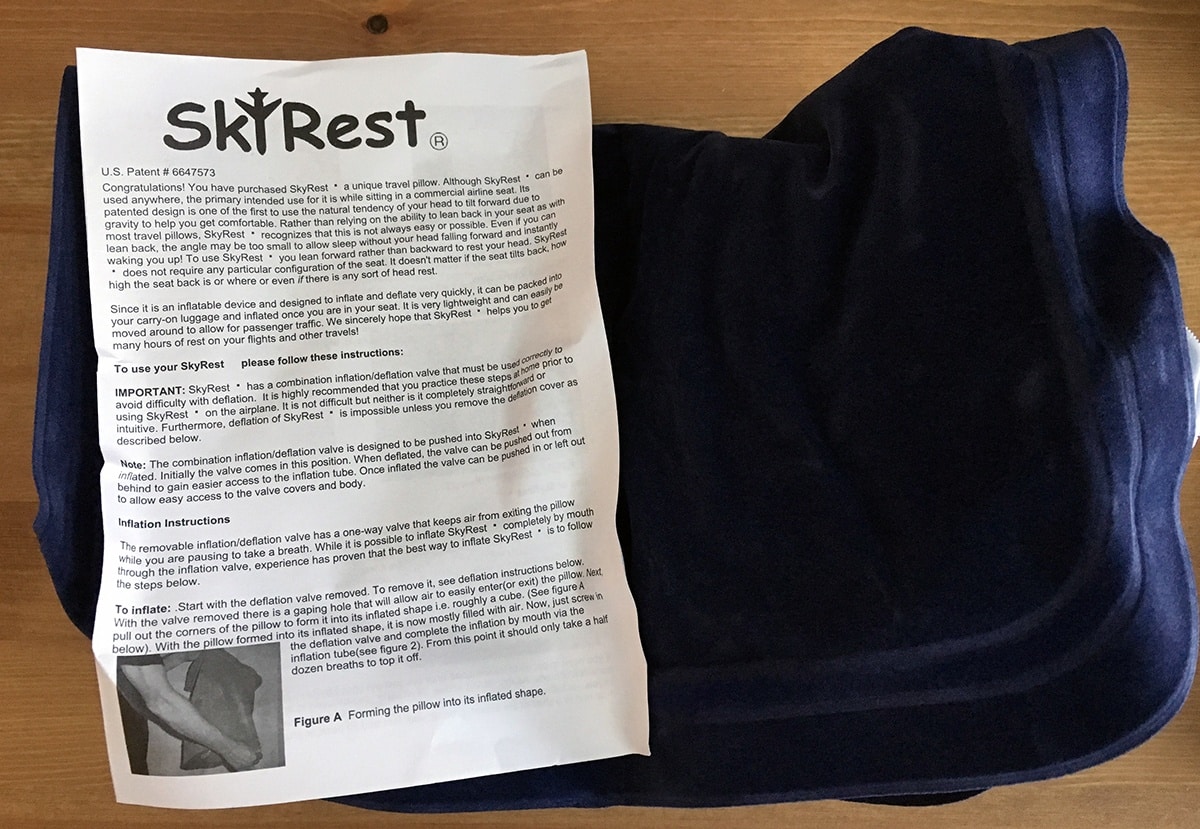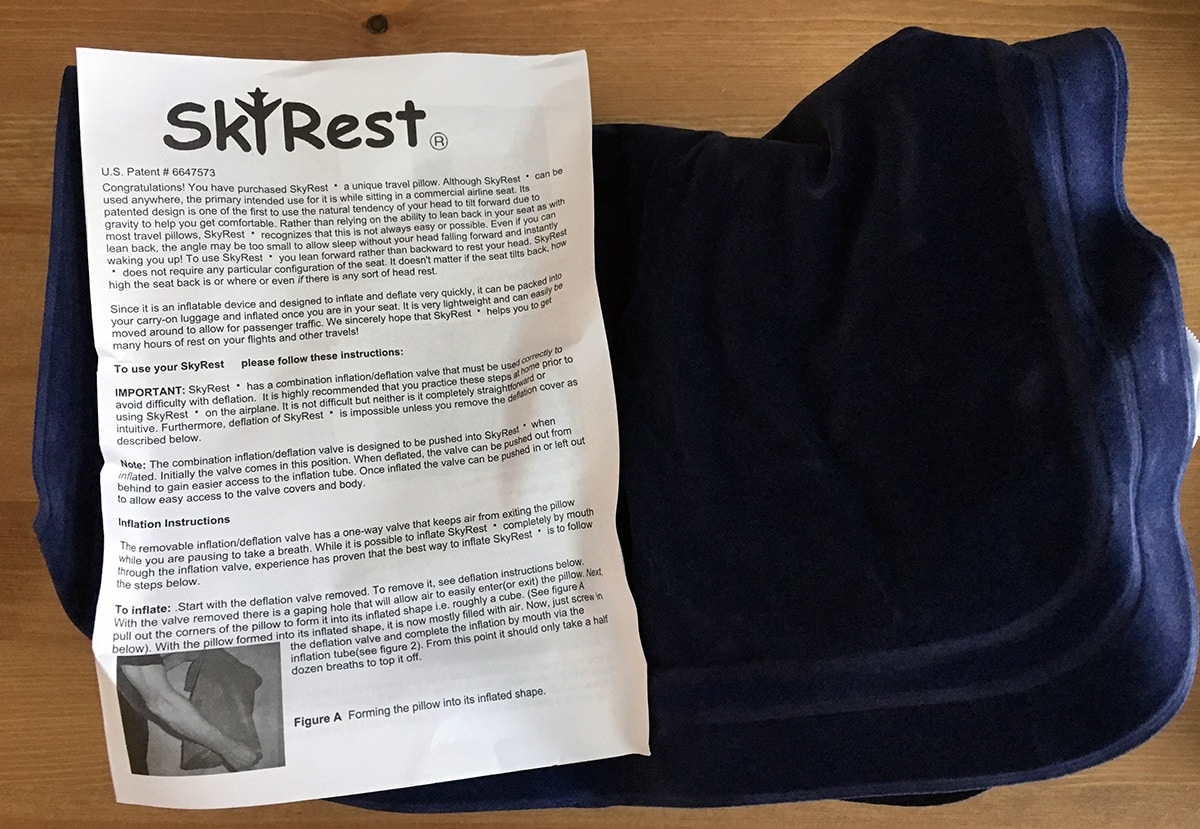 Cons
The travel pillow may not be allowed in an Emergency Exit Row
It must be hand-cleaned only; not machine washable
When inflated the pillow is bulky and may annoy neighbors or look a little awkward on a plane
It may be too snug for use in economy seating
There is a significant off-gassing smell and may need to be aired out
The blue dye of the crushed velvet transfers easily; may stain clothes or other fabrics
My Experience
While the SkyRest Travel Pillow packaging certainly had me intrigued, I was happily surprised to find the inflatable pillow truly comfortable. The shape of the pillow, with its sloped front and soft fabric, makes it easy to fall asleep while traveling, especially in a car or train.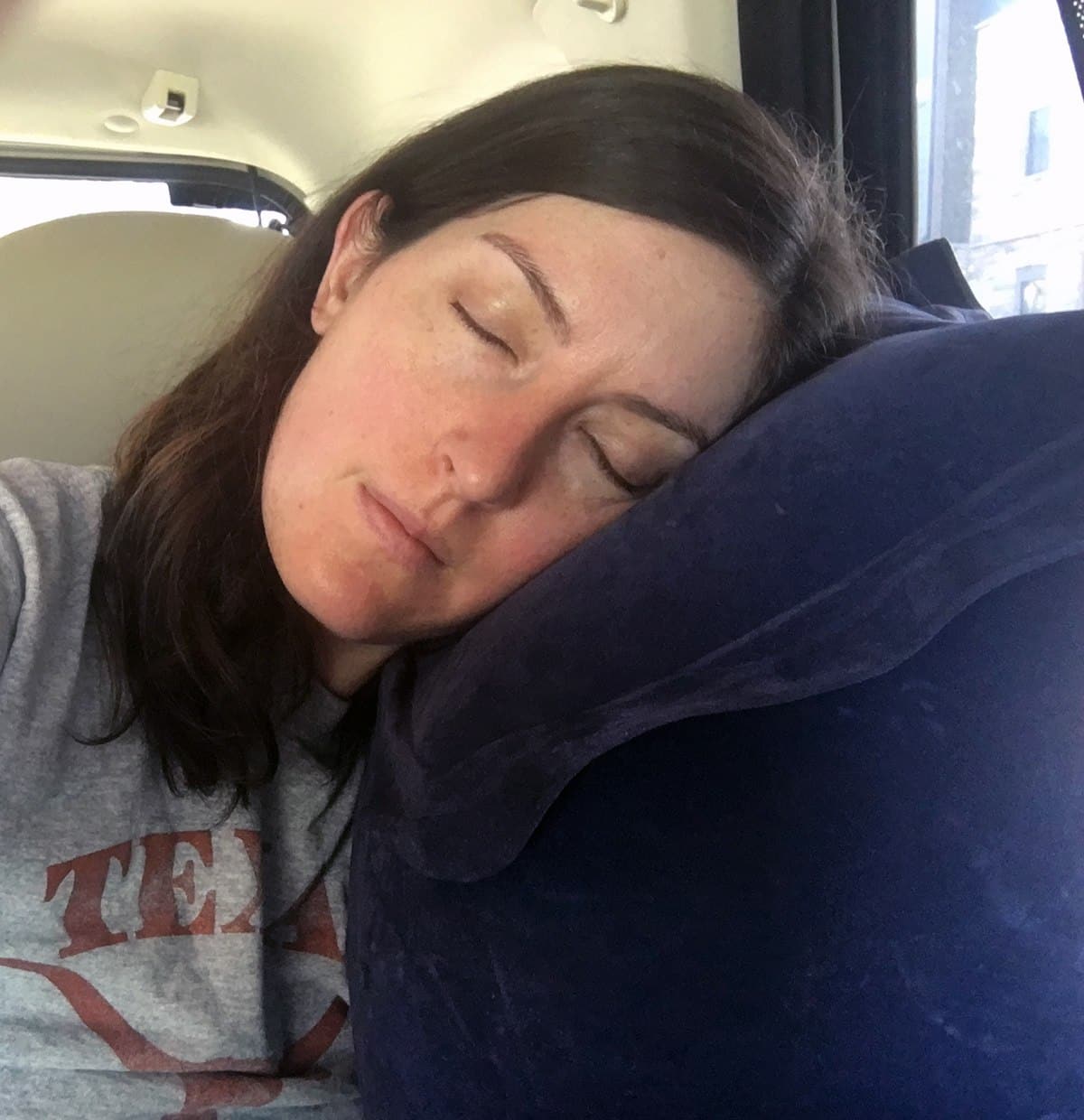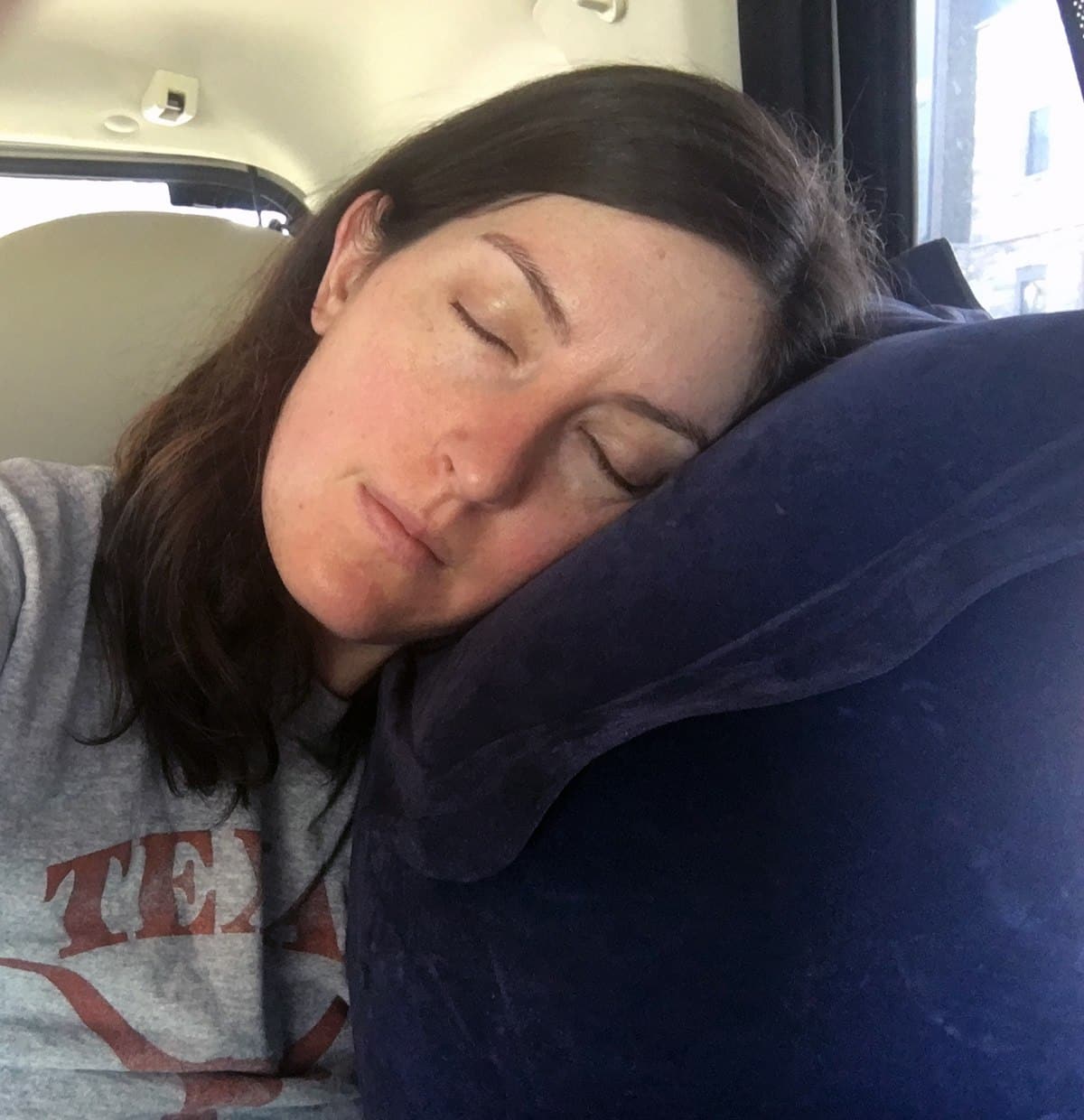 Similar to the Travelrest Ultimate Inflatable pillow, the SkyRest pillow is easy to pack away until it's ready to be used. The inflation device comes with detailed paper instructions (that are folded into the pillow when the first opened) as well as printed instructions on the pillow itself.
The pillow easily deflates and the air nozzle is capable of holding air in as it is blown up, so the person inflating the pillow won't lose air in between breaths. The instructions say to unfold the pillow into its cube shape, which will allow it to fill up with air on its own, from there they say it only needs about half a dozen breaths to fill it up.
Maybe I just have a terrible lung capacity, but it still took me roughly 15 breaths to fill up the pillow completely. However, I was really happy that I could inflate it without having to worry about losing air between breaths.
Which travel pillows are best?
To care for the pillow, it must be hand wash it in a sink using mild soap. I would definitely recommend washing this pillow before use because I noticed a decent amount of blue dye transfer onto a wet paper towel that I rubbed over the pillow when I first inflated it.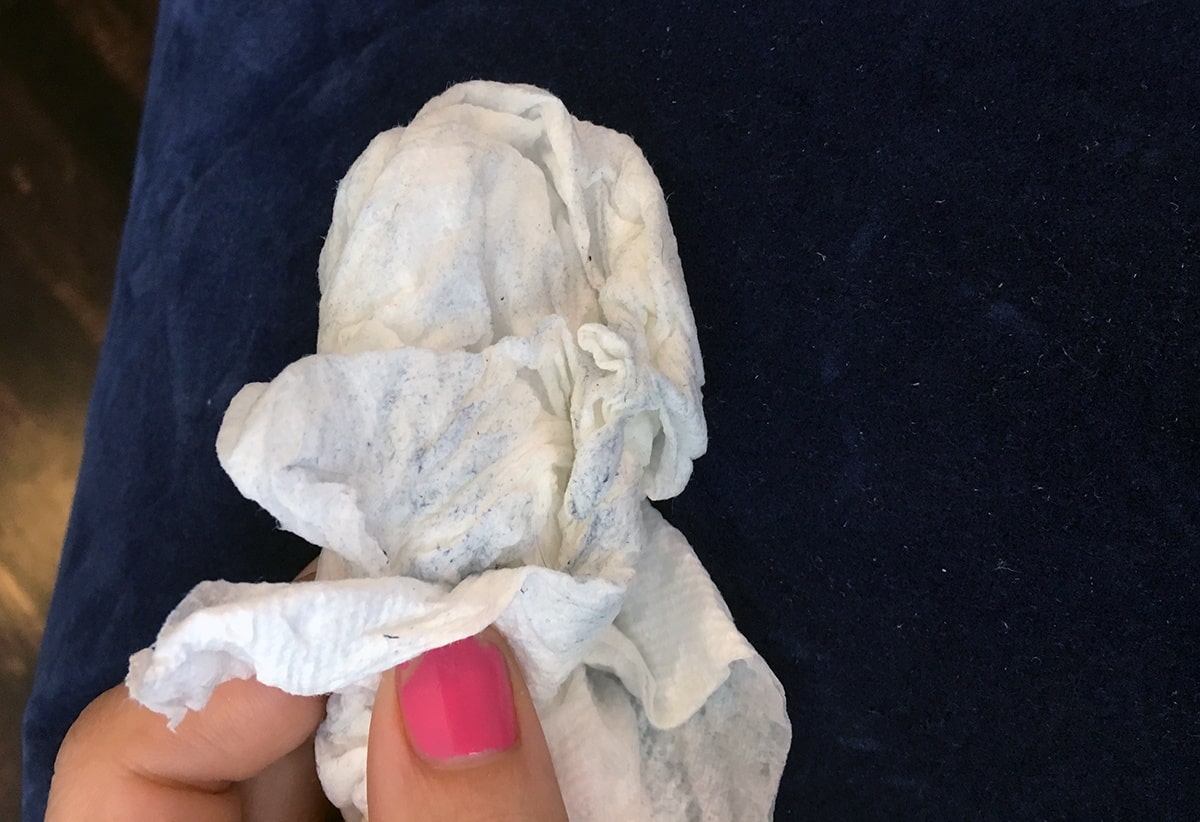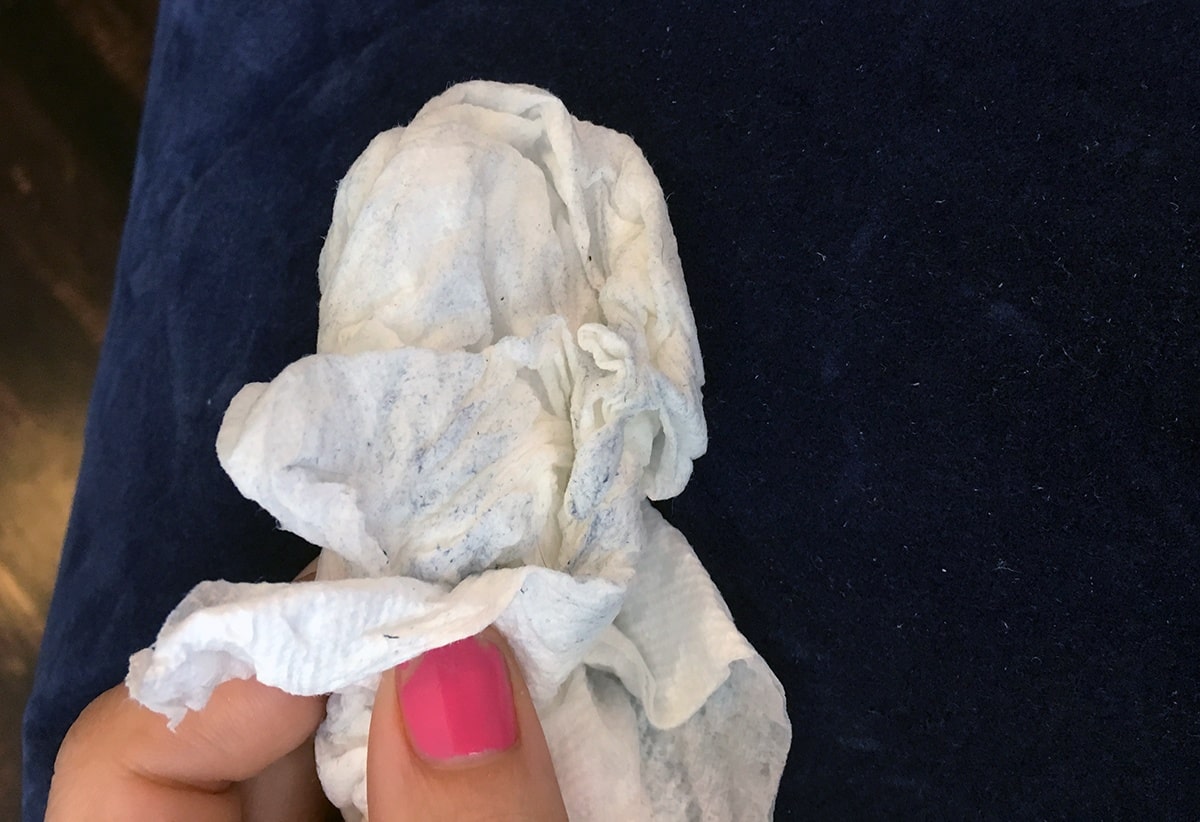 SkyRest Inflatable Travel Pillow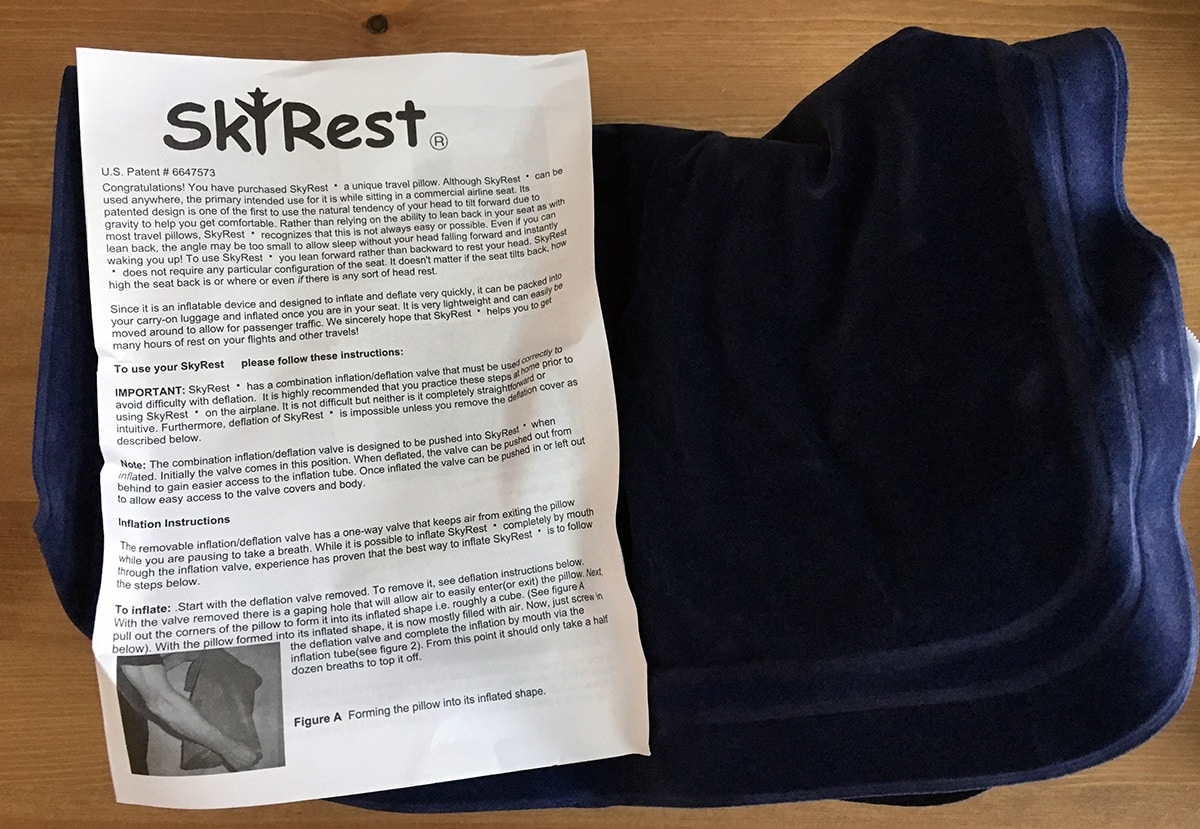 The SkyRest Travel Pillow is an inflatable travel pillow that, when inflated, is as big as it is comfortable! In the right setting, it will make a great travel companion.
Mattress Clarity Score
3.70 / 5
Read Full Review
The pillow may shrink or balloon in size due to cabin pressure, so be sure to inflate it once the airplane has taken off. It's easy to adjust the firmness of the pillow with the nozzle provided, as well.
The SkyRest pillow packaging features a photo of a gentleman using the pillow on the folding tray on a plane. It's evident through this photo that the pillow is quite large when inflated and I personally feel like I would be hesitant to blow this up and use it unless I had no one sitting next to me, or was in an economy size seat or higher (it just takes up a lot of shared space).
I do think this pillow is probably a great fit for a car trip in the back seat. In the front seat, I would imagine this could be harmful if an airbag were to go off in an accident but in the back sea, it's easy to rest on a lap or lean it against the window to sleep.
The pillow also works when placed under someone's feet. The sloped feature creates a nice angle to rest feet and legs and some buyers reported using their pillow as a back bolster in bed, as well.
Individuals who naturally sleep on their stomachs may benefit from this pillow (and the Ostrich Pillow as well). I think this pillow can provide comfort on longer flights or train/car trips where they would like to get as much rest as possible.
SkyRest Travel Pillow
Summary
Overall the SkyRest Travel Pillow is comfortable and especially good for trips where there is space to fully inflate the pillow. It is not machine washable or dryer-friendly but can be hand washed in a sink. It is easy to inflate and deflate and compacts into a small size for travel.
Things to Consider
Reviewers found it tight in economy seating and I can understand why. The pillow takes up a good amount of space in front of the person using the pillow and their arms need to wrap around the sides, so there is a chance the user would interfere in other's personal space.


One passenger said it turned on the touch screen TV in his seat and the brightness of the screen interrupted his rest.


SkyRest says that certain airlines may not allow the pillow in an emergency exit row and to check with a flight attendant before being seated to ensure it's allowed.
The dye does transfer so wash in a sink with a mild soap before use (especially if planning to wear light clothing).
It is fairly large so I would imagine it would grab attention – and maybe questions – from other passengers.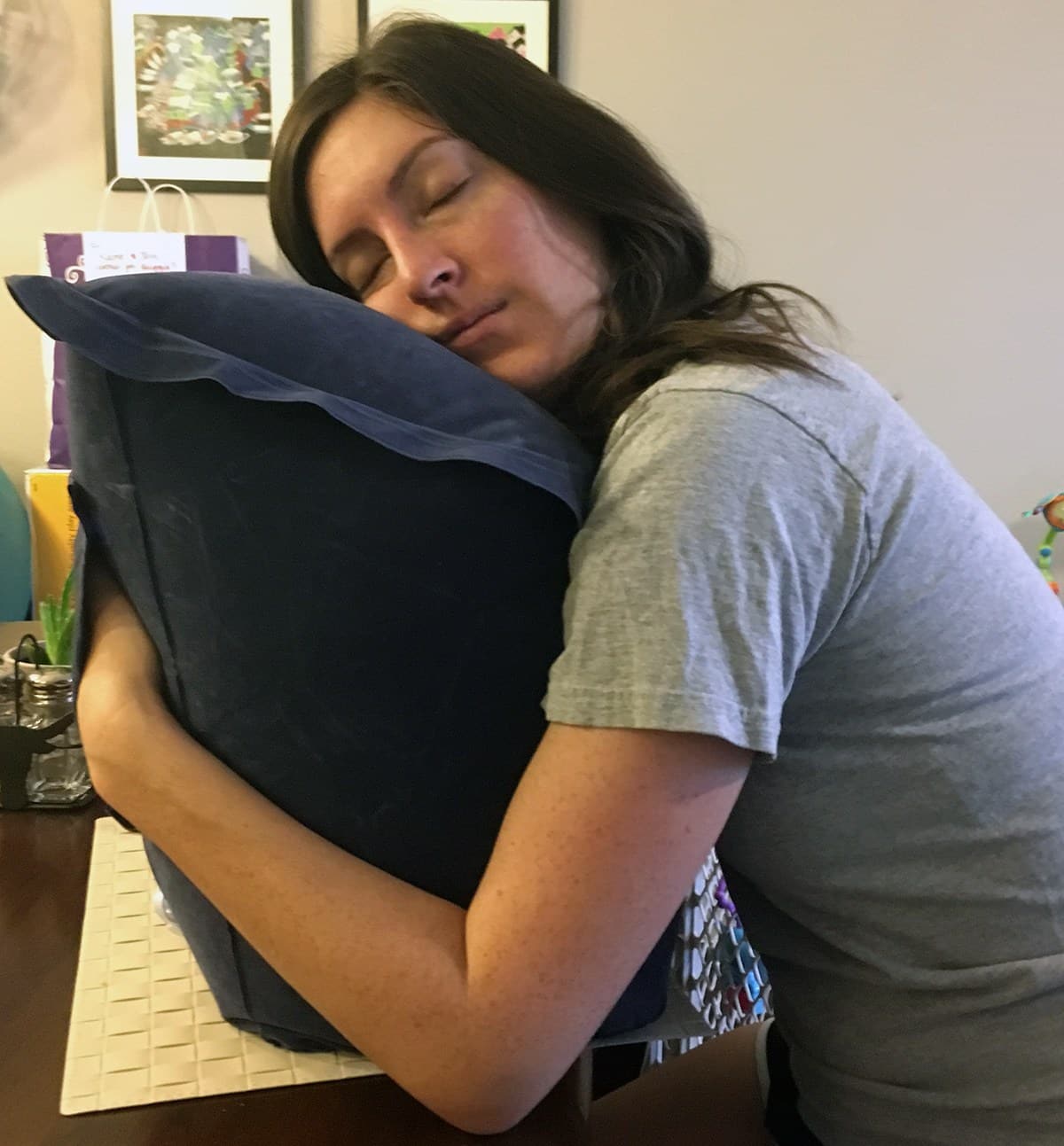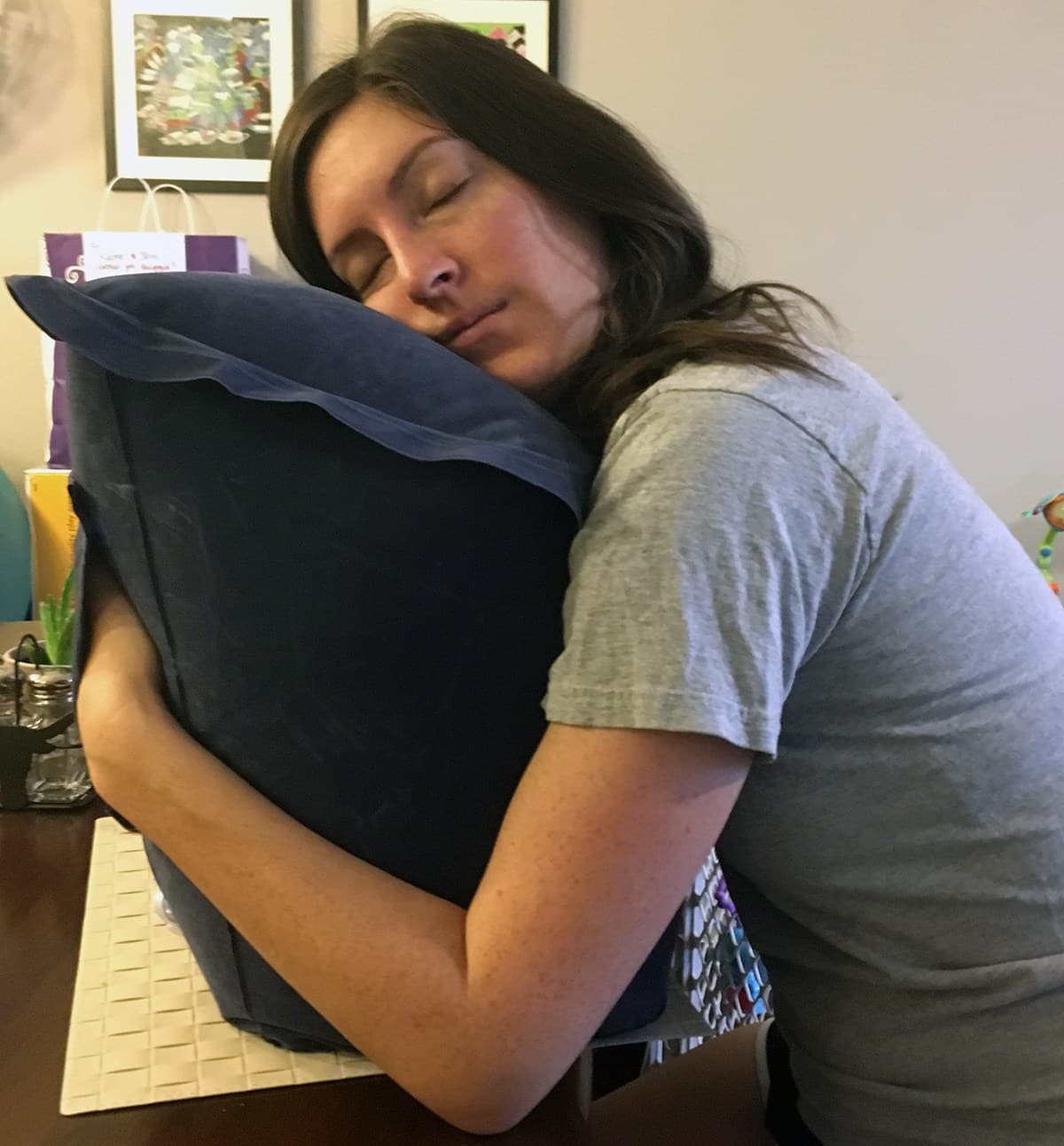 Price
People can purchase the SkyRest pillow off the company's website for $29.95. It is also available on Amazon for the same price. I think for the right trip, this pillow would be a great investment.
For those who are comfortable sleeping on their stomachs, have a long trip ahead and plenty of space around  (large airplane seat or roomy car/train space) then it is possible to really enjoy this pillow and get rest. I would not recommend this pillow for tight spaces.
Katie Golde
Katie manages the day to day operations of the Mattress Clarity news site and reviews sleep products in addition to writing and editing sleep news. She hails from Austin, where she lives with her growing family. She is a Certified Sleep Science Coach and has a master's degree in Journalism from Northwestern University and has a background in health and science content. Her work can be found in print and online publications like Discover Magazine, USA Today and The Huffington Post.