Travelers who are tired of the usual U-shape foam neck pillow for travel will certainly be interested in the Ultimate Inflatable Pillow, with its unique "long, lean and inflatable" design elements.Will all of these features come together to be the perfect travel pillow for any seat? Check out the full video review and written review with more photos, below.
Travelrest Ultimate Travel Pillow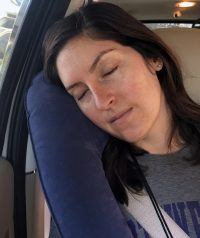 This inflatable travel pillow is worn messenger bag style, and is a particularly nice choice for those who like to rest their head to the side.
Mattress Clarity Score
3.80 / 5
Read Full Review
Travelrest Ultimate Inflatable Travel Pillow Video Review
Who Makes It
The Ultimate Inflatable Pillow is made by Travelrest, a registered trademark of HiGear Design, Inc. HiGear Design says they produce a range of products and accessories intended to ease the discomforts of travel and their founder, John Mittelstadt, reportedly personally developed the idea for The Ultimate Inflatable Pillow, which would become the company's first product.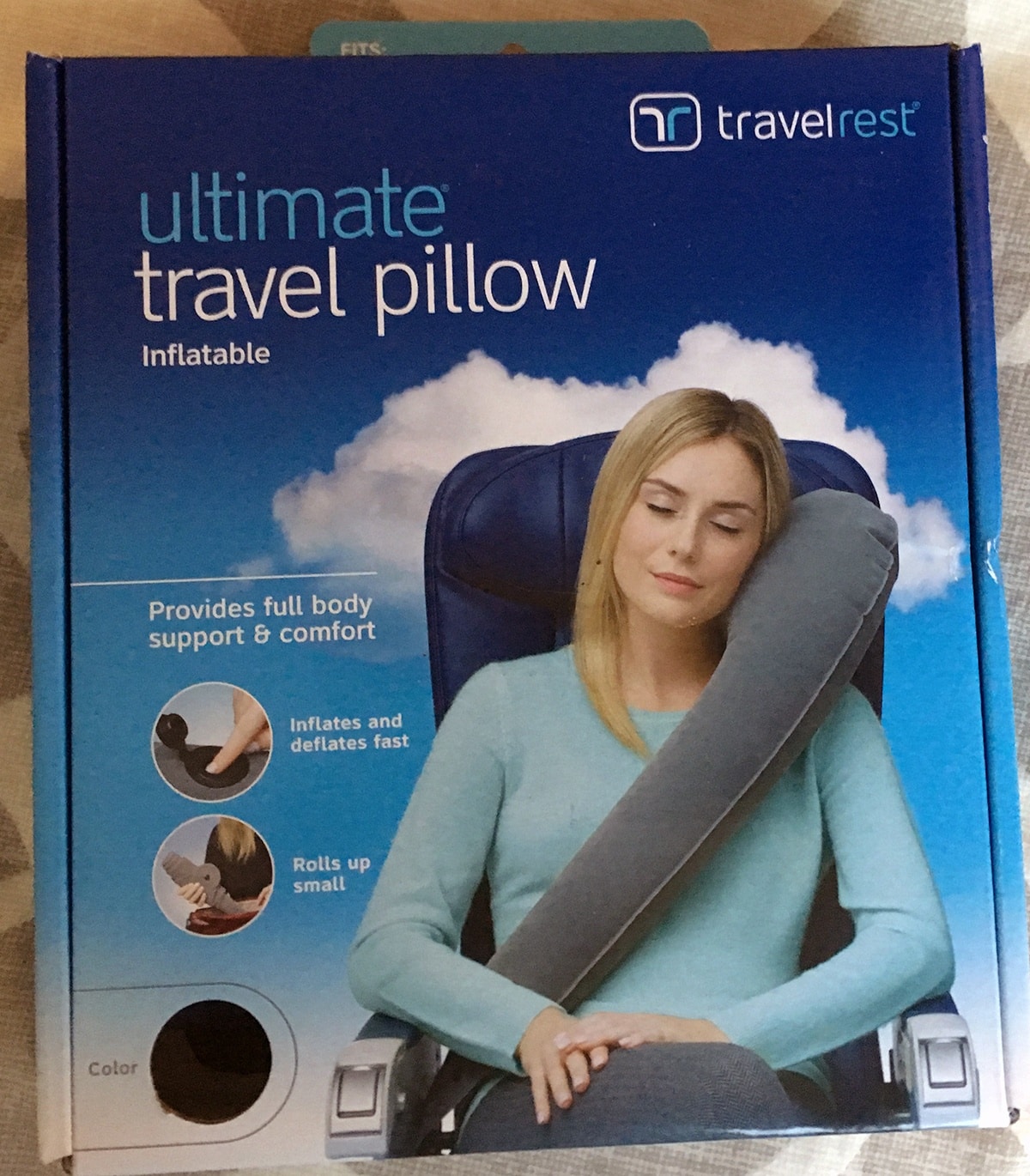 See how the Travelrest pillow ranks on my best travel pillow reviews.
HiGear Design is also the creator of other travel pillows and accessories, like the Nest Ultimate Memory Foam Pillow and the Wrap 4-In-1 Travel Blanket.
Key Features
Dimensions: 26″ x 7.9″ x 5.9″
Weighs approximately 6.6 ounces
Variety of ways to attach to an airline, train or car seat
Can be worn by traveler (in a messenger bag style)
Ability to attach to luggage when inflated
Easily inflatable and can be quickly deflated and rolled into a compact shape
Available in 4 colors
Care includes hand-clean only, no machine wash or dry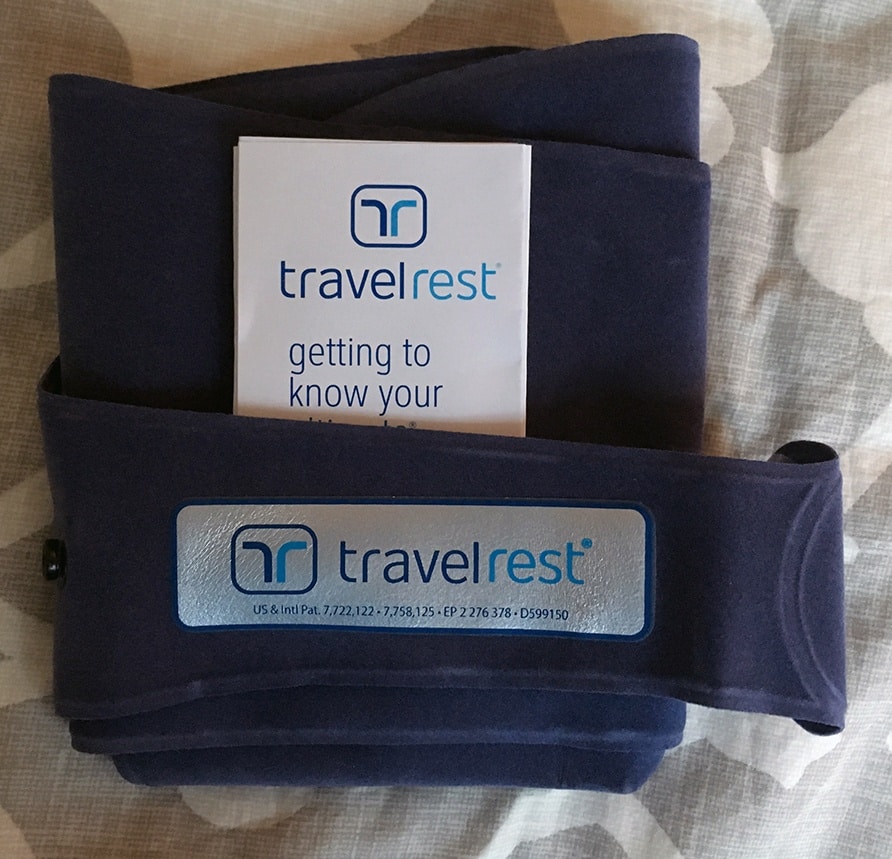 Pros
The cover is made from a soft synthetic fabric
It easily inflates and deflates
The pillow can be worn in a variety of adjustable positions
It can be tethered to the headrest of a plane or car or worn alone
Easily compacts for quick packing and storage
Cons
Not as comfortable when wearing glasses
It is semi-compatible with headphones/earbuds
Care includes hand-wash and line dry only
Harder to move into different positions once tethered to the seat
My Experience
The Ultimate Inflatable Pillow looks very different from a "typical" travel pillow – like a foam neck pillow. It actually looks very different from any standard pillow for that matter but its unique design and detailed features provided a comfortable experience in almost every position I tested.
The pillow comes neatly folded in a small package, the instructions are very easy to follow with both written and illustrated options.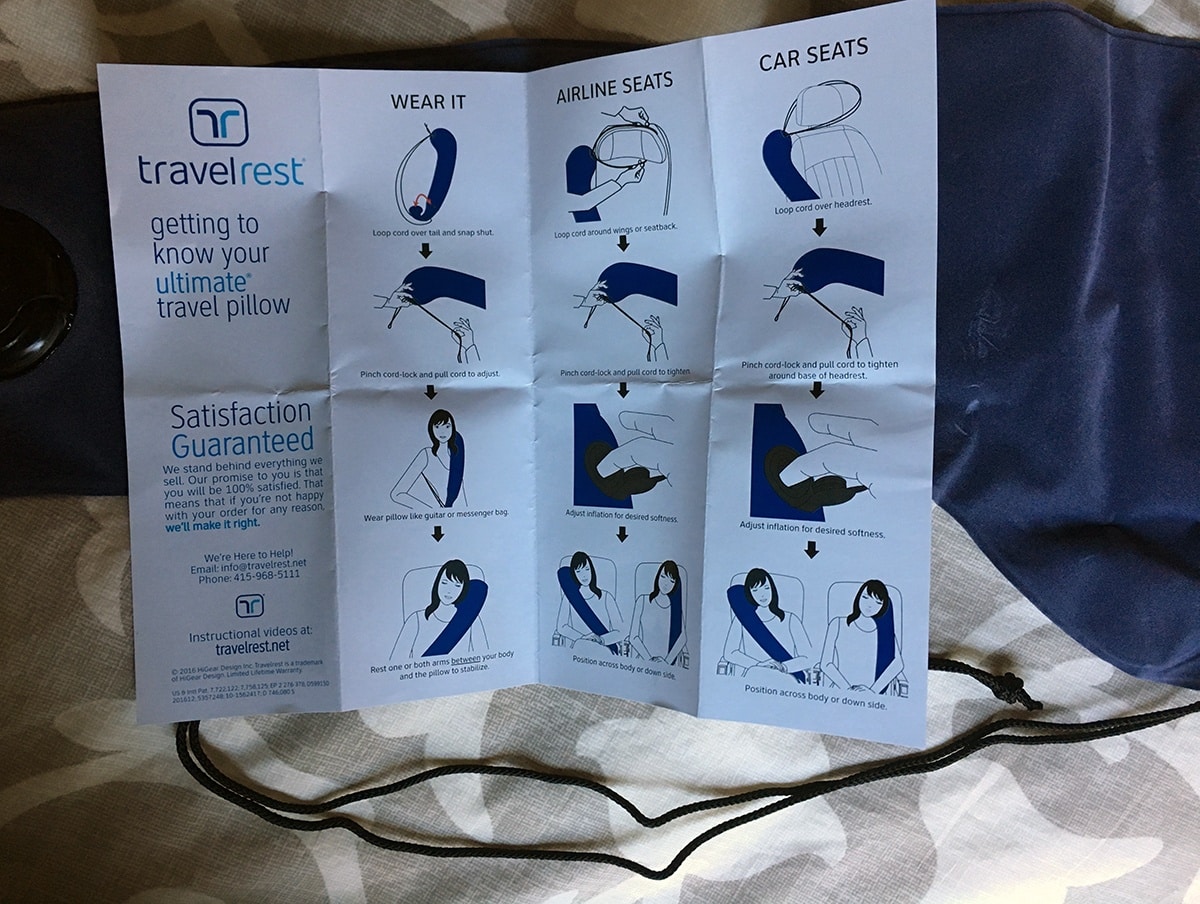 I unrolled the pillow entirely and located the black circular valve – as instructed by the manual- and my initial thought was dreading spending time blowing this pillow up but it took me literally only 16 seconds to fully inflate the pillow (and I say "literally" because I actually timed it).
Compared to the pool floats I spent my summer blowing up, a pillow that inflates in mere seconds is definitely a plus for me and a pillow that also deflates nearly as quickly and wraps up easily for storage may just win me over entirely.
Bear with me in this description but one end of the pillow has a cord with a toggle and the opposite end of the pillow creates a loop that features a snap. By attaching the cord from the top end of the pillow through the loop and snap it closed at the bottom, the option to wear the pillow "freestyle" becomes available (and encouraged).
Travelers can wear it "freestyle" or they can also attach the inflated pillow to a piece of carry-on luggage. However, I do think it's easier to deflate, roll and place into a bag and inflate the pillow once a person has reached his or her assigned seat.
As a side sleeper, I really value the ability rest the side of my face against a pillow without feeling it fall off my shoulder, and the cord and toggle feature, combined with the loop at the bottom of the pillow, allows the traveler to tether it to oneself or to the headrest of a plane or car. I personally thought this feature was wonderful because it allowed the pillow to stay in place so I could rest against it without it falling off and waking me up.
I found the pillow was comfortable in both the passenger seat of my car as well as in the high-backed chair in my nursery. I enjoyed the longer design of the pillow which enabled me to rest my arms around it and sort of hug it. I realize that it may sound strange, but it was very comfortable!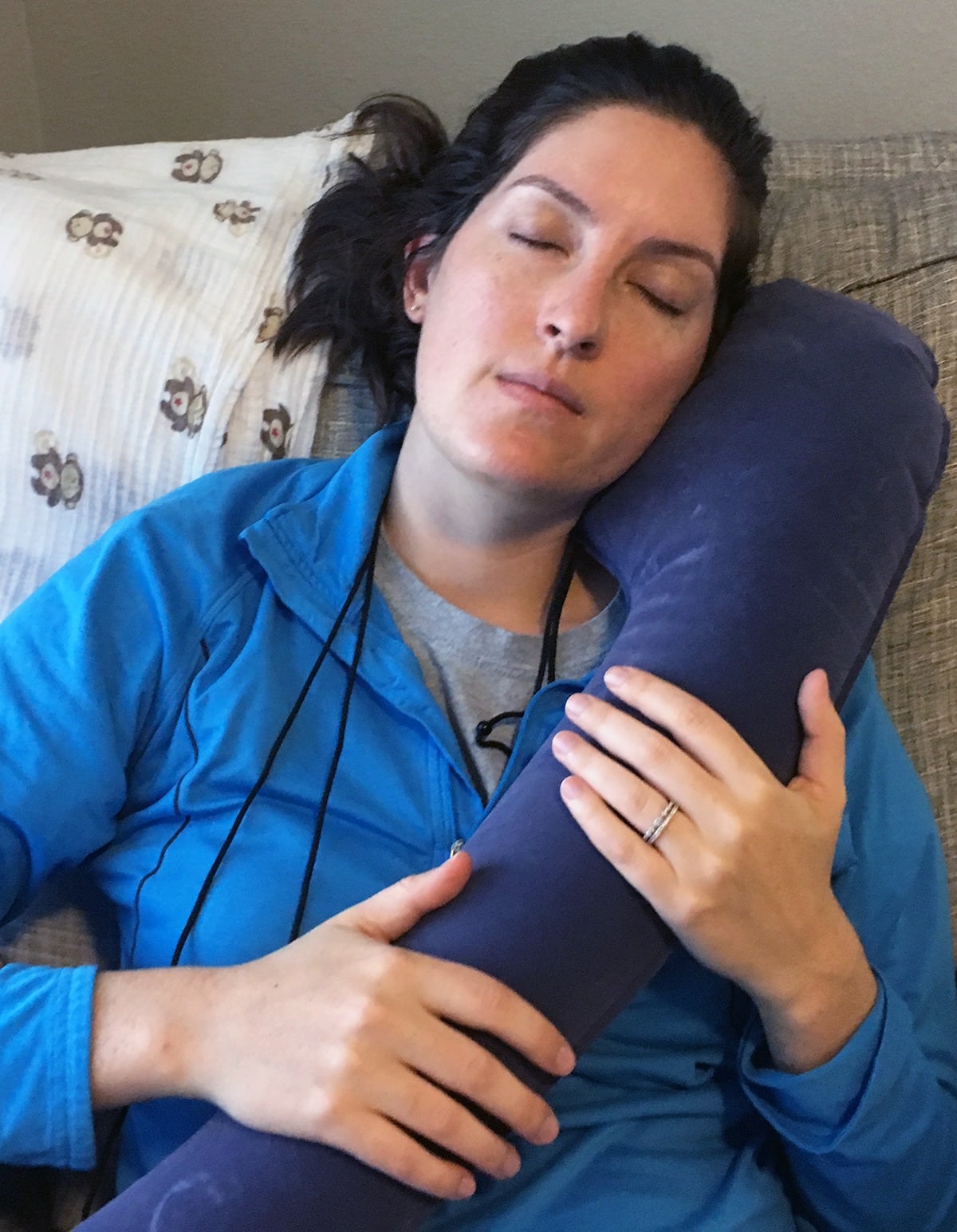 RELATED: Top Travel Pillows
As with other pillows that allow one to rest the whole side of his or her face against it, my glasses were a discomfort. It is possible to adjust the pillow to an angle so that a pair of glasses isn't pressing against one's face but I think they should be removed entirely for maximum comfort.
I also had some issues with the pillow blocking my headphones/earbuds but once I moved my head down to the "skinnier" section of the pillow it was more comfortable. Further down I was able to have head support I required and there was enough of a gap for me so that my ears were free and my headphones did not interfere.
In terms of keeping the pillow clean, the Ultimate Inflatable Pillow is not a machine wash or dryable but the care instructions indicate that the pillow can be cleaned by hand with soapy water and should be line dried.
The instructions say to not submerge the pillow or allow water to get into the valve of the pillow. I took a wet and soapy cloth and was able to wipe down the pillow with no dye transfer or fabric-related issues.
There is an optional velour pillow cover with a memory foam insert to place over the inflatable pillow. This add-on is machine washable. This option retails on their website for $12.95.
Travelrest Ultimate Travel Pillow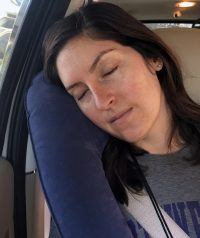 This inflatable travel pillow is worn messenger bag style, and is a particularly nice choice for those who like to rest their head to the side.
Mattress Clarity Score
3.80 / 5
Read Full Review
What To Consider Before Buying
This is a larger and less traditional-looking travel pillow compared to the more traditional foam and polyester filled options. Unlike the others, this one must be inflated but can be worn in a variety of positions.
This travel pillow doesn't have a removable cover and it cannot be machine washed or dried, so travelers who are concerned about collecting germs and sanitizing accordingly will need to find a workaround here.
There is language in the packaging that mentions the potential for cabin pressure to change the firmness of the pillow and one reviewer stated that he had to blow into the pillow to get it back to its firmness during his flight.

Additional reviewers found that it was awkward to change the position of the pillow while they were napping and didn't find it worthwhile for that reason.
The pillow allows the traveler to rest the entire side of his or her face against it, which can make it uncomfortable to wear glasses while resting. It may also be uncomfortable to wear headphones or earbuds as well.
Side sleepers who are looking for a travel pillow with a different filling can read my in-depth review of the J-Pillow, here.
Price
The Ultimate Inflatable Pillow can be purchased from the Travelrest website for $29.95. It is also available at other online retailers like Amazon.com ($29.95) and TravelSmith.com ($30.00).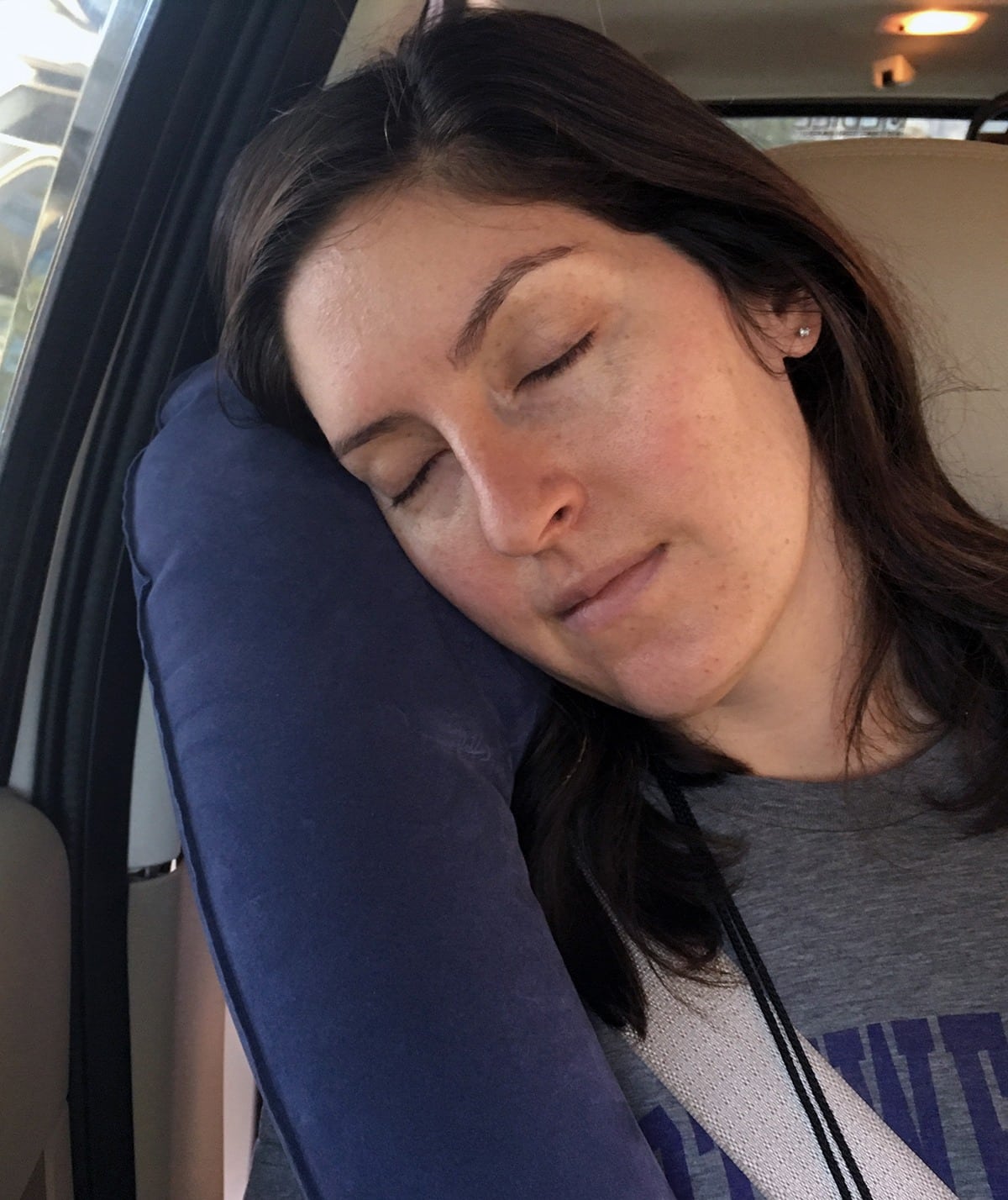 At around $30-$40, this pillow is definitely one of the more expensive options travelers can choose from. However, this may be worth the price for side sleepers who want something stable for a longer flight that can be used no matter what seat as the pillow will be a good match under these conditions.
All Travelrest products come with a 100% satisfaction guarantee so if you're curious about the pillow and want to see if it's worth investing it. I recommend giving it a try!
Katie Golde
Katie previously managed the day to day operations of the Mattress Clarity news site and reviews sleep products in addition to writing and editing sleep news. She hails from Austin, where she lives with her growing family. She is a Certified Sleep Science Coach and has a master's degree in Journalism from Northwestern University and has a background in health and science content. Her work can be found in print and online publications like Discover Magazine, USA Today and The Huffington Post.