REI's Self-Inflating Travel Pillow will keep any traveler comfortable both on and off the road. The versatile inflatable pillow has an additional foam filling and durable cover so it can be used on a plane, in a tent, or in a pinch if a hotel pillow just won't do. We've got just one sizable complaint. Read on to find out.
Editor's Note: Hey, there! Unfortunately, the REI Co-Op Self-Inflating Travel Pillow is no longer available. Looking for an alternative? Check out our latest review of the best travel pillows!
Check out my best travel pillow page for more recommendations.
Key Features
Flat pillow shape
Inflatable – manual and self-inflating
4 ounces in weight
15 x 8.25 inches dimensions
Pillow filling is a combination of air and polyurethane foam
Stretch-knit polyester cover fabric
Comes with travel case measuring 10 X 6 inches
Silicone striping on the back reduces shifting of the pillow during use
$19.50 on REI.com
Satisfaction guarantee
Care: When inflated, wash with a soft brush using a mild detergent or degreaser. Rinse, towel off and air-dry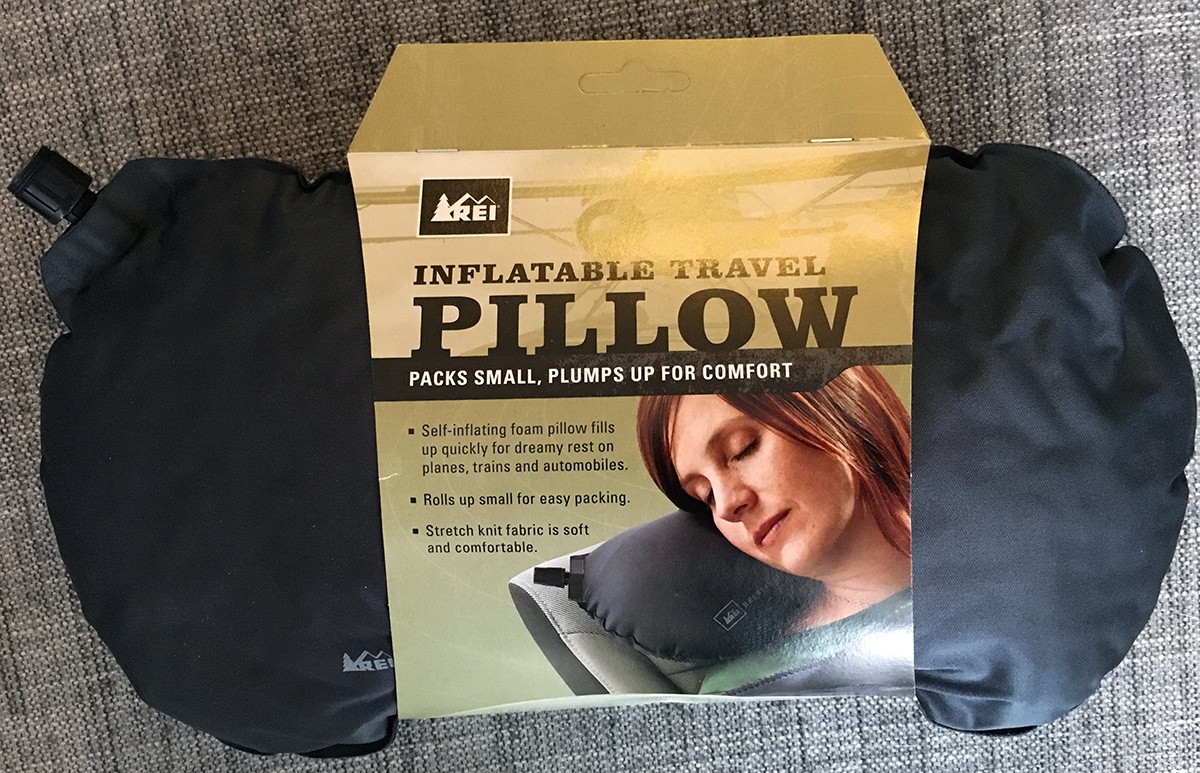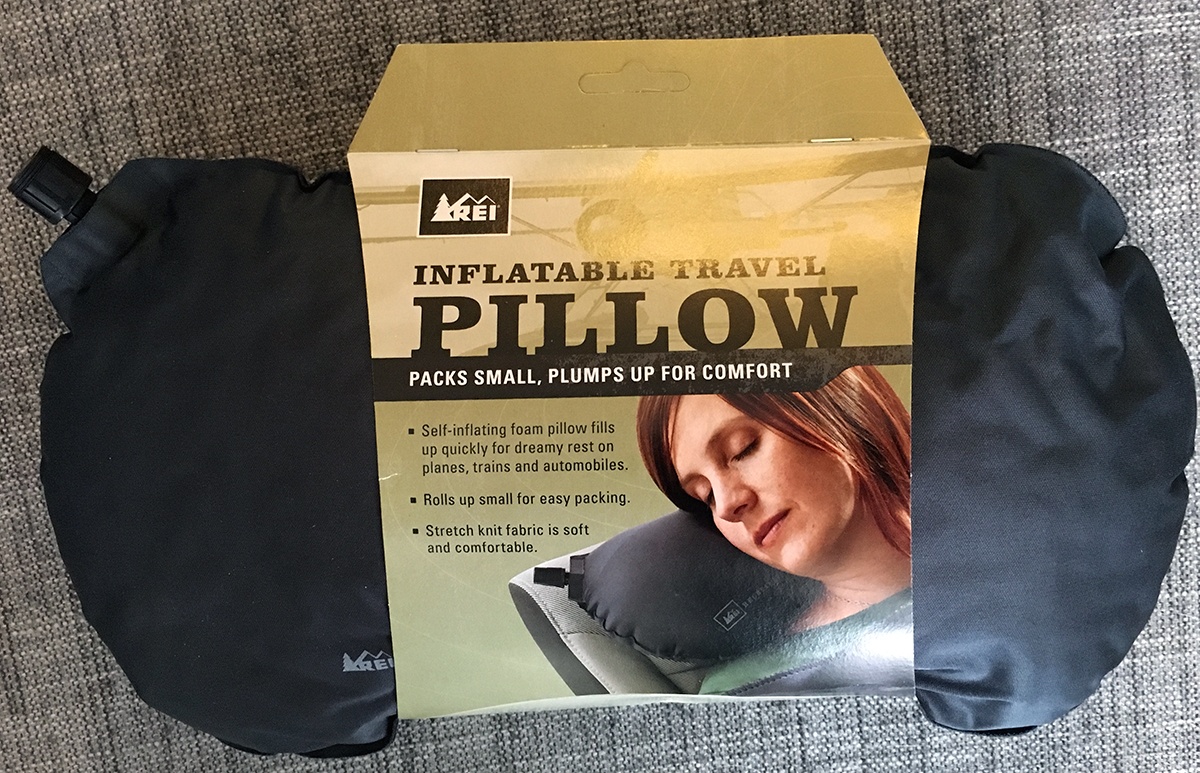 Who Makes It?
REI (Recreational Equipment, Inc.) is a well-known and reputable outdoor gear, clothing, and footwear company. They sell a wide array of camping and travel products from several brand names including their own.
Pros
Can be self-inflated or manually inflated with mouth
Silicone stripes help to keep the pillow in place
Can use as a regular pillow if needed
Quick self-inflation
Cons
Not machine washable and/or dryer friendly
No color or alternative size options
Not easy to deflate and pack into a travel case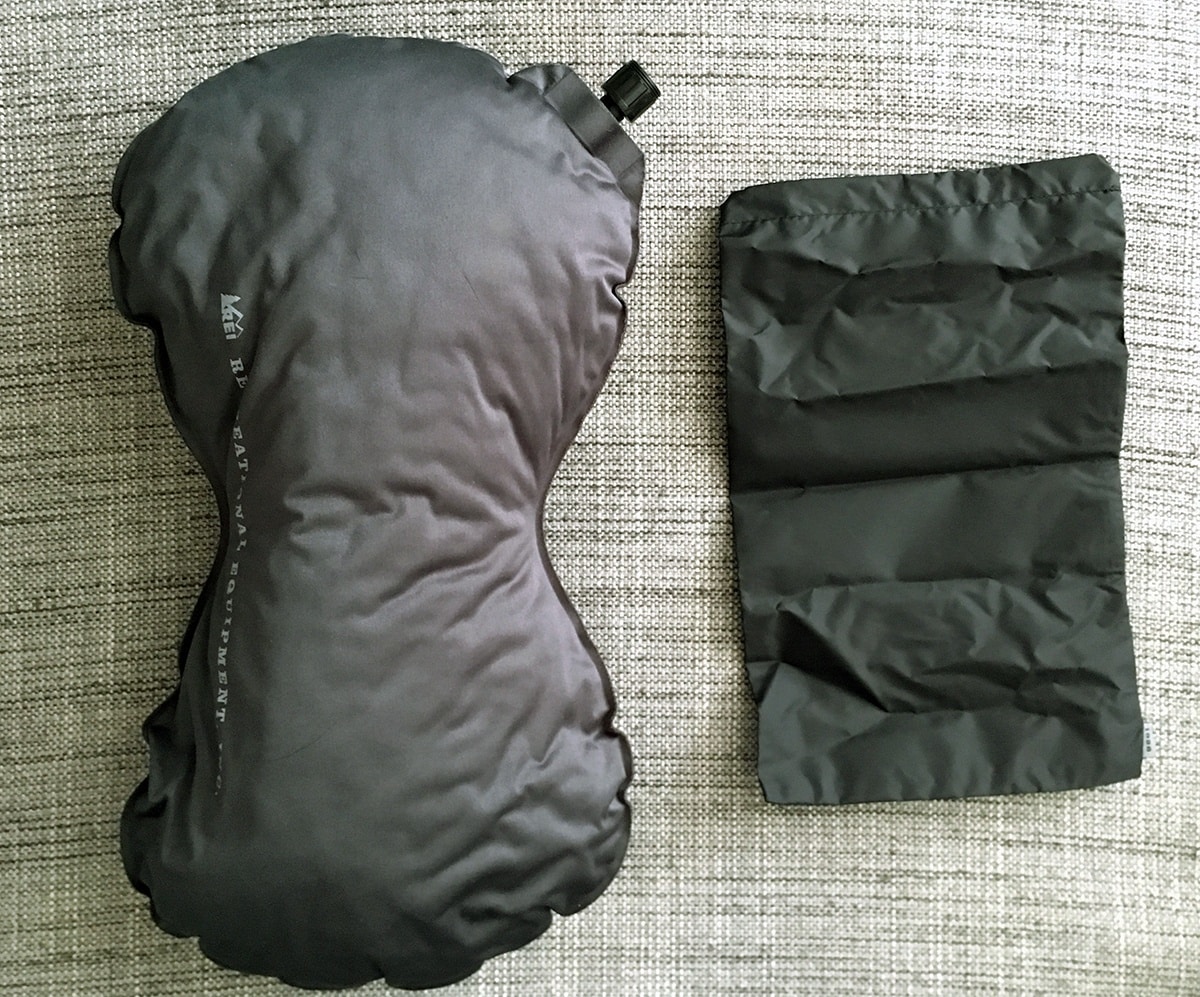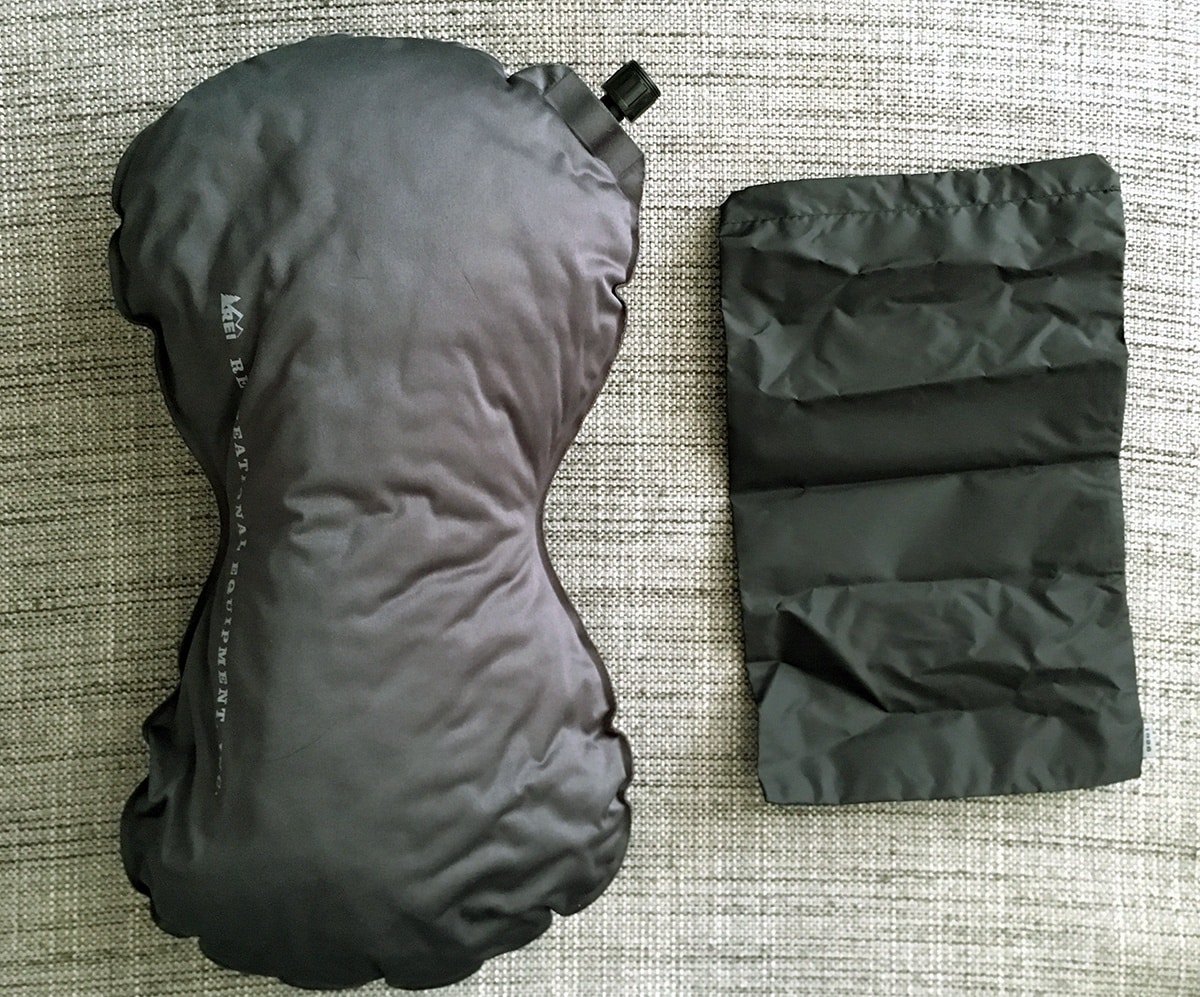 My Experience
The REI self-inflating pillow is a durable and good-looking travel and camping pillow. The pillow's filling is a combination of air and foam, which makes it extra comfortable and slightly more responsive than a pillow that is only inflatable.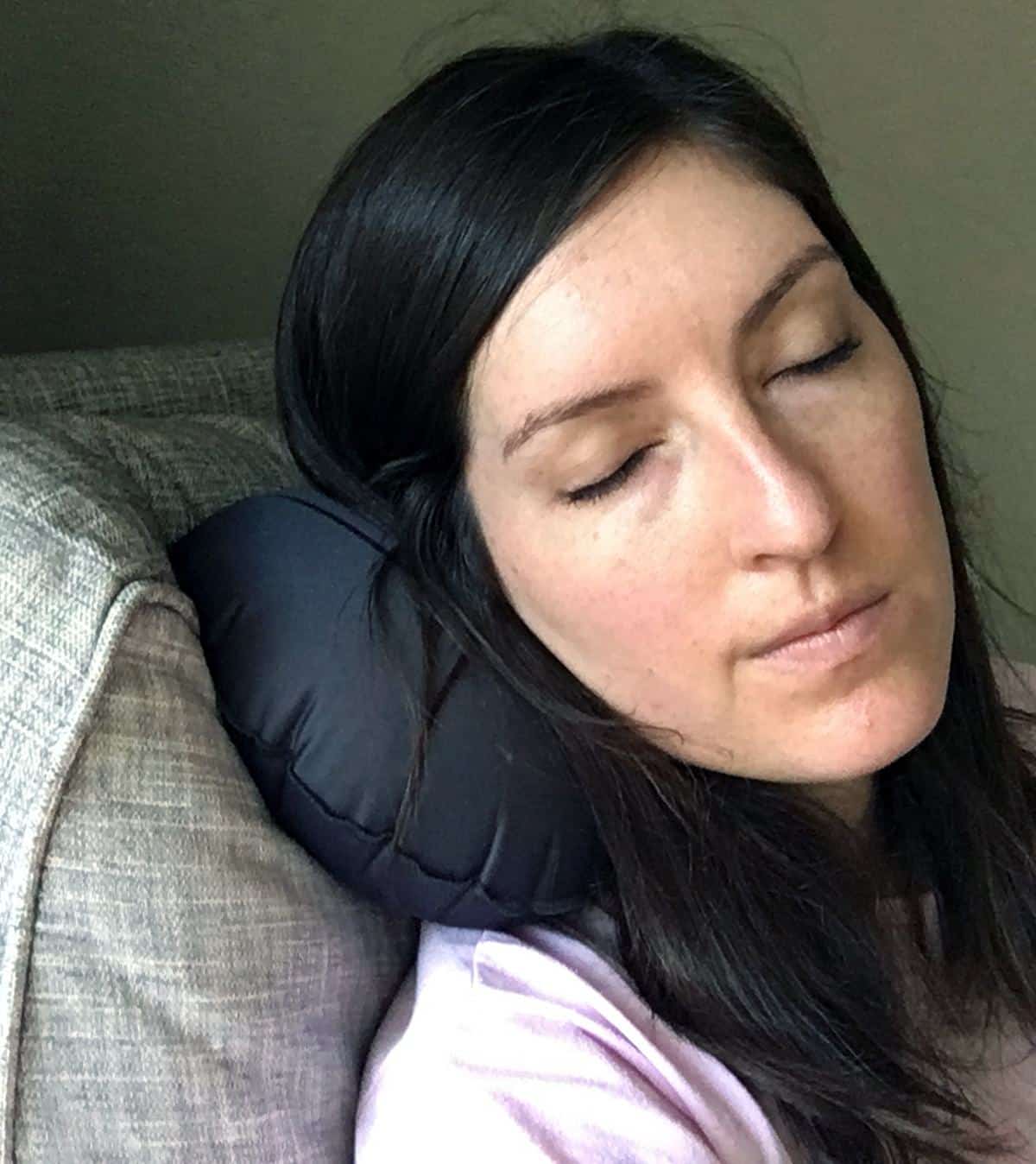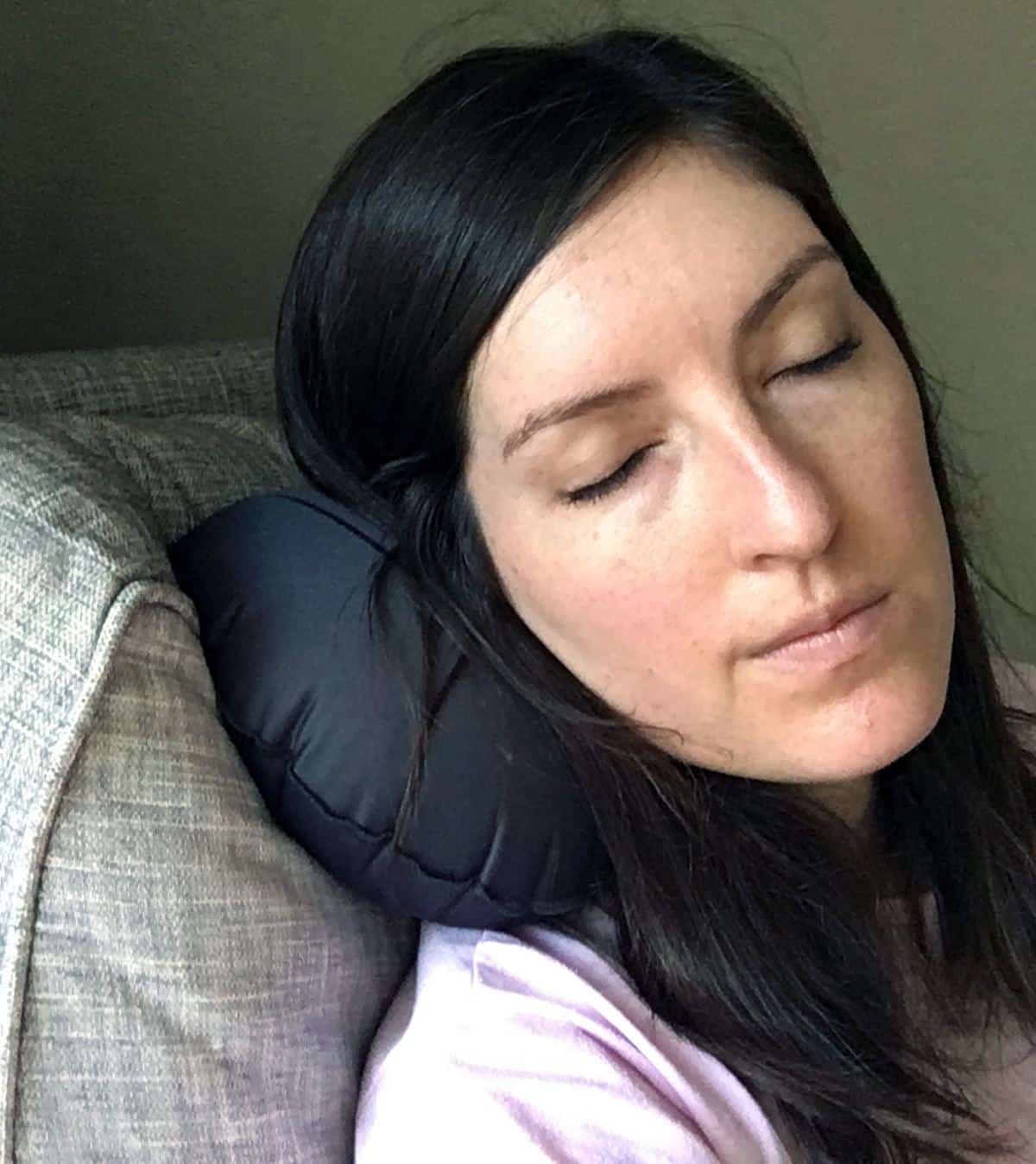 The shape and the filling of the pillow reminded me of both the Therm-a-Rest Compressible Pillow and the AirComfy Inflatable Travel Pillow.
The pillow inflates itself very quickly and I like that I can add extra air manually if I want it to be super firm. The valve is also pretty easy to use and there are instructions on the valve itself. It's easy to learn how to pull and/or twist it on and off to inflate or deflate.
There are also detailed instructions and extra tips on the back of the packaging the pillow comes with. It includes helpful information for storing (make sure to leave the valve open!).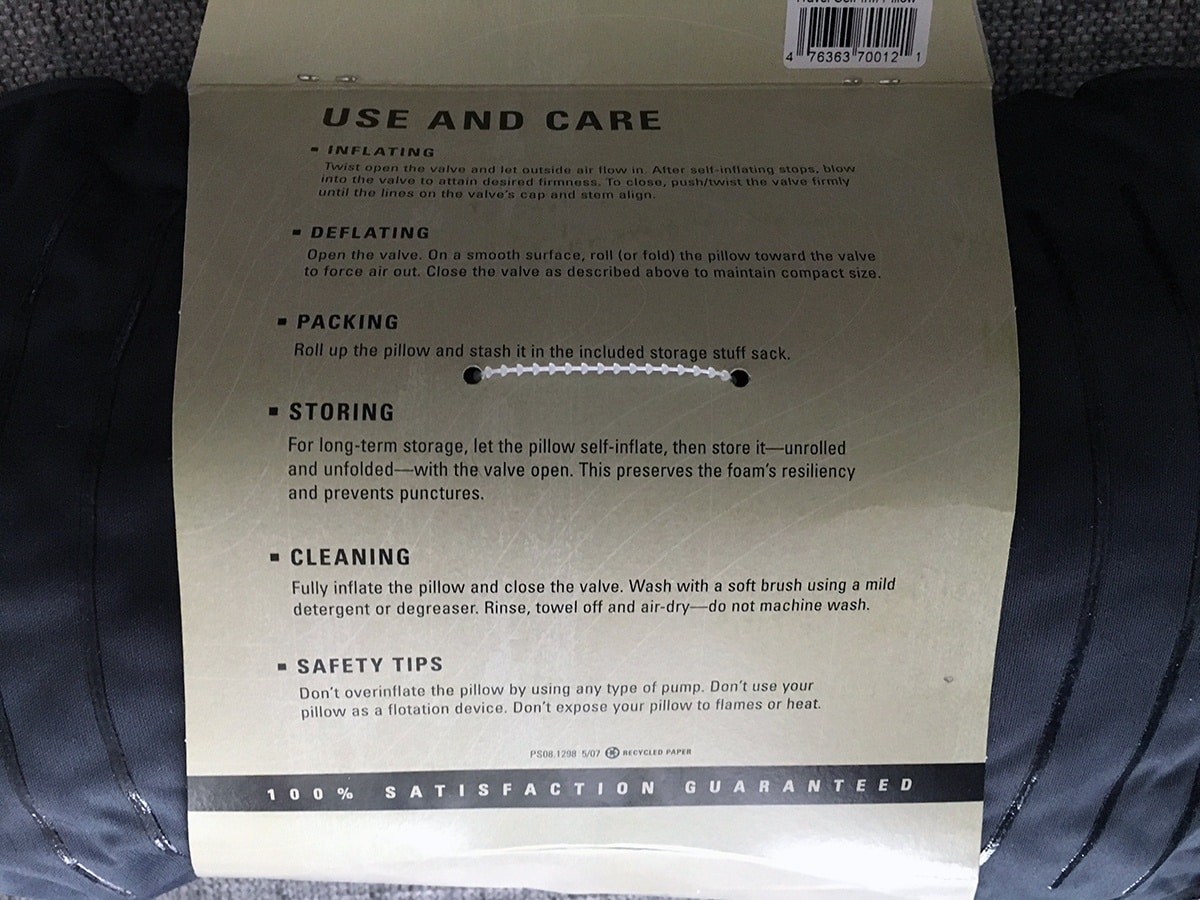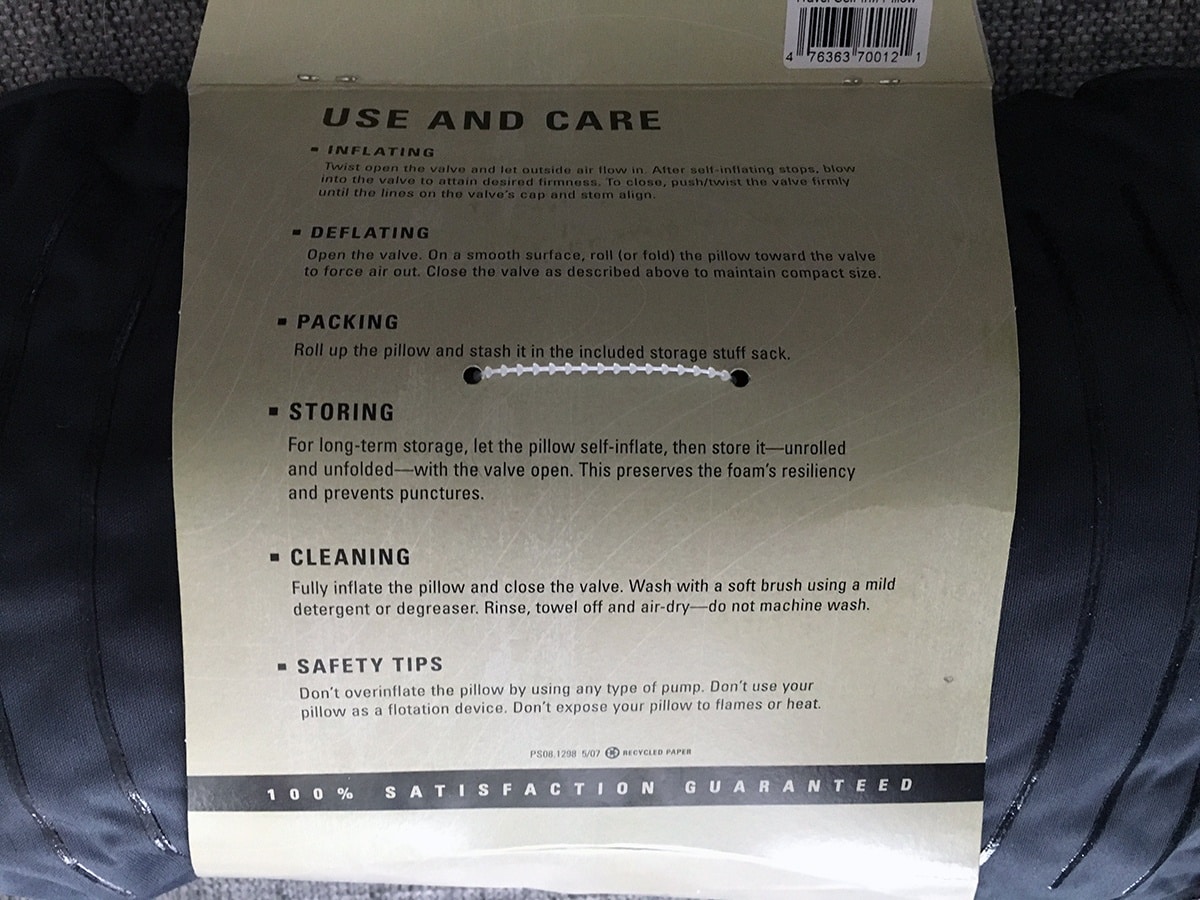 The silicone striping on the back of the pillow is unique and not something I've seen in other travel pillows.
I think it is especially handy for this pillow specifically because the stretch-knit polyester fabric cover is soft and comfortable but is prone to slipping. This will definitely help keep the pillow in place if it's up against the window of a plane or car.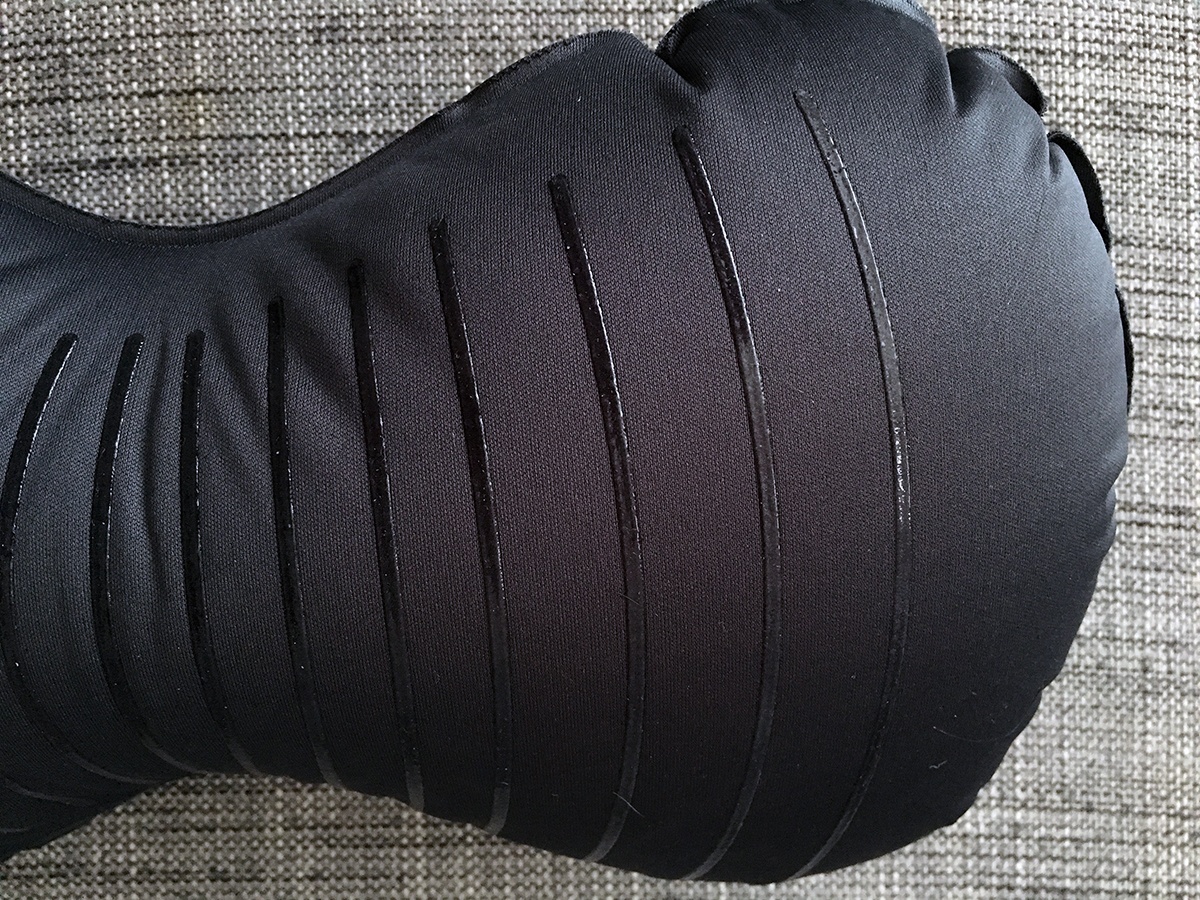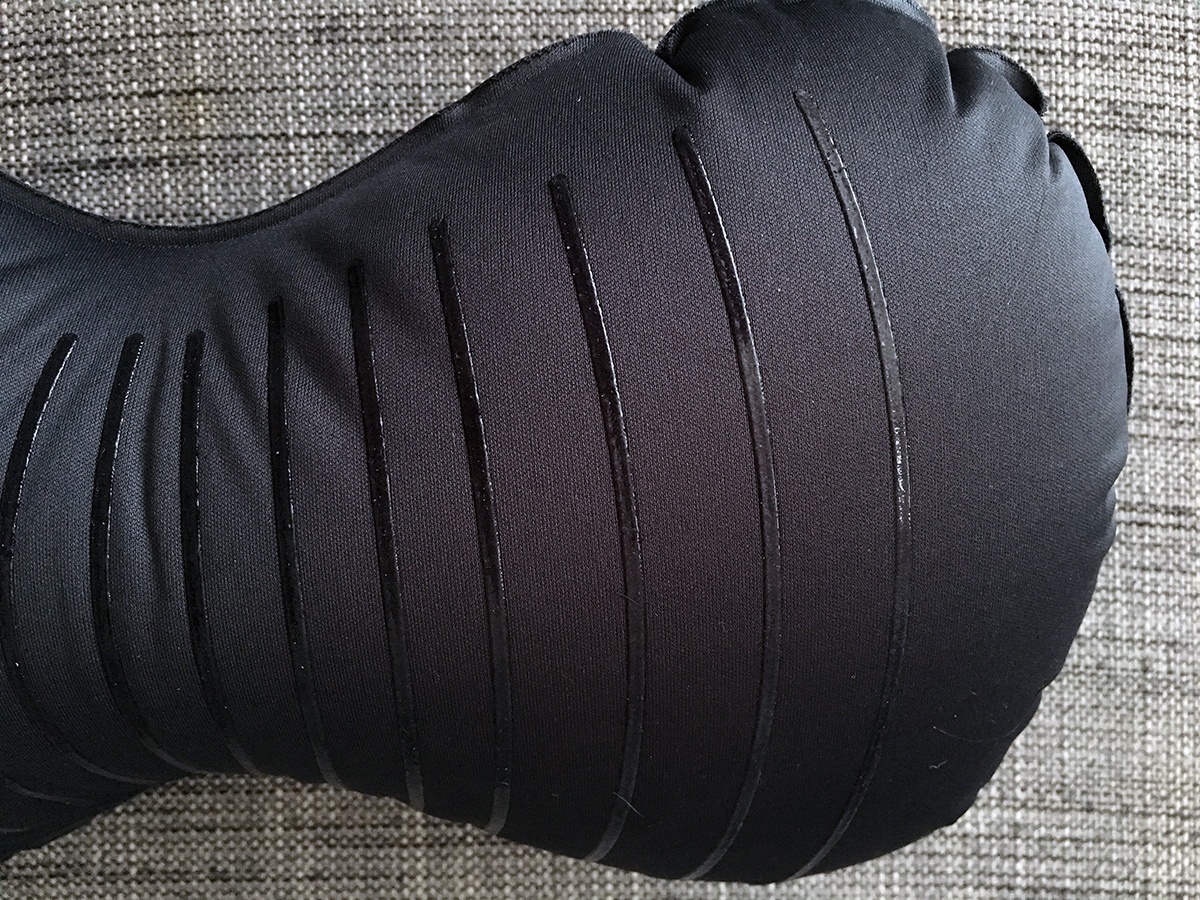 The pillow is not machine washable or dryer-friendly and the care instructions are a bit detailed. REI says the traveler should fully inflate the pillow and use a soft brush with a mild detergent to clean it. Then rinse it off, towel and air dry.
It will take some time to get the pillow fully cleaned and dried so that's something for frequent travelers to keep in mind.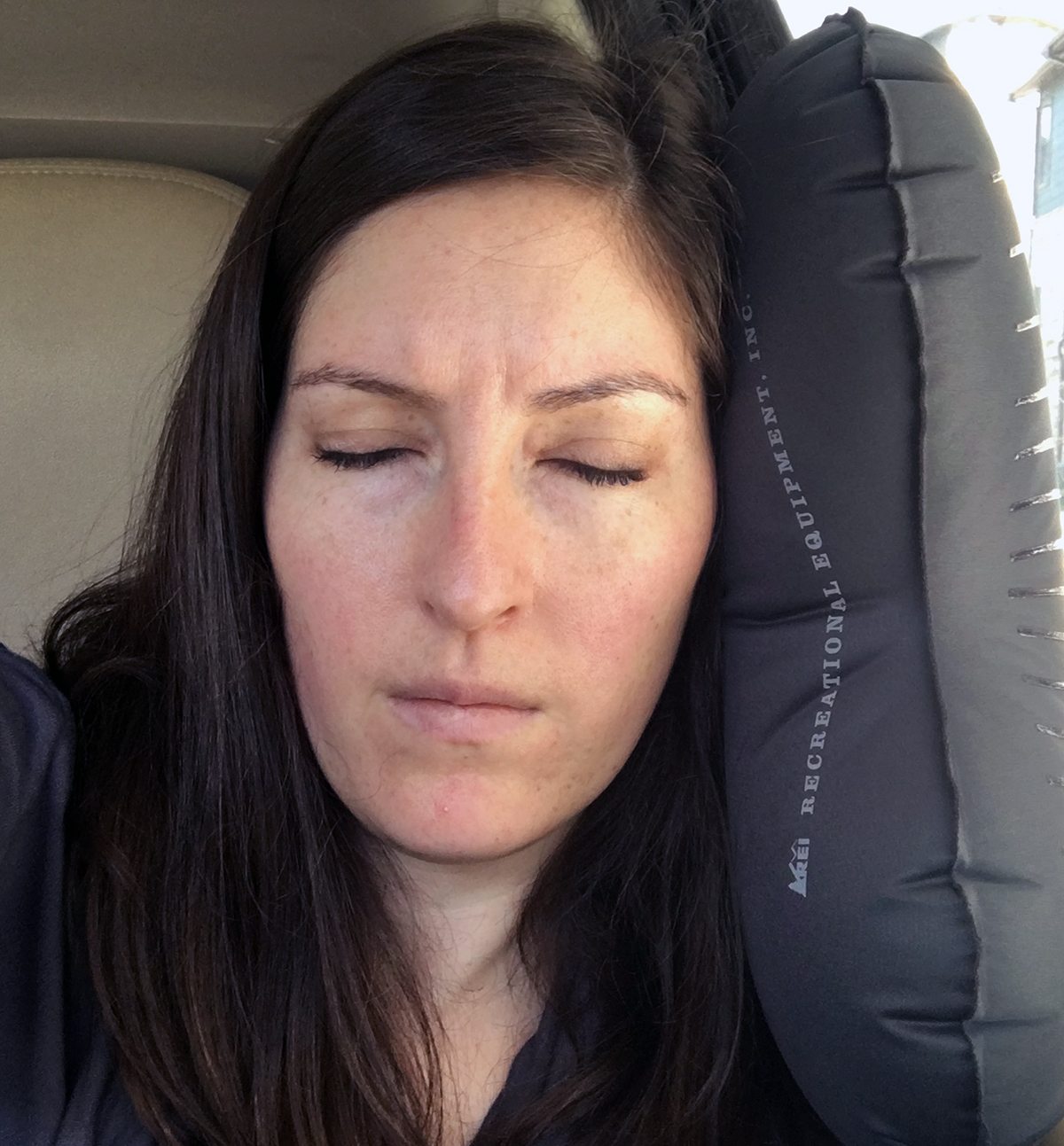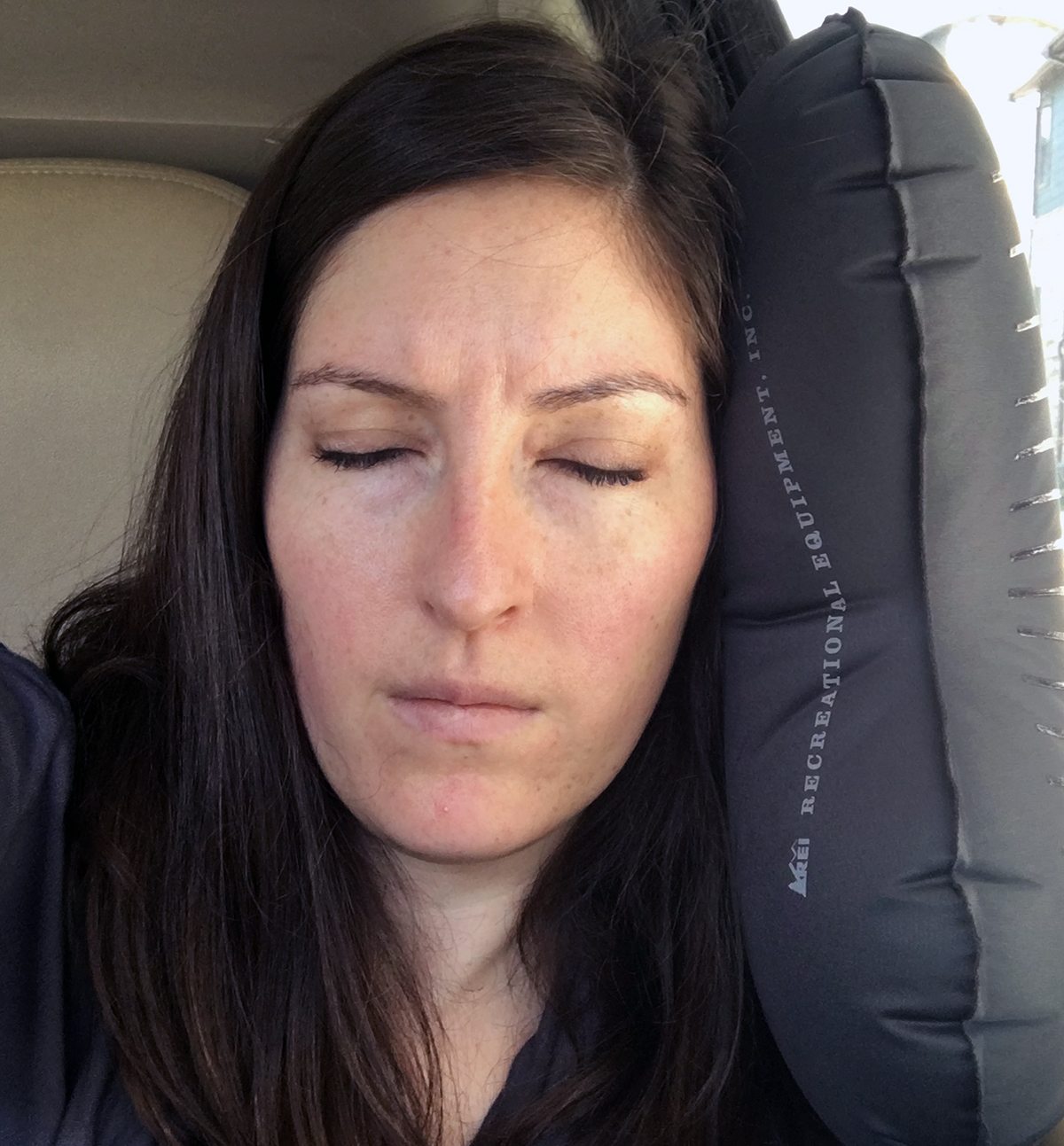 Another way to protect the pillow from germs and help keep it clean for longer is to use the travel case (or "stuff sack" as REI calls it) with the pillow.
It was a little hard for me to fully deflate the pillow, probably because of the foam filling, and get it tight enough to fit in the case.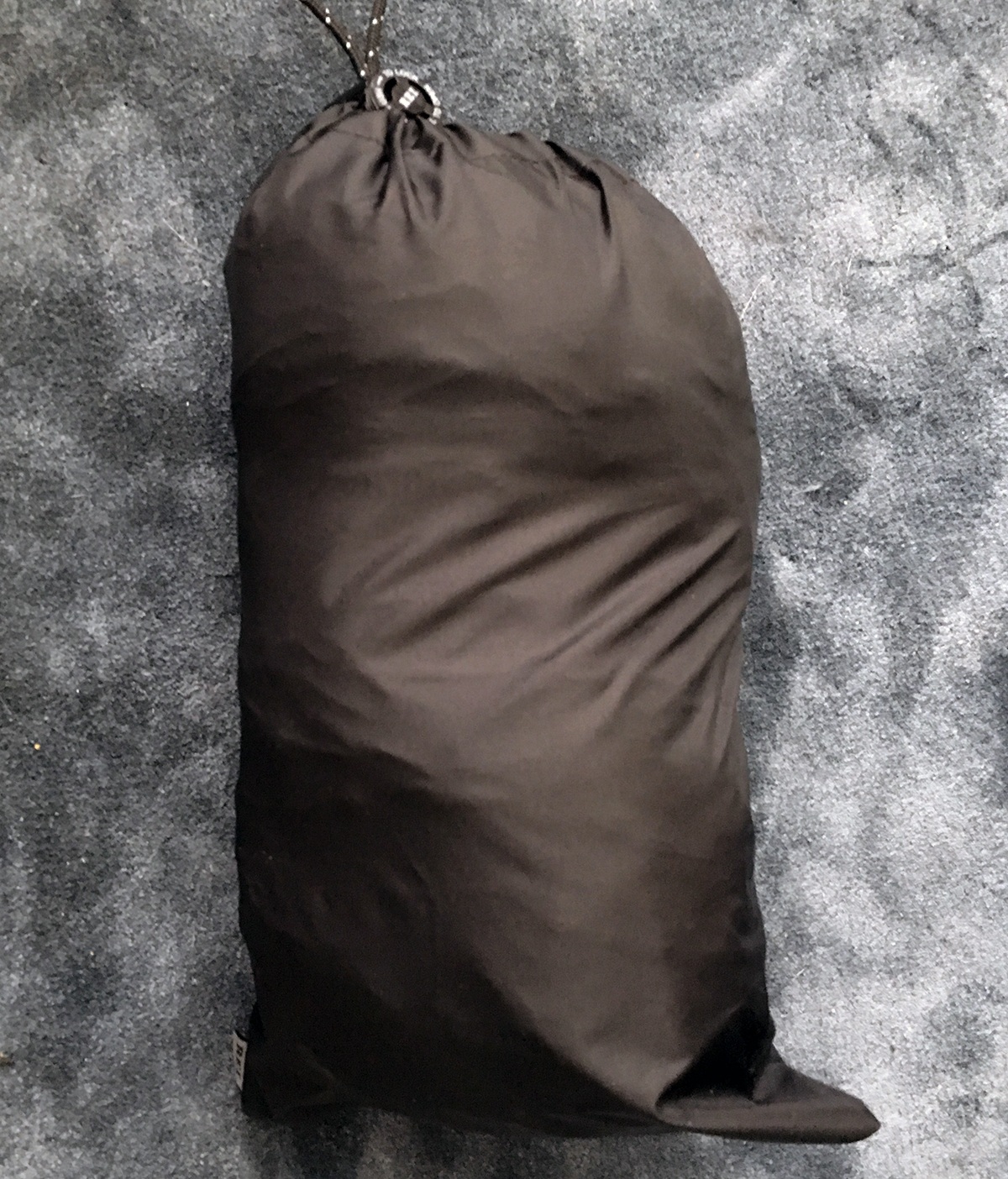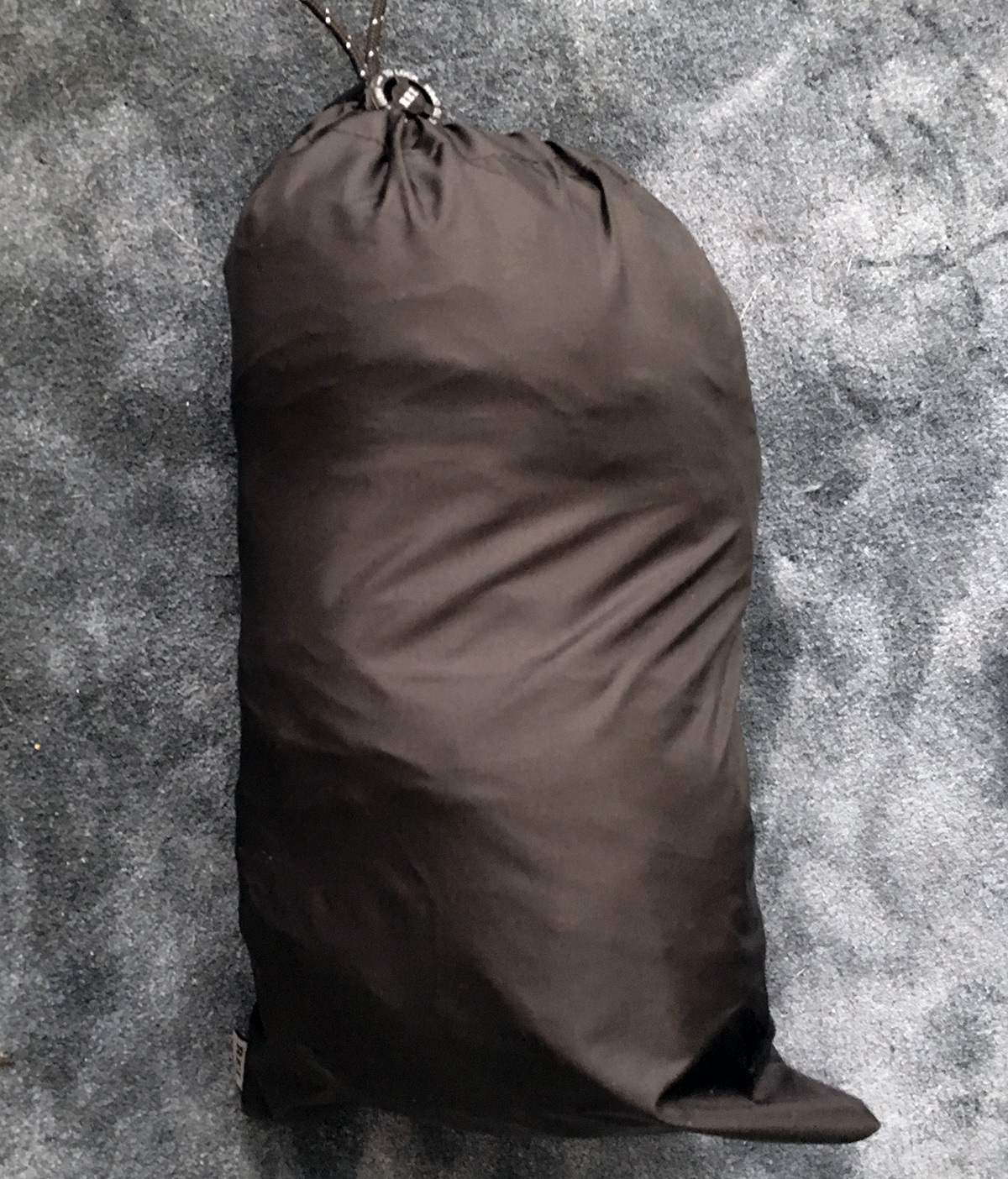 On REI's website, there are instructions on how to deflate and scrunch the pillow, but I would recommend following the instructions written on the package and place the pillow on a flat surface and roll the air out like a person would roll up a sleeping bag.
Once the travel case is in its travel case it's very compact and can easily be attached to a piece of luggage or thrown into a carry-on bag.
I like the versatility of this pillow. I can use this traveling and I can also use it as a pillow replacement if I need a better pillow in a hotel (or if I'm camping).
The biggest flaw seems to be the shape of the pillow. The pillow has wide edges and a narrow center, so the surface area where one would rest the back of the head (or the side of the face if the person is a side sleeper) is limited.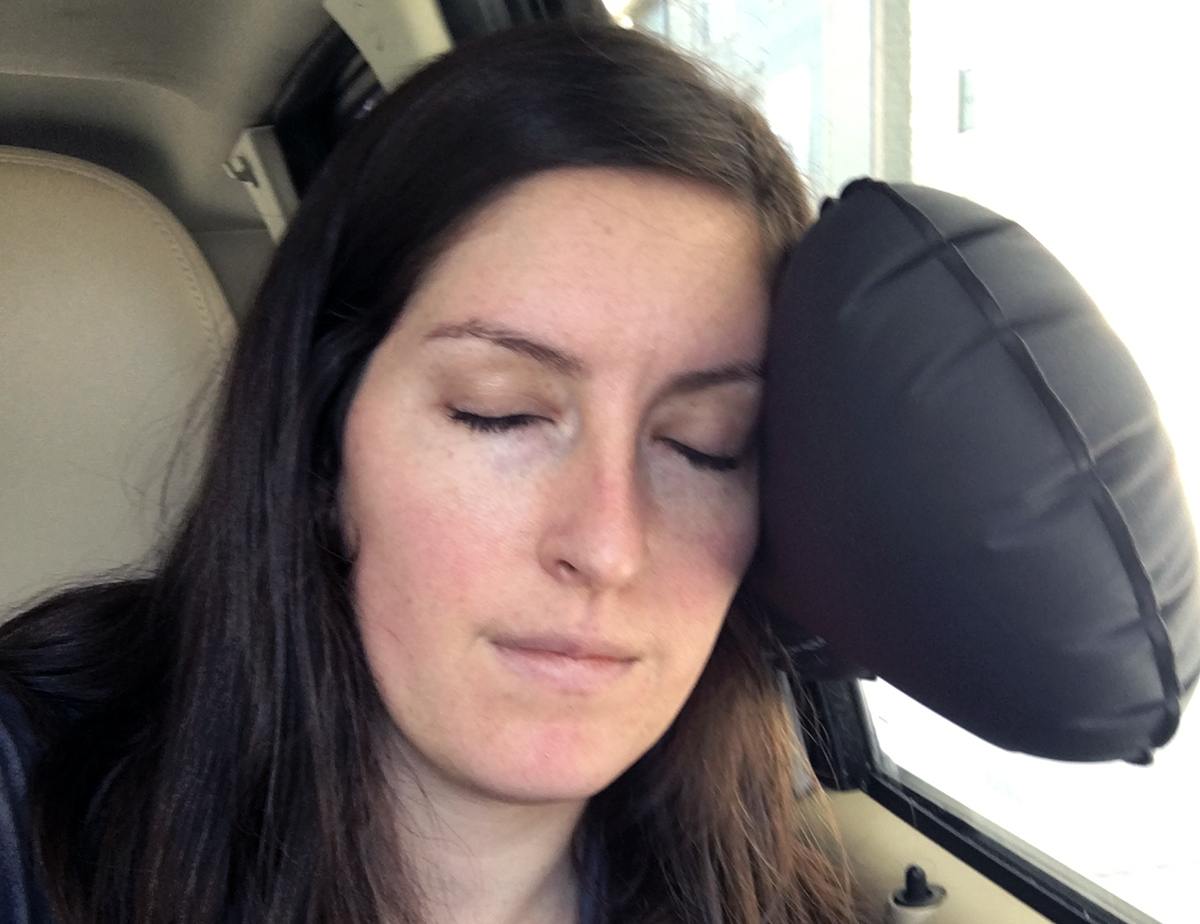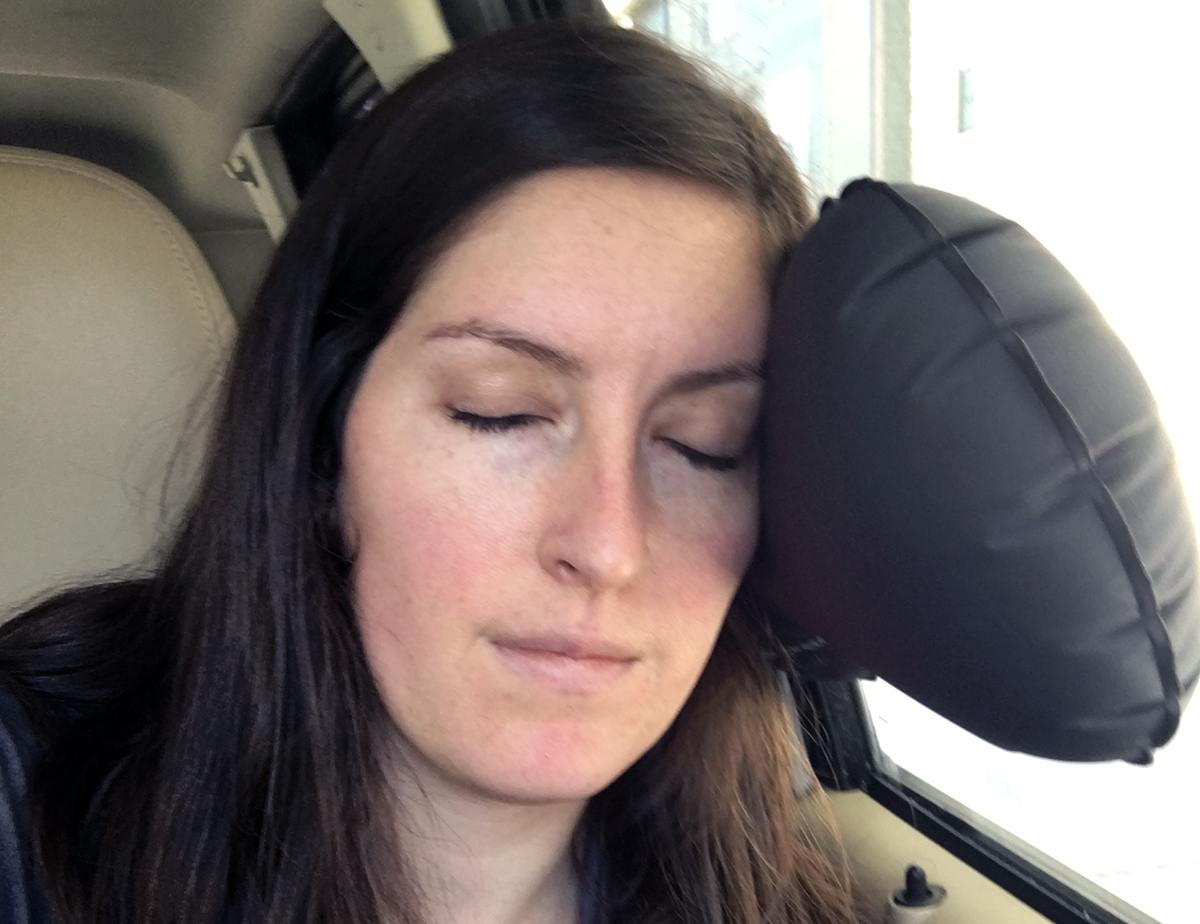 Other reviewers had similar issues with the limited surface of the pillow. I think the shape of the REI pillow saves on space and allows it to be compact, but for personal comfort  I'm more inclined to like a full rectangular or square-shaped pillow like the Therm-a-Rest Compressible Pillow (which can also be found at REI).
REI Self-Inflating Travel Pillow Review
Summary
Overall the Self-Inflating Travel Pillow by REI is a versatile and durable pillow that can be used on a plane or train but also in a hotel or camping. The self-inflation is quick and the filling is both air and foam, which provides additional comfort. The pillow's shape, with its narrow center section, may make it difficult to find a comfortable place for your head due to its limited surface area. It is hand wash only and comes in one color as well.
What To Consider Before Buying
The pillow cannot be machine washed or dried so the owner will need to allow time to hand wash it and let it air dry.
The pillow has a unique shape wider ends and the center is the most narrow and has the least surface area. Some reviewers found this shape made it hard to get comfortable.




It took a little bit of work to compress the pillow enough to fit it into its travel case. The instructions recommend laying the pillow onto a flat service and pressing down/rolling up the pillow to squeeze the maximum amount of air out. This will work if real pressure is applied but I worry it might be tricky to do this in a small airplane seat with just a tray table as a flat surface.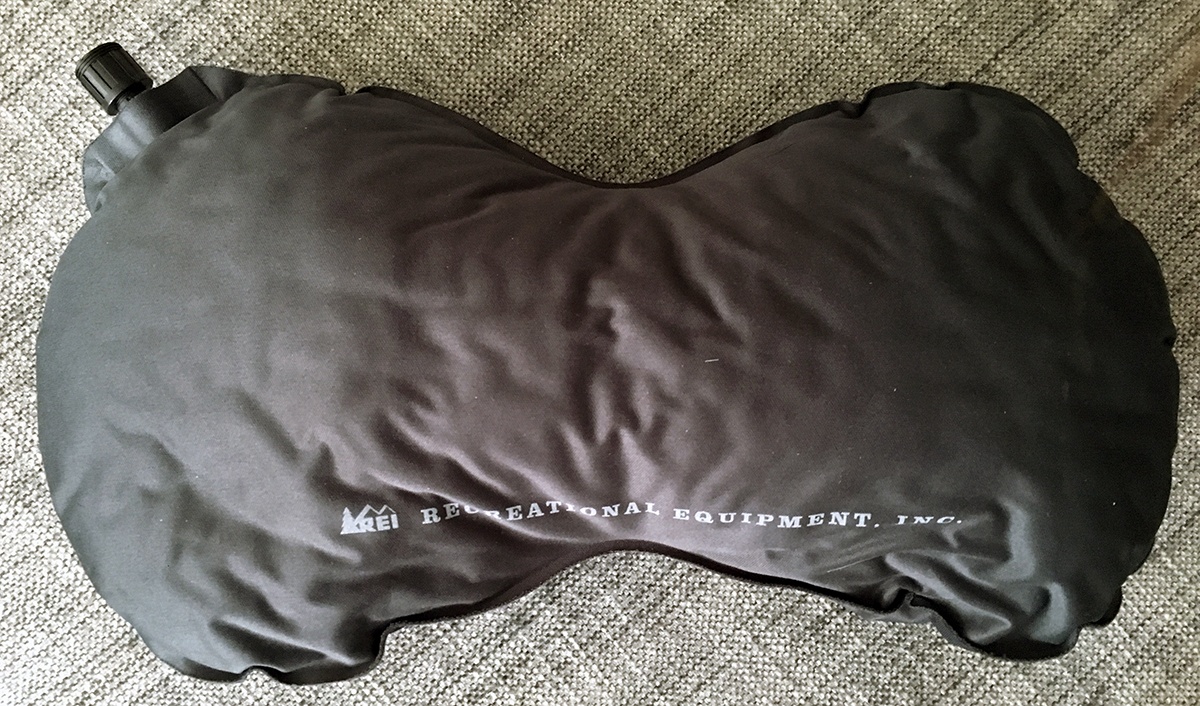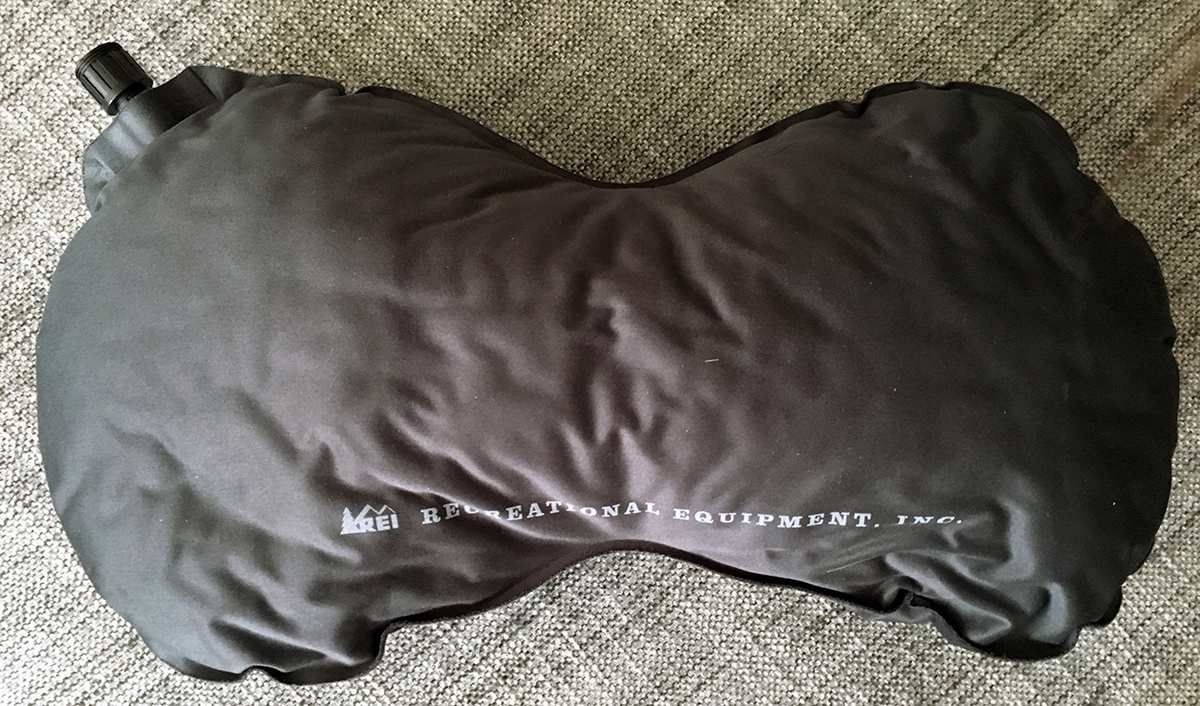 Price
The REI Self-Inflating Travel Pillow is priced reasonably at $19.50 on REI.com. This pillow is priced closely to the Therm-a-Rest Compressible pillow which is a similar pillow (and another nice option).
REI Co-op Self-Inflating Travel Pillow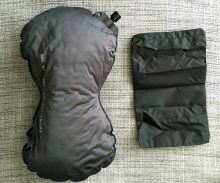 The REI self-inflating pillow is a durable and good-looking travel and camping pillow. Its combination of air and foam makes it extra comfortable and slightly more responsive than a pillow that is only inflatable.
Read Full Review
I think the pillow's quality materials, durability, and versatility all make it a great travel pillow for those looking for something different than a standard neck pillow.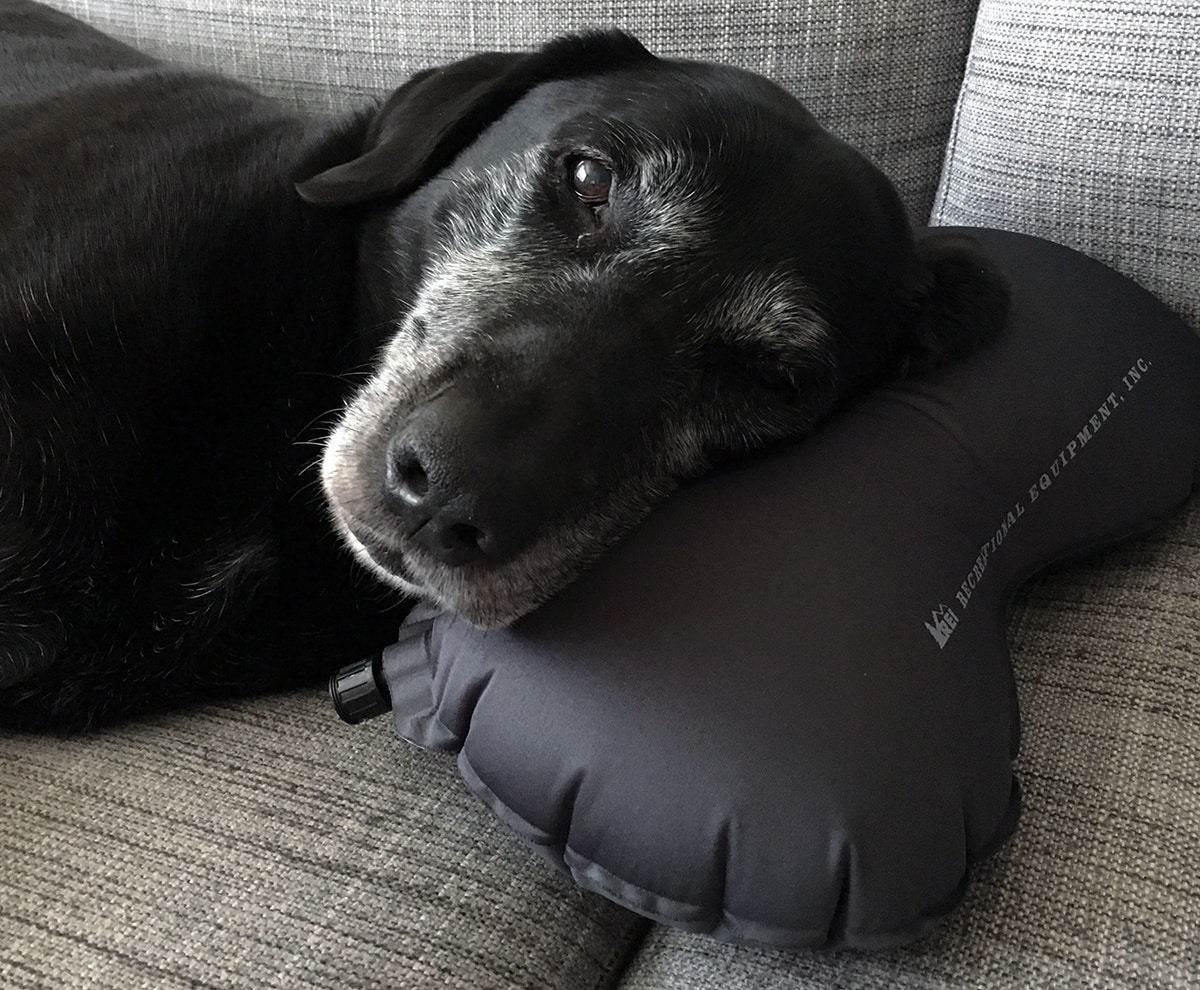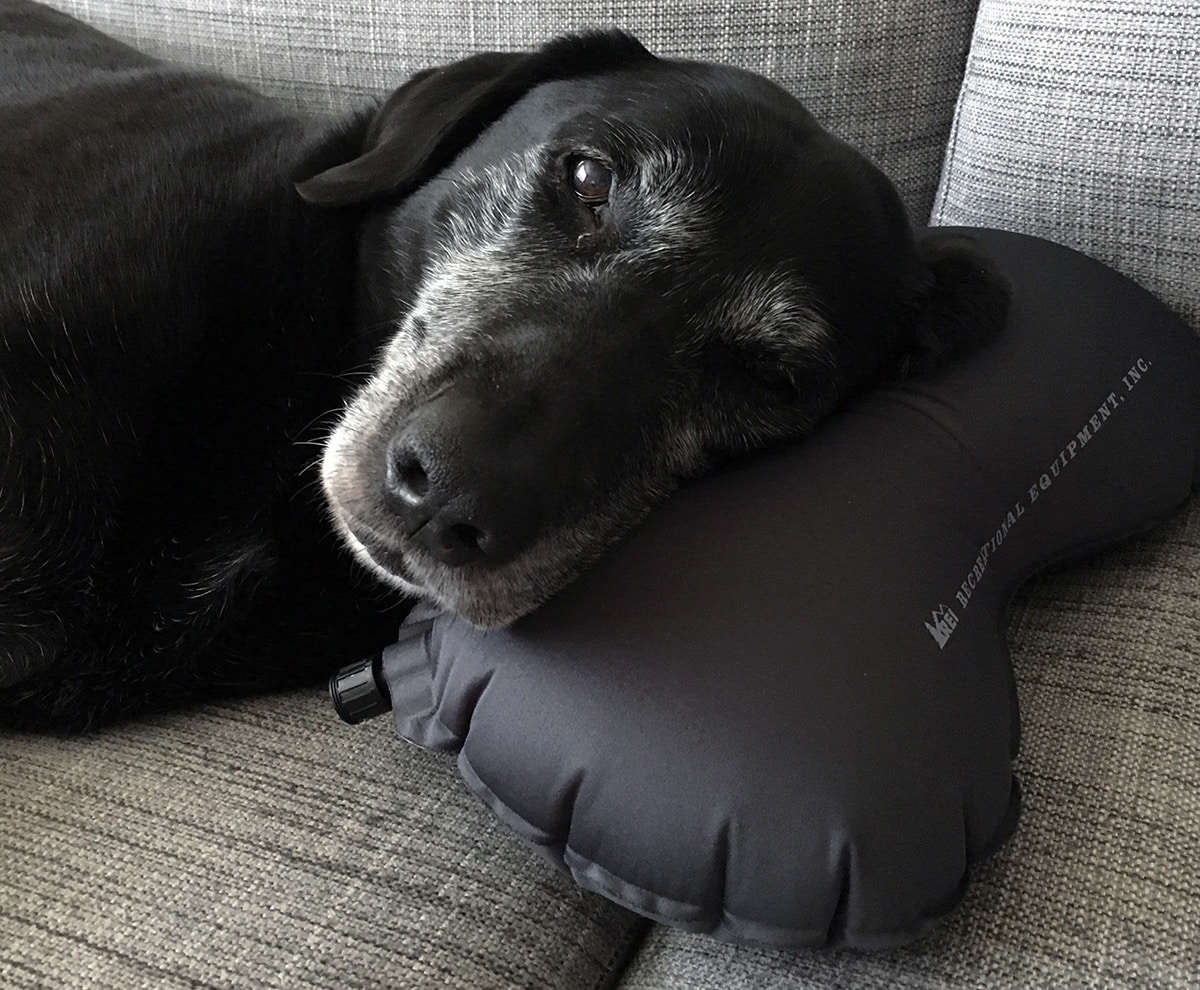 The size makes it easy to roll up and tuck into a carry-on without taking up too much space. Travelers will need to hand wash it and air-dry the pillow but the material should allow it to dry quickly.
REI provides its own satisfaction guarantee as well.