The straightforward and compact nature of the Compressible travel pillow makes it a wonderful fit for any traveler who misses the comforts of their traditional bed pillow. What features would I have liked to see? Read on for my full video and written reviews below.
Therm-a-Rest Compressible Pillow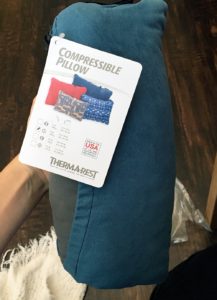 This compressible travel pillow fluffs out to an impressive size and feels just about as similar as you can get to a real pillow.
Mattress Clarity Score
3.50 / 5
Read Full Review
Who Makes It
The Compressible pillow is made by Therm-a-Rest, an outdoor product company that makes camping gear like mattresses, sleeping bags, and pillows. The Compressible Pillow is actually one of six different types of pillows they produce. Therm-a-Rest recommends the Compressible Pillow for any type of travel, whether it be international trips or a road trip adventure.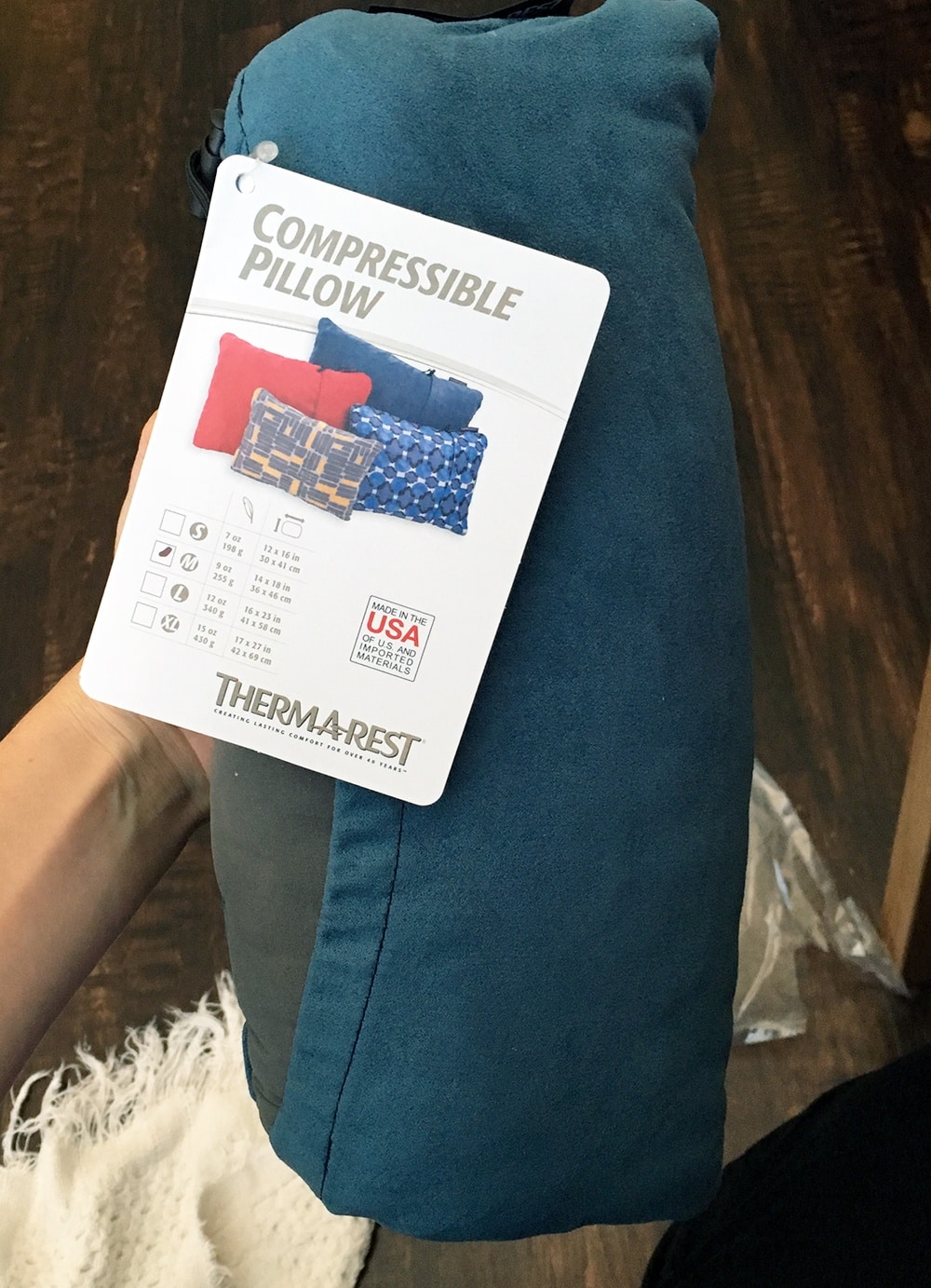 See where the Compressible travel pillow ranks on my best travel pillows page.
Key Features
Dimensions: 14" x 18" (size Medium)
9 ounces in weight
4″ thickness
Core: Urethane foam filling
Designed in a traditional bed pillow shape
Cover: Brushed polyester cover material
Comes in four color options
Compact; the pillow tucks into itself – no travel case needed
Machine washable and dryable
My Experience
When I first unrolled the Compressible Pillow from its small, cylindrical travel shape into a rectangle, I was concerned. The pillow felt lumpy and flat and I could not imagine how it would be comfortable as a regular pillow, let alone on a plane or in a car.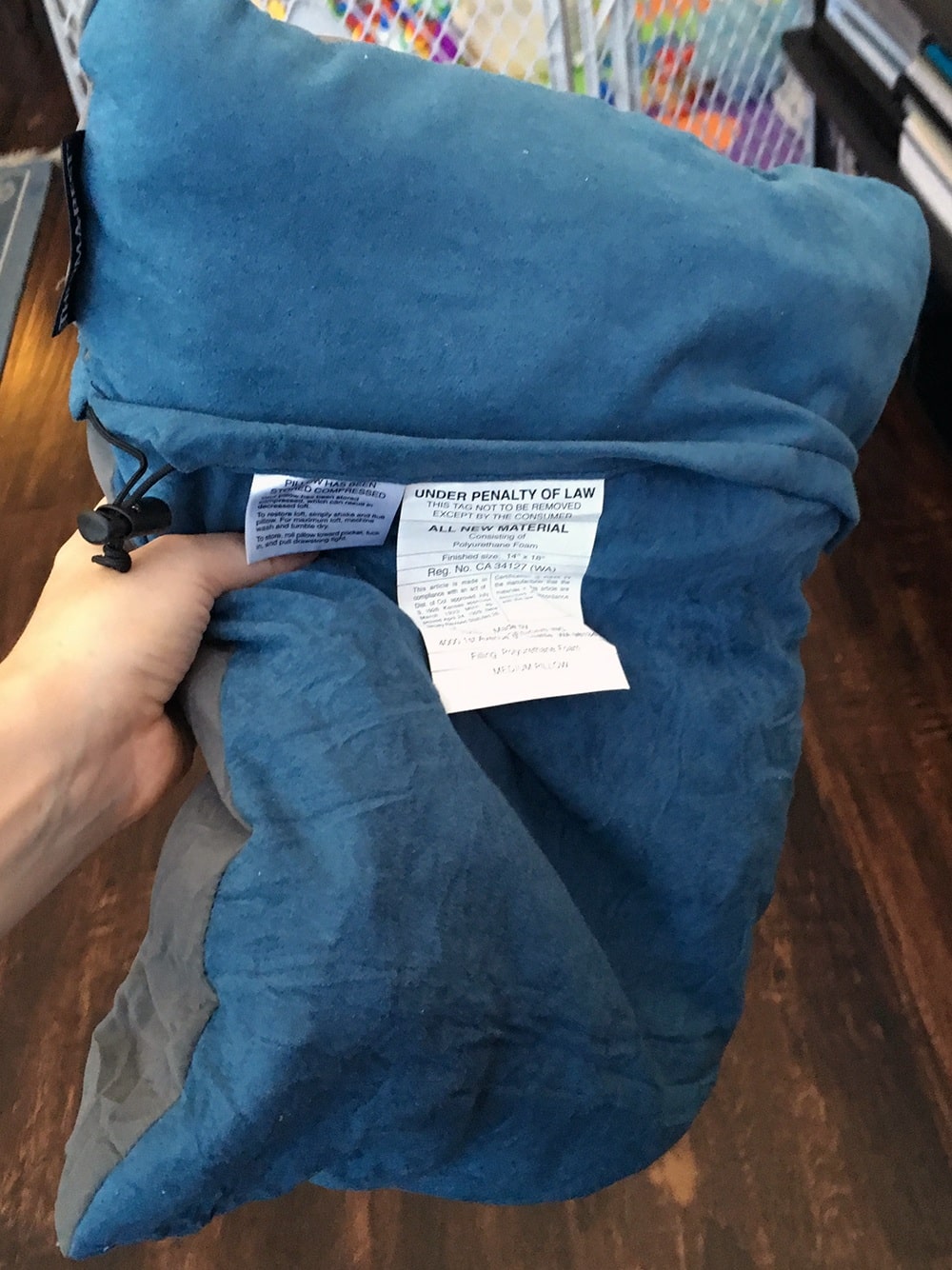 There is a small tag on the pillow that indicates that it has been compressed (if the name didn't already give that away). In order to restore it, the traveler must "simply shake and fluff pillow" and for ultimate loft, it should be machine washed and tumble dried. Highly skeptical that it could expand enough to be comfortable, I threw the pillow into a gentle cycle in my washing machine.
When I pulled the pillow from the washer, it was full and firm and a huge change from the initial pillow I first unwrapped. I also ran it on a low tumble dry and it came out no worse for the wear, so bonus points for durability.
The particular pillow I'm reviewing is a size Medium, which is 14" x 18" and weighs about nine ounces. For reference, a standard bed pillow is roughly 20" x 26" so this is much smaller.
At its maximum loft, the pillow feels like the perfect size for travel.  To provide perspective, it's larger than the pillow offerings on most airplanes but noticeably smaller than a standard-size pillow (which means it won't be bumping a neighbor).
According to camping retailer R.E.I., the Compressible Pillow is made from extra foam pieces used to make Therm-a-Rest sleeping pads. Despite being filled with various sized and shaped pieces of foam, the pillow is not overly lumpy. I wouldn't go so far as to say it's as smooth as an inflatable pillow, but it's still very comfortable and made with reusable materials.
Because the Compressible Pillow is in a traditional pillow shape and made for all sorts of travel and outdoor exposure, it is very durable and versatile. I easily napped with it on my couch, in a high-backed chair in my nursery, and felt comfortable with it pressed against my car window on a long trip.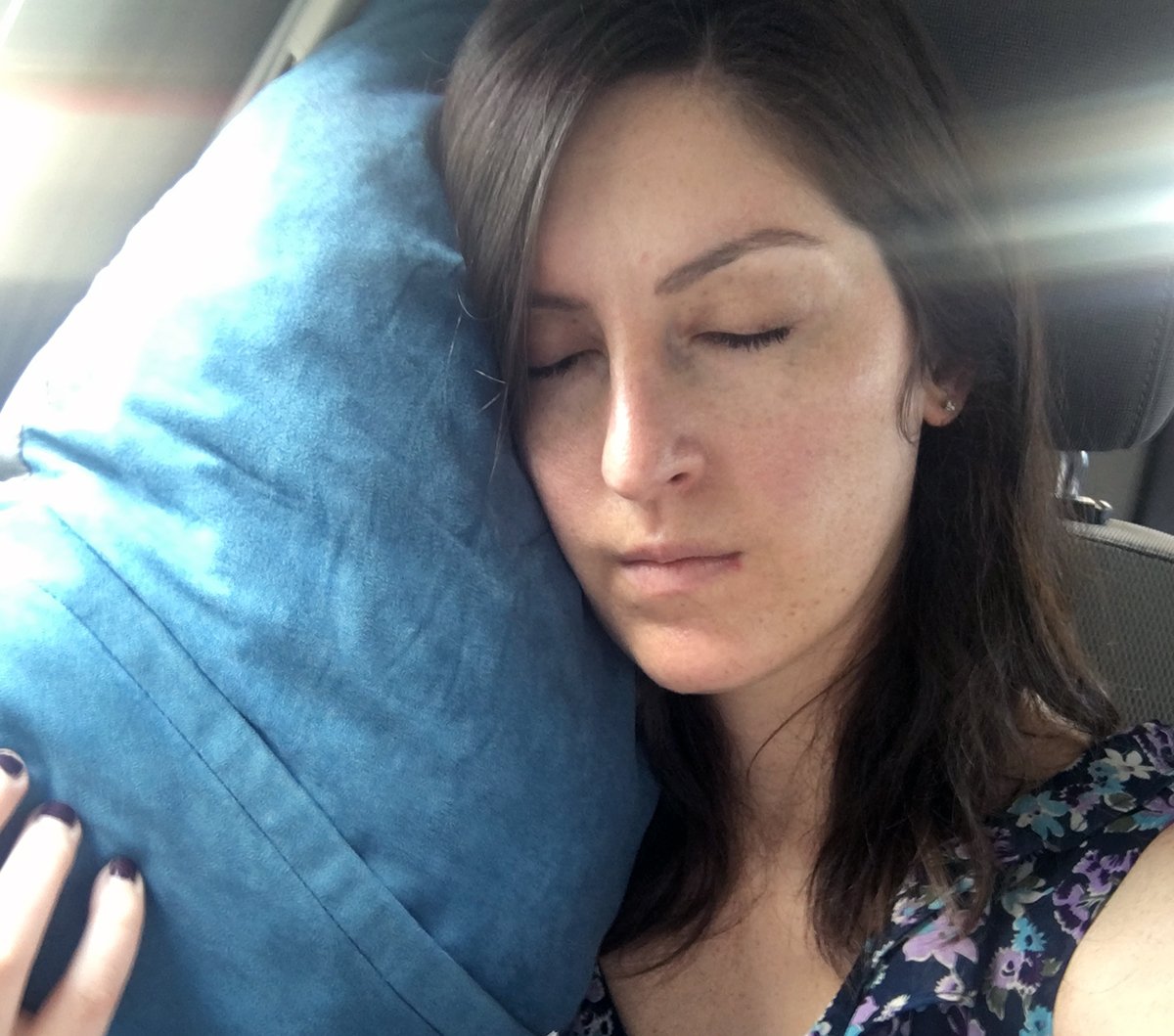 The cover fabric is a Brushed Polyester, which feels soft against the cheek. Unlike other travel pillows, it grips materials and prevents the pillow from slipping down the side of a plane or car window (or the side of the face).
It is not a neck pillow, so travelers will miss that enhanced neck support. Therm-a-Rest does make a neck pillow, which I'd be interested in checking out. But for side sleepers (like me) and prefer the feeling of something pressed against the side of the face, I think this pillow is a great option for a road trip or window seat on a plane, car or train.
It was simple and efficient when it came to rolling it up and packing it away. There is a pocket on one end of the pillow and all one needs to do is roll the opposite end up like one would a sleeping bag, tuck it into the pocket and tighten the accompanying drawstring and it's ready to go. No extra travel bags or cases to keep track of.
What To Consider Before Buying
This pillow comes from a company well-known for its camping products and accessories. However, that doesn't mean it's a bad air travel pillow but I think the focus is on being compact, easy to pack and durable, over being easy to use on a plane.
The fabric cover is not plush, but plenty soft and it doesn't have a latch or strap to attach to the outside of a carry-on bag or piece of luggage.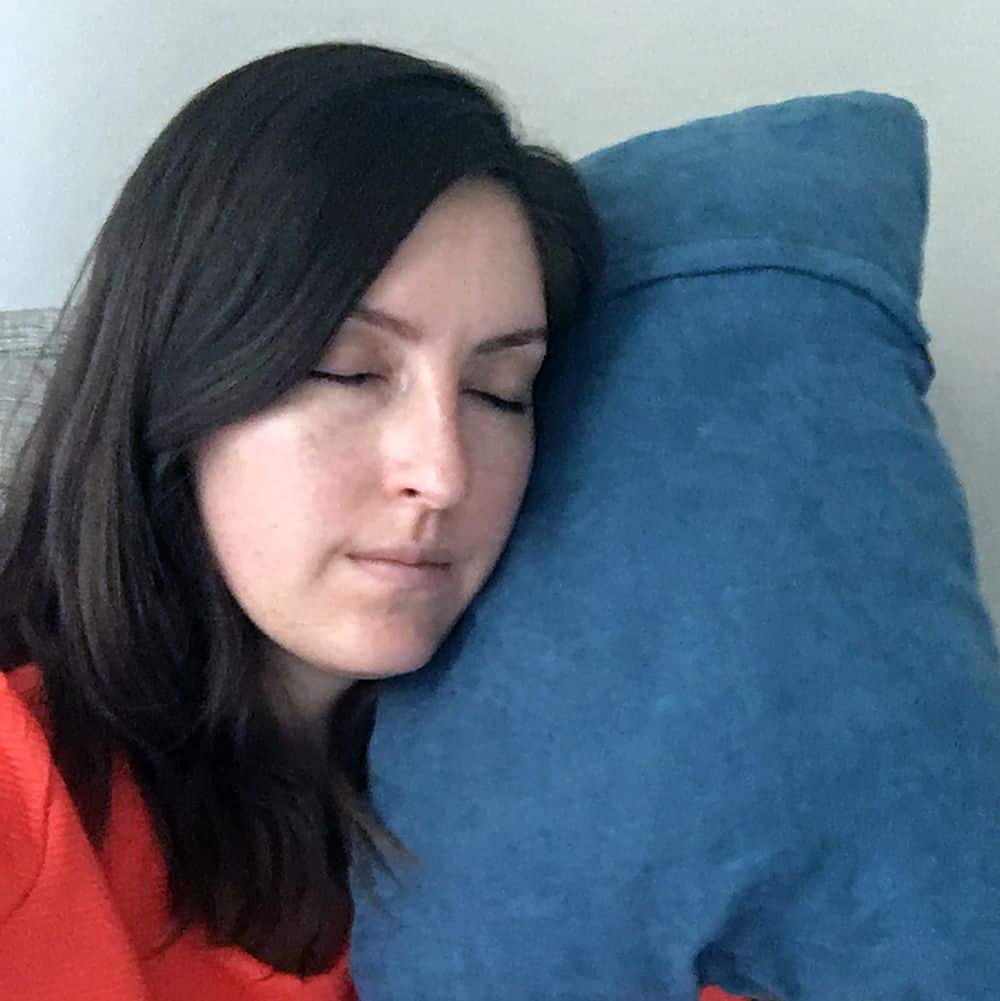 It does take a little time (and patience) to get this pillow to its maximum loft without a washer and dryer. I shook and tossed the pillow around for about 10 minutes before I felt like it was at a comfortable firmness. It will get there, but don't expect to be able to use it comfortably immediately after unrolling.
The pillow is not as smooth as other travel pillows – the foam pieces make it a little lumpy but after it's been through the dryer the lumps are less obvious.
Related: See the top reviewed travel pillows
Price
Therm-a-Rest Compressible Pillow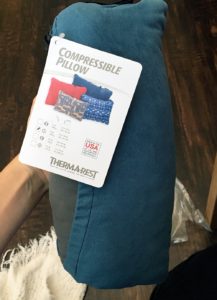 This compressible travel pillow fluffs out to an impressive size and feels just about as similar as you can get to a real pillow.
Mattress Clarity Score
3.50 / 5
Read Full Review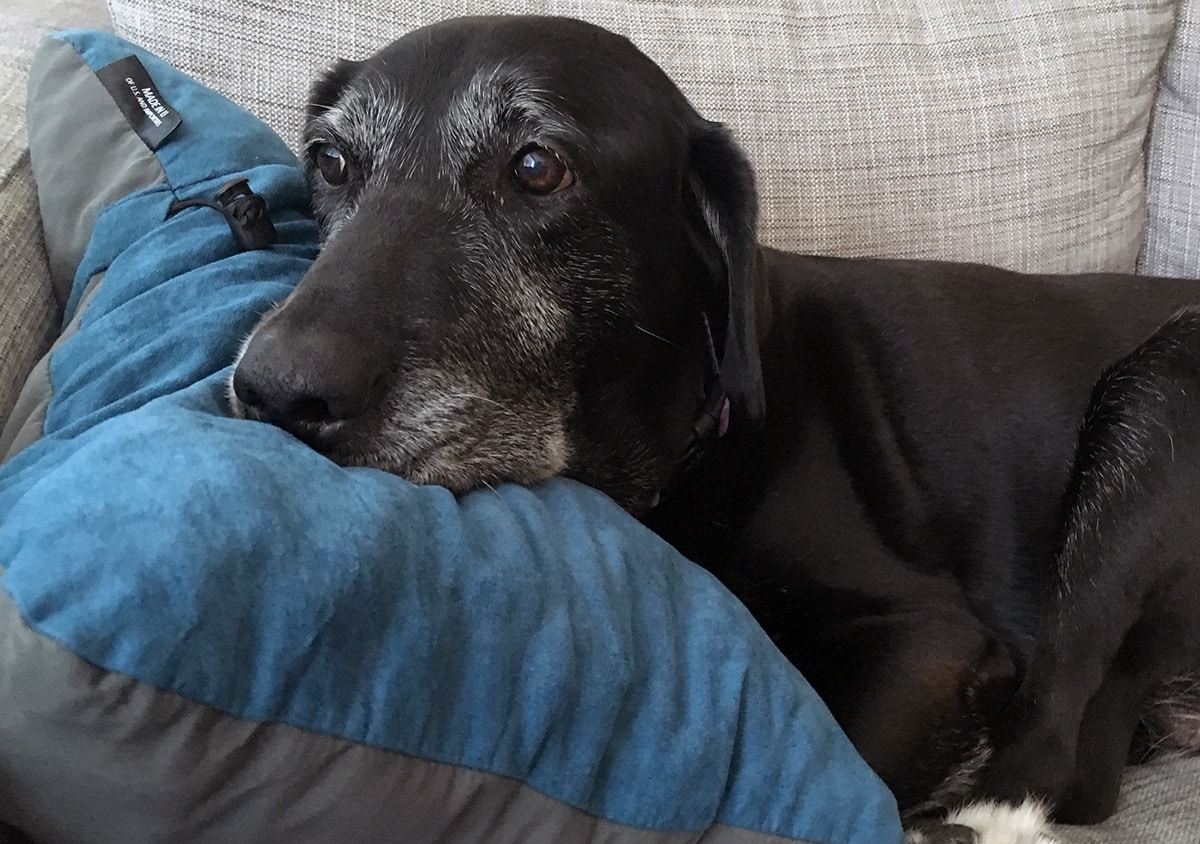 I like that I can use it in a variety of travel settings and that it was firm enough for me to fall asleep using. When I've rolled it back up I am able to use it as a lower back pillow.
Katie Golde
Katie previously managed the day to day operations of the Mattress Clarity news site and reviews sleep products in addition to writing and editing sleep news. She hails from Austin, where she lives with her growing family. She is a Certified Sleep Science Coach and has a master's degree in Journalism from Northwestern University and has a background in health and science content. Her work can be found in print and online publications like Discover Magazine, USA Today and The Huffington Post.