Editor's Note: The Purple Plush pillow is no longer available for purchase. Instead, check out the Purple Harmony pillow, which is made with the brand's proprietary Purple Grid to give a "floating on air" sensation. Read our Purple Harmony pillow review for more information!
I matched the Casper pillow and the Purple Plush pillow together for comparison because they're very similar in many ways but it's imperative that their understated differences be highlighted before any purchases are made!
From the outside, these two pillows look like they're cut from the same cloth. They both offer a soft and fluffy filling and can be adjusted so they can be made to feel firmer at times and softer at others. However, there is more to each pillow than meets the eye.
Their big differences lie in these main categories: their outer covers, the ways in which they can be manipulated and adjusted, and which sleeping positions they're the best fit for.
In this Casper Pillow vs Purple Plush Pillow comparison, we'll tackle it all. Curious to learn more? Watch my in-depth video comparison or keep reading for all the details!
Casper Foam Pillow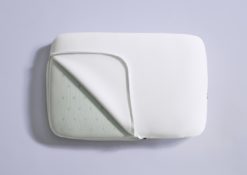 The brand's most popular offers a "pillow-in-a-pillow" design that with a crisp cotton cover and down alternative feel.
Mattress Clarity Score
4.20 / 5
Read Full Review
Casper Pillow vs Purple Plush Pillow: Video Review
Top Similarities
Each pillow can be adjusted so it feels firmer or softer
Polyester fiber filling in both 
Machine washable and dryable
100-night trials for each pillow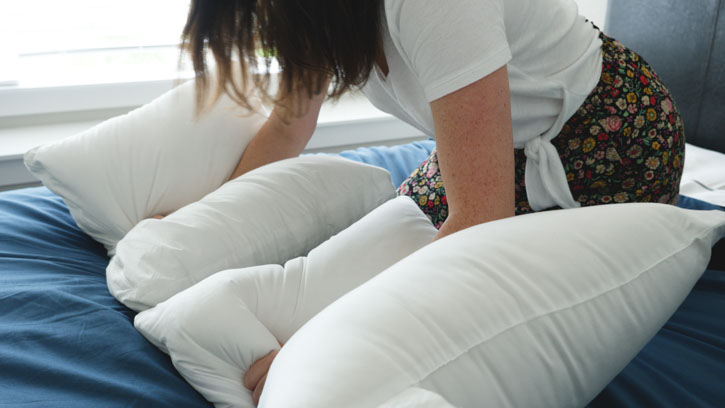 Key Differences
Let's cover the main points of differentiation between the Casper and the Purple Plush pillow, starting with the cover:
Covers: Casper is 100% cotton and Purple Plush is 60% Lyocell and 40% Nylon
Fillings: Both are polyester fibers, but Casper is coated fibers and Purple Plush is "Smart Fluff"
Adjustable features: Casper is a pillow-in-a-pillow design, while Purple Plush is adjusted via zippers on the length of each side of the pillow
Sizes: Casper comes in Standard and King; Purple comes in just Standard
Price: Casper is $65 for a Standard and $85 for a King; Purple is $49 for a Standard
Casper Pillow Basics
Two sizes: Standard and King
Pillow-in-a-pillow design features an outer pillow that opens up to reveal a smaller inner pillow
Inner and outer cover fabric: 100% Supima cotton, percale weave
Outer filling: polyester fibers
Inner filling: nearly one billion coated fibers (slightly firmer feel)
Care: Separate inner and outer pillows and machine wash and dry
Price: $65 Standard, $85 King
3-year limited warranty
Read our full Casper Pillow review, here!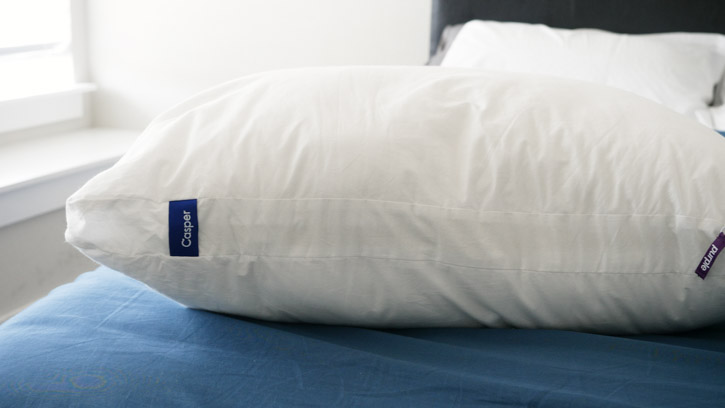 Purple Plush Pillow Basics
Currently comes in one Standard size (26″ x 18″ – same dimensions as the Standard Casper size)
The cover is 60% Lyocell and 40% Nylon with a moisture-wicking treatment
The filling is what Purple calls "Smart Fluff," or interlocking, denier poly-fiber puffballs
Adjustable in that individuals can unzip to make it softer and zip it to make it firmer. Two zippers so sleepers can combine or do half and half for even more preciseness with no mess
1-year warranty
Price: $49 (one size)
Read our full Purple Plush Pillow review, here.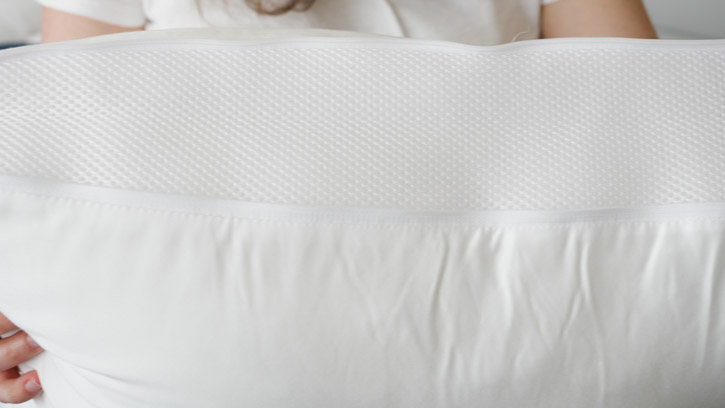 Best Sleeping Positions for Each Pillow
Casper
This versatile pillow can realistically work with all four main sleeping positions (back, side, stomach or a combination). I say this because sleepers can take out the firmer inner pillow and use it as a single pillow if they are stomach sleepers, or combine the two pillows for more support if they're back or side sleepers.
My only caveat is that larger people or those with broader shoulders who sleep on their side may find this pillow goes flat more frequently or isn't 100% supportive enough.
Otherwise, I do think it would work for all sleep positions.
Casper Foam Pillow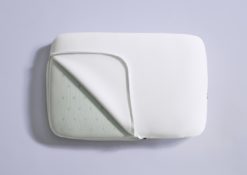 The brand's most popular offers a "pillow-in-a-pillow" design that with a crisp cotton cover and down alternative feel.
Mattress Clarity Score
4.20 / 5
Read Full Review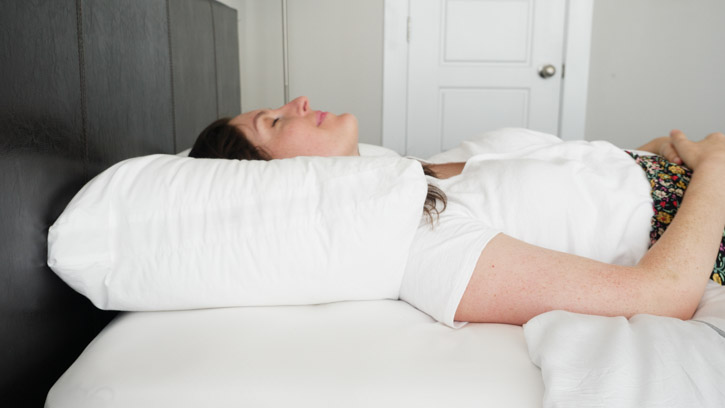 Purple Plush
Purple Plush holds its own when it comes to support and loft – based on my experience, I think it's great for side sleepers and most back sleepers. Even with both sides unzipped – when the pillow is at its softest – it is probably too much in terms of height and overall firmness for stomach sleepers, who tend to need something significantly softer.
Check out the latest deals on all Purple Pillows, here!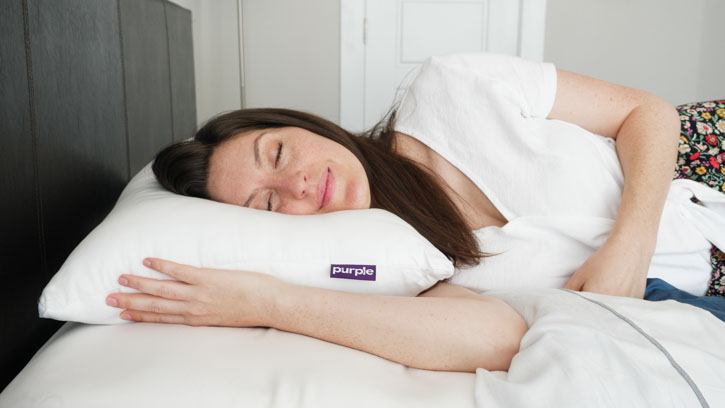 Overall
Both pillows provide that softer, fluffier down-like feel that so many sleepers desire. They're simple and easy to wash and can be adjusted to fit one's preferred firmness and feel. So in that sense, they're both great pillows to pick.
Which one will be the final choice will ultimately come down to personal preference with the fabric cover and what sleep position one wakes up in most frequently. Stomach sleepers may slightly prefer the Casper over the Plush, and vice versa for side sleepers. Be sure to let us know which one is "the one" and comment below with any questions!
FAQs
Does the Purple pillow need a pillow case?
Technically the Purple pillow (the signature) has a cover that could act as a pillowcase. However, I'd recommend putting a pillowcase on nearly any pillow, including the signature Purple pillow or the Purple Plush. It helps block bacteria or other body fluids from building up on the pillow and it's easier to clean.
What's inside the Purple Plush pillow?
The filling is what Purple calls "Smart Fluff," or interlocking, denier poly-fiber puffballs - essentially it feels like down-alternative of fuffy down-like fibers.
Is Casper or Purple better?
These two pillows are very different and it will depend on personal preference. Casper's pillow is more like a traditional down or down alternative, while the signature Purple has the polymer core and is more pressure-relieving and supportive. The Purple Plush is much more similar in construction to the Casper pillow but both have their pros and cons (which are listed above!).
Katie Golde
Katie previously managed the day to day operations of the Mattress Clarity news site and reviews sleep products in addition to writing and editing sleep news. She hails from Austin, where she lives with her growing family. She is a Certified Sleep Science Coach and has a master's degree in Journalism from Northwestern University and has a background in health and science content. Her work can be found in print and online publications like Discover Magazine, USA Today and The Huffington Post.