The eLuxury Supply Hotel White Goose Down pillow is as luxurious as the name might suggest. The white goose down clusters offers a classic down feel, while the Coop Sleep Goods Adjustable Shredded Memory Foam pillow has unmatched loft and extraordinary support.
Which pillow will it be and why? Read on for the full eLuxury Supply vs Coop Sleep Goods pillow comparison!
eLuxury Supply vs Coop Sleep Goods Pillow: Video Review
Top Similarities
Traditional-shaped
Machine washable and dryable
Made in the USA (partially)
30-day return policy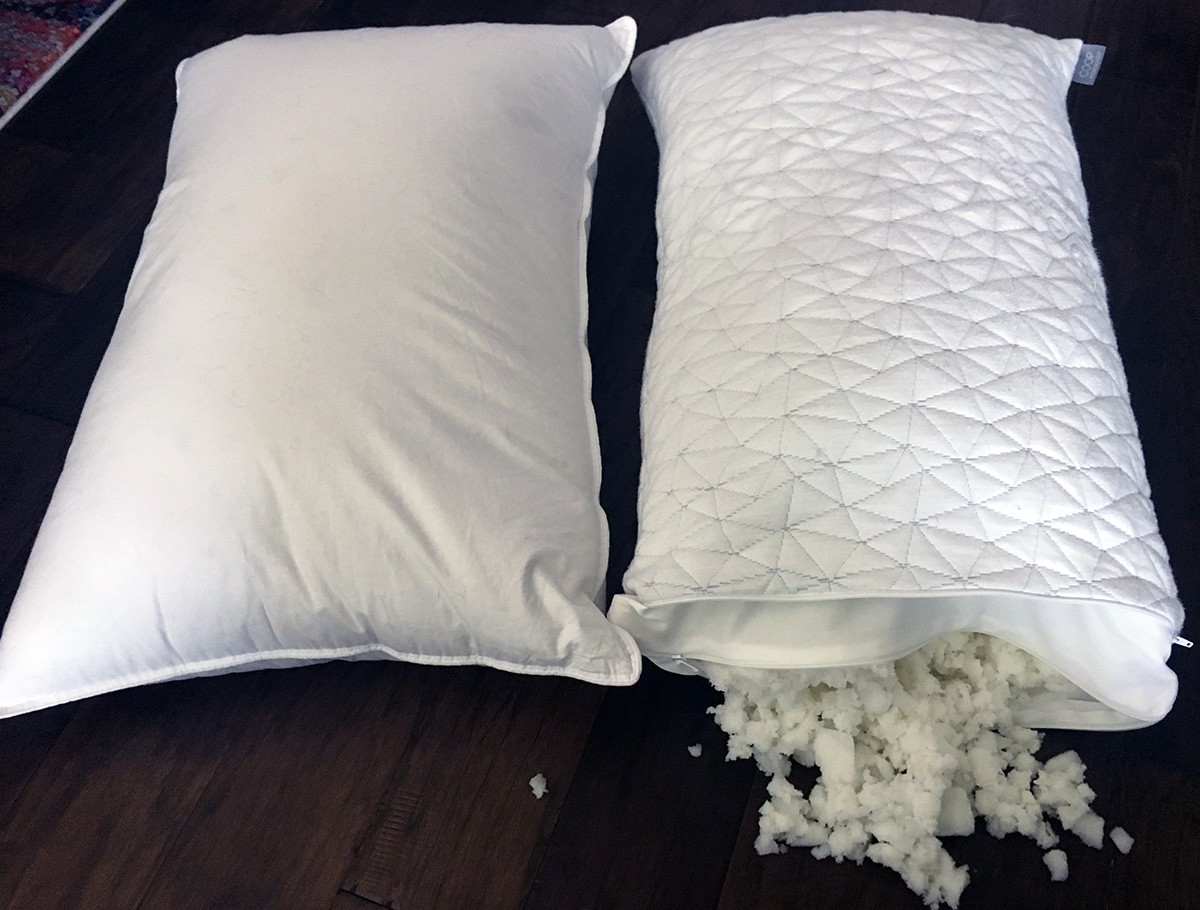 Key Differences
eLuxury Supply
100% Cambric Cotton cover
230 Thread Count
600 Fill Power White Goose Down (80% down/ 20% feathers)
Shell made in China, filled and finished in the USA
Comes in Standard, Jumbo, Queen and King sizes
Good fit for stomach and some back sleepers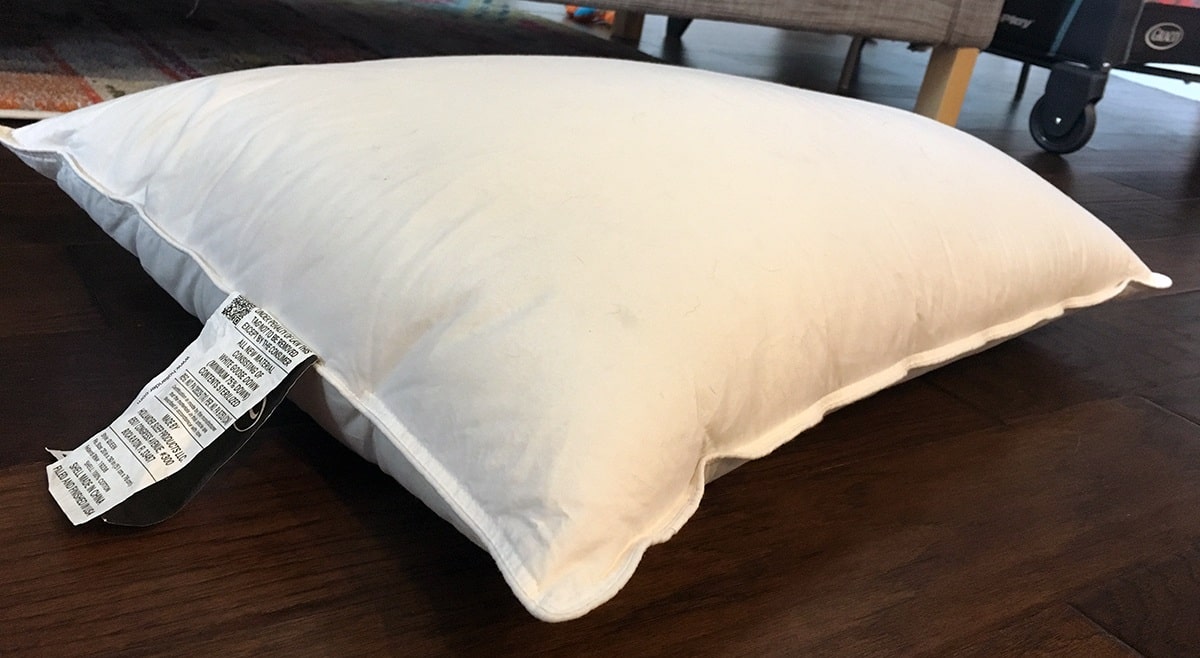 Read the full eLuxury Supply Hotel White Goose Down Pillow review
Coop Sleep Goods
The cover is 60% Polyester, 40% Bamboo-Derived Rayon and designed to be breathable
Shredded memory foam filling (CertiPUR-US® certified foam)
Access to filling – can remove as much/little as desired
Comes in Standard, Queen and King sizes
Made in the USA
Good fit for any type of sleeper (customizable)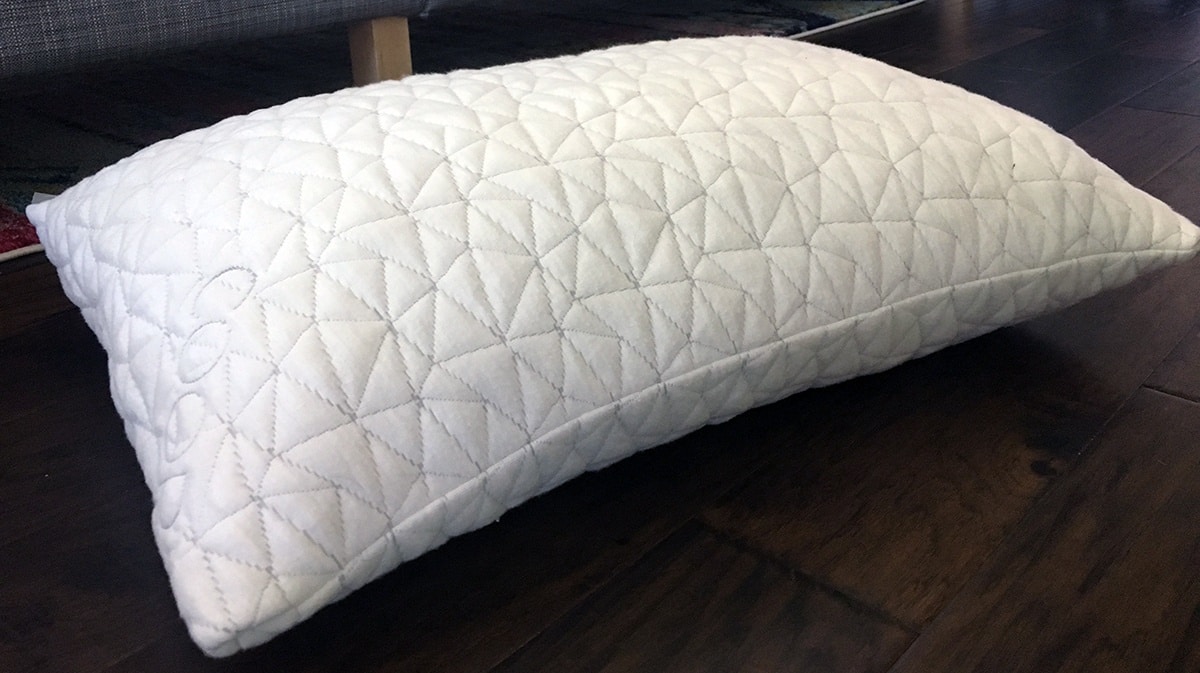 Read the full Coop Sleep Goods Adjustable Shredded Memory Foam Pillow review
Who Might Choose eLuxury Supply…
Sleepers who favor luxurious bedding. There is a superb ratio of down to feathers in this pillow, proving that it's high quality and helping the pillow achieve its overall luxurious feel.
Back sleepers who love down. The pillow is designed for back and side sleepers, but in my experience, the level of filling and support makes it a better fit for stomach sleepers.
Those looking to splurge. Good quality white goose down pillows don't usually come cheap and a Queen size eLuxury Supply Hotel White Goose Down pillow will cost shoppers nearly $100. It's durable, so if well cared for, it should last a long time.
Who Might Choose Coop Sleep Goods…
Combination sleepers. Coop Sleep Goods is an adjustable pillow filled with shredded memory foam chunks that can be added or removed to help sleeper's reach neutral head, neck and spinal alignment. This pillow will truly work for all sleep types, including those who change position at night and need a pillow that can be easily manipulated.
Hot sleepers. Feathers and down can retain heat, which makes them not a great fit for hot sleepers. Coop Sleep Goods' the pieces of shredded foam allow air to pass through and made with bamboo fabric that is known for being breathable as well.
Those allergic to down. The Coop Sleep Goods pillow with its pieces of shredded memory foam is hypoallergenic and dust mite resistant, making it a good choice for those with allergies.
RELATED: Best Pillows for Side Sleepers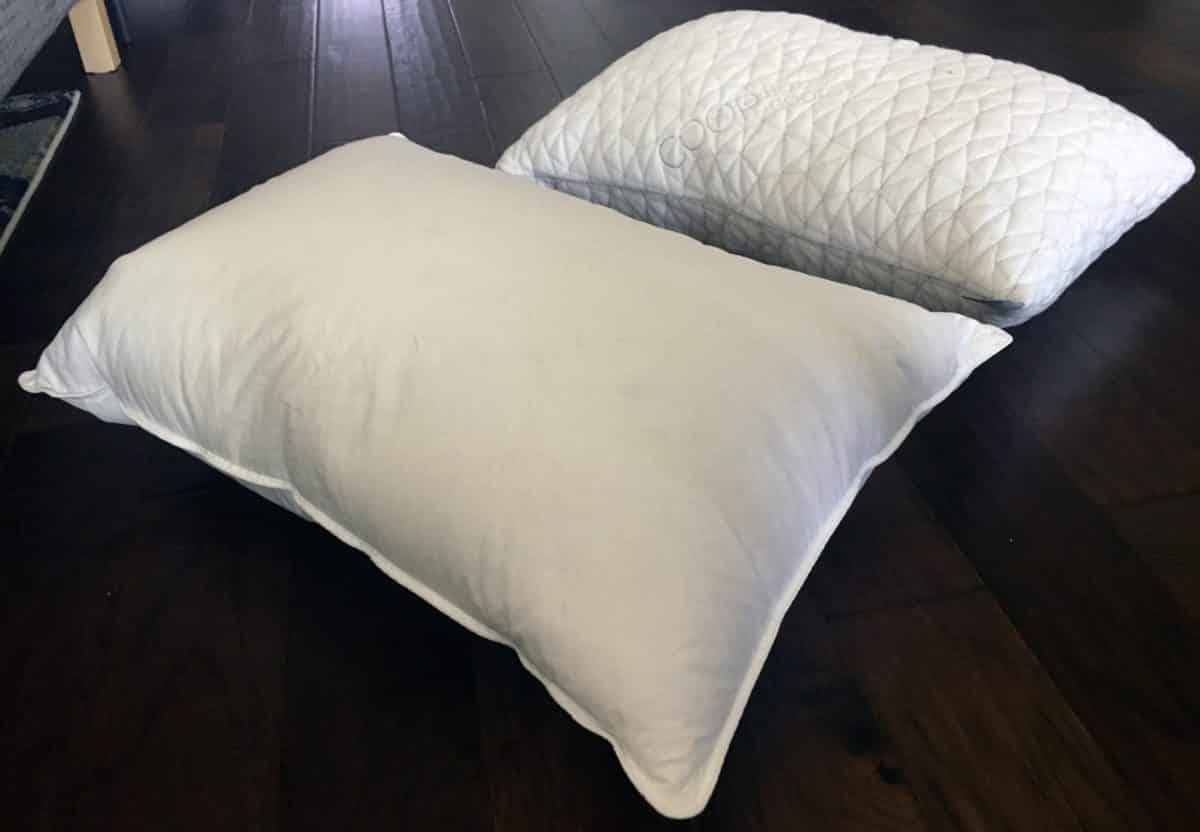 Overall
From their distinct fillings and bespoke covers, these two pillows truly stand apart from each other.
Fans of down pillows, especially ones who sleep primarily on their stomachs, will find the eLuxury Supply pillow appealing in its simple luxury.
Those who are looking for sufficient loft, support, and are intrigued by the idea of shredded memory foam will love the Coop Sleep Goods Adjustable Shredded Memory Foam pillow.
And for those who aren't sure what they want or need – both pillows come with 30-day trial/return policies so customers can give them a shot with little risk.