The Hotel White Goose Down Pillow for Back and Side Sleepers from eLuxury Supply is a soft and lightweight gem of a pillow. It is designed with a medium-to-firm fill to support back and side sleepers but it may favor one type of sleeper over the other. Which one? Check out my in-depth pillow review in the video below or keep reading for my full written review.
Key Features
230 Thread Count
100% Cambric Cotton
600 Fill Power White Goose Down (80% down/ 20% feathers)
Easy Care: Machine Wash and Dry
Shell made in China, filled and finished in the USA
Fill weight: Standard has 15 oz, the Queen has 18 oz and the King has 21 oz of fill
| Size | Dimension |
| --- | --- |
| Standard | 20" x 26" |
| Jumbo | 20" x 28" |
| Queen | 20" x 30" |
| King | 20" x 36" |
Pillow Construction
The Hotel White Goose Down Pillow for Side/Back Sleepers is a traditional shape filled with a combination of 80% down and 20% feathers.
The pillow is manufactured by Hollander Sleep Products and sold through the online retailer eLuxurySupply (also known as ExceptionalSheets). The cotton shell is made in China but the rest of the pillow is filled and finished in the USA.
The fill power of this pillow is 600 – this term is used to help determine the quality (and lifespan) of a down pillow. For those who are unfamiliar, fill power is the amount of volume an ounce of down takes up. Basically, the higher the fill power, the larger the down cluster and the larger cluster, the more air an ounce of down can trap, giving it more insulation and loft overall.
A pillow with 80% down and 20% feathers should be extremely light, full and significantly isolating. In addition, this fill is goose down, whose clusters are larger than duck down. eLuxury Supply says customers can expect the firmness to be a medium level.
Typically, fill powers tend to range from 550 (in³/oz or 175 cm³/g) to 800 (in³/oz or 175 cm³/g), or higher. People who are curious about fill power and want to learn more can read more about down and fiberfill here.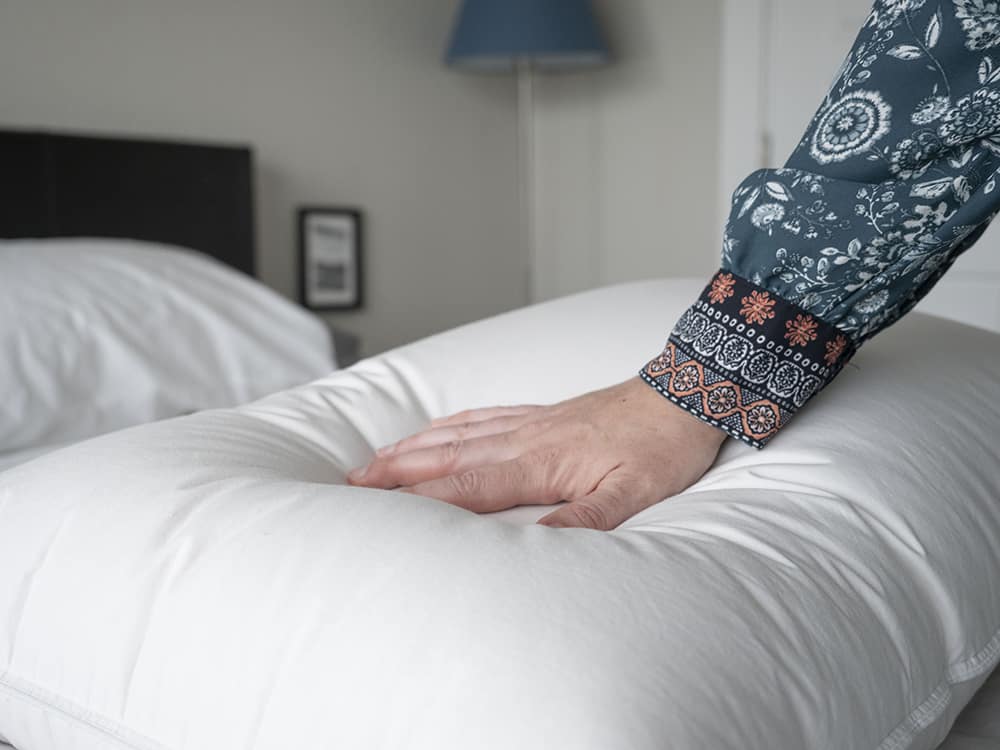 Related: Best Memory Foam Pillows
Pros
Good down to feather ratio
High fiberfill
Soft cotton cover
Machine washable and dryer friendly
Cons
Head sinks deeply into the pillow, may obstruct face for side sleepers
Will need to be consistently fluffed to maintain loft
Not allergy-friendly
Pricey
My Experience
More often than not, the soft filling of a down pillow is not ideal for back and side sleepers, who often require more firmness than down traditionally provides. That's why I was excited to see that eLuxury Supply offered a down pillow that was designed specifically for back and side sleepers.
The package arrived simply wrapped in a plastic bag with a handwritten note from the team at EluxurySupply. I've had a good experience with their customer service in the past, so I was pleased to see that it's still a part of who they are as a company.
Like most down pillows, this pillow feels incredibly light. The 100% cotton shell is crisp and clean, with no design or anything on the outside. I'm assuming the reason the word "hotel" is added in the title is that it's reminiscent of the types of high-end pillows one finds in a luxury hotel room.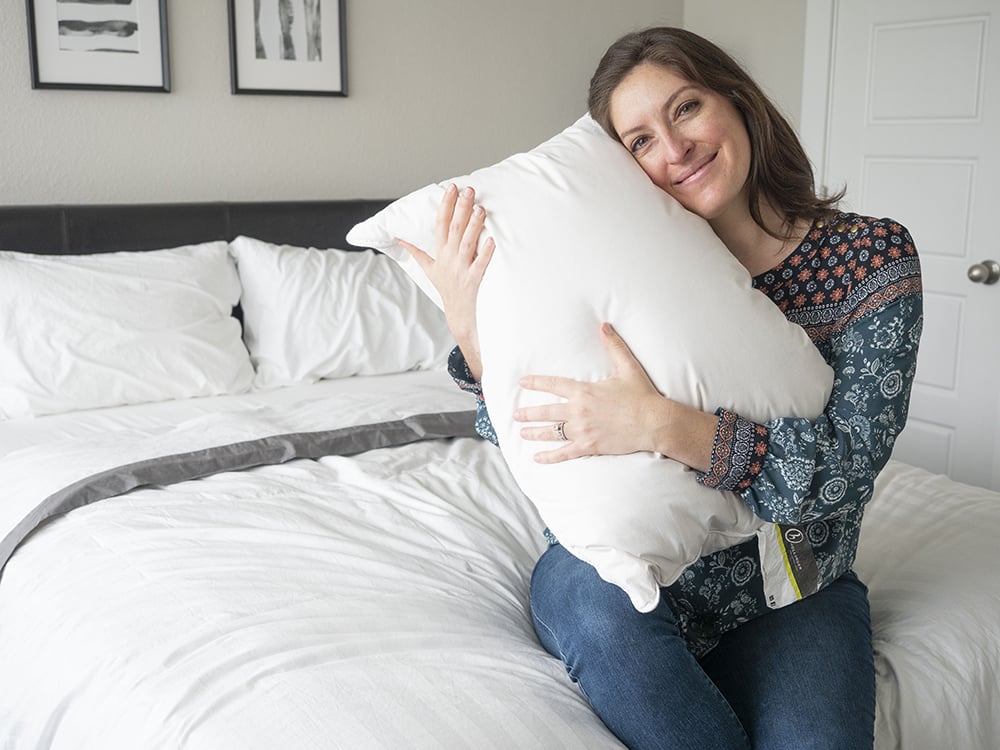 Care
Though the brand recommends dry cleaning one's down pillow, customers can machine wash and dry it if necessary. Always curious, I opted to wash and dry the pillow at home and found that it worked well as long as I followed the instructions carefully.
It is recommended that individuals do an extra spin cycle in the dryer to wring out as much excess water as possible before throwing it in the dryer. The pillow may take several hours to fully dry, although I was able to dry my pillow in less time.
I washed it on a warm cycle with a few other delicates to balance the load. I used a high spin dry to remove as much excess water as possible. After that, I dried the pillow for 1.5 hours on a low dry and it came out dry and fluffed.
Depending on the type of washer and dryer, these times may vary. Take extra care to be certain the pillow is completely dry before using (that probably goes without saying!).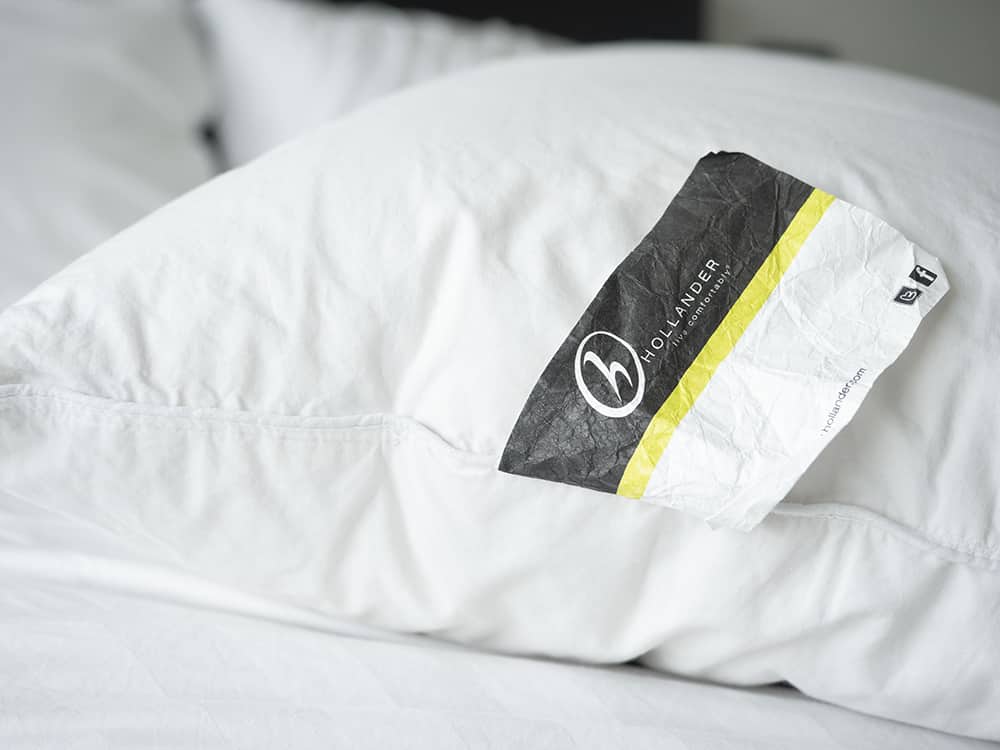 Firmness & Feel
Because it is filled with 80% down, the pillow is able to trap a lot of air and provide a large loft and firmer feel. That firmer feel and higher loft help to support the neck for back and side sleepers.
I did feel that the pillow provided more loft and support than other down pillows but it still filled with down, so the sleeper's head will absolutely sink right into the pillow.
The sides of the pillow rose up around my face and made it slightly uncomfortable to sleep on my side. However, my neck did not feel out of alignment and I did not wake up in any pain, but I wasn't 100% comfortable sleeping on my side.
Lying on my back was a better experience. I could feel the benefits from the increased down and feathers in the pillow.
After sleeping on the pillow for a couple nights, I noticed that the pillow wasn't able to regain its loft as quickly and remained misshapen for long. After a quick re-fluffing, it was back to its original state and loft. 
I think sleepers will need to be consistent about re-fluffing the down inside the pillow to maintain the loft and support needed for back and side sleepers.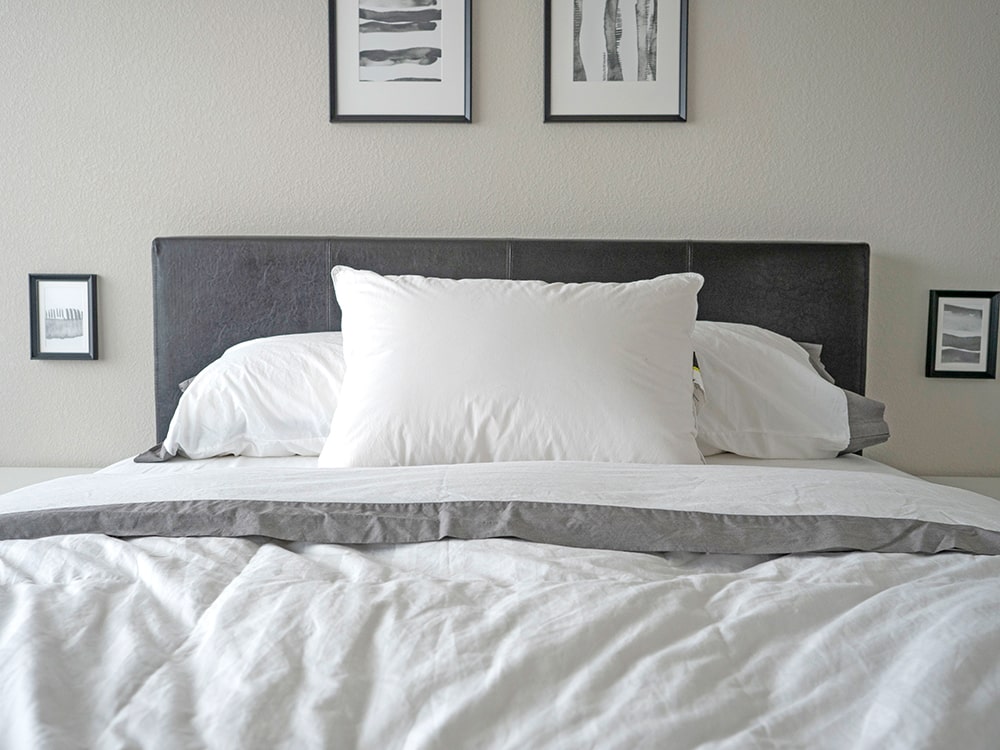 Final Recommendation
Based on my experience, I believe this pillow could be an excellent fit for most back or side sleepers, especially those who are determined to sleep on a down pillow but need extra support. Side sleepers may need to re-shape the pillow to create space for the side of their face, as one can sink deeply into the pillow.
The luxurious feel and higher quality materials in the pillow reflect the higher price point compared to a down alternative or foam pillow option. I do believe the quality of the materials and the overall performance of the pillow make it a good value.
Katie Golde
Katie manages the day to day operations of the Mattress Clarity news site and reviews sleep products in addition to writing and editing sleep news. She hails from Austin, where she lives with her growing family. She is a Certified Sleep Science Coach and has a master's degree in Journalism from Northwestern University and has a background in health and science content. Her work can be found in print and online publications like Discover Magazine, USA Today and The Huffington Post.