Cushion Lab's Ergonomic Contour pillow packs a lot of information just into its name. What sets it apart from more traditional contour pillows are the small but important details in its construction that help to give it a personalized feel. With two height options and a space carved out for the neck, could this be the neck pillow we've been waiting for?
Check out my full video review or keep scrolling for more! Comment if any questions come up!
Cushion Lab Ergonomic Contour Pillow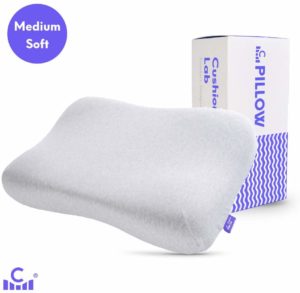 Cushion Lab's Ergonomic Contour pillow is a great take on the traditional contour pillow but with a personalized twist. The affordability is a nice touch, too.
Mattress Clarity Score
4.90 / 5
Read Full Review
Check out my in-depth and detailed written review of the Ergonomic Contour pillow below!
Key Features
Comes in one size, and it's 23.5" x 15" x 4.3"; fits any standard size pillowcase
Designed for back, side or a back-side sleeper combination
It has two sleeping heights: 3.1" and 4.3"
There is a contoured shoulder line to help create space for the shoulders
The corners are raised a little for face support when heads are turned to the side
The center of the pillow has a "basin" design to allow the back of the head to rest while the neck and shoulders are supported
The outer cover is 100% organic cotton
The core is a solid piece of medium-firm Hyperfoam, which is an extra-dense memory foam
The cover is hypoallergenic
Designed in the USA, assembled in China.
$43-$46 at full price (we've seen the price change at least once)
30-day return policy if it's not a good fit and a 1-year limited warranty against material or workmanship defect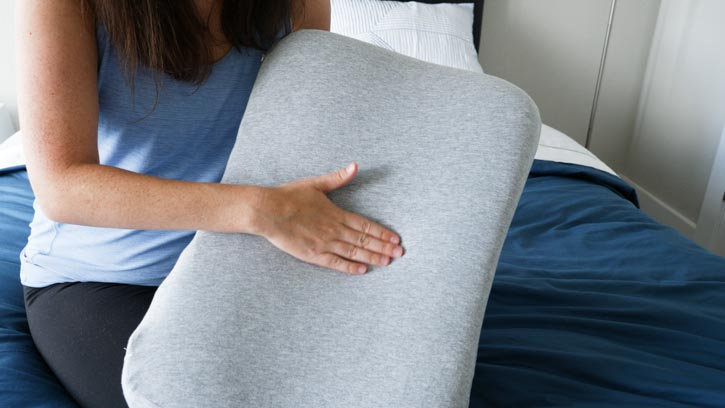 Who Makes It?
The Ergonomic Contour pillow is made by Cushion Lab, a pillow and weighted blanket brand. Cushion Lab makes several pillows that are all designed with the sleeper in mind and emphasize that personal touches make a big difference. The brand is also focused on being ethical, sustainable and affordable. In addition to pillows, they also make a weighted blanket that we've reviewed as well.
Pillow Care
The inner filling of the pillow is made with the brand's proprietary extra-dense Hyperfoam. This shouldn't be cleaned at all but the 100% organic cotton cover can be removed machine washed and dried – following the care instructions provided.
I always advise people to be conservative with the heat setting on the dryer. Too high a heat and the risk to fiber damage or shrinking increases, and that can't be remedied without purchasing a new cover.
Pros
Affordable, especially for a contour pillow
Available at a couple of retailers, including Amazon
The cover is super soft knit and simple to remove
Nice opportunities for personalization within the pillow with the different height levels
Overall great neck support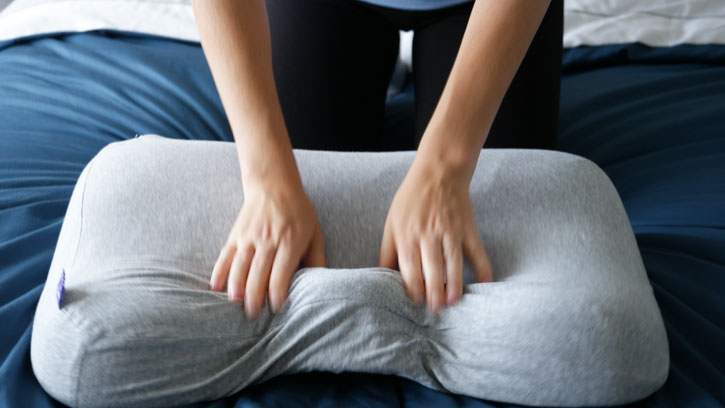 Cons
It currently comes in only one size (Standard/Queen)
Contour pillows can be limiting due to their specific curvature and solid core
Be patient with it  – it needs at least a full day to completely expand, otherwise, it'll look and feel too small for its cover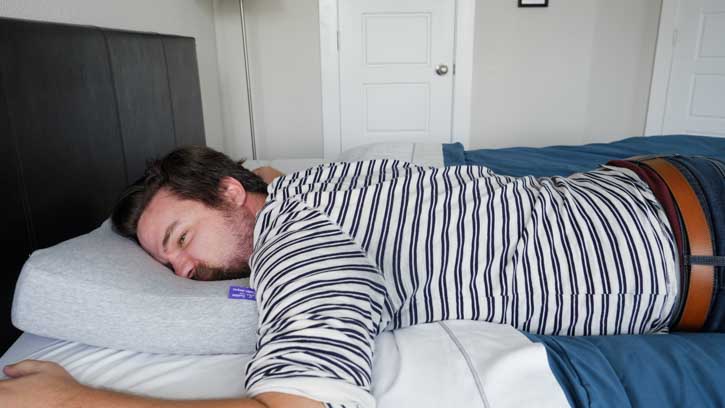 Best Sleeping Positions For The Ergonomic Contour Pillow
Cushion Lab does a good job of specifying who this pillow is going to be a good fit for – and spoiler alert – it's back and side sleepers! They very clearly state that it's intended for back sleepers, side sleepers or those who are hybrid back/side sleepers. Sorry, stomach sleepers, but the contour pillows are not going to feel very comfortable.
The main reason this is great for back sleeping is that solid neck support on the curved edges. There's a nice curvature for the shoulders and then the neck gets the support as well, while the back of the head falls into the "basin" they've created. When the head is turned to the side, the facial supports are there which is a nice added feature.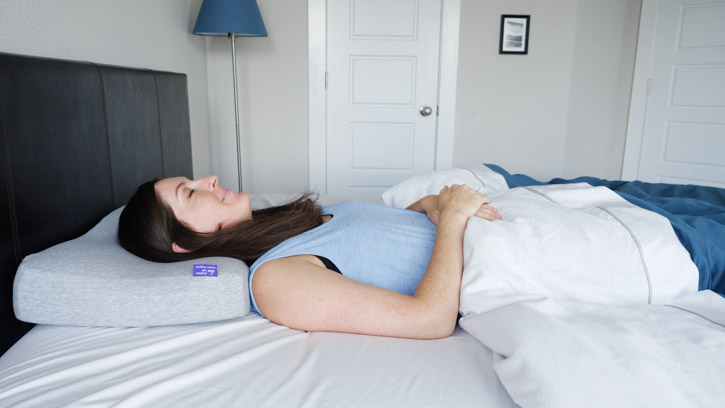 Side sleepers tend to need the most height and loft to fill that gap between the shoulder and the neck, so the curved raised edges of this pillow and the basin area in the center will work well to support the head and the neck.
The curvature on the edge of the contour pillow that I keep talking about it the exact design element that makes it a bad fit for stomach sleepers, who tend to need something flatter and softer overall. Cushion Lab does make an adjustable pillow, so if having something from this brand is a must, I'd suggest taking a look at that.
My Experience
As a back sleeper, contour pillows have a special place in my heart. They're as solid as a rock in an ever-evolving pillow industry. True in their curved form, contour pillows are all about providing sturdy neck support and head support.
I had the opportunity to take Cushion Lab's Ergonomic Contour pillow for a spin and was happy to see that they didn't deviate from the contour pillow's tried and true form. Instead, they add little design details and features that all add up to a more customizable and personalized version of a standard contour pillow.
One of the coolest things they did was raise the height on one curved end of the pillow, which means one edge has a raised neck support that's 3.1″ tall and another raised edge that's 4.3″ tall.  This allows those with bigger necks to still feel supported – check out Marten's Take below for more details on that. They also dipped the center to create a head basin and added facial supports on the sides to help the combo back and side sleeper stay comfortable and stabilized.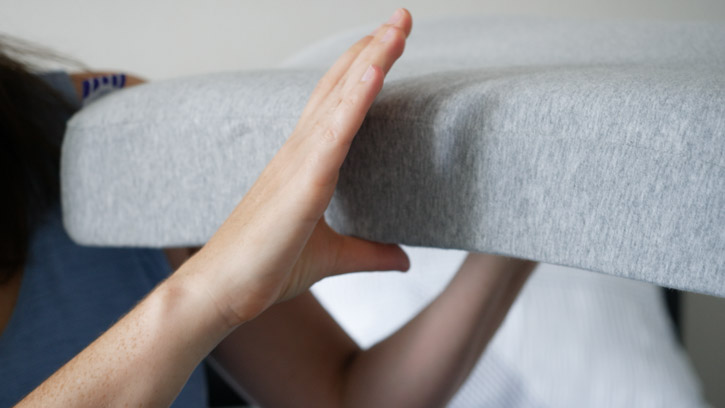 The foam the brand uses is their proprietary Hyperfoam, which they describe as an "extra-dense memory foam that has all the benefits of memory foam while excelling in providing lasting support for prolonged comfort." It's medium-firm and, I'll be honest, it felt pretty much like a high-quality foam to me but I didn't have that slow, sinking feeling that I get with other memory foams.
The end result of all of this is a pretty comfortable contour pillow that supports my head, my neck, and even the sides of my face when I turn over during the night. One of my favorite features is the super soft organic cotton cover that becomes easy to remove and machine wash and dry (gently).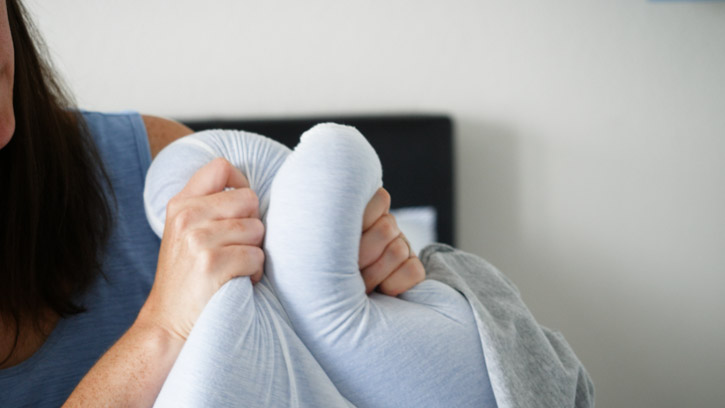 One recommendation I have is to wait and let the Hyperfoam fully expand – 24 to 48 hours – before putting the cover on the pillow and trying to use it. I didn't wait long enough initially and it looked like the cover was a size too big. Once it fully expanded everything fell into place but some patience is required.
Cushion Lab Ergonomic Contour Pillow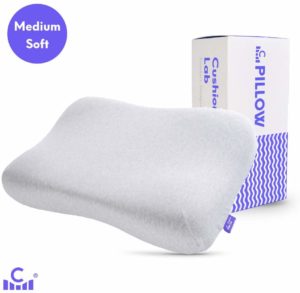 Cushion Lab's Ergonomic Contour pillow is a great take on the traditional contour pillow but with a personalized twist. The affordability is a nice touch, too.
Mattress Clarity Score
4.90 / 5
Read Full Review
Marten's Take

So, as Katie explained, the Ergonomic Contour pillow from Cushion Lab features a very interesting design. One edge of the pillow is taller than the other edge, and the pillow is intended for use by back sleepers and side sleepers. That being said, how did it feel for me?
Being a larger person, I put the taller side of the Cushion lab under my neck when I was back sleeping. This gave me some nice support there, and my head sunk in just the right amount. I kept the pillow in the same position when I moved to my side, and I also felt like the pillow was perfectly supportive.
This pillow is not really made for stomach sleepers. Even turning the pillow around to use the lower side, the pillow is still too thick, and I feel my head is being pushed up at a strange angle.
I was also a big fan of the Cushion Lab's feel. It has some of that slow-moving memory foam feel, but it is also quite responsive.
Overall
My final thought on the Ergonomic Contour pillow from Cushion Lab is it's a spot-on contour pillow. People who want to achieve that really natural back sleeping position with their pillow and favor stability and consistency over all else will like this.
It always makes me happy to see a company successfully put their twist on a pillow and I think Cushion Lab did that here. I appreciate that it's affordably-priced and that the cover is soft and easy to care for. Remember, there's a 30-day return policy as well. Comment below with any questions or a request for a personal pillow recommendation!
Katie Golde
Katie previously managed the day to day operations of the Mattress Clarity news site and reviews sleep products in addition to writing and editing sleep news. She hails from Austin, where she lives with her growing family. She is a Certified Sleep Science Coach and has a master's degree in Journalism from Northwestern University and has a background in health and science content. Her work can be found in print and online publications like Discover Magazine, USA Today and The Huffington Post.