Editor's Note: The Cushion Lab Calm Embrace Weighted Blanket is currently unavailable. Be sure to check out our list of the best weighted blankets for more options!
Weighted blankets are all the rage these days, and it seems like a new weighted blanket is hitting the market every day. Since I use a weighted blanket for anxiety, I am always excited to see what these new blankets have to offer.
The Cushion Lab Calm Embrace has a number of interesting features, including a free, Minky duvet cover and the gridded squares are only 4″ x 4″. Smaller squares are usually a sign of better weight distribution, which usually means a more pleasant experience.
This Cushion Lab Calm Embrace Weighted Blanket review will go over the construction of the weighted blanket and provide some key takeaways for consumers potentially interested in buying it.
Cushion Lab Calm Embrace Weighted Blanket Review: Video Overview
Not all weighted blankets are created equal, especially in terms of how they move and actually feel on you. See first hand how the Cushion weighted blanket performs in a variety of tests below.
Who Might Like the Cushion Lab…
People who are looking for a good value. Currently, the Cushion Lab is priced close to $100. I have tried some weighted blankets that are more expensive, but they don't offer too much more in terms of quality. The Cushion Lab is a high-quality, comfortable weighted blanket that is also an excellent deal.
Those who like to use a duvet cover. If you are thinking of adding a duvet cover to your weighted blanket, the Cushion Lab should work for you. Included in the price is a cozy, Minky cover. A duvet cover of this type could cost $50 or more so you could save even more money by choosing the Cushion Lab.
People who want a blanket with good weight distribution. The Cushion Lab features some of the better weight distribution I have experienced with a weighted blanket. The blanket features smaller squares with channels in between them. This helps ensure that the weight from the glass beads is evenly distributed across the blanket and subsequently across your body.
Those who weigh between 120 and 190 lbs. The Cushion Lab only comes in a 15 lb weight. Usually, you want to find a weighted blanket that is about 10% of your body weight +/- a few lbs. So, while there aren't many options, the Cushion Lab should be an excellent match for people who weigh between 120 and 190 lbs.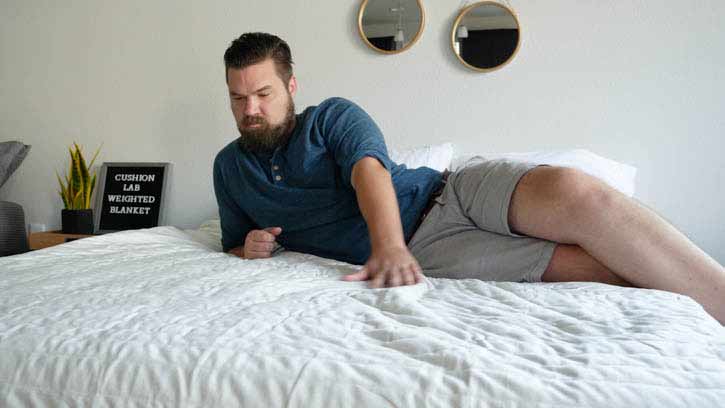 Who Might Not Like the Cushion Lab…
Larger people. If you weigh more than 200 lbs, you might not find the Cushion Lab to be quite heavy enough, because the weighted blanket is only available in a 15 lb weight. As stated above, people should look for a blanket that is 10% of their body weight. If people weigh 200 lbs or more, they are going to likely need something 20 lbs or heavier.
Smaller people. The Cushion Lab is also not an excellent match for those who weigh less than 120 lbs. 15 lbs might be too heavy for lighter people and children. Other companies offer more weight options so smaller people might need to look elsewhere.
Those who want more size options. The Cushion Lab is also only available in a Queen-size (60″x 80″). If people have a smaller bed or want a throw-sized weighted blanket, the Cushion Lab might not work the best. Also, if people sleep with a partner and want a weighted blanket that will fit both people, the Cushion Lab probably won't be large enough.
Hot sleepers.  Weighted blankets can definitely make you sleep hot because of the added fill and weight. With the duvet cover, the Cushion Lab is a bit too hot for me. Even without the duvet cover, the Cushion Lab is not the most breathable weighted blanket I have tried. You could find yourself sleeping hot under the Cushion Lab.
RELATED: Best Weighted Blankets
Construction and Options
The Cushion Lab's shell is made of 100% Cotton and features a beautiful standard gridded design. There are narrow channels between each 4″ x 4″ square but double stitching keeps this construction secure.
Each square contains glass nanobeads, and according to the company, these beads are about the size of cracked pepper. The squares also contain some cotton padding that adds some plushness to the blanket.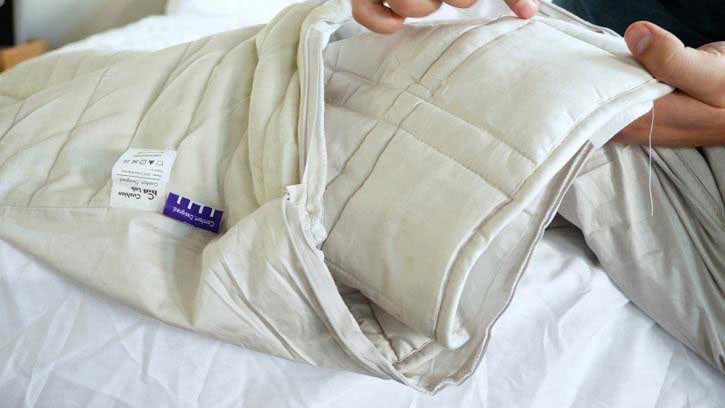 The weighted blanket comes with a two-sided duvet cover. One side is made of a Minky material that is soft and just a bit fuzzy, while the other side is made of breathable cotton. The blanket itself features 12 duvet loops so that people can secure it within.
You have one option with the Cushion Lab Calm Embrace. The Cushion Lab comes in a Queen-size with dimensions of 60″ x 80″. The blanket weighs 15 lbs. According to the company, they will be offering more size and weight options in the future.
For cleaning, people can remove the duvet cover and machine wash on cold and tumble dry on low heat.
My Experience
The first thing to consider when reviewing a weighted blanket is, of course, weight. Again, when people are choosing a weighted blanket, they want to shoot for something close to 10% of their weight. Then people can subtract one or two pounds, depending on individual preferences. So, I am 230 lbs., which means an ideal weighted blanket would be around 23 lbs. I prefer a heavier blanket so I usually use a 25 lb weighted blanket.
So, right off the bat, I am not getting enough weight with the Cushion Lab. Their one option of 15 lbs is just not heavy enough for me. While I am getting some soothing weight, I would prefer more overall.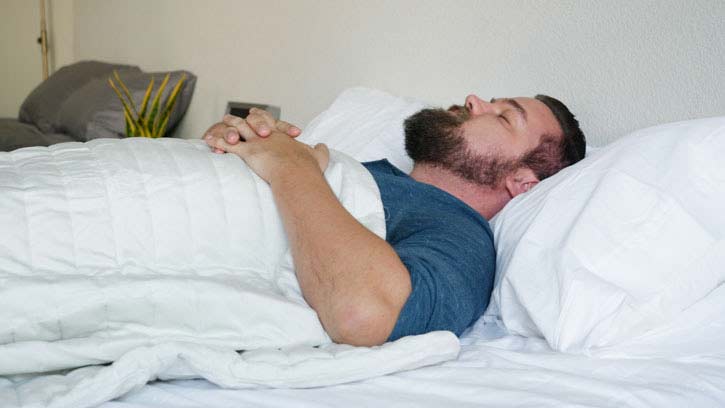 However, this lack of weight is more than made up for by the excellent weight distribution. The gridded squares are quite small on the Cushion Lab, and I feel nice even weight across my body. There are no "dead spots" or areas that are significantly heavier than others.
The Cushion Lab's Queen-size is a good fit for a Queen-size bed and I am not getting too much overhang. Still, I personally prefer a throw-sized weighted blanket, and this size is not currently available from Cushion Lab.
I will say I am a fan of the duvet cover. I like the soft feeling of Minky against my skin, and the fact that the duvet comes included is a big plus.
However, the breathable cotton side of the blanket is not offering me too much cooling. I will say that I did wake up a bit sweaty after using the Cushion Lab. Even without the duvet cover, I was sleeping somewhat hot overall.
That being said, I did sleep deeply while using the Cushion Lab. I use a weighted blanket for anxiety, and I personally woke up feeling refreshed and clear-headed.
Overall
The Cushion Lab Calm Embrace is a high-quality weighted blanket sold for a value price. I liked the free duvet cover, and I experienced some great weight distribution. I do wish they offered more sizes and weights, but it appears those will be available soon.
The Cushion Lab comes with a 100% Satisfaction Guarantee. You can return your blanket within 30 days of purchase for a full refund. They also offer a variety of pillows.