The Comfort Master Travel Pillow, with its memory foam filling and soft removable cover, will certainly ease the strains of travel. To find out what makes it special, check out my video review or keep scrolling for my full written review.
Buy the Comfort Master Travel Pillow on Amazon
Key Features
The pillow is a U-shape and a traditional neck pillow design
Comes in one size and the dimensions are 12″ x 11.5″ x 3.5″
The travel pillow weighs approximately 12 oz in weight
It features a removable and hand-washable cover
The outer cover is a soft velour fabric
Contains thermo-sensitive memory foam filling
Comes in three available colors – mine was  lilac color 
Costs $20.75 at full price
Also has an elastic strap to attach to luggage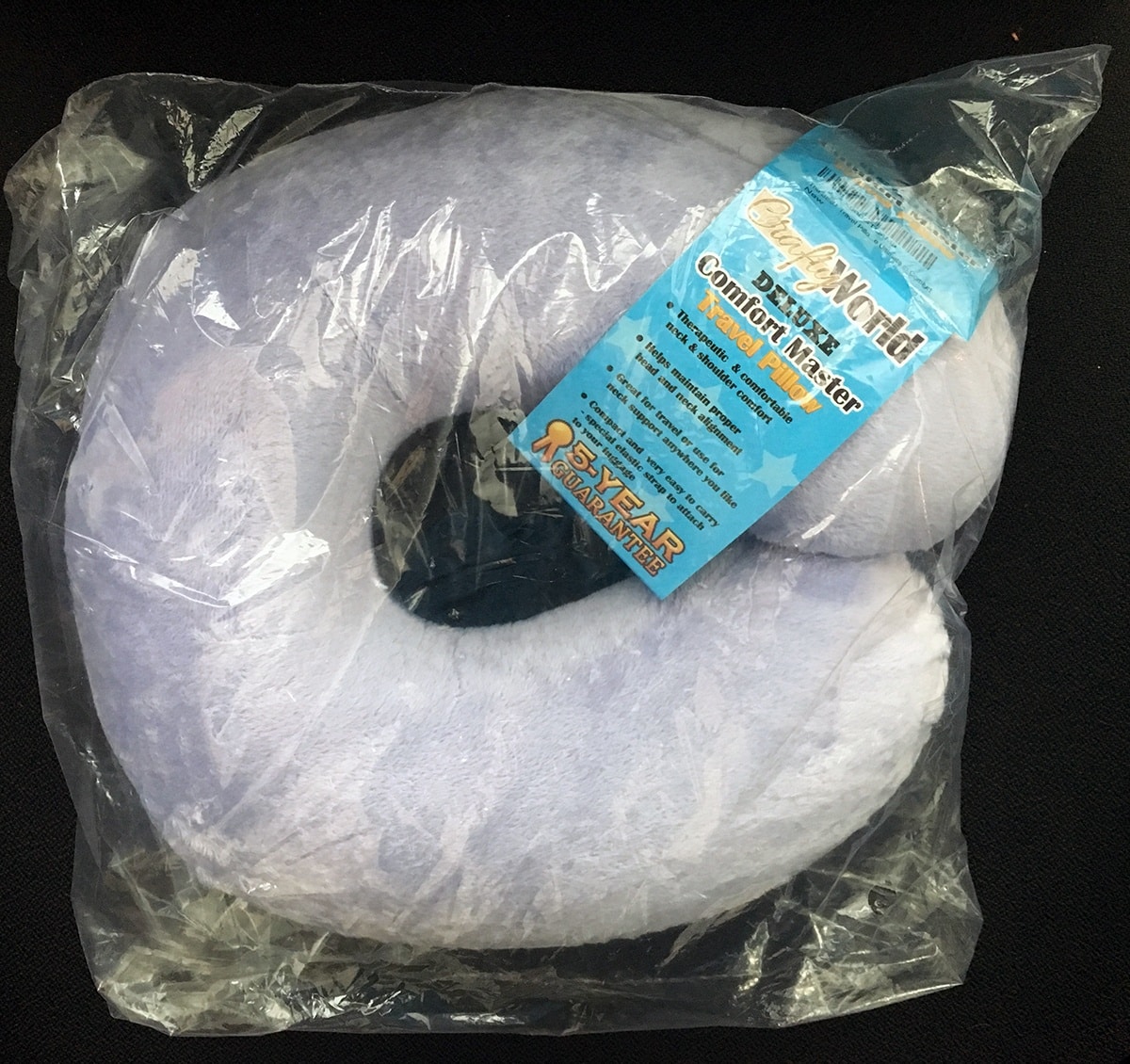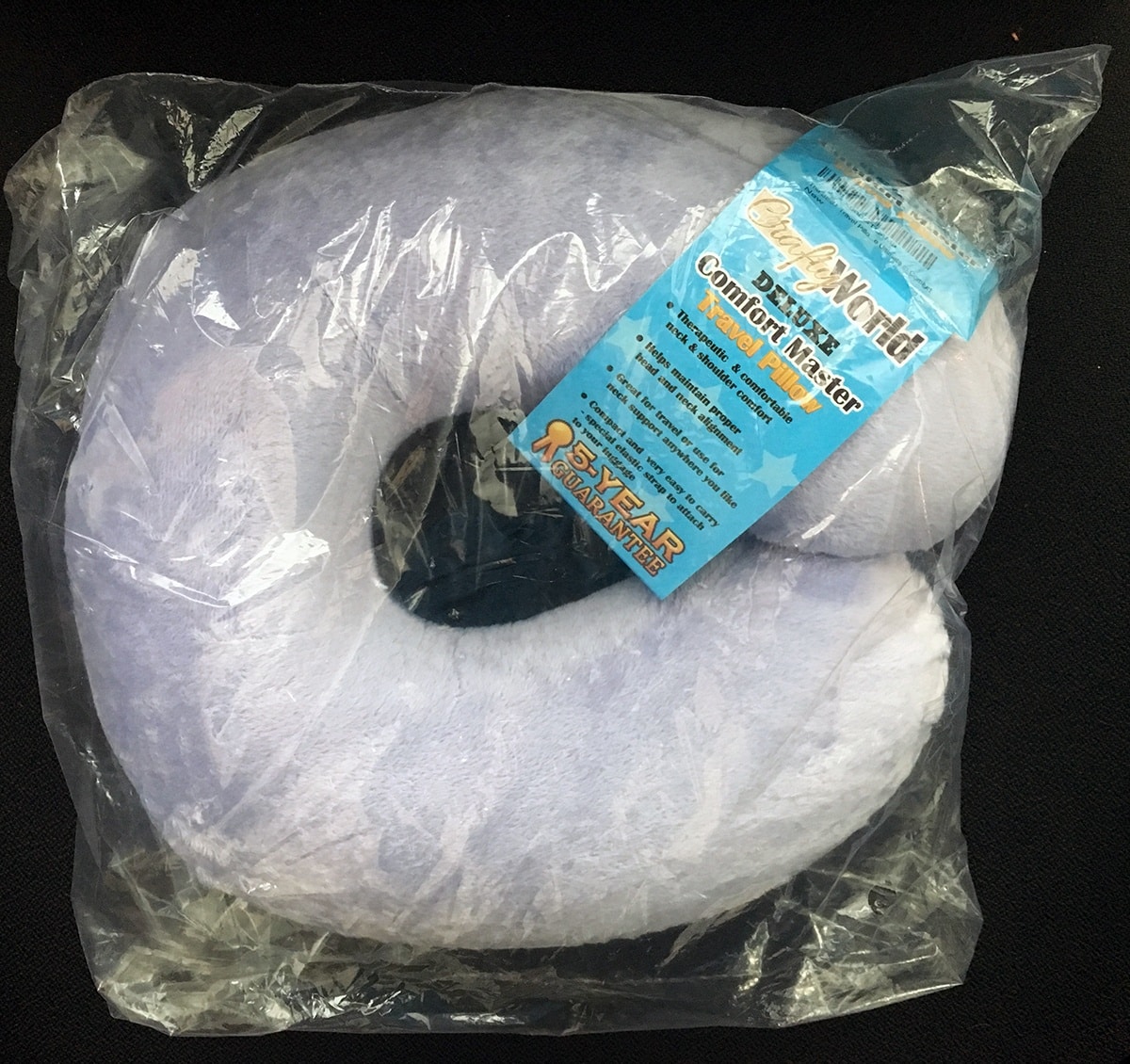 See how Comfort Master compares on my best travel pillows page.
Pros
Soft, velour microfiber fabric 
Memory foam filling is a good firmness
Easy to attach to luggage
Excellent customer service
Cons
Not machine washable and/or dryer friendly (handwash only)
Care instructions recommend line drying the pillow in the shade
Foam filling pushes head forward in high-backed seating
Difficult to remove and put the cover back on
My Experience
As far as traditional U-shaped neck pillows go, the Comfort Master pillow is definitely soft and comfortable but it doesn't feature any extra bells or whistles that set it apart from the other neck pillows in a similar design.
The memory foam filling is contouring and pressure-relieving, but nothing about the pillow gave me any indication that it was "thermo-sensitive" – which the packaging describes it to be. Honestly, it just looked and felt like a solid molded piece of memory foam and I would have loved to have more information about this special temperature-regulating feature.
The packaging also indicates that this pillow is "therapeutic", and " helps maintain proper head and neck alignment." There is no additional information that details how the pillow's materials and design achieve this alignment and I'd like to know more about exactly how this is accomplished.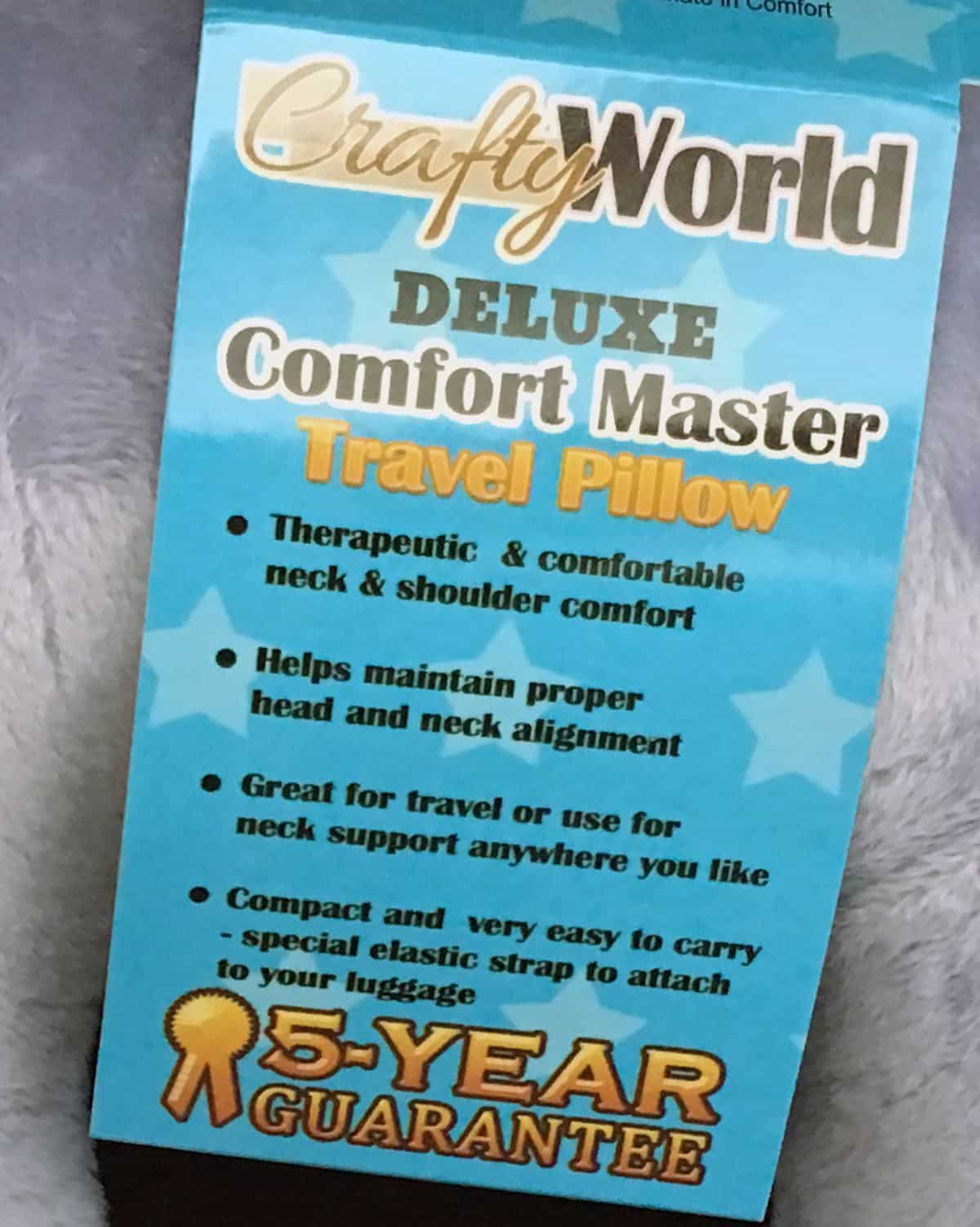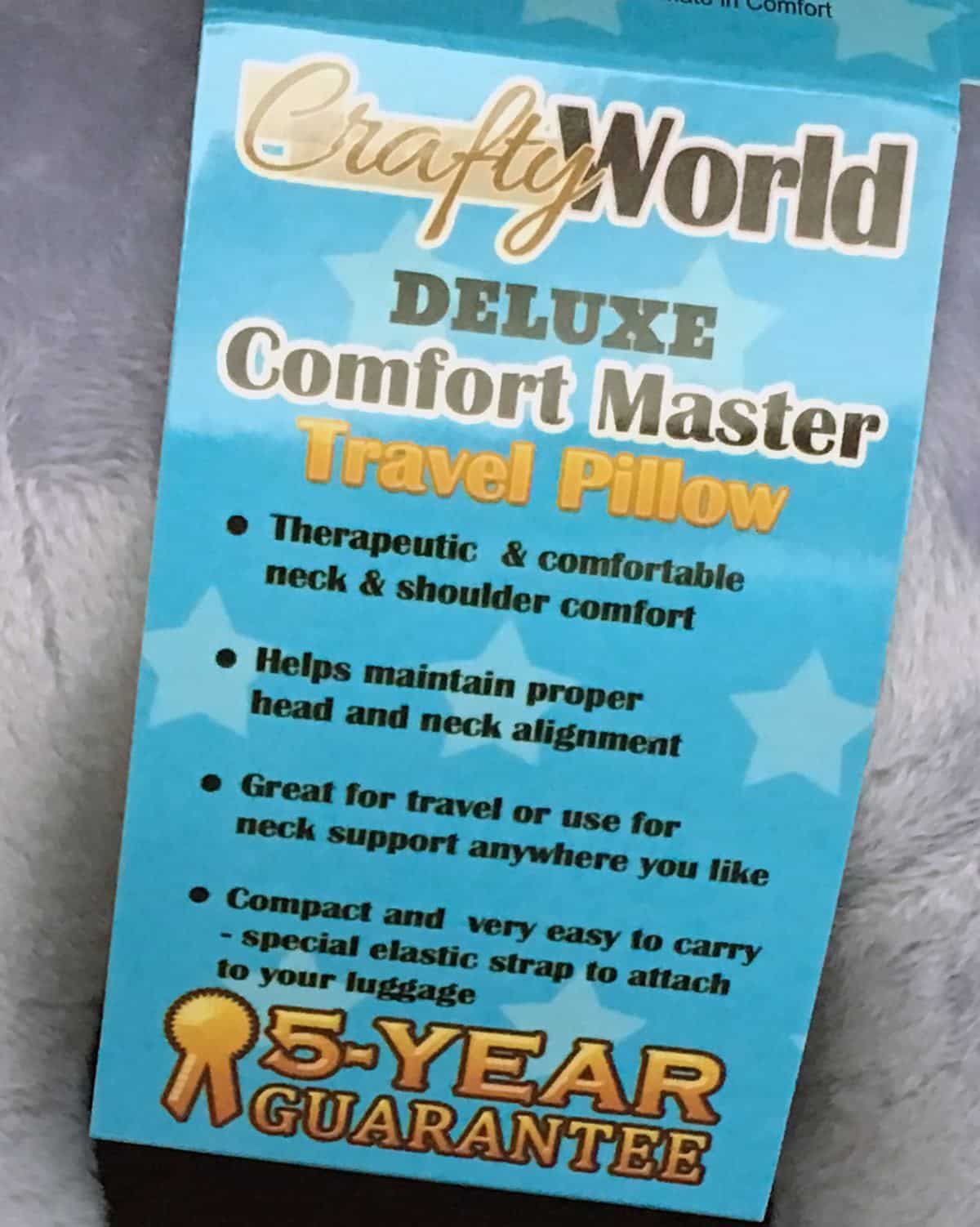 As I mentioned, the Comfort Master pillow is a solid molded piece of foam shaped into a "U".  Because the foam is wide in the back, the pillow pushed my head forward when I was in a high-backed seat. For those taller than me – I'm 5'7" for reference – or if a person's head reaches above high-backed chairs, I can see this foam adding extra support. Otherwise, it has the potential to be uncomfortable.
In general, I thought the firmness of the pillow was at a nice level – it wasn't too soft or too firm for me. That being said, there just wasn't enough filling to support my neck when I rested my head to the side in my car. My head still hit the window and my neck began to feel stiff from lack of support in the pillow. It was only when I sat upright that I felt truly supported.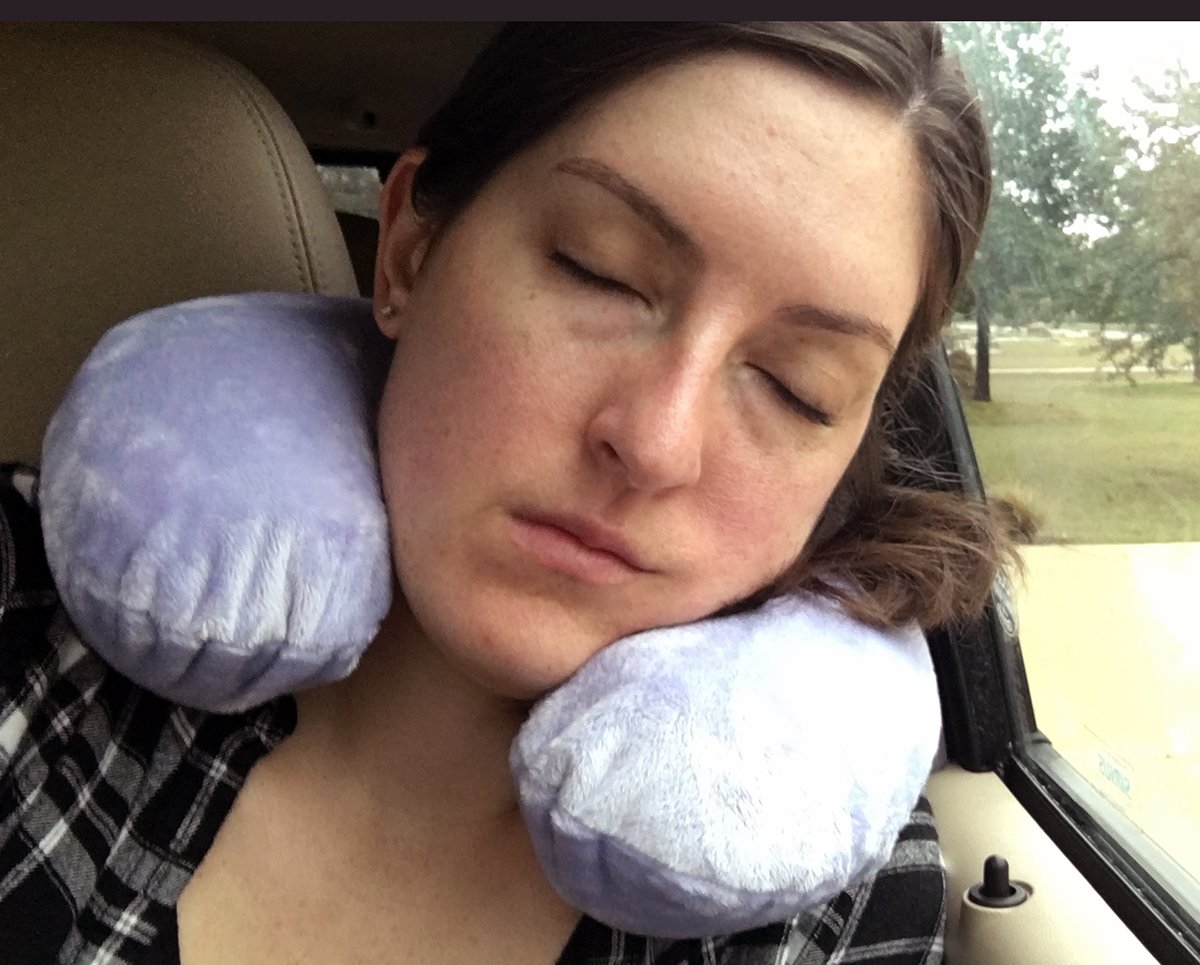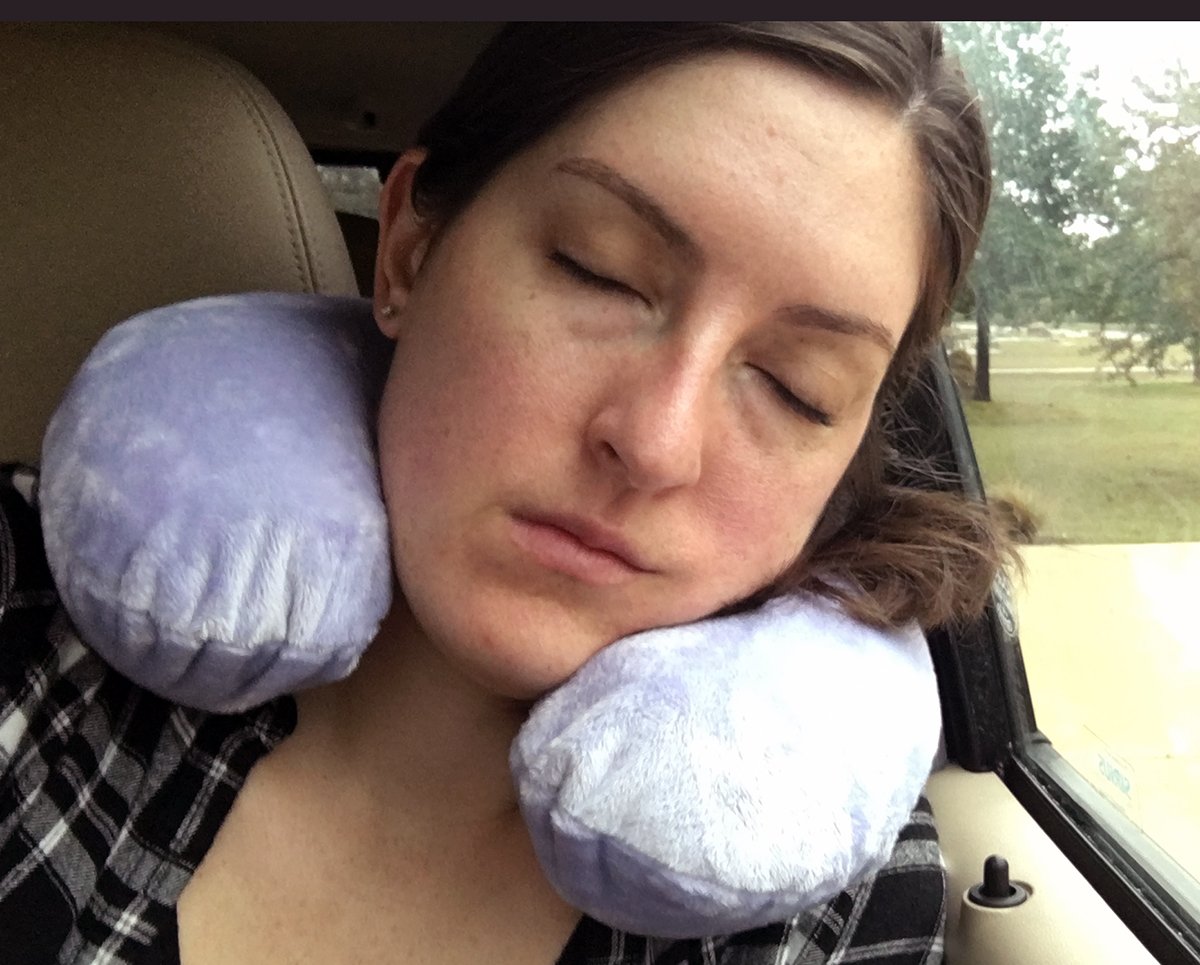 I really like the soft, microfiber outer cover and the light purple color of the pillow. It is a nice change from the more color standard options (which this pillow also comes in). It's not overly loud or attention-grabbing, like my pink Evolution pillow!
What I did not care for was the high maintenance care required for the pillow cover. The cover must be hand washed in cold water and separately from other items and it cannot be soaked or rubbed  (or bleached).
The cover must be line-dried (air-dried) only but always only in the shade if outside – I ended up hanging it up in my bathroom and it took about 15 hours to dry completely.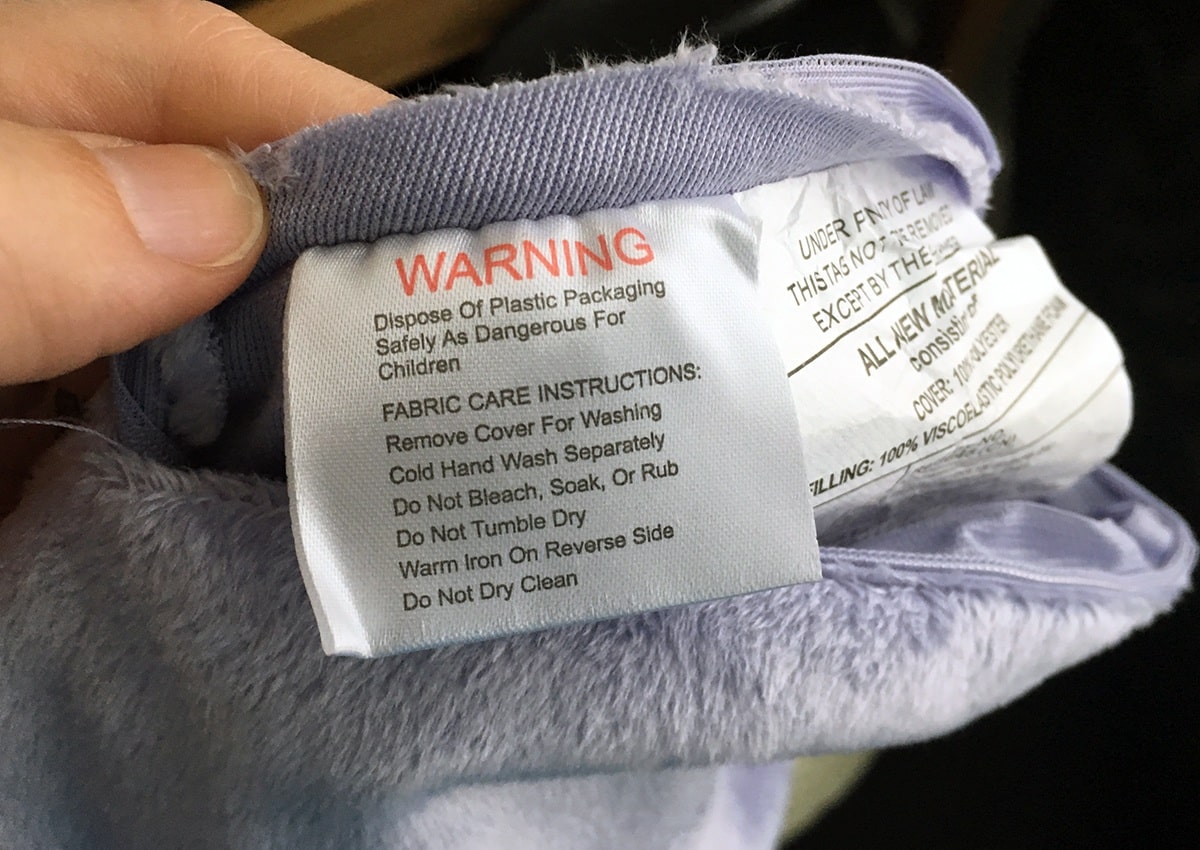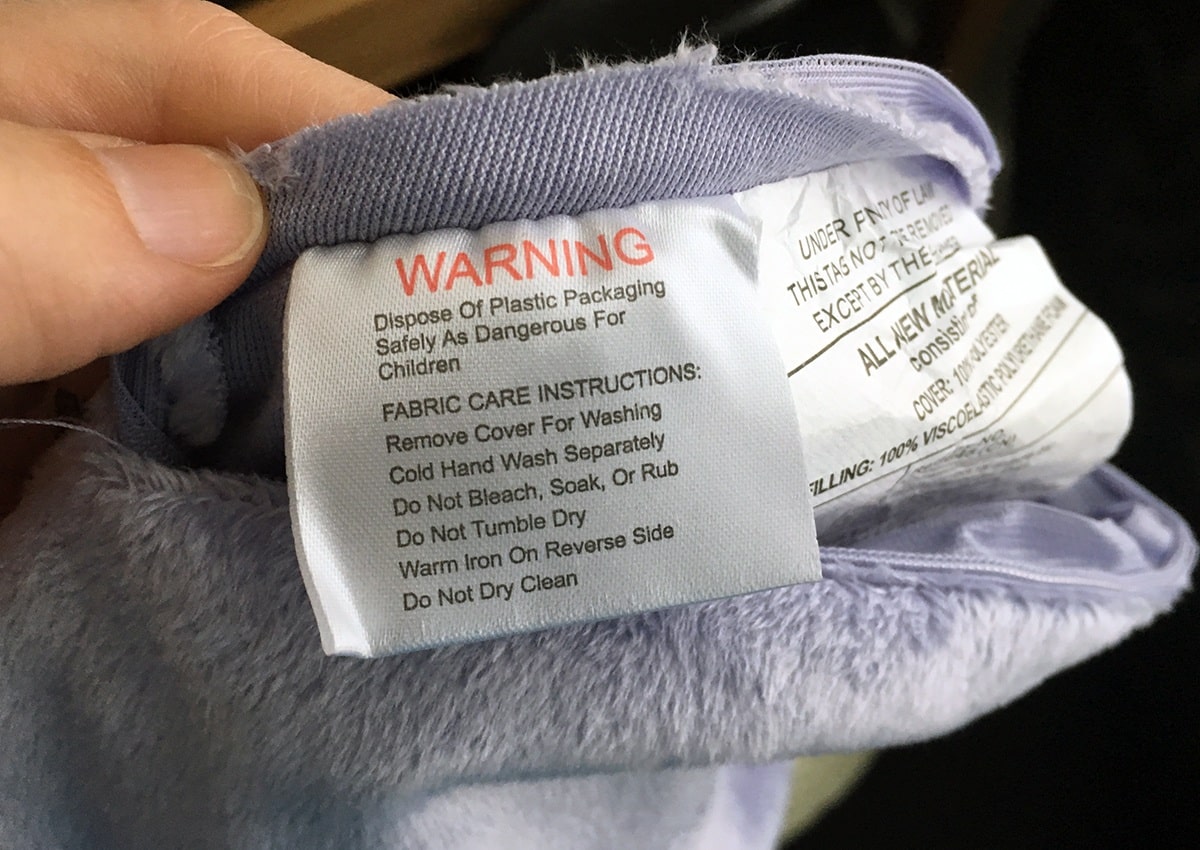 One other additional issue I had was trouble getting the zipper to smoothly zip and unzip so I could take the cover off and put it back on.
It honestly took me close to five minutes to get the cover back on because the memory foam has a sticky feel to it and the cover back sort of clings to the foam and makes it hard to fit the cover back onto the pillow properly.
Comfort Master Travel Pillow Review
Summary
Overall, I thought the Comfort Master Travel Pillow by CraftyWorld was a soft and comfortable neck pillow. While the pillow is straightforward in its design and doesn't have many added bells and whistles, it is supportive and can be attached to luggage easily.
Things to Consider Before Buying
Based on other reviews I read, people seem to really like this neck pillow. Of over 1,800 reviews on Amazon, 65% were positive. For those who don't, the reasons seem to vary with a few trends.
From what I saw, taller individuals felt that the pillow was too tight or too small, with not enough support for their head and neck.




Although the cover is removable and washable, it must be done by hand and time allowed for it to air dry after each cleaning. The cleaning requirements are actually pretty specific and include not soaking the pillow or tumble drying and the cover may also require ironing to avoid wrinkling.
Unlike the Cabeau Evolution pillow, this travel pillow doesn't have any adjustable features, like connectors to allow it to stay on the neck and adjust the tightness. I believe it would have been beneficial to be able to tighten this and anchor it more securely to the neck.
Price
CraftyWorld, the maker of the Comfort Master travel pillow, sells the pillow on Amazon, where it is currently priced at $20.75. Amazon says the regular price is $45.50.
They offer a full 5-year 100% moneyback guarantee and several reviewers said they got a full refund simply because they didn't love the pillow.




Those in the market for a soft but simple neck pillow, I would recommend considering the Comfort Master Travel Pillow. Anyone looking for an upgraded memory foam neck pillow will have to look elsewhere because this one is truly very basic and simple in its construction and overall design and usability.
Buy the Comfort Master Travel Pillow on Amazon
Katie Golde
Katie manages the day to day operations of the Mattress Clarity news site and reviews sleep products in addition to writing and editing sleep news. She hails from Austin, where she lives with her growing family. She is a Certified Sleep Science Coach and has a master's degree in Journalism from Northwestern University and has a background in health and science content. Her work can be found in print and online publications like Discover Magazine, USA Today and The Huffington Post.