Amerisleep is a well-known mattress brand that utilizes its Bio-Pur foam to help sleepers stay supported and cool all night long. The proprietary foam plays a starring role in the brand's Comfort Classic pillow as well. The pillow offers undeniable pressure relief and head and neck support, but the open-celled nature of the foam helps prevent trapped heat from accumulating and causing discomfort overnight.
Who is going to love this pillow and who will want to leave it on the shelf? Watch my in-depth Amerisleep Comfort Classic pillow review and keep scrolling for more details on this foam pillow.
Amerisleep Comfort Classic Pillow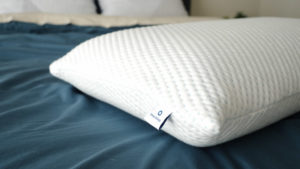 Amerisleep's Comfort Classic pillow offers a soft knit cover and a solid ventilated Bio-Pur foam core for excellent pressure relief with breathability.
Mattress Clarity Score
4.40 / 5
Read Full Review
Key Features
Queen and King sizes available
Queen dimensions: 27" x 16" x 6"
Weight is 3.7 lbs
Cover: Soft, breathable knit; has a zipper for easy removal and cleaning
Core: Solid piece of ventilated Bio-Pur® material
Bio-Pur® is produced from partially plant-based sources using a zero-emission process
Pillow made in the USA
Price: $90 for Queen $115 for King
100-night trial; 10-year warranty
Visit one of Amerisleep's retail locations in Arizona, Oregon, Texas & Colorado to try it in person
Pros
Breathable and cool for a foam option
Excellent pressure and contouring support
It won't change shape or go flat
100-day trial period
Cons
The $90 price for a Queen size is outside of some budgets
Can't be manipulated or adjusted
The return policy isn't super straightforward
Impossible to figure out what the cover is made out of, which could be frustrating for those with sensitivities or allergies; my best guess is a polyester knit with some spandex stretch.
The cover must be air-dried
RELATED: Best Pillows
Best Sleep Positions For Amerisleep's Comfort Classic Pillow
I wanted to share my experience with the Amerisleep Comfort Classic pillow and who I think might enjoy it the most in terms of primary sleep position. For reference, I'm 5'7" and 6 months pregnant and I found this pillow the most comfortable on my back, followed by my side. The pillow has significant height – 6″ – but it's also on the softer/plusher side in terms of feel. When these characteristics combine, it makes a good average-sized pillow that should work well for most back sleepers.
I also believe petite individuals or those with smaller body frames may find it more comfortable for side sleeping, while heavier sleepers may like it more for stomach sleeping. Fortunately, we have Marten here to share his experience with the pillow.
Marten's Take
Hi everyone, it's Marten from Mattress Clarity. As Katie mentioned, I'm a heavier person than she is – around 250 lbs and I'm 6′ 7″, so I wanted to share my thoughts on the Amerisleep Comfort Classic pillow and how it feels in each sleeping position for people closer to my size.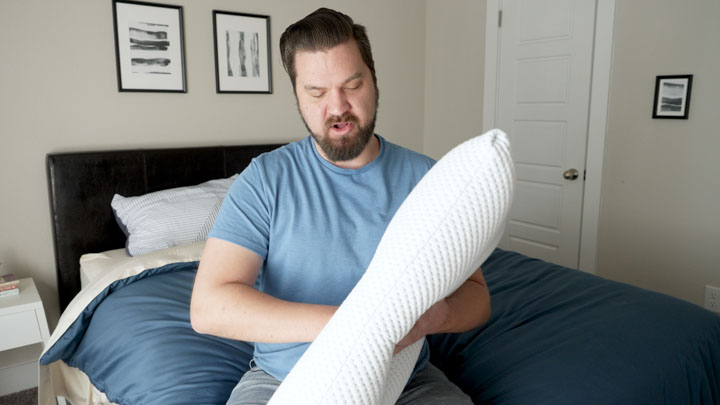 First, I will say that I've reviewed the Amerisleep mattress in the past and I'm familiar with their Bio-Pur foam and already a pretty big fan of the overall feel. As Katie said, it's on the softer side but has a quicker response than a more traditional memory foam pillow and, as a result, it's easier to move around and shift positions without feeling "stuck."
In terms of sleeping positions, it was a superb fit for back sleeping. My head sunk in enough to keep my neck supported and my body in a neutral alignment. I found that it was supportive enough on my side and also when I moved to my stomach, the weight from my head compressed the pillow enough to keep it flat and comfortable.
Amerisleep Comfort Classic Pillow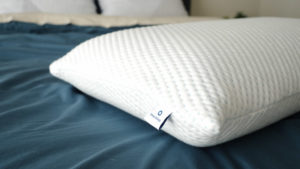 Amerisleep's Comfort Classic pillow offers a soft knit cover and a solid ventilated Bio-Pur foam core for excellent pressure relief with breathability.
Mattress Clarity Score
4.40 / 5
Read Full Review
Final Thoughts
That's my take on the Amerisleep Comfort Classic pillow – all the details both inside and out. There's no doubt that those who prefer that contouring feel of foam will enjoy the Bio-Pure core of this pillow. Hot sleepers will find it stays breathable and it's a great height and firmness for back and side sleepers (and some heavier stomach sleepers, too!).
Comment in the YouTube video if any questions come up and I'll reply as fast as I can. Check out the FAQs below, too.
FAQs
How do I care for my Amerisleep pillow?
Sleepers can keep their pillows clean by removing the outer cover and machine wash it on a cold and gentle cycle. The cover must be air dried to avoid shrinking from the heat in a dryer. Leave the core alone unless there's a specific need for it to be cleaned, in which case spot clean only. Consider washing pillows every 3 months or even monthly if drool or body sweat occurs frequently. Those interested can check out my How To Clean Your Pillow post and video to learn more.
Which Amerisleep pillow is best?
Trick question - there is only one Amerisleep pillow available at the moment! The Comfort Classic is a particularly good choice for those who want a solid piece of contouring foam but sleep hot and need something breathable that won't trap heat.
Does the Amerisleep Comfort Classic Pillow sleep hot?
The Bio-Pur proprietary foam in the Amerisleep pillow is open-celled which helps it to avoid trapping heat and promotes airflow instead. The large holes keep it ventilated and all of these characteristics come together to help prevent the pillow from sleeping hot.